Tag: taylor benjamin burgess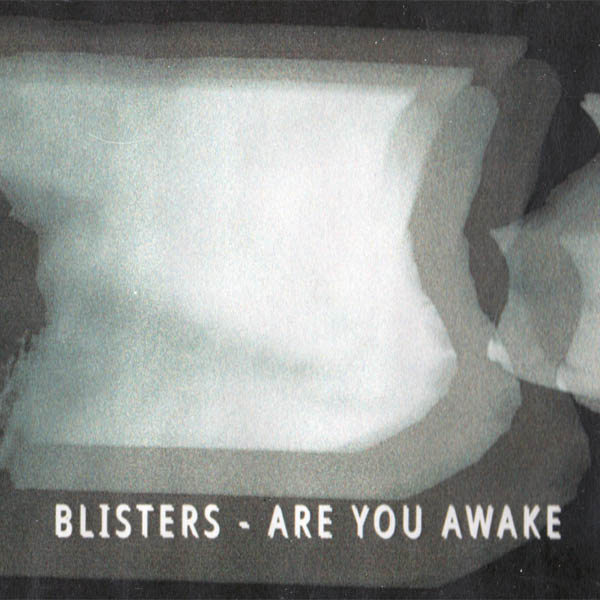 Blisters
Are You Awake
(Self Released)
Winnipeg, MB
From the indefinite nostalgia of Taylor Benjamin Burgess:
Welcome to a place where everything collapses once it enters the realm. We can watch, and we do so passively, as memories begin to slip beyond our fingers before they've begun to form. This single object took years in the making — and yet — is it the real one? Do we grip, or do we let the chrysalis go on untouched until we smell that nostalgia we presupposed indefinite? We can formulate our own creation myths to speculate how it began and how it is finally here to be held, but Blisters as we might have known them have already evolved and flown away.
De la nostalgie indéfinie de Taylor Benjamin Burgess:
(Traduit du domaine lointain d'AnneMarie Papillon)
Bienvenue dans un endroit où tout s'effrondre une fois dans le domaine. Nous pouvons regarder, et nous le faisons passivement, tandis que nos souvenirs glissent entre nos doigts avant même d'avoir commencé à se former. À lui seul, cet objet a demandé des années à être fabriqué — et encore — est-ce le vrai? Devrions-nous y toucher ou devrions-nous laisser la chrysalide intacte jusqu'au moment où nous sentirons cette nostalgie, celle que nous avions présumée indéfinie? Nous pouvons formuler nos propres mythes de création afin de spéculer comment cela a commencé et de quelle manière cela est enfin ici, à portée de main, mais les Blisters comme nous pensions les connaître ont déjà évolué et se sont envolés.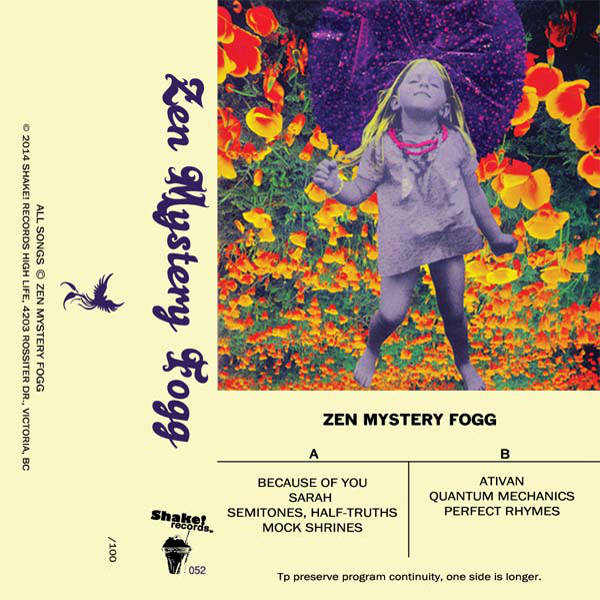 Zen Mystery Fogg
Zen Mystery Fogg
Vancouver, BC
From the smeared sneer of Taylor Benjamin Burgess:
Get your last glimpse before the sun goes down — Zen Mystery Fogg are twice as hard to see amongst the shadows. They like to be hidden and crank up the haze. Their fuzz and reverb pedals are their black lipstick smeared across a sneer. You wanna hate but you just oh-so-adore. Choose to give in, and this cass'll give you a great big smack on the head. You'll be seeing stars after your nights turn to daze.
Du rictus barbouillé de Taylor Benjamin Burgess:
(Traduit par Jessica Grenier)
Jetez un dernier regard avant le coucher du soleil – Zen Mystery Fogg sont encore plus difficiles à voir dans l'obscurité. Ils aiment épaissir le brouillard pour se cacher. Les pédales de fuzz et de reverb sont le rouge à lèvres noir qui barbouille leur rictus. Tu aimerais les détester, mais c'est tellllement adorable. Si tu te laisses séduire, tu recevras un beau gros bec sur le front. Même quand la confusion aura supplanté la nuit, tu verras des étoiles.

Zen Mystery Fogg – Because Of You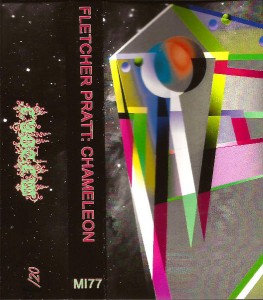 Fletcher Pratt
Chameleon
Winnipeg, MB
From the stereoscopic eyes of Taylor Benjamin Burgess:
Ever changing, Fletcher Pratt keeps swaying on, making his kaleidoscope way through the ever-spooling landscape. Departing from early tape collages, he drove rhythmic noise over the edge, steered into and out of squealing absurdity, and rolled the top down to show off his spacey reggae. Chameleon returns to the arrhythmic, sounding every bit as disorienting (yet charming) as stereoscopic eyes and chromatophores. It's like a sentient Nintendo cartridge finally took one too many blows, broke up and said, "Y'know what? Fuck it," and went far, far off the grid. Into the woods, to prance and creep around. For the glam chameleon
Des yeux stéréoscopiques de Taylor Benjamin Burgess:
(Traduit par le regard ondoyant de Joannie Pharand)
En perpétuelle évolution, Fletcher Pratt continue son déhanchement, traçant son passage de façon kaléidoscopique à travers la bobine éternelle du paysage. Commençant par des premiers collages audios, il a poussé le rhythmic noise par-dessus bord, conduit à l'intérieur et à l'extérieur d'une absurdité grinçante, pour enfin rouler les fenêtres baissées et faire rayonner son reggae planant. Le Caméléon retourne à l'arythmie, sonnant tout aussi désorienté (quoique charmant) que des yeux stéréoscopiques et des chromatophores. C'est comme une cassette de Nintendo douée de sens qui, après avoir reçu trop de coups, s'était brisée et s'exclamait finalement : « Tu sais quoi ? D'la marde, » et dégageait de la place, s'en allait bien loin. Dans les bois, pour se pavaner et rôder. Pour qu'il sonne de cette façon, ce caméléon glamour devra tout d'abord se transformer en soupe primaire.
---