Tag: talking skull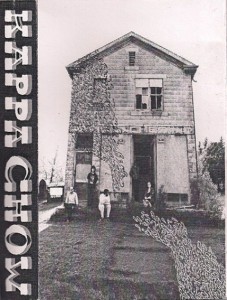 From the shred shed of Jesse Locke:
The turnt minds behind Astral Gunk split the sides of this cassette with paired off-the-floor sessions from Kappa Chow's Sackville and Montreal incarnations. The former packs a sax blurt that shimmies like a ramshackle Shrines, while the slow churn of "Bang Bang" is positively Flipperesque. The backside brings some more gospel yeh-yeh to its buzzsaw garage, yet the fidelity drops down to boombox-in-a-trash-can levels of grizzle. Boss tunes from both line-ups, and any band with a name borrowed from Pootie Tang gets a lifetime thumbs up.
De la cabane en lambeaux de Jesse Locke:
(Traduit par Joannie Pharand)
Les esprits frénétiques derrière Astral Gunk divisent les faces de cette cassette par la combinaison de sessions hors-de-ce-monde de Kappa Chow, des incarnations provenant de Sackville et de Montréal. Le premier laisse échapper un son de saxophone qui se dandine comme les Shrines délabrés, alors que le doux bouillonnement de « Bang Bang » est véritablement Flippant. Du dos de la cassette, on amène encore plus de gospel yeh-yeh au son garage bourdonnant de scie mécanique, et pourtant, la fidélité décline à un niveau de pleurnichement ghetto-blaster-de-poubelle. Boss s'accorde aux deux programmes et tout groupe portant un nom emprunté à Pootie Tang est approuvé à vie.
Kappa Chow – Save Your Opinion
---