Tag: synth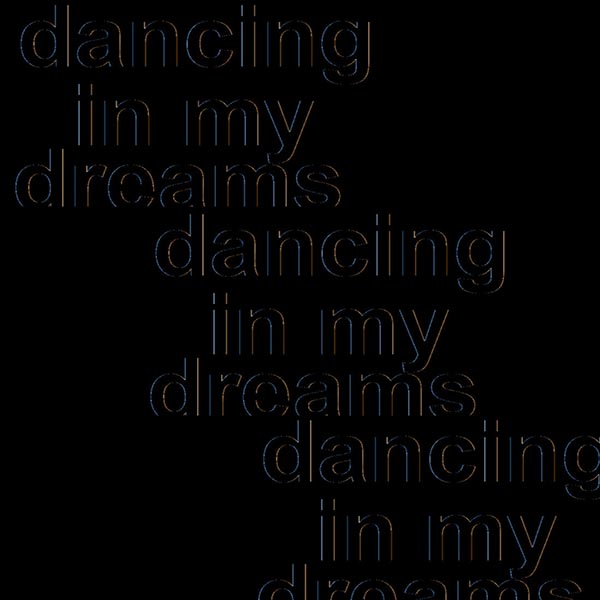 Dancing in my Dreams
Demo
(Self-Released)
Charlottetown, PEI
From the hellish nightmare of Mark Gillis:
This is the crossroads where your sleek and shiny dreams are synthesized into sinister, hellish nightmares. Swaths of ghastly turbulence envelop you as you fall deeper into depressing hopelessness. Eyes shut, body pulsating with every beat, sending tremors to your outmost extremities. Sharp, angular melodies abruptly fling your body, performing a cult-like ritual dance. This is music that enters through the ears, and infests the rest of you.
Des cauchemars infernales de Mark Gillis:
(Traduit par l'horrible turbulence d' Odile Leclerc)
Ceci est la croisée des chemins où tes rêves onctueux et reluisants sont synthétisés en atroces cauchemars sinistres. Des bandes d'horribles turbulences t'enveloppent pendant que tu tombes plus profondément dans un triste désespoir. Les yeux fermés, le corps palpitant à chaque battement, envoyant des trépidations à tes extrémités les plus lointaines. Des mélodies tranchantes et angulaires balancent ton corps, effectuant une danse rituelle de culte. C'est une musique qui entre par les oreilles et infeste le reste de ta personne.
Dancing in my Dreams – Neverland
Ziibiwan
Mayagi Mashkawizii
(Self-Released)
Toronto, ON
From the unmuted spirit of Christina Bell:
Motion maker Ziibiwan crafts a private nostalgia that is deeply independent of genre, unmarried to any single narrative. Mayagi Mashkawizii walks you to the edge, where you can decide whether to clear your mind or consider the sum of everything you've ever done. Soothing melodies collaborate with glitchy beats in an elongated praise of momentum. Motion. Mayagi Mashkawizii is an audible testimony to the theory that humankind's prime mover must have had a sound.
Par l'esprit non-assourdi de Christina Bell:
(Traduit par les grandes questions d' Émily Traichel)
Créateur de mouvement, Ziibiwan élabore une nostalgie privée qui est profondément indépendante de genre, non mariée à aucune unique structure narrative. Mayagi Mashkawizii nous mène jusqu'au bord, où l'on peut choisir de se dégager l'esprit ou de considérer la somme de tout ce que nous avions vécu jusqu'ici. Des mélodies apaisantes collaborent avec des rythmes distorsionnés en une louange prolongée de momentum. Mouvement. Mayagi Mashkawizii est un témoignage audible à la théorie qui constate que le principal moteur de l'humanité doit avoir eût un son.
Dernier Sex
3-Song EP
Montreal, QC
From the ethereal web of Charlotte White:
Your blood thickens and the pavement feels warm on your bare feet. Humid air churns around your body creating eddies of fizzing ecstasy as your heartbeat slows to a near standstill.
This is where dreams become nightmares and nightmares become dreams. Here you are lifted above all pain and fears that ooze from dark corners like water seeping under bathroom doors.
At dawn you awake drenched in sweat and blood. You're unsure if it's your own.
Du site web paradisiaque de Charlotte White:
(Traduit par Sergio Calla)
Ton sang s'épaissit et la chaleur du pavé caresse tes pieds nus. L'air humide tourbillonne autour de ton corps générant un tourbillon, un vortex euphorique pétillant provoquant un ralentissement raide du rythme cardiaque.
Il s'agit d'un domaine où les rêves se transforment en cauchemars et les cauchemars en rêves. Ici, cesse la douleur et les craintes qui suintent de tous les coins sombres comme de l'eau qui s'infiltre sous les portes de salles de bains.
Vous vous réveillez à l'aube ensanglanté et en sueur, incertain de votre sort.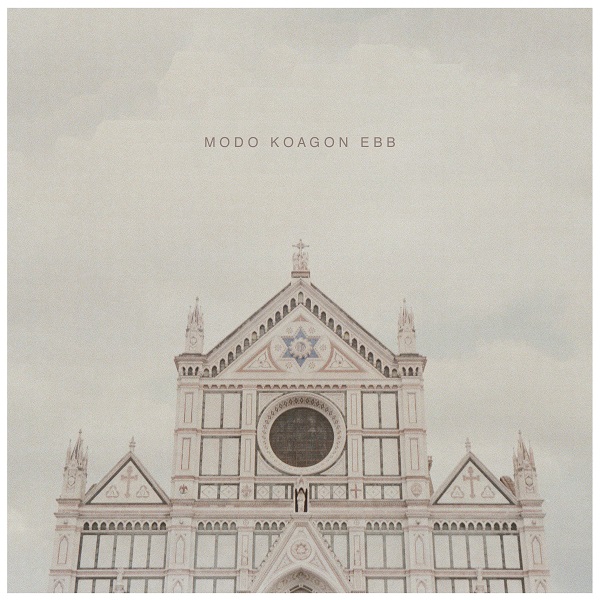 Modo Koagon
Ebb
(Self-Released)
Guelph, ON
From the last breath of Heather Lune:
The field recordist curls up after a long life and goes to sleep. The moment – the fall – the rise – the bridge – the break – eternally suspended in the midst of infinite sound.
A toy xylophone, screaming shoreline wind, liquid sliding on skin, dead radio whirling the drain, while stirring the spoon chinks the glass, razors buzz, the jazz cd skips, the car and the sound the land makes as you pass through it, insects in trees, blades on ice, the gutters melting, tapping typewriter, the beep of the life support machine, the clock on the wall.
You discover the moment of death – that split second before the jump, forever.
Du dernier souffle de Heather Lune:
(Traduit par le gargarisme salé de Julie Mayer)
Le preneur de son se pelotonne après une longue vie et s'endort. L'instant – la chute – l'ascension – la transition – la rupture – l'homme est éternellement suspendu au milieu d'un son infini.
Un xylophone jouet, le hurlement du vent en provenance du rivage, le glissement d'un liquide sur la peau, une radio à plat s'écoule en tourbillons par la bonde, la cuillère fait tinter le verre lorsqu'on la remue, des rasoirs qui bourdonnent, le CD de jazz saute, l'auto et le son que la terre produit alors que vous passez dessus, les insectes dans les arbres, des lames de patin sur la glace, des gouttières fondent, les bruits de frappe d'une machine à écrire, les bips de l'appareil veillant au maintien des fonctions vitales, l'horloge accrochée au mur.
Vous découvrez l'instant de la mort – cette fraction de seconde avant le grand saut, à jamais.
Modo Koagon – Ebb (For Wilhelm and Ellen)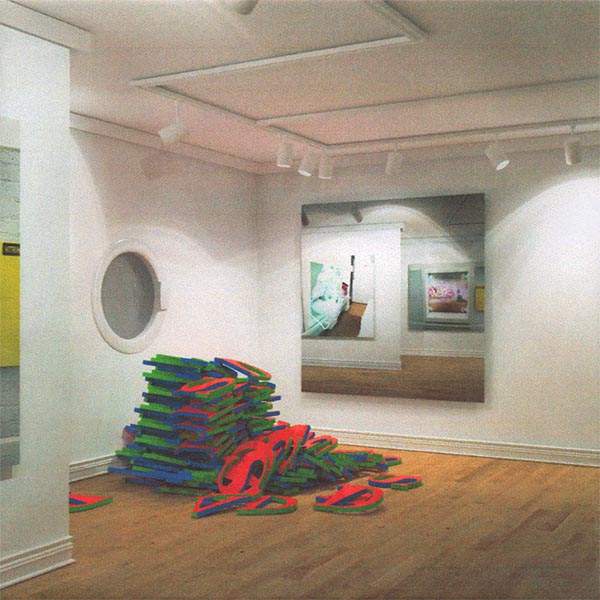 Fulldeck Subhuman
Distraction Motif
(Self Released)
Toronto, ON
From the eternal buffering of James Beardmore:
A fragment of sound has been looping in your head for days, you can't remember where from. It has mutated into an unsettling mantra.
Someone has extracted this sound from your skull and transcribed it into midi notation. The result combines with a scratched CDR of music for corporate motivational powerpoint presentations. It plays in an abandoned building and is currently livestreaming on the deep web.
Slices of glass with high-resolution artefacts hurtle towards an accelerando event horizon before succumbing to entropy. Chaos overlaps until it becomes meditative. Your senses adjust. Calm.
De l'éternelle mise en mémoire tampon de James Beardmore:
(Traduit par Julie Mayer)
Un morceau de son joue en boucle dans ta tête depuis plusieurs jours, tu ne peux pas te rappeler d'où ça vient. Ça s'est transformé en mantra perturbant.
Quelqu'un a extrait ce son de ton crâne et l'a transcrit en notation midi. Le résultat se combine à un CD-R de musique égratigné pour faire des présentations Powerpoint corporatives centrées sur la motivation de soi. Il joue dans un bâtiment abandonné et est actuellement retransmis en direct sur le web caché.
Des tranches de verre accompagnées d'artéfacts en haute résolution foncent à toute allure vers un gouffre en accéléré avant de succomber à l'entropie. Le chaos se chevauche jusqu'à en devenir méditatif. Tes sens s'ajustent. Calme.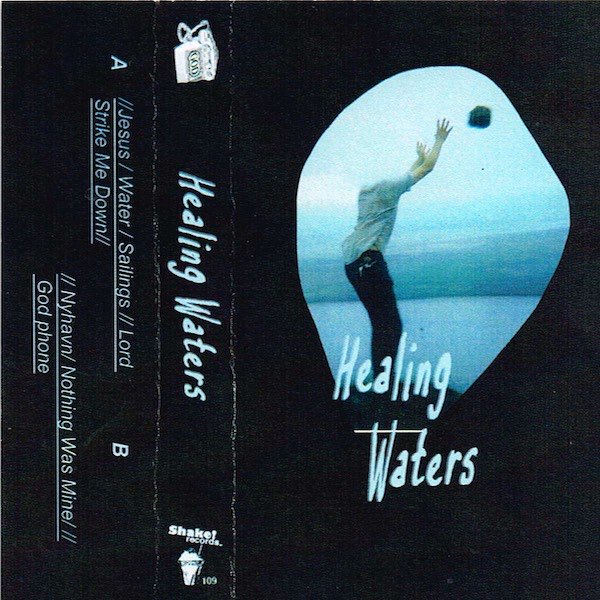 Healing Waters
Water
Victoria, BC
From the aquaphobic hallucinations of Sara Bortolon-Vettor:
Curves of black and blue fluid create a divine ripple effect. Sun sparkles. The water is warm. Our minds bloat and float away like abandoned canoes, left to drift. Passengers' punctured souls litter the water's floor. As the heaviness behind our eyes turns our gaze downward, staring into the water, we wonder whether our thoughts will drown. Be gone forever.
Des hallucinations aquaphobiques de Sara Bortolon-Vettor:
(Traduit par Diane Beaupré)
Des courbes de fluides noirs et bleus créent un effet d'ondulation divin. Le soleil brille. L'eau est chaude.. Nos esprits se gonflent et partent à la dérive comme des canots abandonnés à la merci du courant. Les âmes perforées des passagers jonchent le plancher des eaux. Alors que nos paupières lourdes nous font baisser les yeux et fixer les profondeurs de l'eau, nous nous demandons si nos pensées couleront. Disparaître à jamais.
Bruised Knees
CASTINGS
(Self-Released)
Toronto, ON
From the hydrangea gel of Adam Bradley:
Magnetic metal bearings suspended in a translucent, lilac gel. Bass vibrations shuffle their symmetry, rumbling drums make them shake. A vast, cold room with no light. Heaving flashes slash the dark, and purple purse-lipped faces appear, diamond eyed and austere. Warbling synthetic tones echo to penetrate like alarms. Anxiety and urgency are the singular senses, limbs lashed to a metal slab. The ceiling shrinks closer, the music becomes louder. The floor rises, shouts are drowned. Room a slim rectangle, filling with water. Walls become porous with light and hydrangeas curl out to blossom in the pitch.
Du gel d'hortensia d' Adam Bradley:
(Traduit par Jessica Grenier)
Des billes de métal magnétiques, comme suspendues dans un gel lilas translucide. Les vibrations d'une basse les déplacent symétriquement; le grondement d'une batterie les fait frémir. Une pièce vaste et froide, sans lumière. Des éclairs nauséeux déchirent l'obscurité, révélant des visages cramoisis austères, les lèvres pincées et les yeux en diamant. L'écho de notes synthétiques chante comme une alarme. Le sentiment singulier d'une urgence anxieuse, les membres fixés à une table métallique. L'espace semble rapetisser à mesure que le son de la musique augmente. Le plancher se soulève, noyant les cris. La pièce n'est plus qu'un mince rectangle se remplissant d'eau. La lumière passe par les pores des murs, où des hortensias se mettent à fleurir.
Hush Pup //
Waterwings
Toronto, ON // Victoria, BC
From the suspended animation of Katie Jensen:
Fingers glide over turquoise synths, drifting across keys like a swimmer floating; movement and paths directed by currents unseen. Anxiety unwraps its tentacles, imparting shallow indents cleansed by healing waters. Synth droplets find their home in a crystalline puddle. The kick drum releases a shimmering splash of chiptunes.
Ethereal vocal tones reverberate eagerly, bouncing off hallowed walls with warmth and character.
Light reflections triangulate like shifting wrinkles, seeking negative space.
A bass beckons beneath the surface with a crooked finger. It plucks golden notes and drops them; they swirl and undulate, hitting the floor. No wishes will be granted today.
De l'animation suspendue de Katie Jensen:
(Traduit par Aliké Harel)
Les doigts voguent sur les synthés turquoise et naviguent les touches comme un nageur à la dérive; dont les mouvements et le chemin sont tracés par un courant invisible. L'anxiété tentaculaire se dévrille et créent des remous purifiés par l'eau de guérison. Les gouttelettes synthétisées retournent au bercail au creux d'une flaque d'eau cristalline. La caisse propulse une gerbe de chiptunes scintillantes.
Fébriles, les voix éthérées retentissent et ricochent sur les murs vénérables, empreintes de chaleur et pleines de verve.
Les réflexions lumineuses se triangulent comme des sillons mouvants en quête d'espace négatif.
D'un doigt crochu, une contrebasse vous invite sous la surface. Elle pince les notes et les laisse tomber, celles-ci virevoltent et percutent le sol. Aucun souhait ne sera exaucé aujourd'hui.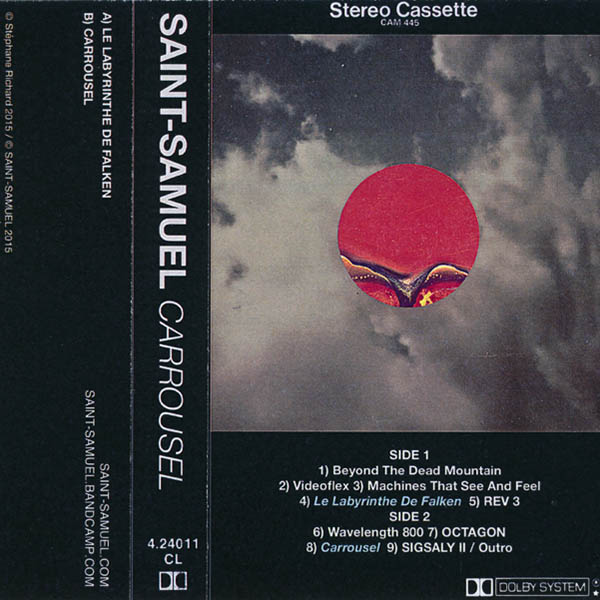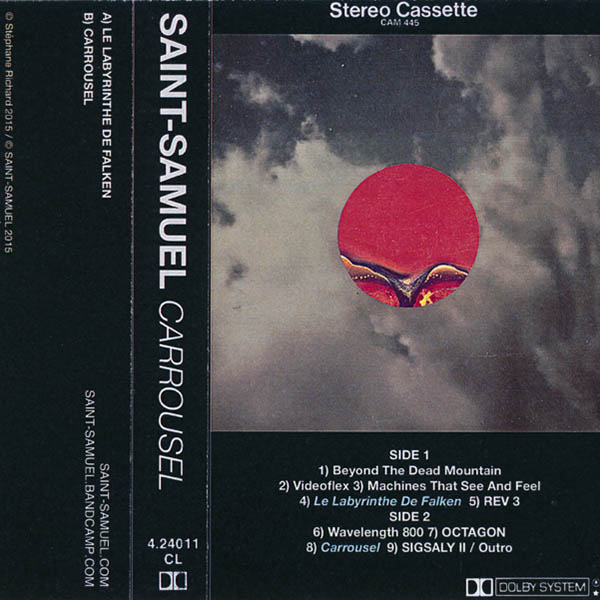 Saint Samuel
Carrousel
(Self Released)
Montréal, QC
From the late night daze/early morning haze of Alec Lovely:
Above the black clouds that spiral up and up around the peak, there you find it. A simple reminder of home. Lightning flashes in a dizzying show. The wind deafens everything around you. Pick up the cassette and get to your car. Now, put the cassette in and press play, and drive. Light your cigarette. Feel the familiar head rush compound with the sounds from your speakers. The weight lessens as you get closer. Freedom. The dead mountain is nice this time of year.
De la brume tardive/du brouillard matinal de Alec Lovely Alec Lovely:
(Traduit par l'humeur Miss Météo de Julie Mayer)
Au-dessus des nuages noirs qui s'élèvent en spirale, toujours plus haut autour du sommet, c'est là qu'elle se trouve. Un simple rappel de ton chez toi. Les éclairs brillent dans un spectacle étourdissant. Le vent assourdit tout ce qui t'entoure. Prends la cassette et va dans ton auto. Mets-la dans le lecteur, appuie sur jouer, et roule. Allume-toi une cigarette. Ressens la familiarité du vertige combiné aux sons qui sortent de tes haut-parleurs. Le poids s'amoindrit au fur et à mesure que tu te rapproches. Liberté. La montagne morte est belle à ce temps-ci de l'année.
Saint Samuel – Beyond the Dead Mountain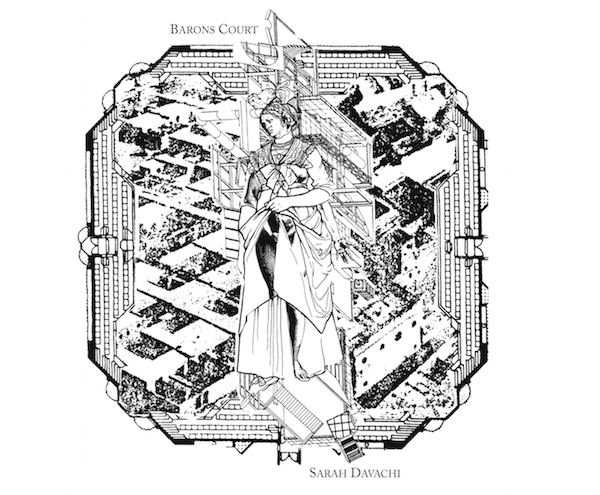 Sarah Davachi
Barons Court
Vancouver, BC
From the sea-drenched island of Katie Jensen:
A long time ago, the island was born. It crept into the ocean with a tiny splash and paddled out into the blue depths. Salt crusted its craggy lips, forming razor sharp stalactites atop the shiny green eyelids of palm fronds.
The earth shifted its shoulders. Thick, bullying waves crashed into the shoreline, nipping granular bites and regurgitating a frothy mass. Ominous clouds muted the sun with discordant, deliberate bowstrokes. The wind wrote twin poems and tucked them between a stand of crooked trees.
Quietly and without complaint, the island pivoted with the earth, but it did not change partners.
De l'île baignée par la mer de Katie Jensen:
(Par le clapotis des mots d'Aliké Harel)
Il y a de cela très longtemps, l'île vint au monde. Elle se glissa dans l'océan en laissant entendre un faible clapotis et nagea dans le bleu des profondeurs. Le sel se cristallisa sur ses lèvres burinées et des stalactites acérées se formèrent sur ses paupières vertes et luisantes en frondes de palmier.
La terre tourna les épaules. De grosses vagues coriaces s'écrasèrent sur les berges, les égrainèrent à petites bouchées et régurgitèrent une masse écumeuse. Les nuages menaçants étouffèrent le soleil avec des coups délibérés d'archet dissonant. Le vent écrivit des poèmes jumeaux et les blottit au creux d'une forêt d'arbres tortueux.
En silence sans se plaindre, l'île tourna avec la terre, mais ne changea pas de partenaire.
---