Tag: sydney
Brian Damage
Early Electronic Works (1983-1988)
(Self Released)
Sydney, NS
Originally Released: 2009
From the teen alchemy of Alexander Moskos:
Two years ago Damage laid this collection on me and I somehow only got to it recently, reflecting on the need to stem the tide of things COMING INTO my zone. I've written about his Industrial band Phycus over at Thee-Outernet, and Early Electronic Works (1983-1988) collects releases made during those years under the name Data Strangler in Sydney, Nova Scotia. Damage claims he was trying to combine Judas Priest <http://www.youtube.com/watch?v=HT_iqsDdGgk> and Men Without Hats, a sort of Canadian teen alchemy, but the results on the early version of "Refrigerators" sounds more like Red Krayola to me. So much brilliance here: an amazing basement vibe (apparently tracks were bounced between boomboxes and you can pretty much hear the wood panelling), crude synth punk, MB style electronic miniatures, synth pop, Kemberic tremolo'd organ zones and so on. Damage's songcraft is tight and he employs a varité approach to his lyrics which at times are hilarious ("Big Man On Campus"), creepy ("Refrigerators"), tragi-comedic ("Tar Pond Monster") and cyberpunkish "(Malfunction 54"). Here are two mp3s, but I imagine this is getting the wax treatment sooner than later.
De l'alchimie ado d'Alexander Moskos: (Traduit par Odile Leclerc)
Deux ans passés, Damage a posé sur moi cette collection et d'une quelconque façon, je ne l'ai eu que récemment, réfléchissant sur le besoin de ralentir le court des choses VENANT DANS ma zone. J'ai écris à propos de son groupe industriel Phycus sur le Thee-Outernet, et Early Electronic Works (1983-1988) ramasse les sorties faites durant ces années sous le nom de Data Strangler à Sydney, Nouvelle-Écosse. Damage dit qu'il essayait de combiner Judas Priest et Men Without Hats, un genre d'alchimie d'ado canadien, mais les résultats sur la première version de ''Refregirators'' sonne plus comme Red Krayola à mes oreilles. Tellement de brillance ici : une superbe ambiance de sous-sol (apparemment les pistes rebondissaient entre les systèmes de son et vous pouvez pratiquement entendre les panneaux de bois), des synths de punk brutes, des miniatures électroniques de style MB, de la pop synth, les zones d'organe trémolo de Kemberic et ainsi de suite. L'artisanat de chanson de Damage est serrée et il emploie une variété d'approches à ses paroles lesquelles sont parfois hilarantes (''Big Man On Campus''), terrifiantes,( ''Refregirators''), tragi-comédie, (''Tar Pond Monster'') et cyperpunké ( ''Malfunction 54''). Voilà deux mp3s, mais j'imagine que ça l'obtient le traitement à la cire plus tôt que tard.
Brian Damage – George The Knight (1985)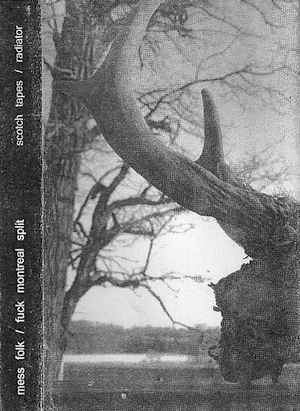 Mess Folk
: C'est l'été, il fait chaud pis t'es quand même dans ce bar-là, celui qui va faire mal le lendemain et qui se cure avec une plottée de bines pis les fonds de la veille. Du rock garage boueux qui sonne comme si tu te faisais verser de la bière dans les trous d'oreille. Tu te réveilles hungover, tu cales ton Gatorade trop vite pis tu vires la cassette de bord.
Fuck Montreal
sonne le glas et te paraphrase un mal de tête dans lequel se confondent des chants tribaux pis des comptines patibulaires sur un fond de grunge hanté. Fuck Montreal essaie peut-être de te faire peur, mais t'es là pour leur montrer que t'es pas pire tuff pis que tu combats le feu par le feu – pis que plus que ça fait mal, moins ça fait mal.
From the beautiful f**king mess of Benoit Poirier:
Mess Folk: It's the summer, it's hot and you're still in that bar. You know it's gonna hurt tomorrow and you're gonna cure it with cold beans and leftovers. The band's sludgy garage rock sounds like having cans of beer poured into your ears. You wake up hungover, drink your Gatorade way too fast and flip the tape. Fuck Montreal make the bells toll and paraphrase a headache in which tribal chants and creepy nursery rhymes intertwine in a confused mass over spooky grunge riffs. They might try to scare you, but you're there to show them that you're kinda tuff and that you fight fire with fire – and that the more it hurts, the less it hurts.
[audio:http://weirdcanada.com/wp-content/uploads/2011/04/Weird_Canada-Mess_Folk-No_Jobs.mp3|titles=Mess Folk – No Jobs] Mess Folk – No Jobs
[audio:http://weirdcanada.com/wp-content/uploads/2011/04/Weird_Canada-Fuck_Montreal-Bucket_of_Blood.mp3|titles=Fuck Montreal – Bucket of Blood] Fuck Montreal – Bucket of Blood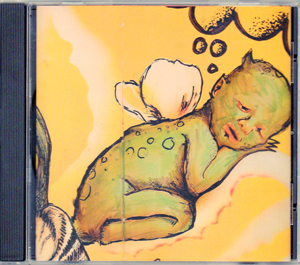 PIG / !Kung San / Scribbler
S/Pl/It
(meager / radiator)
(all over), NS
Aaron Levin:
PIG continues to deliver their strange brew of time-lapse-weird-punk on this interesting document of Nova Scotia's experimental-everything scene. Splitting the bill with PIG are !Kung San, a somewhere-between pastoral noodling and post-hardcore endeavor from Westville, and Scribbler, Halifax's gravity-lens for experimental-anything in the Maritimes. Scribbler's six contributions seem to be cut-ups from an insane live-set full of atonal screaming and guitar shreddery; relentless stuff. And, man, I just can't get enough of PIG; the three tracks from them were not enough!
Aaron Levin:
PIG continue de fabriquer leur strange brew de voyage-dans-le-temps-punk-bizarre avec ce reportage intéressant de la scène toute-éxperimentale de la Nouvelle-Écosse. En partageant la cassette avec PIG il y a !Kung San, quelque chose quelque part entre les boeufs pastoraux et l'entreprise post-hardcore de Westville, et Scribbler, la lentille gravitatonnelle pour tout ce qui est expérimental aux Maritimes. Les six morceaux de Scribbler ont l'aire d'être des bribes d'une spectacle dingue remplie des hurlements atonaux et les lambeaux de guitare; c'est incessant. Et, ouf, j'aurai jamais assez de PIG; ses trois morceaux n'étaient pas assez!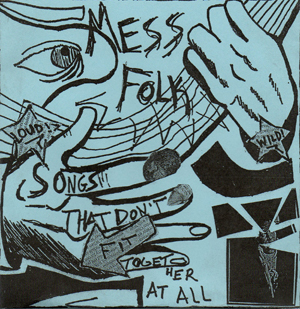 Mess Folk
Songs!!! That Don't Fit Together At All
Sydney, NS
There is a song on Mess Folk's CDR debut that summarizes his interpolated stream-of-consciousness garage-psych misery: Don't Steal My Medication. There were two occasions in my life where I ended up serving coffee in my apartment to women who had escaped taken leave from the mental health ward. The situations were scary, uncomfortable, weird, exciting, messy, and bizarre. Which is why I'm glad someone has been withholding Mess Folk's medication as he continues to besiege the world with his ramshackle of raw-delinquent-expression (read: punk), noise freak-outs, and songs that flourish somewhere in between. Out of the 17 tracks on Songs!!!, 4 of them are actual "songs" whereas the rest are varied forays into experimentalism and thrashy-noise. I appreciate the kind of fuck-you attitude it takes to populate a CD full of improv jams and psychedelic-noise-shreddery. Mess Folk will be releasing a 7″ on Hozac Records and I'm very excited about it. You should be as well (actually, I've already heard it and it's awesome).
Mess Folk – Don't Steal My Medication
Il y a un chanson sur le début CD-Rom de Mess Folk qui résume sa misère interpolée flux-de-conscience garage-psych: Don't Steal My Medication (ça veut dire Ne Pas Volez Mon Médicament). Il y avait deux occasions dans ma vie où je me retrouvais servir du café dans mon appart aux femmes qui se sont échappées du service psychiatrique. Ces situations étaient effrayantes, gênantes, bizarres, palpitantes, bordéliques, et étranges. C'est donc la raison pour laquelle je suis heureux que quelqu'un a cacher le médicament de Mess Folks pendant qu'il continue d'assaillir le monde avec son expression délabrée-crue-délinquante (ça veut dire: punk), les crises de boucan, et les chansons qui prospère quelque parts entre les deux. Parmi les 17 morceaux sur Songs!!!, il y a 4 chansons vraies alors que les autres sont les tentatives variées dans l'éxperimentation et le boucan trashy. J'attache une grande valeur à ce genre d'attitude "je m'en fou" qu'il est nécessaire pour peupler un CD avec les boeufs et le boucan-déchiqueté-psychédélique. Mess Folk sortira bientôt un 7″ avec Hozac Recordsand j'ai très hâte. Tu devrais l'avoir aussi (en fait je l'ai déjà entendu et c'est fantastique).
Mess Folk – Don't Steal My Medication
---