Tag: swollen city records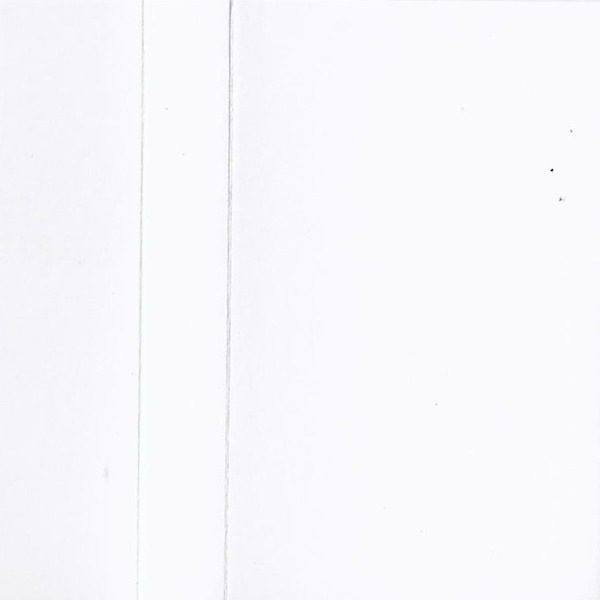 No.Negative. bring both intensity and intelligence to this punk platter of burnt riffs spawned from the elated heat of a frenzied pit. Bizarro meditations of flailing limbs pulling in all the negative energy a person can hold. Possessed shredders offering nihilistic praise to a decaying deity. Is there some sort of minimum rage policy in Montréal these days?
No.Negative.
Album Blanc II
Montréal, QC
From the shot nerves of Javier Fuentes:
For those who played a little too much of the Soupcans "lights off" game, some familiar faces are ready to throw you back into fright or flight mode. No.Negative. bring both intensity and intelligence to this punk platter of burnt riffs spawned from the elated heat of a frenzied pit. Bizarro meditations of flailing limbs pulling in all the negative energy a person can hold. Possessed shredders offering nihilistic praise to a decaying deity. Is there some sort of minimum rage policy in Montréal these days?
Des nerfs à vif de Javier Fuentes:
(Traduit par Andréanne Dion)
Pour ceux qui ont un peu trop joué à « Dans le noir » des Soupcans, des visages familiers s'apprêtent à vous remettre en mode de survie. No.Negative. amènent de l'intensité et de l'intelligence à cette assiette punk de riffs brûlés nés de la chaleur exaltée d'une fosse frénétique. Les méditations bizarres de membres qui s'agitent dans tous les sens attirent toute l'énergie négative qu'une personne peut contenir. Des guitares possédées offrent des éloges nihilistes à une divinité en décomposition. Y a-t-il un genre de politique de rage minimum à Montréal ces jours-ci?

No.Negative. – Feelin' the Heat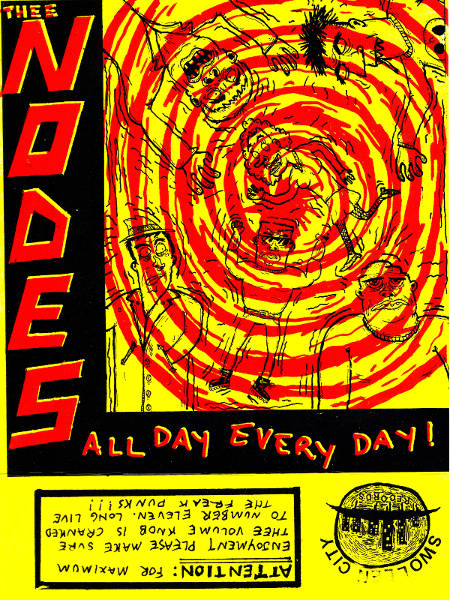 Thee Nodes
All Day Every Day!
Montréal, QC
From the paranoid sewage of Eamon Quinn:
The first release from Swollen City Records is already beyond sold out. Thee Nodes infect a mutant strain of performance-arty hardcore recalling the early '80s output of ROIR, with Mr. Node a misanthropic stand-in for HR, and the Brains' PMA swapped for the kinda furious paranoid sewage Flipper or Killdozer oozed over similarly confused/enthused audiences way back when.
Each of the six tunes, spread over "side dumb" and "side dumber", feature hilarious anti-social rants about hating the hip, smashing your head, breaking glass, and body issues — set over falling-over-itself high-gain riffage. The occasional panoramic dub vocal pops up, proving these dodes are savvier than the batstew of primitivist Dictators/Gizmos no-brain logic might imply.
It's tough to think of anything this side of the Butthole Surfers that can compete with Thee Nodes' gonzo live set for sheer menacing commitment to freaky R'n'R intensity. If you can't swing that, don't miss James "Uncle Sandy" Watts' bleak black & white depiction of our heroes roaming their depopulated concrete jungle home.
Des eaux usées paranoïaques d'Eamon Quinn:
(Traduit par l'arythmie de Geneviève Faubert)
Les exemplaires du premier album de l'étiquette Swollen City Records sont déjà tous écoulés depuis longtemps. La formation Thee Nodes, qui nous transmet une souche mutante de hardcore alliant art et prestation, rappelle l'univers du début des années 1980 de ROIR : Mr. Node agit à titre de doublure misanthrope d'HR, Flipper remplace les égouts paranoïaques et furieux de PMA (the Brains) et l'auditoire confus et enthousiaste évoque celui de Killdozer il y a de cela bien longtemps.
Les six chansons, réparties sur les deux faces « idiot » et « encore plus idiot » (« side dumb » et « side dumber ») contiennent des propos antisociaux hilarants qui traitent de haine envers le hip, du fait de vous cogner la tête, de briser des verres ou d'autres ennuis corporels, le tout orchestré au cœur de riffs ultrarapides à grand gain. On entend à l'occasion des voix panoramiques dub, preuve que les gars sont encore plus futés que le batstew des primitifs Dictators/Gizmos – aucune logique requise ici.
Depuis Butthole Surfers, difficile de penser à une formation pouvant rivaliser avec la folie scénique de Thee Nodes et son engagement brut et menaçant à rendre l'intensité dérangée du rock 'n' roll. Impossible d'assister à une prestation du groupe? Ne manquez pas le portrait glauque en noir et blanc que présente James « Uncle Sandy » Watts de nos héros vagabondant au cœur de leur jungle urbaine désertée.
---