Tag: surf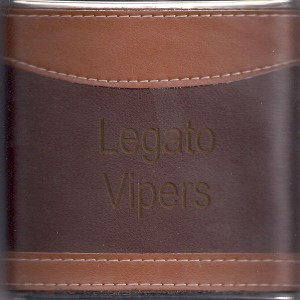 Legato Vipers
Quick Slug EP
Guelph, ON
From the church key of Evan Matthews:
Legato Vipers are a gang of crack Toronto musicians having a blast. Between them, Mike Brooks, Tyler Belluz, Jordan Howard, AJ Johnson and Jay Anderson have been in dozens of great bands over the years. Legend has it that the Vipers started with the acquisition of a reverb pedal, and since then it's been top-shelf surf riffs over a deep-pocketed rhythm section. Filtered through producer Don Pyle, this EP nails the sounds of '60s surf while smoothly inserting modern chord changes ("Sweet 16") and time switches ("Spy vs Spy") to keep it interesting. It's all Tele all the time, and it's amazing. Don't forget your church key!
Du décapsuleur d' Evan Matthews:
(Traduit par le temps de Julie Forget)
Legato Vipers est un groupe de musiciens torontois fêlés qui s'éclatent. Parmi eux se trouvent Mike Brooks, Tyler Belluz, Jordan Howard, AJ Johnson et Jay Anderson, qui ont fait partie d'une douzaine d'excellents groupes au fil des années. D'après la légende, les Vipers ont commencé avec l'acquisition d'une pédale de reverb et depuis ce temps, il n'a été question que de riffs surfs de qualité sur une section rythmique foisonnante. Dirigé par le producteur Don Pyle, ce EP reproduit avec succès les sons du surf des années 60 tout en y introduisant doucement des changements d'accords modernes (« Sweet 16 ») et des variations de tempo (« Spy vs Spy ») afin de garder le tout intéressant. C'est Tele tout l'temps et c'est génial. N'oubliez pas votre décapsuleur !
Hag Face
Hag Face
(Self-Released)
Calgary, AB
From the creep-surf of Penny Clark:
This album sounds like a slew of demons tearing it up at the biggest house party. On a tropical island. With surfing. During a lightning storm. After an ominous introduction, the album sprints with wicked fast creep-surf riffs, metallic wah wah and cackling vocals. Careening basslines slash through with the fury of a Bash Brother and the pull-no-punches drummer punctuates the joyously vicious lyrics. Screeching guitar feedback glistens alongside their seething rhythms. Closer "Shake" shifts the tone and becomes even noisier, which creates an effect of distance as Hag Face withdraw into the night's fog.
Du creep-surf de Penny Clark:
(Traduit de l'île tropicale de Justine Gabias)
Cet album sonne comme un tas de démons s'envoyant en l'air dans un immense house party. Sur une île tropicale. Avec du surf. Pendant un orage électrique. Après une introduction menaçante, l'album déferle avec des riffs effrénés de creep-surf, du wah wah métallique et une voix crépitante. Les jeux de basse chancelants tranchent avec la furie d'un Bash Brother et la batteuse, qui ne fait pas de quartiers, souligne des paroles joyeusement vicieuses. Le feedback grinçant des guitares miroite aux côtés de leurs rythmes enragés. La piste finale « Shake » change le ton et devient encore plus bruyante, ce qui crée un effet de distance alors que Hag Face se retire dans le brouillard nocturne.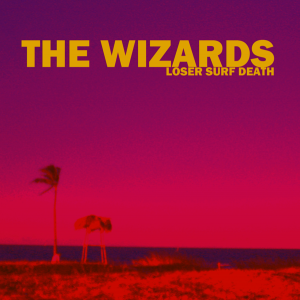 The Wizards
Loser Surf Death
Saskatoon, SK
From the tail fin of Christopher Laramee:
Sounding like an endless summer and riding into that old sunset, Saskatoon, Saskatchewan's The Wizards feel the beach and adjust for wind on this EP. Opener "Hank's Horn/Lunar Landing" breathes some much needed air into the hoary SURF ROCK corpse, starting out in a traditional DICK DALE vein only to veer for the aforementioned lunar sphere with only a quick drum roll for warning. As far as opening salvos go, these dudes are on to something. Third track "Fisheyed" puts some pasta on your plate, some dawn nightmare addled by too many rot-gut liquor shots. Draining fumes in the tailpipe is hard work, boys. Don't think we don't appreciate it. An all-too-brief five-song appetizer that will be followed by more madness soon. PRAIRIE SURF, MUTHERFUCKERS!
De la dérive de Christopher Laramee:
(Traduit les pieds dans le sable par Andréanne Dion)
The Wizards, de Saskatoon en Saskatchewan, se prélassent sur la plage et s'adaptent à la température sur ce EP, qui est l'équivalent musical d'un été sans fin et de jours heureux. La première chanson, "Hank's Horn/Lunar Landing" injecte de la vie dans le corps mort du vénérable genre SURF ROCK, s'inscrivant d'abord dans la tradition de DICK DALE avant de dévier vers ; la sphère lunaire, avec un roulement de tambours rapide comme seul avertissement. Le troisième morceau "Fisheyed" rappelle un cauchemar fait à l'aube, embrouillé par l'alcool trop fort de la veille. Là où les premières notes explosives sont concernées, ces gars sont sur la bonne piste. Les bruits de pots d'échappements demandent beaucoup de travail, après tout. N'allez pas penser que nous n'en sommes pas reconnaissants. Un premier album de cinq chansons trop court, mais qui sera bientôt suivi par une autre dose de folie. On surf dans les prairies, enfoirés!
The Wizards – Hank's Horn/Lunar Landing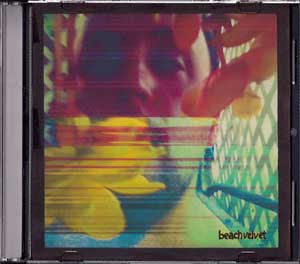 Beach Velvet
Beach Velvet
(Silver Ground Records)
Prince George, BC
From the sebutone jammers of Aaron Levin:
With just enough slacker isolation to eschew the waning spring, Beach Velvet's warbled shimmer slips unseen into the eternal heat of summer noons. It's an easy sound that hits all the right vibes and osmose into your mind to the rhythm of swirling jangle and warm riffs. Relish in the simplicity of tape jammers and log cabin chillin', mentally free-basing off these tape waves.
Des bœufs sebutones d'Aaron Levin: (Traduit par Maya Keshav)
Avec juste assez d'isolement fainéasse pour éviter le printemps en déclin, le scintillement gazouillé de Beach Velvet se glisse inaperçu dans la chaleur éternelle des midis estivaux. C'est un son facile qui atteint toutes les bonnes ondes et qui fait danser votre tête au rythme en osmose de cliquetis tourbillonnant et de riffs chaleureux. Savourez la simplicité des mélodies en cassette et la détente cabane en rondins, en voyageant mentalement dans ces ondes de cassette.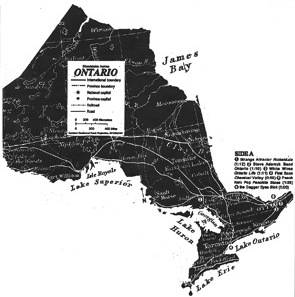 Various Artists
Bloodstains Across Ontario
Various places in Ontario
From the blundering idiocy of Jesse Locke:
Mammoth Cave's tribute to my recently adopted province and the third entry in its Bloodstains series is a rapid-fire bombardment of ON's finest hook-smugglers. Like speed dating at Gaga Weekend. it's a blur of faces young and old that spins by before you can decide if they're a creeper or a keeper. From the scummy sugar rush of Strange Attractor to White Wires' pogo-punk and the starry eyed twee of Peach Kelli Pop, side A spills over with jams. The flip sees Young Guv channel his inner Ric Ocasek, Slim Twig sprout up twice with shred-heavy side-project Tropics, and the unreleased cut from Shadowy Men on a Shadowy Planet jolt from idyllic to jugular-ripping. Of course, Tonetta steals the show with effortless elevator sleaze, urging Toronto residents to "clean it up, yeah, all the shit." Wooly bully bang for the buck grip.
L'idiotie gaffeuse de Jesse Locke: (Traduit par Odile Leclerc)
L'hommage à ma province récemment adoptée par Mammoth Cave et la troisième entré dans sa série Bloodstains est un bombardement rapide des plus fins contrebandiers d'accroches de l'ON. Comme les rencontre en lignes sur Gaga Weekend. C'est un flou de visages jeunes et vieux qui tournent avant que vous puissiez décider s'ils sont un obséder ou un bon à garder. Des montées de sucre vaseuse de Strange Attractor au pogo punk de White Wires et les yeux fixeur pittoresque de Peach Kelli Pop, la face A se déverse avec des jams. L'endos voit Young Guy canaliser son Ric Ocasek intérieur, Slim Twig surgit doublement avec le très déchirant projet en parallèle Tropics et la coupure pas encore sortie de Shadowy Men on a Shadowy Planet s'ébranle de idyllique à déchirement de jugulaire. Bien sûr, Tonetta vole la vedette avec un ascenseur sordide sans effort, pressant les résidants de Toronto de ''Nettoyez tout, ouais, toutes les cochonneries.'' Le fracas Wooly bully pour l'attrapage de mec.
Shadowy Men on a Shadowy Planet – Foreign/Aft
Peach Kelli Pop – Panchito Blues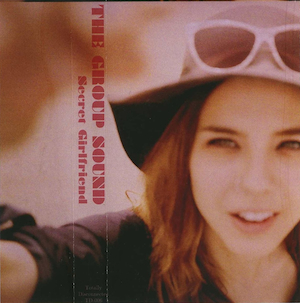 The Group Sound
Secret Girlfriend
Edmonton, AB
From the love letters of Pam Haasen:
The ebb and flow of washy guitars echoing across the Pacific form the most beautiful sunset of sweet lyrics on Secret Girlfriend. Dance on the horizon and cast the longest shining reflection that reaches your toes as you dip into the Group Sound. Love letters written in sand dunes on the warmest night in July remind you why you loved pop when you were young and thirsty. These road songs for a trip rise to the top of Mt. Fuji and scream "baby please don't go!" as you skydive down to earth and land in a banana split.
The Group Sound – Secret Goilfriend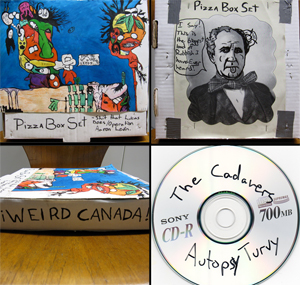 The Cadavers
Autopsy Turvy
(Self Released)
Edmonton, AB
For the first installment of the Pizza Box-Set we will go back into the lives of Lucas Wilfred Finnamore-Gochgarian and Thomas Gaudin (synth player and singer of The Wicked Awesomes! respectively). The Cadavers provide true, fossilized evidence of The Wicked Awesomes!'s frankenstein-esque mashery of gothic surf-punk and Black Lipsian garage. Joining Thomas and Lucas in The Cadavers are two bros named Chad and Liam (I have no idea who they are – but I'm sure they're wonderful). Thomas shows considerable promise as a singer, and indeed his work with The Wicked Awesomes! proves this. On the other hand, Lucas shows considerable promise as an exceptionally creative person, which he certainly is. They have a song called 9-Day Rat-Stache and as a soon-to-be 28 year-old who cannot grow facial hair, the song resonates very strongly with me. Long live the Pizza Box-Set.
The Cadavers – Overdose on Awesome
Pour la première partie de Pizza Box Set nous allons retourner dans les vies de Lucas Wilfred Finnamore-Gochgarien et Thomas Gaudin (joueur synthétiseur et chanteur des The Wicked Awesome! respectivement). Les Cadavers donnent une vraie preuve fossilisée de l'écrabouillement frankenstein-esque du surf-punk gothique de The Wicked Awesomes! et Black Lipsian Garage. Rejoignant Thomas et Lucas dans The Cadavers sont deux frères nommés Chad et Liam (je n'ai aucune idée de qui ils sont- mais je suis sûre qu'ils sont superbes). Thomas promet considérablement en tant que chanteur et en effet son travail avec The Wicked Awesomes! le prouve. D'un autre côté, Lucas lui promet considérablement d'être une personne exceptionnellement créative, ce qu'il est certainement. Ils ont une chanson appelée 9-Day Rat-Stache et étant un homme de bientôt 28 ans qui est incapable de se faire pousser une barbe, la chanson résonne fortement bien avec moi. Longue vie à Pizza Box-Set.
The Cadavers – Overdose on Awesome
---