Tag: surf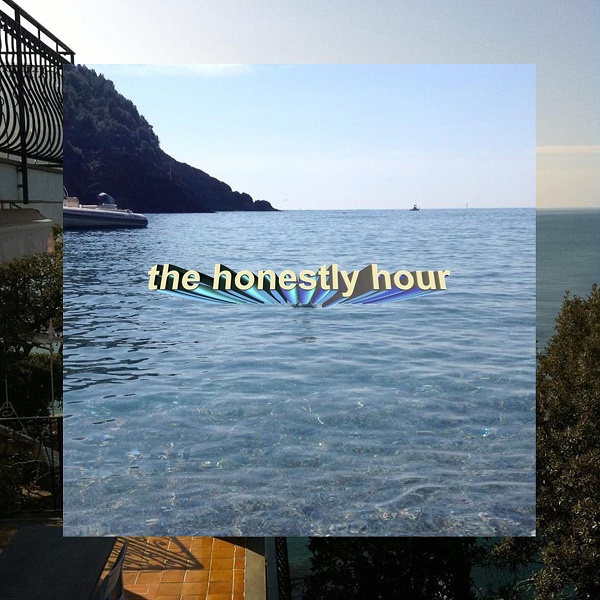 No Problem
The Honesty Hour
(Self-Released)
Halifax, NS
From the flu saturated state of Caleb John Schriver:
No Problem's college rock leanings and post-teenage yearnings equate to a back-to-school fever dream in the honestly hour. From purchasing shoes to inviting Kurt Inder to after parties, these young Truro boys conjure up a delirium where things like "cheapcruise.dad.com" can only make sense. No Problem couples songwriting prowess and their own "popsicle rock" to create a serenity, likened to waking up from a mid-day nap, dehydrated with one sock on and barely still on the bed. This nap is satisfying, like unrolling the cuffs of your pants and only finding a little bit of lint.
De l'état saturé de la grippe de Caleb John Schriver:
(Traduit par l'angoisse adolescente de Maya Keshav)
Les tendances de rock à l'université et les désirs postadolescence de No Problem équivalent à un rêve fiévreux de la rentrée scolaire dans the honestly hour. De l'achat de chaussures jusqu'à l'invitation de Kurt Inder aux afters, ces jeunes garçons de Truro font apparaître un délire où les choses comme "cheapcruise.dad.com" ont du sens. No Problem couple la prouesse parolière à son propre "popsickle rock" pour créer une sérénité, qui nous fait penser à quand on se réveille d'une sieste de iournéei, déshydraté avec seulement une chausette et tout juste sur le lit. Cette sieste est satisfaisante, comme quand on déroule ses revers de pantalons et on trouve juste un petit peu de peluche.
No Problem – She Can't Help Herself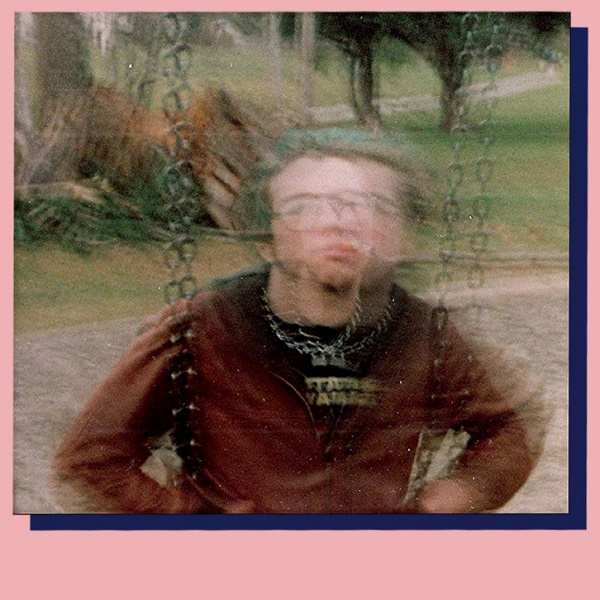 Milk
Late Bloomer
(Self-Released)
Vancouver, BC
From the summer soul of Steph Kvellestad:
Milk's self-released EP packs grunge, weirdo rock, and surf into 6 tracks, conjuring early summer barbeques that become late night adventures under the stars. The soft, almost beachy guitar chords are reminiscent of long days spent listening to waves at the beach while the lyrics are like sand: they stay with you for ages after you've left the shore. It's the soundtrack to the summer you'll remember forever with songs you'll never forget.
De l'âme estivale de Steph Kvellestad:
(Traduit par les doigts prolifiques de Julie Mayer)
Le maxi autoproduit de Milk case du grunge, du rock zarbi et du surf dans 6 morceaux. Il rappelle ainsi les barbecues estivaux précoces qui, tard en soirée, se prolongent en aventures sous les étoiles. Évocateurs de la plage, les doux accords de guitare sont empreints du souvenir des longues journées passées à écouter les vagues. Les paroles sont, quant à elles, comme le sable : elles restent avec vous un temps fou après avoir quitté le rivage. C'est la trame sonore de l'été dont vous vous souviendrez toujours grâce à des chansons que vous n'oublierez jamais.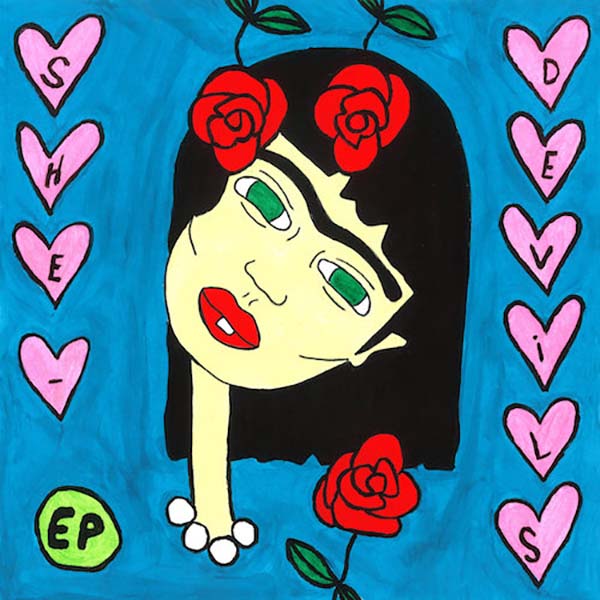 She-Devils
She-Devils EP
(Self-Released)
Montréal, QC
From the lost Hollywood dreams of Mike Roy:
Through the shifting gaze of a kaleidoscope dream, She-Devils appear in a call of absorbing desire. "Come" draws you into its core through the whirring inversion of '60s surf rock, slowly deconstructing the pop processes that breathe life through the meticulous repetition of lyrics and guitar rhythms. "Where There's No One" crackles as it spins classic ballads into a new web of aesthetics, while "I Wanna Touch You" rises up-and-down like an elevator caught between floors of ecstacy and confusion. The additional remix of "Come" cements the experimental nature that is embedded in the album – a collection of puzzle pieces ready for play.
Des rêves d'Hollywood perdus de Mike Roy:
(Traduit par la plage fondante de Mackenzie Smedmor)
À travers le regard changeant d'un rêve de kaléidoscope, She-Devils apparaît dans un appel de désir absorbant. "Come" vous attire jusqu'au plus profond de lui grâce au bourdonnement inversé du surf rock des années 60, en décomposant lentement les processus pop réanimés par la répétition méticuleuse de paroles et de rythmes de guitare. "Where There's No One" crépite en jouant des ballades classiques se transformant en une nouvelle toile d'esthétiques, tandis que "I Wanna Touch You" soulève les ascensions et les descentes comme un ascenseur coincé entre les étages de l'extase et la confusion. Le remix additionnel de "Come" cimente la nature expérimentale qui est gravée dans l'album telle une collection de morceaux de casse-tête de pièce prête `à être jouée.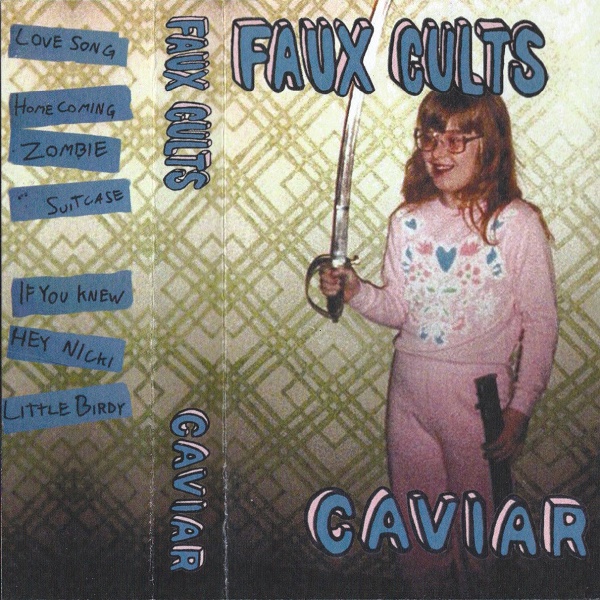 Faux Cults
Caviar
(Self-Released)
Peterborough, ON
From the gnarly swells of Mike Roy:
An abandoned fish tank sits in the corner of your parents' living room. The tank is still half-full, void of life beyond its tropical beach backdrop. An aimless surfer is face down in a growing pit of algae. You approach the glass and tap to find a pulse. Tick. Tick. A hairline crack is formed. It grows and grows. The tank comes to life. Tick. Tick. The surfer twists in his pit of algae to look at you. A longing for a swell to escape Tick. Tick. Crack. Water gushes through the room, liberated to all corners of the room. The surfer rides these currents to land by your feet. The energy of an endless summer from a long forgotten memory warms the room. The look of longing evolves to a smile.
Des gonflements fous de Mike Roy:
(Traduit par l'adulation en série Mackenzie Smedmor)
Un aquarium abandonné est posé au coin du salon de tes parents. Il est toujours à moitié rempli, dépourvu de vie autre que le fond de plage tropicale. Un surfeur vagabond est à plat ventre dans un trou croissant d'algues. Tu t'approches du verre et tapes à la recherche de son pouls. Tick. Tick. Une petite fissure se forme. Elle croît et croît. L'aquarium prend vie. Tick. Tick. Le surfeur se serpente dans son trou d'algues pour te regarder. Une envie pour qu'un gonflement s'échappe. Tick. Tick. Crack. L'eau jaillit dans la salle, libérée dans chaque coin de la salle. Le surfeur monte ces courants pour atterrir à tes pieds. L'énergie d'un été sans fin d'une mémoire longtemps oublié réchauffe le salon. Le regard d'envie s'évolue en sourire.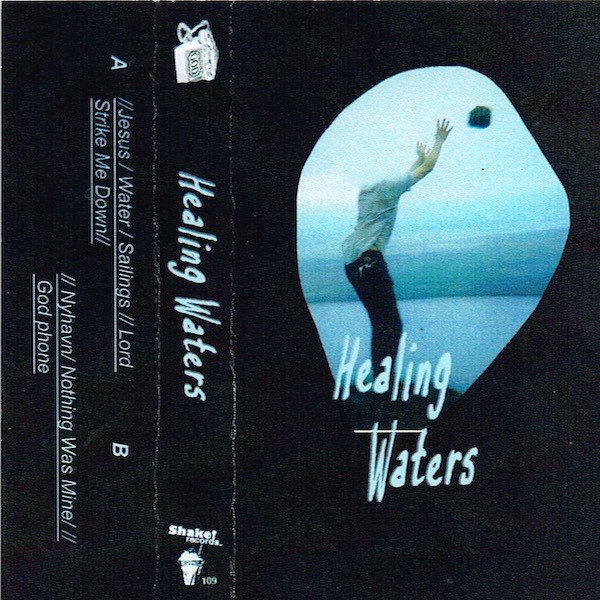 Healing Waters
Water
Victoria, BC
From the aquaphobic hallucinations of Sara Bortolon-Vettor:
Curves of black and blue fluid create a divine ripple effect. Sun sparkles. The water is warm. Our minds bloat and float away like abandoned canoes, left to drift. Passengers' punctured souls litter the water's floor. As the heaviness behind our eyes turns our gaze downward, staring into the water, we wonder whether our thoughts will drown. Be gone forever.
Des hallucinations aquaphobiques de Sara Bortolon-Vettor:
(Traduit par Diane Beaupré)
Des courbes de fluides noirs et bleus créent un effet d'ondulation divin. Le soleil brille. L'eau est chaude.. Nos esprits se gonflent et partent à la dérive comme des canots abandonnés à la merci du courant. Les âmes perforées des passagers jonchent le plancher des eaux. Alors que nos paupières lourdes nous font baisser les yeux et fixer les profondeurs de l'eau, nous nous demandons si nos pensées couleront. Disparaître à jamais.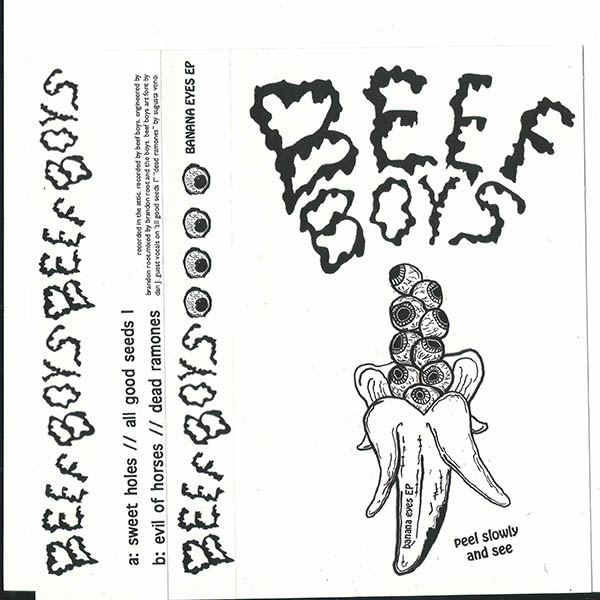 BEEF BOYS
Banana Eyes EP
(Four Eyes Recordings)
Peterborough, ON
From the anxiety ridden thought diarrhea of Mitch Jackson:
The last time I found myself in Peterborough I puked on the hood of someone's Buick. For the unacquainted, Peterborough is a safe haven in the surrounding Mad Max-esque shit storm of all terrain vehicles, and big lifted rigs. Beef Boys emanate from the underbelly of Peterborough, emerging through a slaughterhouse of reverb and fuzz, trading off surf and garage influences. They're decidedly greasy, and I have a sneaking suspicion that they all had a hell of a time tucking their flows into a bucket in minor league puck.
De la diarrhée causée par la pensée chargée d'anxiété de Mitch Jackson:
(Traduit par la surdose d'ipéca de Julie Mayer)
La dernière fois que je me suis retrouvé à Peterborough, j'ai vomi sur le capot de la Buick à quelqu'un. Pour ceux qui ne connaissent pas, Peterborough est un havre de paix situé dans le merdier Mad Max-esque débordant de véhicules tout-terrain et de grosses camionnettes qui font des cascades. Beef Boys émane des entrailles de Peterborough, émerge à travers un abattoir de réverbération et de fuzz et oscille entre des influences surf et garage. Les membres du groupe sont tout à fait louches et je commence à soupçonner qu'ils ont eu un mal fou à rentrer leur tignasse dans leur casque quand ils jouaient au hockey mineur.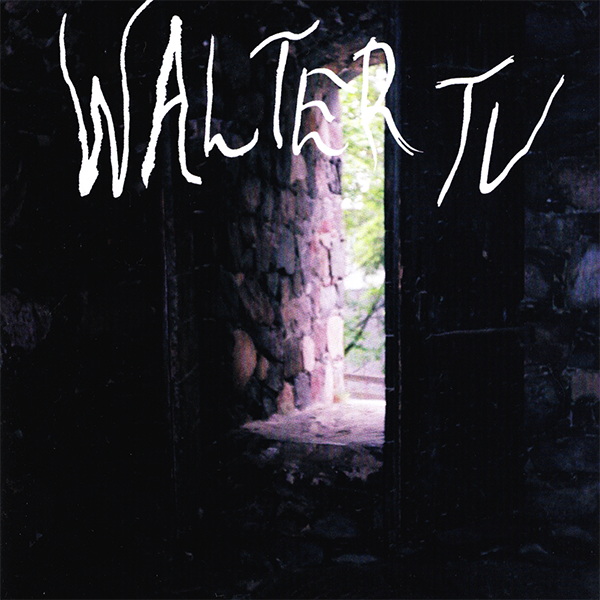 Walter TV
Blessed
Vancouver, BC
From the outrageous orations of Jake Bornheimer:
Blessed seems to be the work of a kaleidoscopic collective of swamp–punks crafting deranged melodies and raucous riffs for psychotic garage pop anthems — yelping & screaming, in warmly warbling stereo, shades of Machiavellian chorus — serving out deluxe dishes of sizzling psychedelic surf. And what a fine work it is! I find myself reveling in a rippling rainbow of resonance: drums thumping, guitars chiming, and distended vocals oscillating in my sensory periphery, as my brain locks into Walter TV's otherworldly slacker groove, propelled into the ionosphere by "Tall Mountains," where I rest with the soft Aurora Borealis.
Des discours extravagants de Jake Bornheimer:
(Traduit par la roue des couleurs de Julie Mayer)
Blessed s'apparente au travail d'un collectif kaléidoscopique de voyous marécageux qui réalisent des hymnes de pop garage psychotiques avec une mélodie dérangée et des riffs rauques déchaînés (glapissements et cris dans une chaîne stéréo chaleureuse et babillarde, nuances de chœurs Machiavélique) et qui servent de délicats mets d'ondulations psychédéliques et grésillantes. Mais quel beau boulot! Je me retrouve en pleine félicité dans un arc-en-ciel ondoyant de résonance : le battement des tambours, le tintement des guitares et les chants distendus oscillent dans ma périphérie sensorielle tandis que mon cerveau entre dans le groove oisif surnaturel de Walter TV, propulsé par « Tall Mountains » dans l'ionosphère, où je m'étends auprès de la douce Aurore Boréale.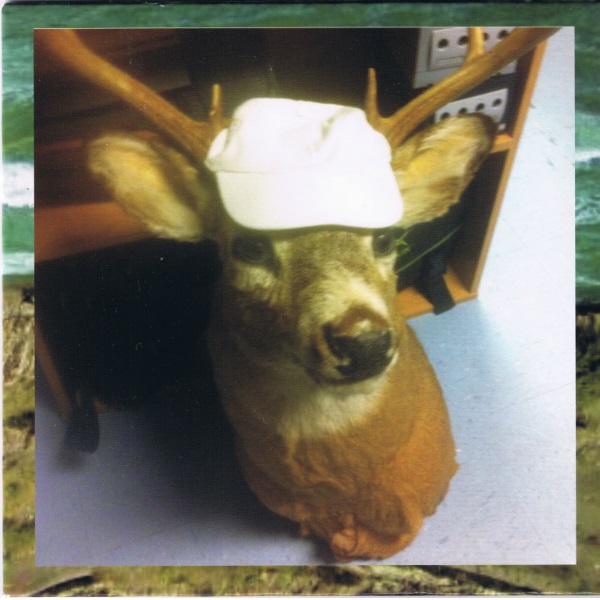 no problem
s/t
(Self-Released)
Truro, NS
From the bottomed ship of Benjamin Anderson:
Smoke is pouring its non-dimensions out from under the door, you can hear something stirring – no – you won't get in through there. You sneak in through the back – yes – this is what you came for. Figures that aren't quite bodies shift and lock together while up on the execution block there stands droogs, gully rats, and sonic gunslingers. Yellowing widths and lengths ooze from the crouching instruments, their wielders opaque but barely. You're nervous at first, but they are imploring you forward; closer. You give into the blind bliss of sun-worn tongues and bottomed-ship songs. Don't resist.
De l'épave submergée de Benjamin Anderson:
(Par la coquille à la derive d' Aliké Harel)
La fumée s'échappe en nuées adimensionnelles depuis le seuil de la porte, tu entends bien du mouvement à l'intérieur… mais — non — l'entrée n'est pas de ce côté-ci. Il faut se faufiler par la porte de derrière — c'est bien ça — que tu cherches. Des silhouettes qui n'ont pas tout à fait de corps tanguent, puis se figent les unes contre les autres, debout sur l'échafaud, acolytes, écumeurs et mercenaires soniques. Les instruments courbés tout de lambeaux défraîchis, et leurs interprètes, opaques, mais à peine. Tu es nerveux au début, mais ils t'implorent d'avancer, de t'approcher. Tu t'abandonnes aveuglément au plaisir des langues burinées par le soleil et des ritournelles d'épaves submergées. Ne résiste pas.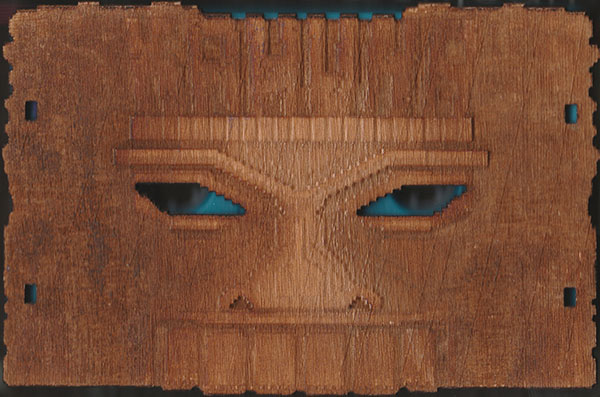 Kahuna
$TEPPING $TONE
Toronto, ON
From the Cyberspace 7 of Brendan Lehman:
Your vision comes into focus just in time to see the wireframe meshes of the world around you form with texture. Almost automatically, you take off running. Suddenly, a blinding explosion of light – laser shots tickle your body from both sides. Ducking and rolling as a graceful dancer on the biggest stage, mind further detaches from body. At the summit, colours of the surroundings return to the wireframe of cyberspace; the weight of the flag lifted – your goal completed. ROUND TWO.
Du Cyberspace 7 de Brendan Lehman:
(Traduit par Jessica Grenier)
Ta vision devient claire juste à temps pour voir ressortir la texture de la structure filiforme du monde tout autour. Tu te mets à courir presque immédiatement. Soudain, une explosion lumineuse t'aveugle – des lasers chatouillent ton corps des deux côtés. Tu sautes puis roules pour les éviter, comme un danseur gracieux sur une scène gigantesque. Ton esprit se détache un peu plus de ton corps : à l'apogée, les couleurs environnantes retournent dans la structure du cyberespace – le drapeau a été levé, le but est atteint. DEUXIÈME ROUND.
Skinny Kids
Skinny Kids
Vancouver, BC
From the magical memory of Josefa Cameron:
Skinny Kids gracefully wander down the well trodden path of reverb-soaked surf rock. The band's self-titled cassette kicks of with "Small Room," a song caked with a similar catchy coolness to The Allah-las' "Catamaran". A West Coast vibe pervades all six songs, seeping through the drowsy vocals, simple drum beats, and groovy basslines until it drowns out any non-surfy influence, if there ever was one in the first place. The Vancouver trio has mastered a steadiness of effortless style through their stoner ease and sweaty basement sing-a-long melodies. The innocently naughty "All Gold" wraps up the album with an anthemic sound like Pangea's "Badillac." With guitar riffs hailing (influentially) from the Dirty South and a head-sticking vocal hook, Skinny Kids cleverly leave the listener wanting more.
Des souvenances magiques de Josefa Cameron:
(Traduit par Aliké Harel)
Skinny Kids avance avec grâce dans l'allée plutôt fréquentée du surf rock généreux en reverb. L'album éponyme s'élance avec « Small Room », une chanson nappée d'une envoûtante fraîcheur à la « Catamaran » de The Allah-las'. Une goutte de la côte Ouest traverse les six pistes; l'infiltration de voix somnolentes et de percussion simpliste s'écoule dans le ruissellement de la basse, jusqu'à ce que toute influence non surfiste, éventuellement présente, soit submergée. Le trio de Vancouver est passé maître dans l'art de conserver son style sans y mettre le moindre effort grâce à ses chansonnettes interprétées avec une indolence d'enivré depuis un sous-sol qui sent la sueur. Innocent mais aguichant, « All Gold » conclut l'album avec un son solennel rappelant « Badillac » de Pangea. À l'aide de riffs de guitare stridents (et influents) de Dirty South et d'une voix accrocheuse, Skinny Kids charme avec adresse l'auditeur qui ne peut qu'en redemander.
---