Tag: sudbury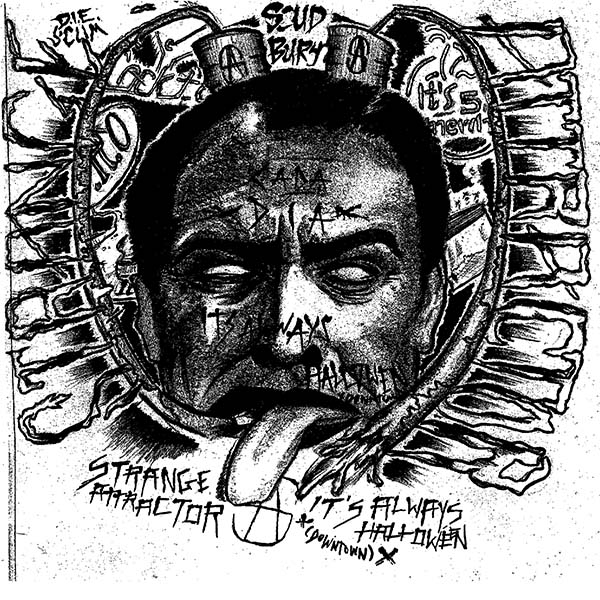 Strange Attractor
It's Always Halloween (Downtown)
Sudbury, ON
From the February costume of Brendan Lehman:
Real life and the night life – two versions of the same city. As the debate rages as to which is the new normal, each is populated with their own share of freaks and punks. Everyone in their work uniform, from denim suits to long johns to a button-covered leather jacket. Who is the real freak? Probably you and probably me. All in a swirl of Strange Attractor's distorted haze with the rest of the people hanging out downtown.
Du costume de février de Brendan Lehman:
(Traduit par la garde-robe trouée de Jessica Grenier)
La vie quotidienne et la vie nocturne – deux versions d'une même ville. Alors que le débat fait rage à savoir laquelle est la nouvelle normalité, chacune a sa dose de bizarroïdes et de punks : tous ont leur uniforme, du costume en jean aux caleçons longs en passant par le blouson en cuir couvert de boutons. Qui est le plus bizarre? Probablement toi et moi… et tous les autres qui se tiennent au centre-ville dans un des tourbillons de brume distordue de Strange Attractor.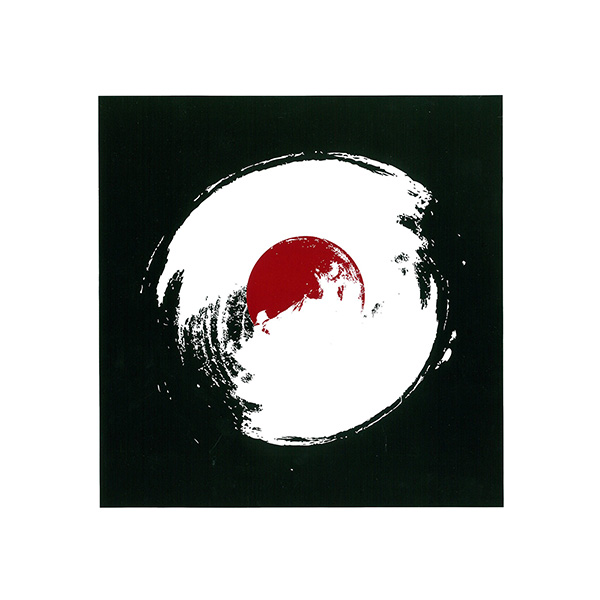 Sudbury's Geyser are soaked in as much whiskey and youth as distortion and haze, guitars buzzing and basses swirling before kicking in the door to sharp hooks and unruly vocals.
Geyser
Geyser EP
Sudbury, ON
From the rivers and skies of Brendan Lehman:
First in the catalog of Sudbury DIY imprint Radiclaw Records, the fuzz-tastic three-piece Geyser rock with an energy rarely seen. Soaked in as much whiskey and youth as distortion and haze, guitars buzz and basses swirl before kicking in the door to sharp hooks and unruly vocals: an homage to a bygone decade. Cold nights power gritty anthems, indignant to their backdrops, longing for the next chance to put the top down, throw the map away, and just ride.
Des cieux et des rivières de Brendan Lehman:
(Traduit par Jessica Grenier)
D'abord aperçu dans le catalogue DIY de Radiclaw Records (de Sudbury), le fuzz-tastique groupe tripartite Geyser rock avec une énergie rarement vue. Baignant autant dans le whiskey et la jeunesse que dans une distorsion brumeuse, les guitares bourdonnent et les basses tourbillonnent avant de transpercer la porte à coup de crochets et de voix désordonnées : un hommage à une décennie révolue. Des hymnes brutaux aux nuits froides, s'insurgeant de leurs paysages dans l'attente brûlante du prochain saut dans la décapotable pour jeter la carte et rouler droit devant.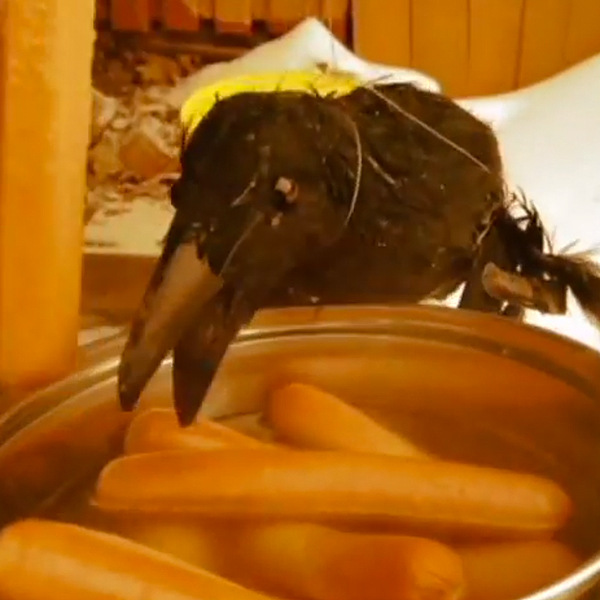 Strange Attractor
Hot Dog Water
Sudbury, ON
From the noxious afterlife of Don L'Orange:
News flash from the landfill: "I can't sleep cuz my head's on fire." Finally, the White North has been infested with rats. Threatening to those with low self-esteem, pests have always been hated. A product of existential terror, conceited feelings of disgust prevent thoughts of creatureliness. God is on top, followed by other spiritual beings such as angels. Below human animals are other animals, plants, and rocks. The thinking is, cruelty now will ensure personal well-being during the end times. Praise public health!
De l'au-delà ravageur de Don L'Orange:
(Traduit par Aliké Harel)
Brèves depuis le dépotoir : « Je n'arrive pas à dormir parc' que j'ai l'crâne en feu. » Enfin, les rats ont atteint le Grand Nord. Réelle menace pour ceux qui ont une piètre estime d'eux-mêmes, les ravageurs ont toujours été la cible des coups. Le résultat d'une terreur existentielle, sentiment de dégoût construit pour évincer l'idée « d'être vivant à part entière ». Dieu est en haut, suivi d'autres entités spirituelles, comme les anges. Sous l'espèce animale humaine se trouvent les autres animaux, les plantes et la matière rocheuse. La logique veut que la cruauté d'aujourd'hui soit garante du bien-être du monde lorsque la fin approchera. Gloire à la santé publique!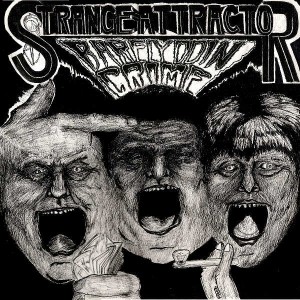 Strange Attractor
Barely Doin' Crime
Sudbury, ON
From the personal cheque of Brendan Lehman:
With the coals of Back To The Cruel World still warm, Strange Attractor gas the fire again with an equally raucous EP. Probably cooked in the same lab as the infamous Noise Tape, these six jams crammed into a 7" run the gamut from a dangerous trip to a dangerous trip and a press release. Mental corruption runs thick through these driving bangers, rife with breach of trust and altered documents: the seedy underbelly of a drunken façade. We're burning down the walls of conservative values, one screaming riff at a time. Sounds like my kind of party.
Du chèque personnel de Brendan Lehman:
(Traduit par le doux murmure d'Anaïs Njike)
De la braise encore chaude de Back To The Cruel World, Strange Attractor rallume le feu avec un EP tout aussi tapageur. Probablement conçu dans le même labo que la notoire Noise Tape, cet ensemble de 6 morceaux condensés sur un 7 po vous fait voyager d'un danger à l'autre en passant par un communiqué de presse. La corruption mentale tourne à fond dans ces débris à roulettes, blindés d'abus de confiance et de faux documents : la face cachée miteuse d'un ivrogne. On fait tomber les barrières du conservatisme, un riff criant après l'autre. Ça c'est mon genre de fête.

Strange Attractor – I Need to Kill My Neighbours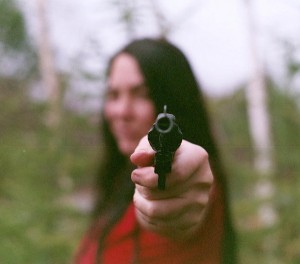 The Almighty Rhombus
Lucid Living
Sudbury, ON
From the big basement of Brendan Lehman:
The Almighty Rhombus is unabashedly a pop band. One has but to experience them, however, to realize that a thing boils beneath their collective surface. What is that thing? Maybe it is something born of a remote lodge filled with a smokey haze emanating from everywhere but the fireplace. You can feel it percolating in the toned stoner pop of songs like "Fluorescent". Perhaps it's the smoke from the superstack seeping its way into the dive bars, causing mayhem as it flows, transforming ridiculously catchy hooks to crescendos of sounds past. One thing you can count on though, is the precision with which this chess game of an album will catch your ear and not let go. Coffee?
De la chaise confortable de Brendan Lehman:
(Traduit par Kristen Lavallee)
The Almighty Rhombus est, sans honte, un groupe de pop. On n'a qu'à éprouver l'expérience pour se rendre compte que quelque chose mijote sous leur surface collective. Quel est ce truc? Peut-être c'est quelque chose né d'un chalet isolé rempli d'un brouillard de fumée émanant de partout sauf de la cheminée. Vous pouvez le sentir se répandre dans les mélodies sublimes, comme par exemple, dans la chanson « Fluorescent ». C'est peut-être la brume du Superstack s'écoulant son chemin dans les bars miteux qui sème la pagaille pendant que les musiciens joues, transformant les crochets ridiculement entraînants et les crescendos de sons passés. Une chose que vous pouvez compter, c'est la précision avec laquelle ce jeu d'échecs d'un album qui va réussir à attraper votre oreille, et la garder! Café?

The Almighty Rhombus – Fluorescent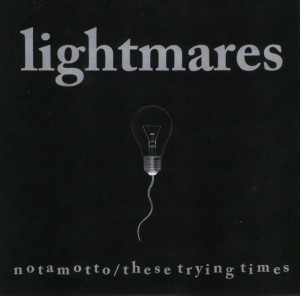 Lightmares
Notamotto b/w These Trying Times
(Self Released)
Sudbury, ON
From the trying times of Joel French:
It must have been seven or eight years now since I first saw Lightmares play a show. These three dudes weren't old enough to stay in the bar after their set, but that didn't stop them from giving out an insanely captivating and raw performance — or from handing out their demos to everyone as we went out to smoke. Since then they've tightened up their live show, songwriting and banter quite a bit, yet they seem just as hungry every time I see them play. This pair of weirdo pop-rock songs is a great representation of what these boys are capable of.
Des temps difficiles de Joel French:
(Traduit avec fébrilité par Andréanne Dion)
Ça doit maintenant faire sept ou huit ans que j'ai vu Lightmares en spectacle pour la première fois. Ces trois gars n'étaient pas assez vieux pour rester dans le bar après leur prestation, mais ça ne les avait pas empêchés de donner une performance extrêmement captivante et brut, ou de distribuer leur démo à tous ceux qui sortaient fumer. Depuis, ils ont pas mal amélioré leur spectacle, la composition de leurs chansons et leurs plaisanteries, mais ils semblent toujours aussi avides à chaque fois que je les vois jouer. Cette paire de chansons pop-rock étranges représente bien de quoi ces gars sont capables.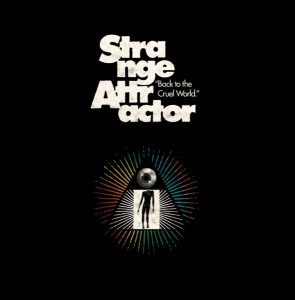 From the akashic record of Brendan Lehman:
From only the finest of decrepit driveways and dingy, rock-filled basements of Sudbury come the latest wonder from Strange Attractor. This garage punk trip hits you in the best of strange ways, like somebody fiddled with the knobs on the way out of the time machine, freaking out as the jams swirl in a sweaty haze of indignant distortion. Throw the Stooges out into the woods for a while and this is what you'll get. That, or it'll just make you want to get naked and climb the rafters. Loud, capricious, and making bad decisions. Mammoth Cave said it's too bad nobody will listen to this record. Prove them wrong.
Des annales akashiques de Brendan Lehman:
(Traduit par les griffes Joannie Pharand)
C'est uniquement sortie des plus belles entrées délabrées et des sous-sols défraîchis remplis de roches de Sudbury que la plus récente merveille de Strange Attractor surgit. Ce voyage garage punk vous frappe d'une façon des plus étranges et agréables à la fois, comme si quelqu'un avait manipulé les poignées en sortant d'une machine à voyager dans le temps, paniquant, pendant que les jams tourbillonnent en une brume moite de distorsion indignée. Jetez les Stooges dans les bois pour un certain temps et voilà le résultat. Soit ça, ou vous aurez une envie de vous dénuder et de grimper sur les chevrons. Bruyant, capricieux et prenant de mauvaises décisions. Mammoth Cave a dit que ce sera bien dommage que personne n'écoute cet album. Prouvez-leur qu'ils ont tort.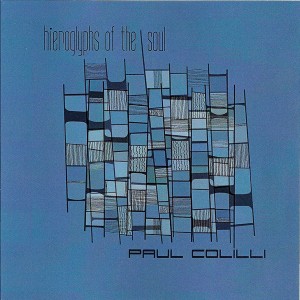 Paul Colilli
Hieroglyphs of the Soul
Sudbury, ON
From the incorporeal graffiti of Jesse Locke:
The name Paul Colilli may be relatively unheralded in the annals of Canadiana, but his contributions to the underground canon must not be overlooked. As a founding member of Hamilton's O.G. electro rockers Simply Saucer — in the band's pre-Cyborgs Revisited six-piece formation — he helped lay the foundation for one of the most crucial lysergic-rock groups of that or any era. Several lifetimes later, Colilli re-emerged from a parallel existence in academia with the aptly titled solo release, Psycho Sacred Music, and now steps forth once again with Hieroglyphs of the Soul. With a spoken/sung delivery reminiscent of Ray Davies, he spins yarns of the alchemical Jesus, Syd's vegetable man reincarnate, and an ongoing exploration into the concept of dead angels. I want to believe…
Du graffiti incorporel de Jesse Locke :
(Traduit de l'âme pseudo-alchimiste de Dominic Mpilé)
Le nom de Paul Colilli est peut-être relativement méconnu dans les annales Canadiennes, mais sa contribution à notre canon underground ne doit pas être négligée pour autant. En tant que membre fondateur du groupe électro d'Hamilton Simply Saucer – dans l'incarnation sextuor du groupe qui date d'avant Cyborgs Revisited — il a participé à la création de l'un des plus importants groupes de rock lysergique de tous les temps. Après une absence qui a semblé durer plusieurs vies, Colilli a émergé d'une existence parallèle dans le monde universitaire avec le tube solo judicieusement intitulé Psycho Sacred Music, et puis remet maintenant ça avec Hieroglyphs of the Soul. Avec un débit tantôt chanté, tantôt parlé qui rappelle Ray Davies, il nous raconte les histoires de Jésus l'alchimiste, de la réincarnation du vegetable man de Syd, et offre une exploration continue du concept des anges morts. Je veux bien y croire…
Paul Colilli – One Sunday Morning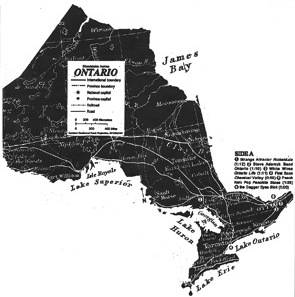 Various Artists
Bloodstains Across Ontario
Various places in Ontario
From the blundering idiocy of Jesse Locke:
Mammoth Cave's tribute to my recently adopted province and the third entry in its Bloodstains series is a rapid-fire bombardment of ON's finest hook-smugglers. Like speed dating at Gaga Weekend. it's a blur of faces young and old that spins by before you can decide if they're a creeper or a keeper. From the scummy sugar rush of Strange Attractor to White Wires' pogo-punk and the starry eyed twee of Peach Kelli Pop, side A spills over with jams. The flip sees Young Guv channel his inner Ric Ocasek, Slim Twig sprout up twice with shred-heavy side-project Tropics, and the unreleased cut from Shadowy Men on a Shadowy Planet jolt from idyllic to jugular-ripping. Of course, Tonetta steals the show with effortless elevator sleaze, urging Toronto residents to "clean it up, yeah, all the shit." Wooly bully bang for the buck grip.
L'idiotie gaffeuse de Jesse Locke: (Traduit par Odile Leclerc)
L'hommage à ma province récemment adoptée par Mammoth Cave et la troisième entré dans sa série Bloodstains est un bombardement rapide des plus fins contrebandiers d'accroches de l'ON. Comme les rencontre en lignes sur Gaga Weekend. C'est un flou de visages jeunes et vieux qui tournent avant que vous puissiez décider s'ils sont un obséder ou un bon à garder. Des montées de sucre vaseuse de Strange Attractor au pogo punk de White Wires et les yeux fixeur pittoresque de Peach Kelli Pop, la face A se déverse avec des jams. L'endos voit Young Guy canaliser son Ric Ocasek intérieur, Slim Twig surgit doublement avec le très déchirant projet en parallèle Tropics et la coupure pas encore sortie de Shadowy Men on a Shadowy Planet s'ébranle de idyllique à déchirement de jugulaire. Bien sûr, Tonetta vole la vedette avec un ascenseur sordide sans effort, pressant les résidants de Toronto de ''Nettoyez tout, ouais, toutes les cochonneries.'' Le fracas Wooly bully pour l'attrapage de mec.
Shadowy Men on a Shadowy Planet – Foreign/Aft
Peach Kelli Pop – Panchito Blues
---