Tag: student loan records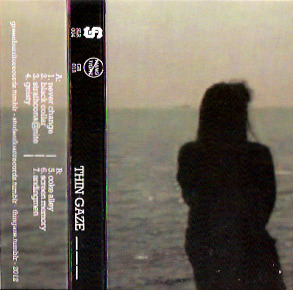 Thin Gaze
___
Vancouver, BC
From the zeitgeist of James Goddard:
Thin Gaze is a vulture turned loft-party crooner. He's got a voice that will haunt you like a hangover. His debut cassette is a collection of crooked lullabies for sleepless nights. Dark songs built on electronic soundbeds and unstable samples that move like smoke. While Gilles Vigneault's country was winter, Thin Gaze's domain is a back alley in the rain-slicked downtown east-side. It's time to get acquainted with the first member of a whole new rat pack.
Du Zeitgeist de James Goddard:
Thin Gaze est l'alias d'un ex-vautour devenu crooner de loft qui possède une voix obsédante comme une gueule de bois. Sur sa première cassette, il construit des berceuses sombres et tordues pour insomniaques à partir de bruits de fond électroniques et d'échantillons instables comme des volutes de fumée. Si le pays de Gilles Vigneault c'est l'hiver, celui de Thin Gaze, c'est une ruelle pluvieuse du Downtown East Side. Il est grand temps de découvrir ce premier membre d'un nouveau Rat Pack.
[audio:http://weirdcanada.com/wp-content/uploads/2012/11/Never_Change.mp3|titles=Thin Gaze – Never Change] Thin Gaze – Never Change
[audio:http://weirdcanada.com/wp-content/uploads/2012/11/Screen_Memory.mp3|titles=Thin Gaze – Screen Memory] Thin Gaze – Screen Memory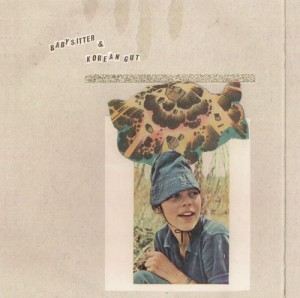 Babysitter // Korean Gut
Split 7″
Victoria, BC // Vancouver, BC
From the genetic hitchhiking of Jesse Locke:
The coastal cavemen return with a reboot of two banner jammers plucked from the primordial muck of Tape I. As skuzzed as these recordings might sound to the untrained canal, they're at least a few evolutionary steps forward in the genetic drift (plus bonus sax wiggle). Van City surf-rats Korean Gut sound a little tougher than previous trips on the flip, making easy bedfellows with their beach blanket bingo master's breakout.
D'auto-stop génétique de Jesse Locke:
(Traduit par la crise de bingo de Maya Keshav)
Les hommes préhistoriques maritimes sont de retour avec une repris de deux morceaux arrachés de la boue primordiale de Tape I. Aussi chelou que ces enregistrements pourraient ressemble pour le tympan inexercé, ils sont au moins quelques pas de l'évolution plus avancé dans la dérive génétique (avec même plus de déhanchement du saxo). Korean Guts, les rôdeurs de Vancouver ont l'air un peu plus coriace que leur dernier trips sur la cassette, qui s'entendent bien avec leur crise de bingo sur la plage.
---