Tag: stoner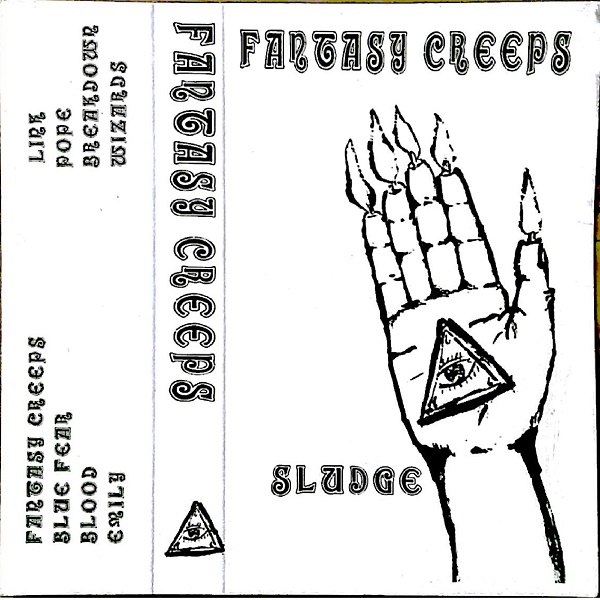 Fantasy Creeps
Sludge
(Self-Released)
Victoria, BC
From the Monster Manual of Bryce Warnes:
Fantasy Creeps check for weirdness and roll a natural 20. Complete with a front cover typographic tribute to Ozzy et al., "Sludge" is blacklit nostalgia for junior high basement sesh paranoia. Vocalists trade duties, creating a shoulder-angel, shoulder-devil dichotomy of faded angst-moan and classic rock wail. Keeping with this damaged aesthetic, the tape audio is janked, wavering in and out, constantly retreating and advancing. Which makes it hard to focus, sometimes, like reading the Monster Manual through thick clouds of nag champa. Ensorcelling nonetheless. "Sludge" is eight-track art brut for red-eyed dungeon crawlers.
Du Manuel des monstres de Bryce Warnes:
(Traduit par le sourire du dragon Julie Mayer)
Fantasy Creeps effectue un test de bizarrerie et obtient un 20 naturel au lancer de dés. Fourni avec une pochette rendant un hommage typographique à Ozzy et cie., Sludge est la nostalgie à lumière noire du temps où, ados, on devenait parano grâce aux séances de spliffs dans le sous-sol. Les chanteurs se relayent, créant une dichotomie ange-démon de gémissement d'angoisse estompé et de geignement rock classique. Suivant cette esthétique accidentée, la bande audio est en zigzag, ondule par intermittence, bat en retraite et attaque constamment. Ce qui rend des fois la concentration difficile, comme si on lisait le Manuel des monstres à travers d'épais nuages de nag champa. Ensorcelant néanmoins. « Sludge » est composé de huit morceaux d'art brut pour les explorateurs de donjon aux yeux rougis.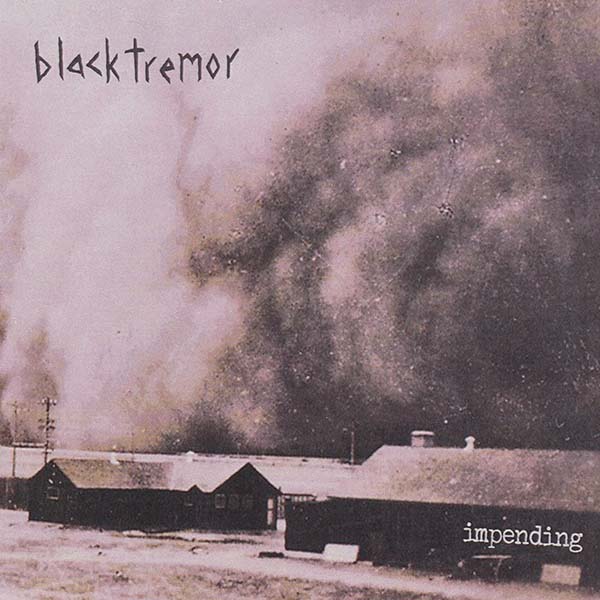 Black Tremor
Impending
(Self Released)
Saskatoon, SK
From the heavy, heavy light of Joshua Robinson:
Like older siblings, they are flame. Dancing at the mouth of the end of it all. Cracks in the welkin overhead; impending kismet. Noumena in mirrors. Siimilar yet singular, gaining reverence for a rapture forced rather than happened upon; conjured rather than readily given; spliced, destroyed and put back together again, all while calamity whispers unto itself that the break in the storm is the end of the beginning of the end. The blackening tremors below allude to the baser animism in us all; rattled, reckoned; the chasm is all that matters. We are all heavy in the light.
Par la lourde, lourde lumière de Joshua Robinson:
(Traduit par la tête animale d' Émily Traichel)
Comme les aînés de la famille, ils pètent le feu. Dansant là où la fin de tout débouche. Des fentes dans la voûte céleste; le destin imminent. Noumènes dans les miroirs. Semblables, mais singuliers, gagnant une révérence pour une extase forcée plutôt que tombée dessus; conjurée plutôt que donnée; épissée, détruite et à nouveau reconstruite, tandis que la calamité se chuchote que l'éclaircie après l'orage est la fin du début de la fin. Les tremblements noircissant d'en bas font allusion à l'animisme infâme à l'intérieur de nous tous; secoué, calculé; le gouffre est tout ce qui compte. Nous sommes tous lourd dans la lumière.
---