Tag: stalwart sons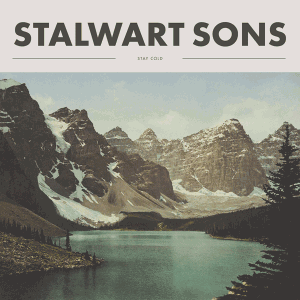 Stalwart Sons
Stay Cold
Calgary, AB
From the horse blanket rash of Jesse Locke:
Righteous anger and foe-vanquishing riffs propel the latest blitzkrieg from these sons of freedom. The Stalwarts have always blazed their trail with political connectedness, but here the grown-ass man voice of Kevin Stebner (answered by bassist Matt Learoyd with triple score Scrabble points on the six-minute heart-render "True North") delivers his most passionate poetry to date. Stay cold, Ponyboy.
De la démangeaison de chabraque de Jesse Locke:
Une colère vertueuse et des riffs redresseurs de torts propulsent le dernier blitz de ces fils de la liberté. Les Stalwarts ont toujours balisé leur chemin de leur attitude politique, mais ici la voix de stentor de Kevin Stebner (à laquelle le bassiste Matt Learoyd répond avec des mots comptent triple sur l'affligeante « True North » de six minutes) offre sa poésie la plus passionnée à ce jour. Stay cold, Ponyboy.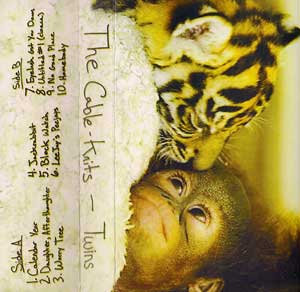 The Cable-Knits
Twins
(Self Released)
Calgary, AB
From the pre-burner afterthought of Jesse Locke:
Calgary's Cable-knits play summery skate jams for when you got dumped by your brace-faced teenage girlfriend and just want to bust a boneless into the pool. Knotty threads of guitar drive the duo's junk-fi pop into a swift set of sugar rush head-boppers. Turns out Stalwart Sons plus Hunter Gatherer equals hook city.
De la pensée après coup et avant brûleur de Jesse Locke: (Traduit par le flirt estival de Maya Keshav)
Cable-knits de Calgary jouent les mélodies estivales de skateboard pour les moment quand tu viens d'être largué par ta blonde ado en broches et t'as simplement l'envie de sauter directement dans la piscine. Les fils noueux de guitare transforment la pop junk-fi du duo en collection rapide de chansons entraînantes qui débordent de sucre. Il se trouve que Stalwart Sons plus Hunter Gatherer égalent une ville d'accros.
The Cable-Knits – Eyelash Got You Down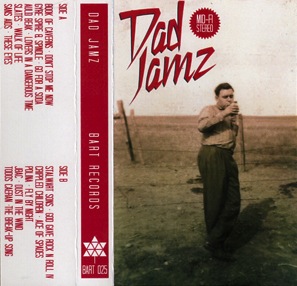 Various Artists
Dad Jamz
Asterisk, Canada
From the soft-rock epoch of Jesse Locke:
From concept to cassette, Dad Jamz is a gas. This cheeky comp finds the bands of the Bart Records and Revolution Winter clan tackling FM staples of the late '70s – early '80s soft-rock epoch with varying results of ridiculousness. Amidst choice picks from Queen, Kansas, Motörhead and Dire Straits (Slates' "Walk of Life" is a standout), label flagship Stalwart Sons crowd surf Kiss/Argent's "God Gave Rock 'N' Roll To You" with original lyrics across seven guitar-squealing minutes. Gyre Spire and Spindle deserve props for taking on Kim Mitchell's perpetually unhip anti-drinking anthem "Go For Soda", while Auld Beak clearly have love for Bruce Cockburn deep down. Polina's straight-faced Rush cover is a winner, and WC fave Sans AIDS could make even Bachman and Cummings shed a tear.
De l'époque de rock doux de Jesse Locke: (Traduit par Odile Leclerc)
De concept à cassette, Dad Jamz est un gaz. Cette compilation impertinente trouve les groupes du Bart Records et du clan Revolution Winter plaquant les éléments de base FM de l'époque de rock doux de la fin des années 70-débuts 80 avec des résultats variant de ridicules. Parmi les meilleurs choix de Queen, Kansas, Motörhead et Dire Straits (Listes' "Walk of Life" est remarquable), le label en vedette Stalwart Sons surf la foule ''God Gave Rock 'N' Roll To You '' de Kiss/Argent avec des paroles orininales à travers sept minutes de couinement de guitare, Gyre Spire and Spindle mérite un "bien fait" pour se charger du perpétuel hymne anti-boisson démodé de Kim Mitchelle ''Go For Soda'', pendant qu'Auld Beak a au fond, clairement de l'amour pour Bruce Cockburn. La couverture Rush sérieuse de Polina est une gagnante, et le préféré de WC, Sans AIDS, pourrait même faire verser une larme à Bachman et Cummings.
Auld Bleak – Lovers in a Dangerous Time
---