Tag: ssw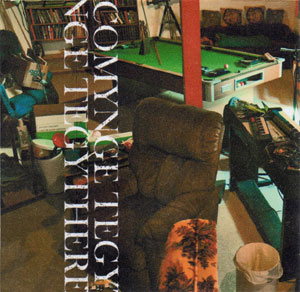 Jom Comyn
Comynge Tegythere
(Self Released)
Edmonton, AB
From the hangdog lament of Jessica Faulds:
Jom Comyn takes another giant leap forward in the development of his own micro-genre: snowglobe-folk. Guitar lines still sometimes eddy like slow-floating sediment, settling gently along a song's backbone, but Comynge Tegythere's meteorological sphere harbors more devastating weather as well, sometimes verging on sheer white-out. Layers of noise stratify and coalesce, parting curtain-like to reveal full-bodied songs, scuzz-jazz meanderings, and hangdog laments in Jim Cumming's signature baritone — a voice which has never held more weight than it does in the ghostly haunting number, "Been Down Blues." Jim buffs winter sadness to a dull glow of acceptance in a city where the snow never leaves. Shake hard. [Packaged with an elaborate zine for those who attended the tape release.]
Writer's Byline Writer's Name:
(Traduit par Translator's Name)
French Review

Jom Comyn – Been Down Blues

Jom Comyn – Brooklyn Girls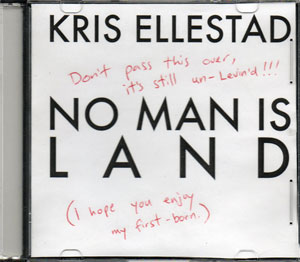 Kris Ellestad
No Man Is Land
(Self-Released)
Calgary, AB
From the wymynly lands of Aaron Levin
Strange, unknown fibres lace Ellestad's debut, gifting No Man Is Land with that wonderful Hardinian nether-genre heard in all great singer-songwriter analects. Pass through the wild, hair-raising cacophony and blissful finger-picking that ensconce the album and watch as Kris' marvelous sinusoids dampen your worldly decoys. A brilliantly creative consolidation of Calgary's secret not-so-secret art underground.
Des terres fémynynes d'Aaron Levin:
(Traduit par Maya Keshav)
Les fils bizarres et mal connus tissent les débuts d'Ellestad, en donnant à No Man is Land ce nether-genre magnifique et Hardinien qui est entendu dans tous les entretiens auter-compositeur-interprèts. Voyage à travers la cacophonie folle et ahurissante ainsi que les grattements bienheureux des doigts qui emmaillotent l'album et regarde pendant que les sinusoïdes merveilleuses de Kris humectent tes leurres terrestres. Une consolidation incroyablement créative de l'avant-garde secret pas-si-secret de Calgary.
Kris Ellestad – Hour of the Rat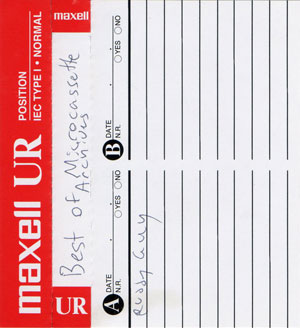 Ruddy Guy
Best of Microcassette Archives
(Self Released)
Vancouver, BC
From teenage surgery of Aaron Levin:
Blown-, hallowed-, adjective'd-out basement moves from this Vancouver-via-Calgary mystery. Immediately addictive juvenile pop frequencies with an imagination rarely seen in the genre emanate from the compilation of 4-track demos recorded between 2008-2009. The dreamy, fragile soundescapes will drift through your mind, leaving traces of Ruddy Guy's pop agility in every neural transmitters. I'm not really sure how you can grip this, but you should try.
De l'opération adolescente d'Aaron Levin: (Traduit par l'agilité de Maya Keshav)
Les pas de danse bourrés, bénis, et totalement adjectif de cette énigme de Vancouver via Calgary. Les fréquences immédiatement addictives de pop des jeunes avec une imagination qu'on voit rarement dans le genre émanent de la compilation des démos à 4-voies qui étaient enregistrées entre 2008 et 2009. Les paysages sonores oniriques et fragiles vont vagabonder à travers ta tête, en laissant les traces de l'agilité pop de Ruddy Guy dans chaque tube neural. Je connais pas trop comment tu peux l'acheter, mais tu devrais essayer.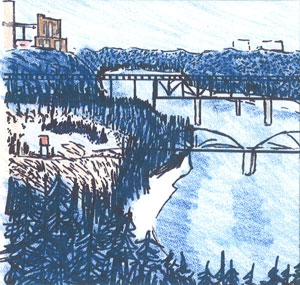 Jom Comyn
Balcony
Edmonton, AB
From the comyn-spiced balconies of James Goddard:
This EP from Edmonton's Jom Comyn (sometimes Jim Cumming) speaks to the concerns of young adults in the 21st Century – I mean actual young adults, not the browsers of Gordon Korman – unemployment, cigarettes, sloppy romances, late-nights, and (of course) almost condemned balconies. The guitars carry the tunes lethargically; apathetic tones, sketchy feedback, and non-committal fuzz over dusty, stilted drumming. Jom's vocals shine through the nest like a retired lounge singer; an odd, weathered voice spouting the words of a quarter-life savant. "You don't know what you are doing until years after it's through." On Sunday morning, in a hungover haze, it all sounds like it might be the truth.
Des balcons au cumin de James Goddard: (Traduit par les idylles sentimentales de Maya Keshav)
Cet EP de Jom Comyn (parfois Jim Cumming) d'Edmonton exprime les soucis des jeunes adultes du au vingt et unième siècle — je veux dire les vrais jeunes adultes, pas les personnages de Bryan Perro— le chômage, les cigarettes, les idylles sentimentales, les longues nuits, et (évidemment) les balcons presque condamnés. Les guitares chantent léthargiquement les mélodies; les tons apathiques, le larsen louche, et le duvet réservé au-dessus de la batterie poussiéreuse et guindée. La voix de Jom transperce le nid comme un ancien chanteur du lounge; une voix bizarre et burinée qui parle les mots d'un savant ayant une vigntaine d'ans. "You don't know what you are doing until years after it's through." [Tu connais pas ce que tu fais jusqu'à ce qu'il soit quelques années trop tard.] Dimanche matin, dans le brouillard d'une gueule de bois, tout cela a l'air de vérité.

Jom Comyn – New Raincoat

Jom Comyn – Roomie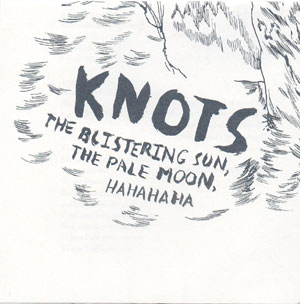 KNOTS
The Blistering Sun, The Pale Moon, Hahahaha
(Self Released)
Calgary, AB
From the nostalgic words of Aaron Levin:
It takes an incredible amount of patience to make an album like The Blistering Sun, The Pale Moon, Hahahaha. It's careful and deliberate; calculated without losing any ounce of intimacy; sparse, yet still engaging. Its minimalism is like a barren landscape whose terrain takes great form as you listen closer; diamonds, cacti, and beautiful insects crawling amongst the sandy-chords and phased vocals. There is a great amount of subtly that makes KNOTS so much more than a 'guy with his guitar making a loner folk album in his basement.' KNOTS delivers singer songwriter material that helps us forget how cliche the genre has become.
Des mots nostalgiques d'Aaron Levin:
Cela prend une incroyable quantité de patience pour créer un album comme The Blistering Sun, The Pale Moon et Hahahaha. C'est attentionné et délibéré; calculé sans perdre une once d'intimité; modeste mais encore charmant. Son minimalisme est comme un paysage désertique duquel le terrain prend une forme impressionnante alors que vous écoutez plus attentivement; des diamants, des cactus et de jolis insectes rampent parmi les accords et les chants progressifs. Il y a une grande quantité de subtilités* qui rend KNOTS beaucoup plus 'qu'un gars avec une guitare faisant un album pour les reclus dans son sous-sol.' KNOTS du matériel d'interprète et de compositeur qui nous aide à oublier à quel point le genre est devenu cliché.
---