Tag: spooky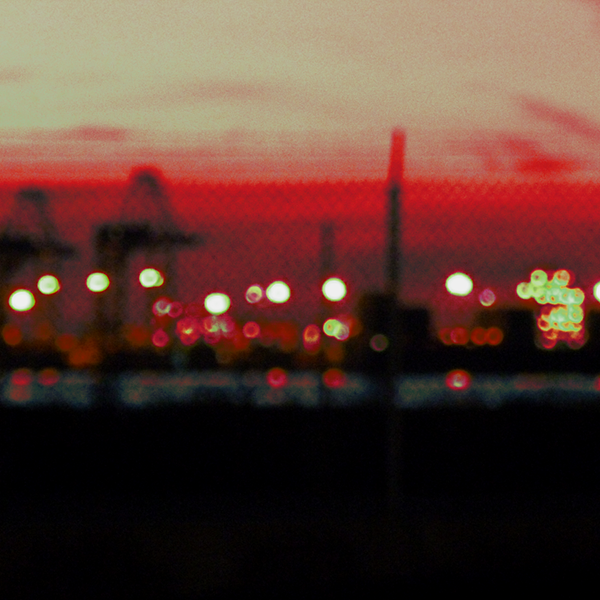 Atrum Machina
Machine Breathing
Self-released
Victoria, BC
From the languid sine wave of Teddie Brock:
Atrum Machina's sonic shadows lurk amidst a graveyard of flickering neon signage and cracked plasmic tubing. Parasitic worms lurch themselves into gutters cratering the stale concrete. Here, damage and rot are imminent as industrial structure gives form to a mycotoxic playground. The evolutionary circuit opens, then closes. Beyond the rusted fence-links, stifled machinations seep from a grey warehouse. The fossil transmissions of Machine Breathing weave a blanket of warm static – as the heartbeat falters, oscillations slow.
De la vague sinusoïdale languide de Teddie Brock:
(Traduit par la tangente hyperbolique de Julie Mayer)
Les ombres acoustiques d'Atrum Machina rôdent parmi un cimetière d'enseignes aux néons vacillants et de tubes plasma craquelés. Des vers parasites rampent dans les caniveaux cratérisant le béton plat. Ici, les dommages et la pourriture sont imminents alors que la structure industrielle donne forme à un terrain mycotoxique. Le circuit révolutionnaire s'ouvre, puis se referme. Au-delà du grillage rouillé, des machinations étouffées suintent d'un entrepôt gris. Les transmissions fossiles de *Machine Breathing* tissent une couverture d'électricité statique chaude. À mesure que le pouls faiblit, les oscillations ralentissent.
Atrum Machina – Grow (Trophus)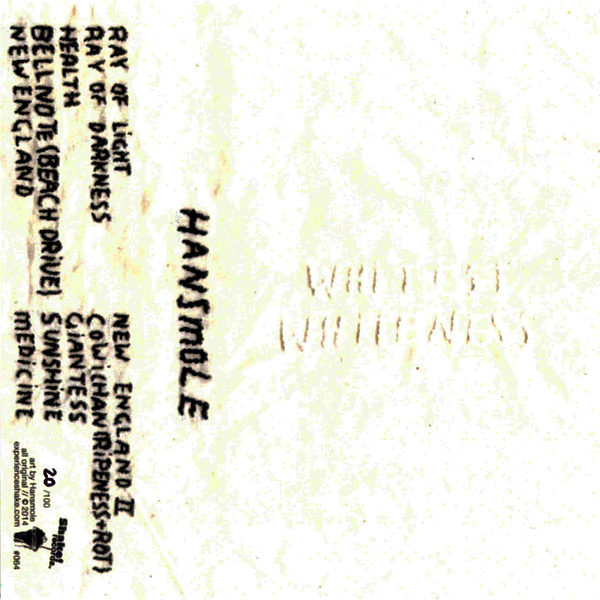 Hansmole
Whitest Whiteness
Victoria, BC
From the harmonic monstrosity of Johnnie Regalado:
Here sprout rhythms that tidal shift you into the lucidity of cycled seasons. The product of the water colour creature in the closet creeping out to duets on bedroom synth sessions. To weave tales of the struggle between the lightness and the darkness. To espouse the eternal growth and decay. With these twisted sorts of lullabies what dreams will come?
De la monstruosité harmonique de Johnnie Regalado:
(Traduit par Jessica Grenier)
Ici germent des rythmes qui vont synchroniser vos marées à la lucidité du cycle des saisons. C'est le produit de la créature en eau colorée qui sort en rampant d'une garde-robe, pour joindre une session privée de synthétiseurs. Pour tisser des contes sur la lutte entre légèreté et obscurité. Pour épouser la croissance éternelle et la pourriture. Quels rêves naitront de ces berceuses tordues?
Phèdre
Golden Age
Toronto, ON
From the painted face of Brad Casey:
Dan and April, the heads of Daps Records, cut their teeth to a point in Hooded Fang and have since added their voices and hands to HUT, Tonkapuma and Phèdre, their darkest and most accessible band yet. Golden Age is their second offering, a heart-on-sleeve blending of the stylistically high and low brow into a spooky, fashion model Halloween party. Everything about Phèdre points to an ugly past romanticized and reordered, rendered beautiful in the contemporary condition. Their 'Golden Age' is heard in the tape hiss, a silent record, or the 4-track background noise. The echo of every sound. The mythical, heartbroken figure. It's '80s synth pop of the dirty New York underground heard through modern Toronto ears, made for abandoned 4 am buildings, your faces painted.
Du visage peint de Brad Casey:
(Traduit par le sourcil dubitatif de Nicolas Coutlée)
Dan et April, fondateurs de Daps Records, se sont d'abord fait les dents avec Hooded Fang pour ensuite joindre leurs voix et leurs mains à HUT, à Tonkapuma et à Phèdre, leur plus sombre et accessible groupe à ce jour. Golden Age, une deuxième parution qui respire la sincérité, combine cérébral et viscéral à la manière inquiétante d'un mannequin de party d'Halloween. Tout ce qui a trait à Phèdre pointe vers un passé sordide qu'on aurait romancé et remodelé en quelque chose de sublime. Leur « âge d'or » s'entend à travers le crépitement d'une cassette, un disque sans musique ou les bruits de fond analogiques d'un enregistreur. L'écho de tous les sons, la figure mythique au coeur brisé. Voici une pop synthétique surgie des bas-fonds sales du New York des années 80, perçue par des oreilles contemporaines de Toronto, conçue pour les bâtiments abandonnés au petit matin, pour vos visages peints.
Bloodshot Bill // Richard Catwrangleur
In the Graveyard b/w Little Witch
Montréal, QC // Vancouver, BC
From the graveyard haunts of Matthew Lazenby:
This is Mongrel Zine's second release, and it's a belter. The split 7 incher showcases two new tunes from Montreal greaser legend Bloodshot Bill and Vancouver Island's psych-pop garage dweller Richard Catwrangleur. "In the Graveyard" gives you exactly what you want and have come to expect from Bloodshot Bill: lo-fi rockabilly with guttural howls and grunts, twisted guitar work, and caveman rhythms. Thematically, the song is straight out of a B-horror flick, and quite rightly so for an All Hallows' Eve release. Catwrangleur's "Little Witch" is a jangly and melodic blast of garage pop; after 3 minutes, you're left clambering for more. The song was lifted from his 2010 album, House of the Spirit Wrestler, a limited edition cassette-only release that I'm now making it a mission to track down.
De la hantise de cimetière de Matthew Lazenby:
(Traduit du Goo Goo Muck de Catherine Debard)
C'est la deuxième sortie de Mongrel Zine et c'est admirable. Le 7 pouces présente deux nouveaux tubes de la légende du "Blouson noir Montréalais" Bloodshot Bill et du résidant permanant du garage psychédélique-pop de l'île de Vancouver Richard Catwrangleur. "In the Graveyard" nous donne exactement ce qu'on veut et s'attend de Bloodshot Bill : du rockabilly lo-fi avec des cris et grognements gutturaux, un jeu de guitare tortillé et des rhythmes d'homme de caverne. Thématiquement, la chanson sort directement d'un film Série B d'horreur, c'est parfait pour cette sortie d'All Hallows Eve (c'est l'origine du mot Halloween AKA "La veillée de tous les Saints" AKA la journée des revenants (merci wiki)). "Little Witch" de Catwrangleur est une explosion mélodique jangle-pop-garage; après trois minutes, vous êtes laissé sur votre faim, en quête de plus. La chanson est tirée de son album de 2010 House of the Spirit Wrestler, sorti en cassette uniquement en édition limitée. Je suis maintenant sur les traces de cette cassette, c'est ma mission.
Bloodshot Bill – In The Graveyard
---