Tag: spoken word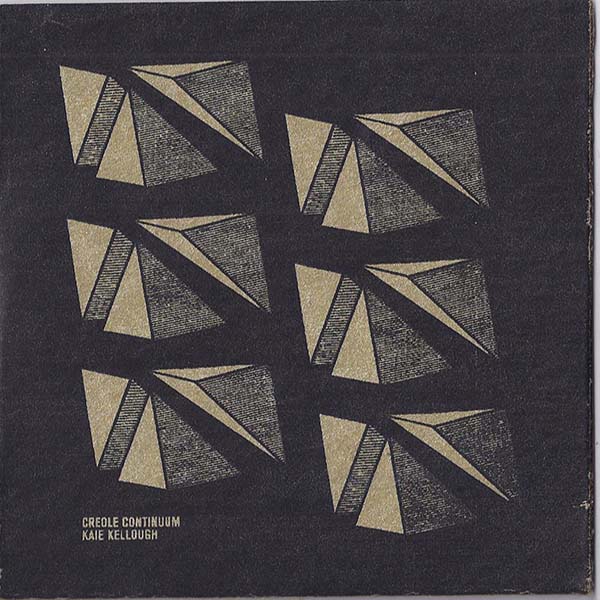 Kaie Kellough
Creole Continuum
Montréal, QC
From the alphabet erasure of Javier Fuentes:
Fluencies and poetries, where to begin? Should the judges come in? To recognize sound, to recognize speech, the voice might speak. Can we get an opinion on the rules of its dominion? The silence speaks volumes, reciting alphabets in record speed. The sharpest voices keep up, giving up at the point of clear confusion. Slow turns towards debris, now there are traces to hear. Pick up the feel. Memories of treasure are fresh, hiding out in the dust around here. The musicians are ready. Some think they are lost, but the conversation is steady.
De tout effacement de l'alphabet de Javier Fuentes:
(übersetzt para l'anglophone Влади́мирович Bабо́ков)
La fluidité et la poésie: par où commencer? Est-ce qu'on doit appeler les juges? Afin de reconnaître le son et afin de reconnaître la parole, c'est avisé que la voix s'exprime. Qui peut fournir une opinion des règles de son dominion? Le silence parle fort et énonce l'alphabet dans une vitesse record. Les voix les plus aiguës maintiennent la vitesse et s'abandonnent seulement au moment d'une confusion certaine. La lenteur se tourne vers les décombres. Maintenant, il y a des traces à entendre. Cherchez le sentiment. Les mémoires du trésor sont fraîches, se cachant dans la poussière autour de nous. Les musiciens sont prêts. Certaines croient qu'ils sont perdus, mais la conversation se poursuit.
Kaie Kellough – International Monetary Funk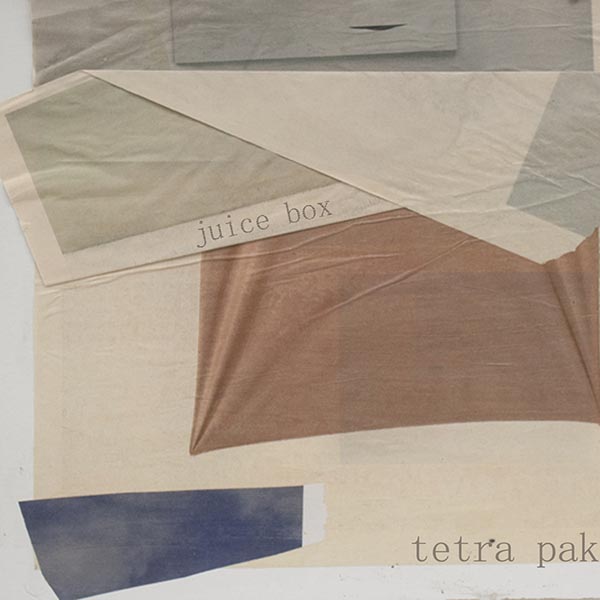 Juice Box
Tetra Pak
(Self-Released)
Calgary, AB
From the gnawed appendages of Piper Curtis:
Voices raised against the musical patriarchy.
Take a sip. We've got a problem.
Take another sip. They'll make you laugh, they'll make you care. Now take a bigger sip. Drink your juice.
Don't swallow what the boys club feeds you.
Des appendices rongés de Piper Curtis:
(Traduit par de Wie Gehts)
Des voix dissidentes contre le patriarcat musical. Buvez une gorgée. Le problème est grave.
Buvez une autre gorgée par la suite. Elle vous fera rire. Elle vous fera prendre des choses en considération.
Maintenant, prenez une gorgée encore plus grande. Buvez votre jus.
N'avalez pas ce que ce patriarcat systématique, ce club fermé, ce club de dinosaure vous nourrit.
Juice Box – Straight White Boys Texting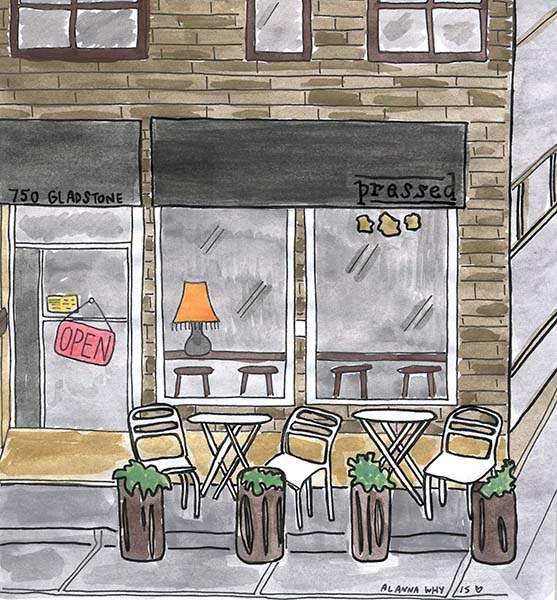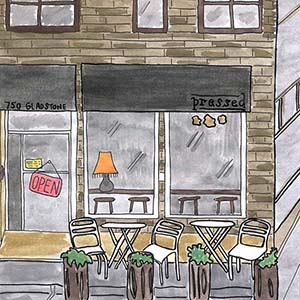 Pressed
Restaurant, Café
Capacity: 65
All ages, LGBTQ-friendly (washrooms divided by self-identified gender), accessible (portable ramps for entrance, bathroom)
(Illustration by: Alanna Yaraskavitch)
(Photos by: Matthew Blenkarn/Yuko Inoue)
750 Gladstone Ave.
Ottawa, ON
From the chicken scents of Matthew Blenkarn:
Originally conceived as a "hole-in-the-wall sandwich shop," Pressed quickly evolved into a hub for the Ottawa's diverse arts community since opening in Nov. 2011. On any given night, you can expect to hear pummeling noise, tuneful folk and jazz and gleefully weird punk, psychedelia and more wafting from its windows at 750 Gladstone Ave. But you can't just focus on music to get the breadth of Pressed. The restaurant hosts regular [poetry performances], and you're just as likely to see a local literary event, zine party or craft fair as you are to see a band nestled in its organic wooden interior. We spoke to Pressed owner Jeff Stewart, as well as Lidija Rozitis, the venue's booking manager (and a vocalist and guitarist in local bands Roberta Bondar and Blue Angel), to get a better understanding of this eclectic environment.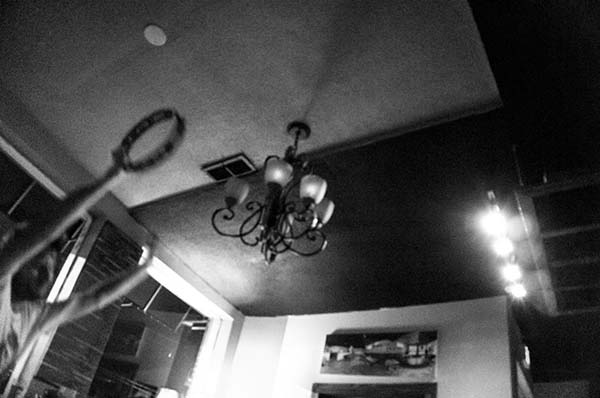 Pressed's stage (photo by Yuko Inoue)
What do you feel Pressed's appeal is? What makes it unique, and how do your acts contribute to that distinctiveness?
Lidija Rozitis: From a musical standpoint, I felt like there weren't too many venues in Ottawa a few years ago. A lot of the shows I went to were at houses. In the last little while, however, I have seen a decline in house shows and more venues becoming established around the city (Gabba Hey, House of Targ, Mugshots, Cafe Alt). House shows are really nice though, and I think Pressed (sort of) imitates the cozy, intimate vibe of a house show … Bands are allowed to move furniture around to suit their musical set up, and there are couches and church pews to sit on. And the place smells like your grandma is making delicious smoked chicken! It's small, and it's cozy. It's not a nightclub or fancy bar, but that's what makes Pressed unique.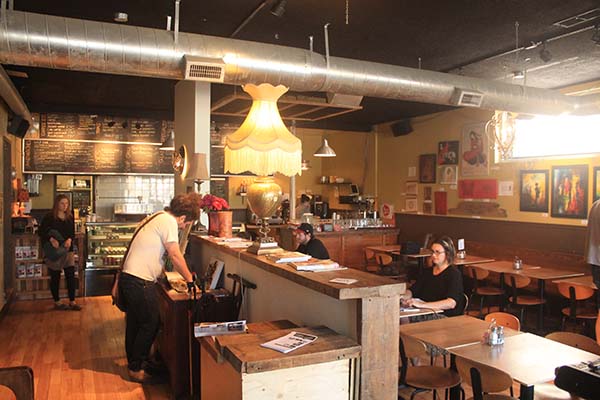 The restaurant during business hours (photo by Matthew Blenkarn)
What does Pressed offer the spoken word community? How do you help give them a space?
Jeff Stewart: I think in a number of ways. First of all, we have standing events here that are spoken word and poetry related. We have artistic showcases hosted by (Ottawa poet) Brandon Wint. We have a Words to Live By series and then a Railroad Poetry series. Those three events appeal to different types of audiences, so I think just having standing events like that creates an association between the place and spoken word. I think the layout of the place and having the right sound, light and size for those types of events just creates an inviting nest for people to come and have their events.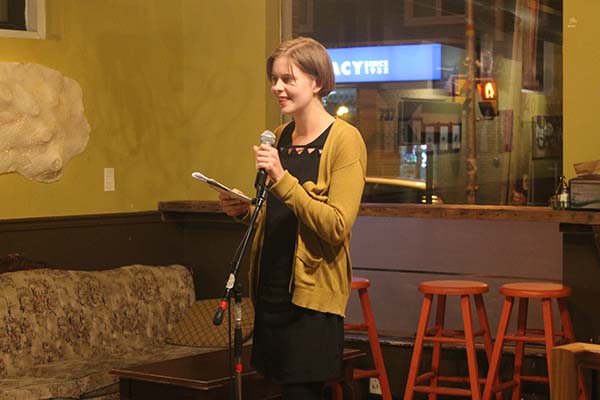 Zine editor and writer Lily Pepper at the launch party for the YOW zine (photo by Matthew Blenkarn)
You've also hosted a few Ottawa Zine-Offs and you have a zine rack. What about zine culture?
JS: I was open to the idea when (zine editor and writer Lily Pepper) approached me to have a zine rack here, and then I think, based on that, it became a bit of an anchor for zine culture. There were some people who wanted to have events here where they were creating zines and talking about zines and it seemed like a logical extension of that. I think that is something that has built a sort of community feeling. It's sort of a grassroots feeling where you don't always have a form of entertainment foisted on people as a developed, finished art form. It's more people coming together and creating in a space in a more spontaneous, democratic kind of way.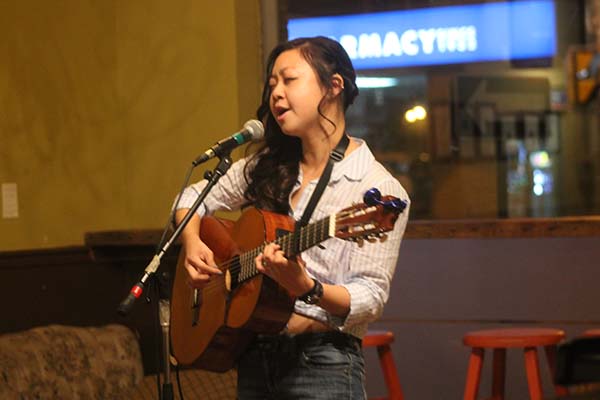 Gloria Guns of Scary Bear Soundtrack performs at the YOW zine launch party (photo by Matthew Blenkarn)
Why have such an eclectic line-up?
LR: There are a lot of amazing music venues that have opened up in Ottawa recently, so it's somewhat limiting to book four piece rock bands for an entire month. We do have many bands playing at Pressed, but with that said, I also have been trying to book more and more diverse musical acts every month. Pat Moore hosts a weekly Bluegrass night, Tariq Anwar hosts a monthly Open Mic night, Brandon Wint puts on a great monthly spoken word and musical showcase, and there are many jazz, classical, and experimental musicians performing at the space. Even then, music isn't the only art form requiring performance space. Because of the portability of tables and furniture at Pressed, the space can serve as both a sit down or standing venue. I think this versatility appeals to all types of artists, because the space serves whatever need you want it to. I try to book as many diverse types of events so that the space doesn't become pigeon-holed as the venue to do one certain type of artistic thing, but rather continually seen as a space to do whatever you want.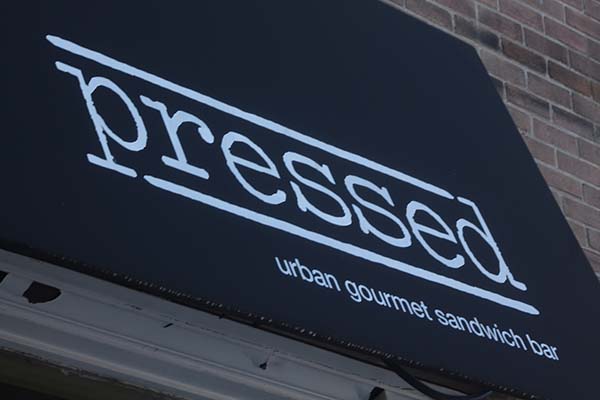 The awning that shades Pressed's small outdoor seating area (photo by Matthew Blenkarn)
How would you like to see Pressed grow in the future?
JS: I think I'd just like to see us continue along the lines that we're going along right now. I don't want us to get too big or large-band oriented, because I like the community aspect of the things we do. I think we have a really nice balance right now of bands coming in from out of town, from promoters and local bands and acts, local spoken word and then grassroots types of events as well. I think I'd just like to continue to become more and more integrated with the community and be seen more and more as a community living room and play space, I think.
Des odeurs de poulet de Matthew Blenkarn: (Traduit par l'eau à la bouche de Jessica Grenier) Ouvert en novembre 2011 en tant que « comptoir à sandwich sans prétention », Pressed est rapidement devenu un lieu de rencontre pour les différentes communautés artistiques d'Ottawa. Chaque soir, on peut s'attendre à ce que les fenêtres du 750 Gladstone Ave vibrent au rythme d'un noise acharné, de folk ou de jazz mélodieux, de punk joyeusement étrange ou encore de quelque chose de plus psychédélique. Mais Pressed, c'est beaucoup plus que de la musique. Le restaurant accueille régulièrement des performances poétiques, et, en venant se nicher dans son intérieur en bois naturel, on peut tout aussi facilement tomber sur un événement littéraire local, un party de zines ou un marché d'artisanat que sur un groupe de musique. Pour mieux comprendre cet environnement éclectique, nous avons discuté avec le propriétaire de Pressed, Jeff Stewart, ainsi qu'avec la responsable des réservations, Lidija Rozitis (qui est aussi chanteuse et guitariste dans des groupes locaux Roberta Bondar et Blue Angel).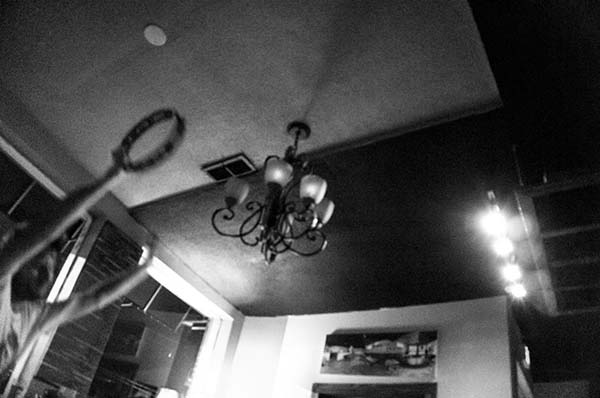 Selon vous, qu'est-ce qui fait le charme de Pressed? Qu'est-ce qui le rend unique et comment contribuez-vous à le garder ainsi?
Lidija Rozitis: Du point de vue musical, j'ai eu l'impression, il y a quelques années, qu'il n'y avait pas beaucoup de salles à Ottawa. Beaucoup de spectacles auxquels j'assistais avaient lieu dans des maisons. Dernièrement, j'ai remarqué un déclin de ce côté, et une augmentation des nouvelles salles de spectacles qui s'installent en ville (Gabba Hey, House of Targ, Mugshots, Cafe Alt). J'aime quand même beaucoup les spectacles ayant lieu dans des maisons, et je pense que Pressed imite (un peu) leur atmosphère intime et confortable… Les groupes peuvent bouger les meubles selon leurs besoins pendant qu'ils préparent leurs trucs, et il y a des divans et des bancs d'église pour s'asseoir. En plus, l'endroit sent comme si votre grand-mère était en train de faire du délicieux poulet fumé! C'est petit, c'est douillet. Ce n'est pas une discothèque ou un bar chic, mais c'est ce qui rend Pressed unique.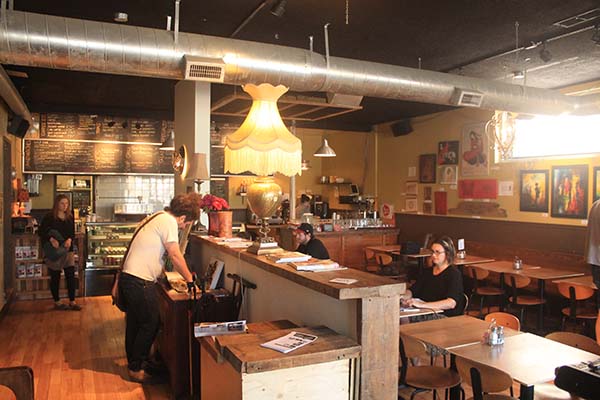 Le restaurant (pendant les heures d'ouverture) (photo de Matthew Blenkarn)
Que fait Pressed pour soutenir la communauté de la création orale?
Jeff Stewart: Je pense que nous aidons à plusieurs niveaux. Premièrement, il y a des événements permanents liés à la poésie et aux créations orales. Il y a des performances artistiques animées par (le poète d'Ottawa) Brandon Wint. Nous avons aussi les séries Words to Live By et Railroad Poetry. Ces événements attirent des publics différents, alors je pense que le fait qu'ils soient permanents crée un lien entre l'endroit et la création orale. Je trouve que le son, la lumière, l'agencement et les dimensions de l'endroit sont parfaits pour ce genre de soirées, ça en fait un petit nid parfait où organiser des événements.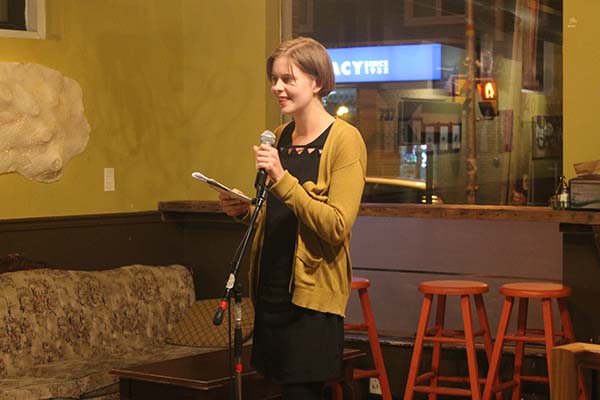 L'auteure Lily Pepper durant le lancement du zine YOW (photo de Matthew Blenkarn)
Vous avez accueilli quelques fois le festival Ottawa Zine-Offs et vous avez un présentoir de magazines. Qu'en est-il de cette culture?
JS: J'aimais l'idée d'avoir un présentoir de zines quand l'auteur et rédactrice en chef Lily Pepper est venue discuter de cette possibilité, et à partir de là, ça a en quelque sorte fourni un point d'ancrage à la culture zine. Des gens ont voulu organiser ici des événements de création et de discussions, et c'était comme une suite logique. Je pense que c'est une des choses qui ont aidé à construire un esprit de communauté. C'est un genre de sentiment populaire où on n'a pas toujours un événement artistique complet et défini qui est imposé aux gens : c'est plutôt des personnes se rassemblant quelque part pour créer quelque chose de façon spontanée et démocratique.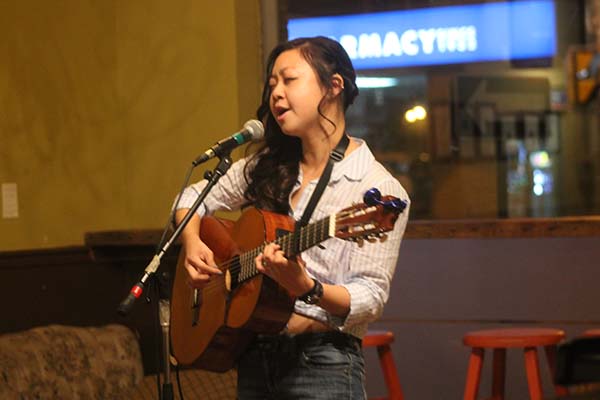 Prestation de Gloria Guns de Scary Bear Soundtrack à l'occasion du lancement de YOW (photo de Matthew Blenkarn)
Pourquoi avoir une programmation aussi éclectique?
LR: Il y a beaucoup de salles de spectacle géniales qui ont été ouvertes récemment à Ottawa, alors ça devient un peu contraignant de réserver un groupe rock pour tout un mois. C'est vrai qu'il y a beaucoup de groupes qui jouent ici, mais ceci étant dit, j'essaye d'avoir de plus en plus de performances musicales variées chaque mois. Pat Moore anime une soirée Bluegrass hebdomadaire, Tariq Anwar, une soirée mensuelle ouverte aux amateurs, et Brandon Wint présente aussi chaque mois une soirée créations orales et poésie, en plus des nombreux musiciens jazz, classiques et expérimentaux qui font des spectacles ici. Aussi, la musique n'est pas la seule forme artistique ayant besoin d'un espace. Puisque les tables et les meubles peuvent être déplacés, Pressed peut accueillir autant des spectacles pour un public assis que debout. Je pense que cette polyvalence intéresse différents types d'artistes, puisque l'endroit peut s'adapter à tous les besoins. J'essaye de réserver des événements de style le plus différent possible pour qu'on ne devienne pas étiqueté comme faisant toujours un seul genre de spectacle, pour que Pressed continue d'être perçu comme un lieu ouvert à tout.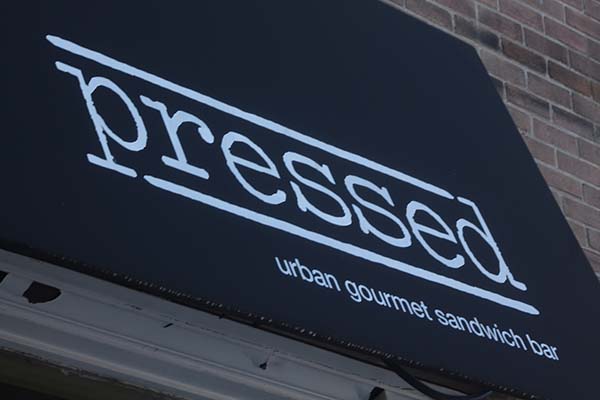 L'auvent qui protège la petite terrasse de Pressed (photo de Matthew Blenkarn)
Dans le futur, comment voudriez-vous voir grandir Pressed?
JS: Je pense que j'aimerais juste que l'endroit continue sur la même lancée qu'il a actuellement. Je ne veux pas qu'on devienne trop gros ou axé juste sur les gros groupes, parce que j'aime l'aspect communautaire que nous avons maintenant. Je trouve que nous avons un bel équilibre entre les promoteurs, les spectacles, les groupes d'ici et d'ailleurs en plus des créations orales locales et des événements plus populaires. Je pense que j'aimerais juste voir l'endroit s'ancrer davantage dans la communauté, et qu'il soit vu de plus en plus comme un terrain de jeu ou un salon communautaire.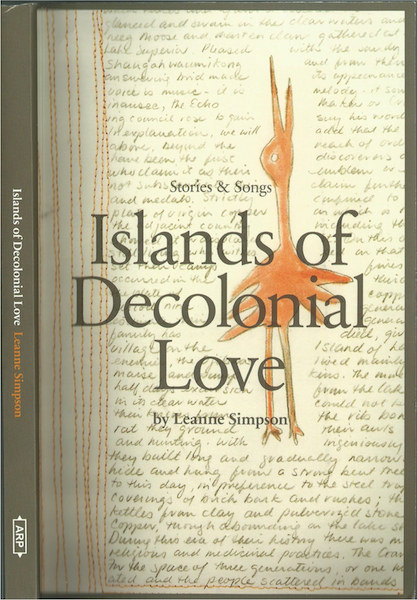 Islands of Decolonial Love
Leanne Simpson
143 pages, soft cover
Mississauga Nishnaabeg Territory
From the floating mind of Laura Stanley:
Islands of Decolonial Love, to use a phrase by its author Leanne Simpson, penetrates the aural perimeter. The narrative voice occupying her songs and stories sounds like a constant drum beat in your head, burrowing deep into your chest and stomach. Twisting and turning, the organs transform into a pulpy mass of knots where her words begin to move, slowly and surely rising up towards your mouth. You are afraid of what will come out and when it does, it offers only the slightest relief but it is one you need.
You laugh. A lot. In way that eases the pain by the knots that have formed. You laugh because Simpson discards tired ethnographic entrapments with ease. You laugh because her inclusion of the Nishnaabemowin language makes history jump from the page. You laugh because everything in these storied landscapes is clear and you understand. You laugh until the last of the slowly dissolving knots have moved to your throat and your eyes burn with tears.
You cry because colonial norms have ensnared western society for far too long and it's frustrating and exhausting. You cry because every one of Simpson's pieces are a unique celebration of Indigenous nationhoods and not enough people in this country will read them and change. You cry because Simpson shows that the same blood runs through everybody's veins, we all want to be loved, and we all ultimately share a desire to walk instead of float.
De l'esprit flottant de Laura Stanley:
(Traduit par Kevin Godbout)
Islands of Decolonial Love, pour se servir d'une phrase de l'auteur Leanne Simpson pénètre le périmètre auditif. La voix narrative qui habite ses chansons et ses histoires retentit dans le crâne comme le rythme constant d'un tambour qui s'enterre profondément dans votre poitrine et l'estomac. Tournant et retournant sur eux-mêmes, quand ses mots commencent à se déplacer, les organes se transforment en une masse de noeuds pulpeux qui montent lentement et sûrement vers votre bouche. Tu as peur de ce qui va sortir, et quand ça se passe, le moment offre un petit répit, mais c'est celui qui était nécessaire.
Tu ris. Beaucoup. Tu ris d'une façon qui soulage la douleur de ces noeuds qui se sont formés. Tu ris, car Simpson se débarrasse des pièges ethnographiques facilement. Tu ris, car elle inclut la langue Nishnaabemowin, car elle fait bondir l'histoire de la page. Tu ris, car tous les paysages historiques sont clairs et compréhensibles. Tu ris jusqu'à ce que le dernier des noeuds se dissolvant lentement passe par la gorge et que tes yeux brûlent de larmes.
Tu pleures parce que les normes coloniales ont enferré la société occidentale depuis trop longtemps, et c'est frustrant et épuisant . Tu pleures parce que chacune des oeuvres de Simpson est une célébration unique des Premières Nations et il n'y a pas assez de gens dans ce pays qui va les lire et changer. Tu pleures parce que Simpson démontre que le même sang coule dans nos veines à tous, nous voulons tous être aimés, et nous désirons tous marcher au lieu de flotter.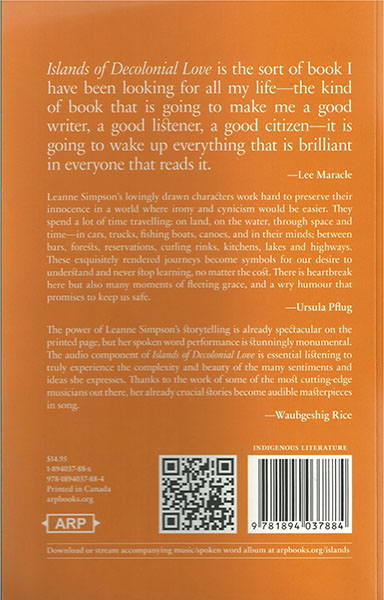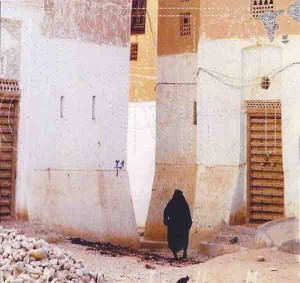 Notta Comet
Alliums
(Self Released)
Montréal, QC
From the gas cans of V. Rachel Weldon:
Imagine E-street's skronking saxman as the Pied Piper of the post rock-apocalypse. Math and poetry duke it out violently on Alliums in a show of precise, chaotic and cacophonous execution. Spoken word artist Alex Williams nails all the meaningless little rituals to the wall of a tenement Montréal kitchen that is all to familiar with containing passive explosive domestic fits. Hard to believe it's not a comet.
Des bidons d'essence de V. Rachel Weldon:
(Traduit par les petits rituels absurdes de Vincent Rondeau)
Imaginez le saxophoniste grinçant du E Street Band en joueur de pipeau de Hamelin de l'apocalypse post-rock. Les mathématiques et la poésie se livrent à un combat de géants sur Alliums dans un tourbillon de performances précises, chaotiques et cacophoniques. Alex Williams déclame ses textes en clouant tous les petits rituels absurdes de la vie quotidienne au mur de la cuisine d'un appartement montréalais qui connaît trop bien les disputes domestiques explosives. On croirait voir passer une comète.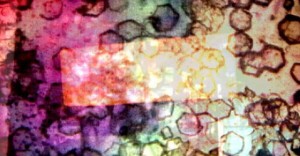 Hey Mother Death
Desert of Trees and Water
[Director: Heather Rappard]
Halifax, NS

Sustaining the séance of their debut cassette, spectre-beat duo
Hey Mother Death
find Gondry/Björkian symmetry with chromatic visionary
Heather Rappard
. These ghostly exposures link up so perfectly with the spellbinding whispers, scorched guitars and splintered trip-hop that it's difficult to imagine one without the other. This one screams Serious Art from start to finish, with nary an
ironic wink
in sight.
---