Tag: split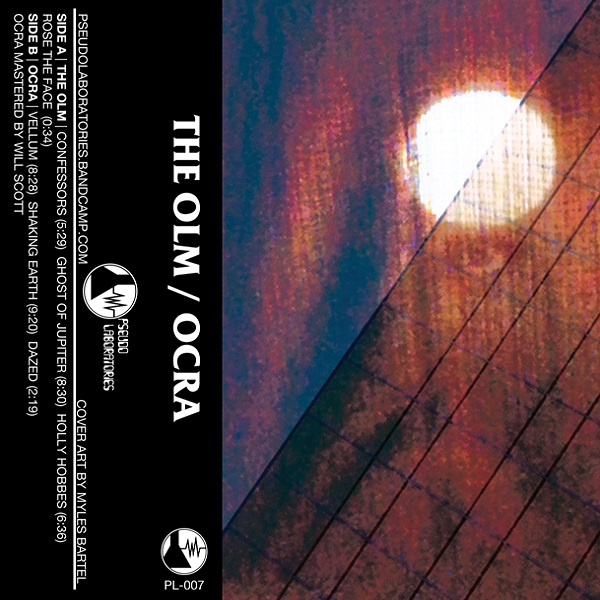 The Olm / Ocra
The Olm / Ocra
Edmonton, AB
From the timeluscent west of Heather Lune:
The Olm moans like a metal wraith, a fossil of the prehistoric ocean that lives in the mountains – badland epigrams malformed. They're a beacon sculling over the solid hide of the skyline, where the sea is held inside sun-risen fumes.
The Ocra hears a ghastly echo of our industrious carvings. Inscriptions knocking into the wind of falling bodies, the mechanisms used to slip through tap dancing waves. The scraping, digging, probing, mining. The generations, the millenia – waterbed bones compressing into an arid ocean floor.
Belonging to us, as we to it, a locked-soul.
Par l'ouest tempslucide de Heather Lune:
(Traduit par l'écho ésotérique des vents ténébreux d' Émily Traichel)
L'Olm gémit comme un spectre en métal, un fossile venu de l'océan préhistorique qui vit dans les montagnes – épigrammes malformées des badlands. Il y a un flambeau qui godille sur la peau solide de l'horizon, où la mer est enfermée dans des émanations solaires.
L'Ocra entend un écho épouvantable de gravures industrieuses. Des inscriptions cognent dans le vent de corps en chute, les mécanismes employés afin de glisser à travers les vagues qui dansent la claquette. Le grattage, creusage, sondage, l'exploitation minière. Les générations, les millénaires – les os du lit d'un fleuve qui se blottissent dans un fond d'océan aride.
Nous appartenant, comme on leur appartient, une âme-barrée.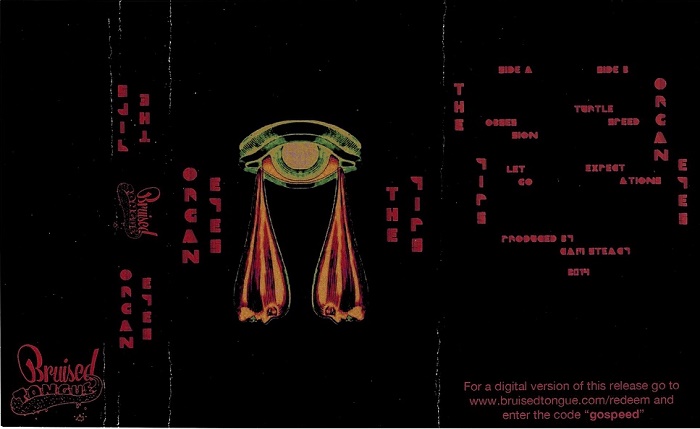 The Yips // Organ Eyes
Split
Ottawa, ON
From the new season of Matthew Blenkarn:
Winter's gone and colour's returned. Bleary-eyed yet bushy-tailed, people snow-crushed souls wake from hibernation and stumble from basement apartments onto clear, sunny sidewalks. Children spout popcorn refrains from recent blockbusters, as radio melodies float from passing cars to rest in pedestrians' ear canals. As bright days fade to humid nights, idle hooks from Centretown streets plants dreams of festivals and patio parties in residents' slumbering subconscious.
De la nouvelle saison de Matthew Blenkarn:
(Traduit par l'hémisphère gauche de Diane Beaupré)
L'hiver est parti, les couleurs reviennent. Les yeux bouffis, mais pleins d'énergie, les âmes des gens écrasées sous le poids de la neige sortent de l'hibernation des sous-sols et émergent sur les trottoirs dégagés et ensoleillés. Tandis que les chansons des radios des voitures qui passent se posent dans les canaux des oreilles des passants, les enfants chantent les refrains entraînants des récents succès. Alors que les journées illuminées se transforment en soirées humides, l'oisiveté s'accroche aux plantes du centre-ville qui rêvent de festivals et de partys sur le patio de résidents endormis béatement.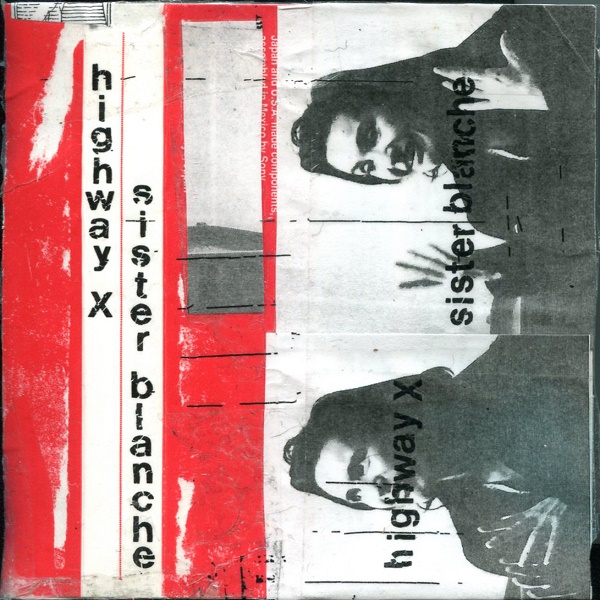 Highway X // Sister Blanche
Split
(Gary Cassettes)
Montreal, QC // Victoria, BC
From the patient suffering of Jesse Locke:
Highway X (Andy Vanier of Babysitter) and Sister Blanche (Morgan Cook of Yung Mums, Cindy Lee, and Androgynous Mind) make an apt pairing. Her mumblecore lullabies, incantations and Swope-style FX are buried under a thick fog of tape hiss like a (more) sinister Tickley Feather. Meanwhile, his guitar/sax jags, sandblasted dub, and lurching loops of mutant concrète add a melodic quality to previous offerings, yet still sound dug up from the sub-underground.
De la douleur patiente de Jesse Locke:
(Traduit par Jessica Grenier)
Highway X (Andy Vanier de Babysitter) et Sister Blanche (Morgan Cook des groupes Yung Mums, Cindy Lee et Androgynous Mind) vont bien ensemble. De son côté à elle, berceuses, incantations et effets à la Swope sont murmurés derrière un épais brouillard de sifflement, comme une Tickley Feather (en plus) sinistre. De son côté à lui, dub décapé, sax/guitare en dent de scie et boucles vacillantes de mutant concrète donnent une qualité mélodique à un ensemble clairement tiré des bas-fonds de l'underground.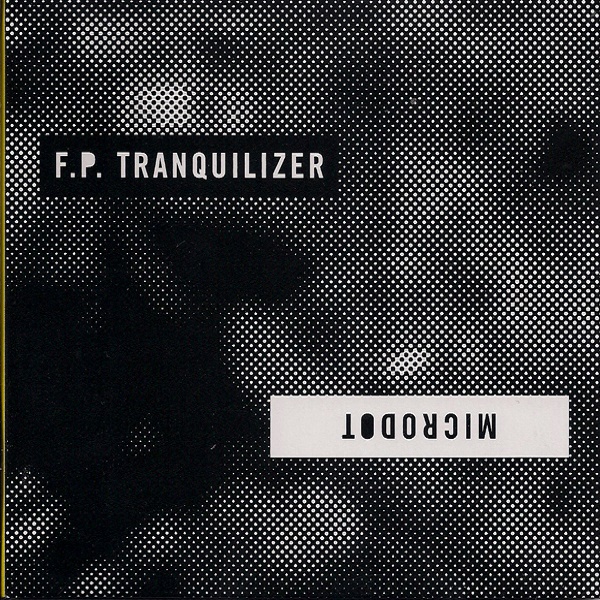 F.P. Tranquilizer // Microdot
Split
Winnipeg, MB
From the crispiness of Jesse Locke:
The flanged mind of Winnipeg's Bill Northcott gets its due with this discographical split from his electro-fried solo guise F.P. Tranquilizer and perpetually bummed pedal jammers Microdot. Life in the hairy prairies is immortalized in these anthems to payday, broken down cars, and fantasies of leaving the big city behind. Recommended if you dig Dino Jr at their slackest or the gentlemanly moves of Damon Edge.
De la croustillance de Jesse Locke:
(Traduit par le sourcil arqué de Jessica Grenier)
L'esprit flangé de Bill Northcott, de Winnipeg, reçoit précisément ce qu'il mérite avec ce split de son alter ego électro/électrifiant F.P. Tranquilizer et des musiciens constamment déprimés de Microdot. La vie dans les prairies pouilleuses est immortalisée par ces hymnes au jour de paye, aux pannes d'autos et aux rêves de quitter la grande ville un jour. À écouter, surtout si on aime la nonchalance de Dino Jr ou le côté gentleman de Damon Edge.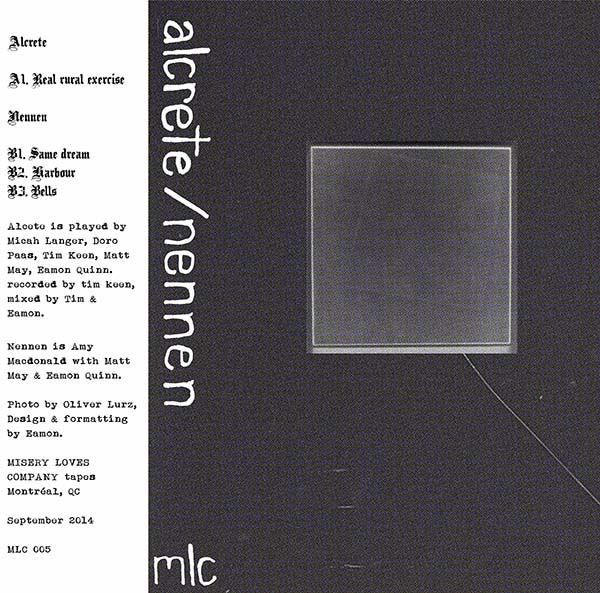 Alcrete // Nennen
Split
Montréal, QC
From the purified mind of Mailis Rodrigues:
Is something like pure noise even possible? Maybe this was the question Alcrete had on his mind when he created this quiet humming of combined electronics and excruciating vocals. An exorcism of purity where guitars slowly caress your ears and the voice, this screaming deep voice, elevates your soul. Then, when you're in pure ecstasy, Nennen pushes even further, dazzling you with their mellow, delicate voice and a crying guitar. It's like going to heaven and staying there. Music feeds the soul, noise embraces it.
De l'esprit purifié de Mailis Rodrigues:
(Traduit par Jessica Grenier)
Est-ce que le bruit pur est quelque chose qui peut exister? Peut-être est-ce là la question qui hantait l'esprit de Alcrete quand il a créé le calme bourdonnement de cette combinaison d'électronique et de voix insupportable. C'est un exorcisme de pureté où les guitares caressent lentement vos oreilles pendant que la voix, cette voix en un cri profond, élève votre âme. Puis, lorsque vous atteignez l'extase pure, Nennen pousse encore plus loin, vous éblouissant avec sa guitare criante et sa douce voix délicate. C'est comme monter au paradis et y rester : la musique nourrit l'âme, qui ne fait qu'un avec le bruit.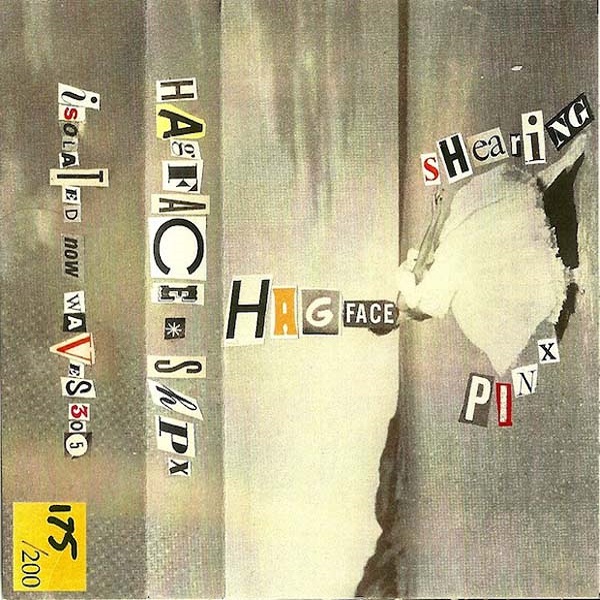 Hag Face/ Shearing Pinx
Split
Calgary, AB/Vancouver, BC
From the holy drywall of Josh Rohs:
Vancouver's sultans of cacophony meet Calgary's noise-conjuring witch punx for a feral, ferrous oxide-bound dichotomy made in house show hell. Wyrd friends, both old and new materialize at 3 a.m., plug in and melt face. You're left with nothing but a couple holes in yer drywall, a disfigured tympanic membrane, and a cognitive shift into warp drive. Grip now, and live out your remaining days in shredded bliss.
De la cloison sèche bénie de Josh Rohs:
(Traduit par Jessica Grenier)
Les sultans de la cacophonie de Vancouver se joignent aux sorcières punx de Calgary le temps d'une dichotomie sauvage gravée en oxyde de fer lors d'un spectacle maison infernal. Chers amis Wyrd, nouveaux et anciens, quand sonnent [trois heures du matin], branchez-vous puis sentez votre visage fondre. Vous en sortirez avec des trous dans la cloison sèche, une membrane tympanique mutilée et un changement cognitif à une vitesse supraluminique. Mettez la main dessus et vivez heureux à jamais, dans les liens sacrés du déchiquetage.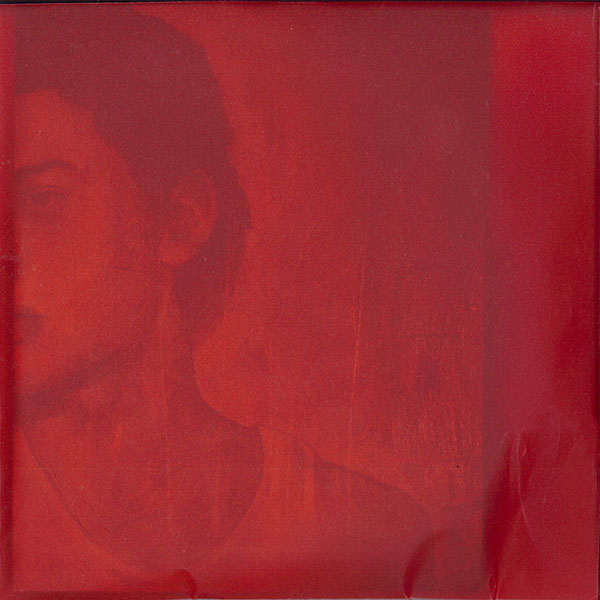 Totenbaum Träger // Projet Muet
Split
Montréal, QC
From the dangling hangnail of Farah Barakat:
Multi-instrumentalist and composer Dominic Marion exposes all sides of his creative dimensions by combining two of his latest projects into one split release. Experimental No wave comprised of jarring tones sits perpendicular to ominous bass sounds. Noir-ambient spaces and the matter that fill them create a monster; waxing and waning as if breathing. Totenbaum Träger wrestles with doom components through a combination of electric guitar noise (and riffs), feedback, and dark overtones. Projet Muet focuses on melody, narrative, and the extremities created when polarizing sounds crash together. Marion exposes every angle of his being by pairing the calm and chaotic, channelled through two separate paths of expression.
Des envies ballantes de Farah Barakat:
(Traduit par Jessica Grenier)
Compositeur et multi-instrumentaliste, Dominic Marion dévoile toutes les facettes de sa dimension créative en combinant deux de ses plus récents projets en un album split. On obtient du no wave expérimental fait de sonorités discordantes chevauchant des sons de basse menaçants; des espaces de style Noir-ambient remplis de matière qui font jaillir un monstre, croissant et décroissant comme une respiration. Totenbaum Träger ferraille avec des éléments de doom à travers un mélange de bruit (et de riffs) de guitare électrique, de feedback et d'harmoniques sombres. Projet Muet, lui, s'intéresse à la mélodie, à la narration et aux extrémités créées par la collision de deux sons polarisés. Marion met à nu chaque fibre de son être en joignant le calme et le chaos exprimés par deux chemins complètement différents.

Totenbaum Träger – Hung to Sarah Kane's Shoelace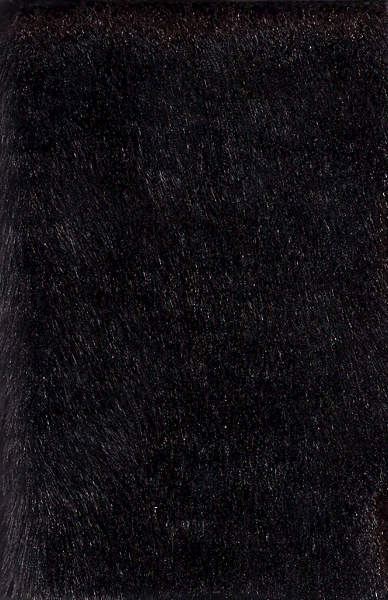 Beard Closet // Primate Pyramid
Split Cassette
Toronto, ON
From the monkey's paw of Jesse Locke:
The ninth volume in Arachnidiscs' split series pairs two Toronto free-guitar travelers in canny packaging fit for the grip of the hairiest palms. Beard Closet's contribution is the sidelong blast-off "The Erosion of Empathy," awakening from a day of radiance before the rotten sun beats down. On the backside, Primate Pyramid delivers two shorter pieces with the contemplative swirls of "Arc With No Story" and ghostly shapes emerging from the black sea of "Health Collapse." Shining, gleaming, streaming, flaxen, waxen…
De la patte de singe de Jesse Locke:
(Traduit par Andréanne Dion)
Le neuvième volume de la série d'albums splits d'Arachnidiscs rassemble deux groupes de voyageurs free-guitars de Toronto dans un emballage astucieux digne de la prise des paumes les plus poilues. La contribution de Beard Closet est l'explosion latérale « The Erosion of Empathy » qui se réveille d'une journée rayonnante avant que le soleil pourri ne brûle. Au verso, Primate Pyramid nous livre deux chansons plus courtes avec les tourbillons pensifs de « Arc With No Story » et les formes fantomatiques qui émergent de la mer noire de « Health Collapse ». Brillant, étincelant, ruisselant, blond, cireux…

Beard Closet – The Erosion of Empathy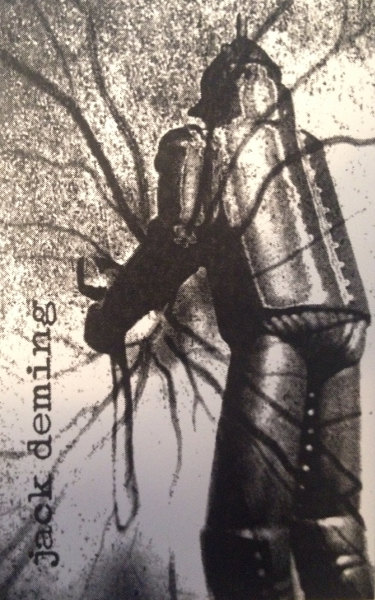 Jack Deming // Swenson Clane
Split
(Self Released)
Montréal, QC
From the reflective daydream of Rhys Gall:
The ringing sound of absence circles around the chamber where Jack Deming records his two-part tape side, "Nothing is Happening Inside of Me". Solely existing in the key of F for more than 10 minutes, it unfolds as if it's the only thing in your world, unconscious in a reflective daydream. Waiting for something to change, anything to happen inside of you. Responding to opiates with opiates, Swenson Clane's "Meatus" is a short walk to the greenest patch of grass that you've always loved to lay in. Seconds later, you realize that you are alone after all, only left with the bright significance inside this cassette.
De la rêverie songeuse de Rhys Gall:
(Traduit par la lumière de Julie Forget)
Le son retentissant de l'absence entoure la chambre où Jack Deming enregistre la face de sa cassette en deux parties « Nothing is Happening Inside of Me ». Existant seulement dans la clé de fa pendant plus de 10 minutes, elle se déroule comme si elle était la seule chose dans votre monde, vous qui êtes inconscient dans une rêverie songeuse. En attente que quelque chose change, n'importe quoi qui pourrait se passer en vous. Répondant aux opiacés avec les opiacés, « Meatus », de Swenson Clane, est une petite marche dans le plus vert des gazons sur lequel vous avez toujours aimé vous étendre. Quelques secondes plus tard, vous réalisez que vous êtes seul après tout, seul avec la signification lumineuse provenant de cette cassette.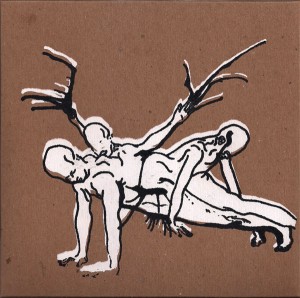 WTCHS // Das Rad
Split Lathe
(Perdu)
Hamilton, ON // Toronto, ON
From the brooding darkness of James Lindsay:
It's been a big year for Hamilton's WTCHS, whose mournful post-hardcore could be a soundtrack for Steeltown in decay. On "Overkilmer/Some Girls" they have a chilly, haunted echo like the members of Fugazi holding a séance to channel the spirit of young Robert Smith. This contrasts their live performances, where the lights go off, the bottom drops out, and all the shadows nod their heads in agreement with the brutish monster that broods in the dark. They're never afraid to share their releases with kindred souls, but hopefully there's a solo LP looming just over the horizon.
On the flipside, Toronto's morticians of rock 'n' roll, Das Rad, exhume their strongest work to date. Like a deranged surgeon sewing bits of bodies together, they graft the Cocteau Twins' romantic moods and non-lyrical vocalizations with Black Sabbath's cloak and cross wearing proto-metal. Surprisingly, the Promethean they create is anything but dour, loving life as it reenacts Saint Vitus's dance around the room, even though it dresses only in black.
Des ténèbres rampantes de James Lindsay:
(Traduit par la danse de Saint-Guy désapprise de Nicolas Coutlée)
Grosse année pour le groupe WTCHS de Hamilton, dont le post-hardcore mélancolique pourrait servir de bande sonore à la ville de l'acier en déclin. L'écho paisible et fantomatique de « Overkilmer/Some Girls » résonne comme si les membres de Fugazi tenaient une séance de spiritisme pour entrer en contact avec le jeune Robert Smith. Cette ambiance contraste avec leurs concerts, où les lumières s'éteignent, quelque chose se brise, et soudain les ombres se mettent à hocher de la tête à l'unisson avec la bête sauvage qui rôde dans les ténèbres. Le groupe ne craint pas de partager la vedette avec des âmes compatibles, mais heureusement un album solo point à l'horizon.
De l'autre côté, les croque-morts du rock and roll, les Torontois de Das Rad, exhument leurs meilleures pièces à ce jour.Tels des chirurgiens fous couseurs de bouts d'organe hétéroclites, ils greffent au romantisme et aux vocalisations sans paroles des Cocteau Twins le proto-métal à croix et tunique de Black Sabbath. Surprenamment, la créature prométhéenne qui voit le jour n'a rien d'effrayant, mais incarne plutôt l'amour de la vie alors qu'elle réinterprète [la danse de Saint-Vitus] tout de noir vêtue.Grosse année pour WTCHS de Hamilton dont le
---