Tag: space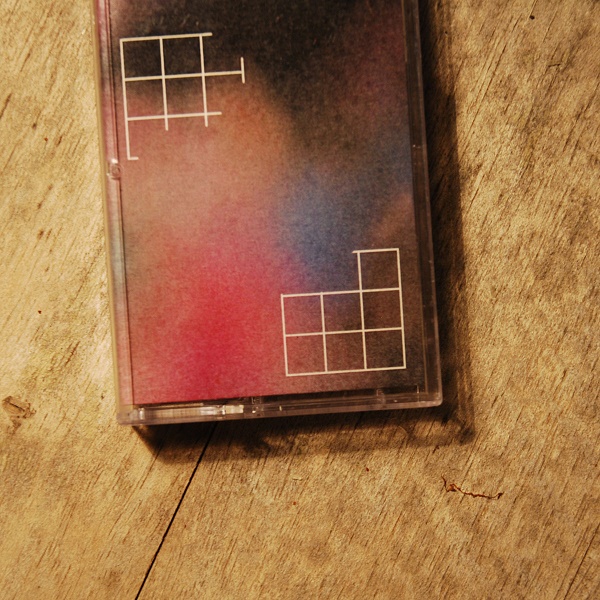 Philippe Vandal
Frag
Montreal, QC
From the splintered mind of Laura Stanley:
Our hearts once beat together. Their united sound displaced the loneliness that lived inside me for so long. But now, the loneliness has returned and I hear the ghosts of our former life: our fights, our joy, your favourite jazz record, the clatter of our dishes, the static from the TV when we forgot to pay our cable bill. In Frag, Montreal's Philippe Vandal summons distant discordance with forgotten feelings. Like us, these memories are fragmented and atonal. Together they sound as fearful of the future as I am.
De l'esprit fragmenté de Laura Stanley:
(Traduit par la mentalité capricieuse de Louis-Félix de Chevigny)
Nos cœurs ont autrefois battu à l'unisson. Ce battement synchronisé a repoussé la solitude qui vivait en moi depuis si longtemps. Maintenant, elle est de retour et je peux entendre les spectres de notre vie d'auparavant : nos chicanes, notre joie, ton disque de jazz favori, le bruit de nos assiettes, les parasites de notre télé la fois où nous avions oublié de payer notre facture de câble. Dans Frag, le Montréalais Philippe Vandal invoque, par des sentiments oubliés, une discordance lointaine. Comme nous, ces souvenirs sont fragmentés et atonaux. En les écoutant, on pourrait penser qu'ils sont aussi effrayés par le futur que je le suis.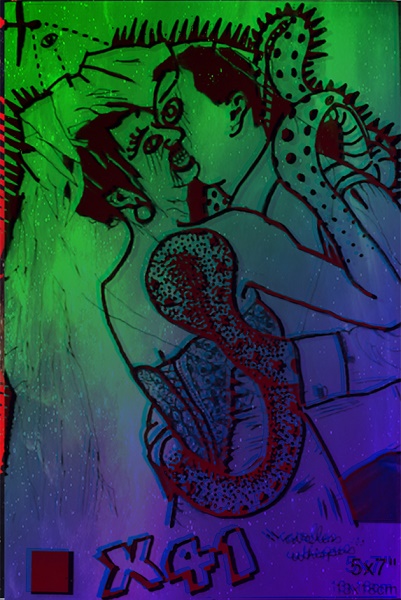 x41
S'up, Pluto?
Vancouver, BC
From the garbage dome of Katie Jensen:
The bedroom is a black hole. Dangling books with fluttering pages. Creased jeans crossing and uncrossing their worn out, indigo legs. A long-lost retainer, spackled with dried spittle and dust. Routine detritus shaken free by the swirling magnetism of a nameless void. Something stirring underneath the crumpled sheets and billowy comforter, pulsing with electromagnetic puffs. It struggles, whispering word-salad. Like an over-stuffed envelope, the bedroom collapses around itself. Contained, but bulging at the seams. Mail it away. Make it someone else's problem.
Venu du dôme d'ordures de Katie Jensen:
(Traduit par les facultés sacadées d' Émily Traichel)
La chambre à coucher est un trou noir. Des livres ballants avec des pages voltigeantes. Des jeans plissés se croisent et se décroisent les jambes indigo usées. Un appareil dentaire, perdu de vue depuis longtemps, enduit de crachat et de poussière. Détritus routiniers libérés par le magnétisme tourbillonnant d'un vide intersidéral sans nom. Quelque chose qui s'agite sous les draps froissés et la literie houleuse pulse avec des bouffées électromagnétiques. Elle a de la misère, murmurant une salade de mots. Comme une enveloppe surchargée, la chambre à coucher s'effondre sur elle-même. Close, mais pleine à bomber. Postez-la ailleurs. Rendez-la le problème d'un autre.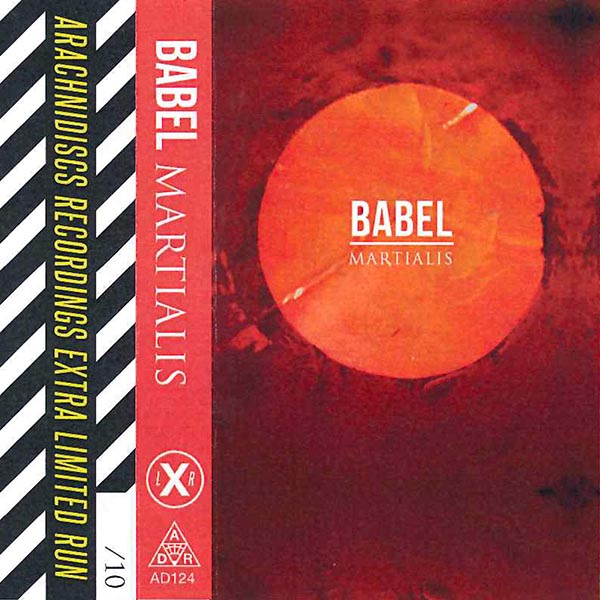 BABEL
Martialis
Toronto, ON
From the expeditions of Johnnie Regalado:
BABEL's meditations on Mars compose a world that does not get to change from red to green to blue. This Martian chronicle is one of a red world turning redder. A sonic world where isolation is salvation and the familiar story of human introduction of course leads to destruction. Curiosity, Odyssey, Orbiter, Spirit, Opportunity, give these exploits whatever name you want: they're all still drones.
Par les expéditions de Johnnie Regalado:
(Traduit par les méditations martiennes d' Émily Traichel)
Les méditations sur Mars de BABEL composent un monde qui n'a pas la chance de changer de rouge à vert à bleu. Cette chronique martienne nait d'un monde pourpré qui s'empourpre toujours. Un monde sonique où l'isolation est le salut et l'histoire familière de l'introduction humaine mène bien sûr à la destruction. Curiosity, Odyssey, Orbiter, Spirit, Opportunity, nommez ces exploits comme vous voulez: ils s'agissent tous toujours de drones.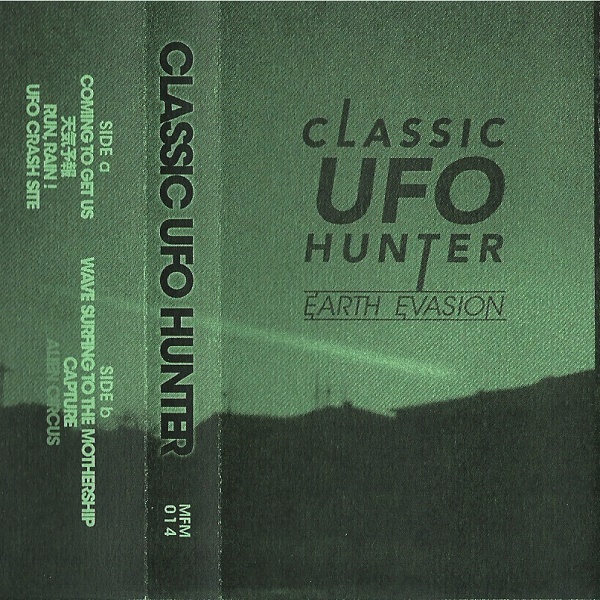 Classic UFO Hunter
Earth Evasion
Quebec, QC
From the spooky mind of Laura Stanley:
Stand on the bridge that spans reality and possibility. There's water on Mars. We are not alone in the universe. Look into the abyss or let the abyss look into you. There's nothing. Their pace quickens and unearthly bodies are out for blood. Do they avoid us because they have seen what we do to others? Can you hear their voices or are they, in unrecognizable tones, our own? Only Classic UFO Hunter knows the truth.
De l'esprit épeurant de Laura Stanley:
(Traduit par l'alunissage de Julie Mayer)
Tenez-vous sur le pont qui enjambe réalité et possibilité. Il y a de l'eau sur Mars. Nous ne sommes pas seuls dans l'univers. Cherchez dans l'abysse ou laissez l'abysse chercher en vous. Il n'y a rien. Leurs rythmes s'accélèrent et leurs corps surnaturels sortent en quête de sang. Nous évitent-ils parce qu'ils ont vu ce que nous faisons aux autres? Peux-tu entendre leurs voix, ou sont-elles, sous des tons méconnaissables, les nôtres? Seul Classic UFO Hunter connaît la vérité.
Classic UFO Hunter – Coming To Get Us
L CON
The Distance of the Moon
(Self Released)
Toronto, ON
From the celestial chatter of Mark Anthony Brennan:
This is about distance. In the distance between any two objects there is space. Space is eternal. You can never get rid of it. You cannot fill it because space will always surround any object you place in it. Work with it, don't ignore it or pretend it isn't there. Music exists as much in the empty air as in the sound waves that travel through it. Rejoice in the distance. Listen to the spaces in between.
Par le bavardage célestial de Mark Anthony Brennan:
(Traduit par les synapses intersidéraux d' Émily Traichel)
Il s'agit de la distance. Dans la distance entre n'importe quelle paire d'objets, il y a de l'espace. L'espace est éternel. On ne peut jamais s'en débarrasser. On ne peut le remplir, car l'espace entourera toujours tout objet que l'on y place. Composez avec, ne l'ignorez pas et ne prétendez pas qu'il n'est pas là. La musique existe autant dans l'air vide que dans les ondes sonores qui voyagent à travers. Réjouissez-vous de la distance. Écoutez les espaces qui s'y figurent.
L CON – The Distance of the Moon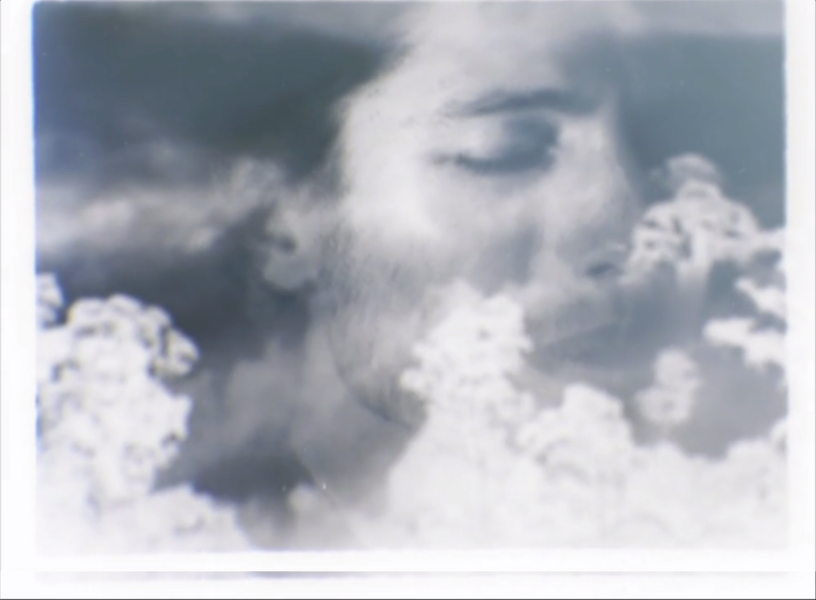 Robert Loveless and the Loveland Band
Go Beyond
(dir. Erin McDonald)
Halifax, NS
From the ebb of Brennan McCracken:
"Go beyond" urges Robert Loveless. Go beyond— permission given to feel, to get lost in Erin McDonald's doubly-exposed reels, to let yourself move a little in this band's glorious ebb and flow. Go beyond— a willing to do something, make something, fill up the time while it's here. Go beyond— an invitation to pass through the fog toward dawn.
Du flux et reflux de Brennan McCracken:
(Traduit par la double exposition de Virginie Langlois)
"Go beyond", aller au-delà : c'est ce que Robert Loveless nous exhorte à faire. Aller au-delà, comme une autorisation qui nous serait donnée de ressentir, de se perdre dans les bandes de films doublements exposées d'Erin McDonald, de se laisser dériver au rythme du flux et du reflux de ce groupe. Aller au-delà, comme une volonté de faire quelque chose, d'occuper son temps pendant que c'est encore possible. Aller au-delà, comme une invitation à traverser le brouillard pour atteindre l'aube.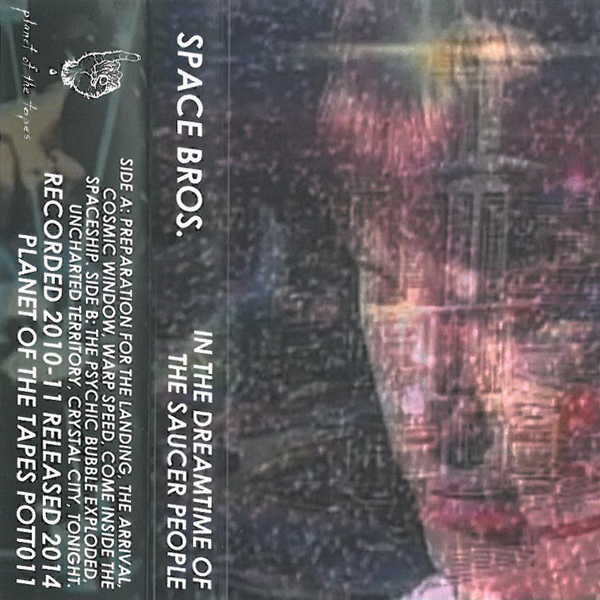 Space Bros.
In The Dreamtime Of The Saucer People
Vancouver, BC
From the Quasar of Trevor Angst:
Space Bros. made a cosmic wormhole. You're chewed up, you're spit out, you don't know where the hell it took you but it's busy with people and activity. You're entering into a new world. ''IDSP'' relays the observations of an outsider's wander through an unfamiliar city in perpetual night. Set in the not-so-distant future, the city is dynamic, it's fast paced and you are the outsider. The detuned and vibrating synthesizers make the dreary night hours of this big and futuristic city sound thriving. The afterhours are alive; you can hear the dissonant vocal samples. They sound like muffled intergalactic discotheque muzak that leaked from the venues' walls and onto the streets. Beneath you there's an underpass of swooshing polyphonic sounds of light bikes and hover crafts. The city is moving fast and drains its power crystals night and day. The result is making everything hum like an old GE refrigerator. Even the atmosphere sounds high voltage.
Du Qasar de Trevor Angst:
(Traduit dans le temps du rêve par Hugo Hyart-Dauvergne)
Space Bros. ont fait un trou de ver cosmique. Tu es mâché, tu es recraché, tu ne sais pas où diable cela t'a mené, mais ça grouille de monde et d'activités. Tu entres dans un nouveau monde. « IDSP » relaye les observations d'un être extérieur lors d'une déambulation à travers une ville pas familière au cœur d'une nuit surréelle. Se déroulant dans le futur pas si lointain, la ville est dynamique. Elle va vite et tu es l'être extérieur. Les synthétiseurs désaccordés et vibrant transforment le son des longues heures nocturnes de cette grande ville futuriste en excitantes floraisons. Les heures supplémentaires sont vivantes ; tu peux en entendre les échantillons de voix dissonantes. Elles sonnent comme une muzak de discothèque intergalactique étouffée qui aurait fuité depuis les murs des salles vers la ville. Au-dessous, il y a un passage de sons polyphoniques soufflant provenant de lumières de motos et d'aéroglisseurs. La ville bouge rapidement et aspire ses cristaux de pouvoir nuit et jour. Le résultat est que tout hum comme un vieux réfrigérateur General Electrics. Même l'atmosphère a l'air sous haut voltage à l'oreille.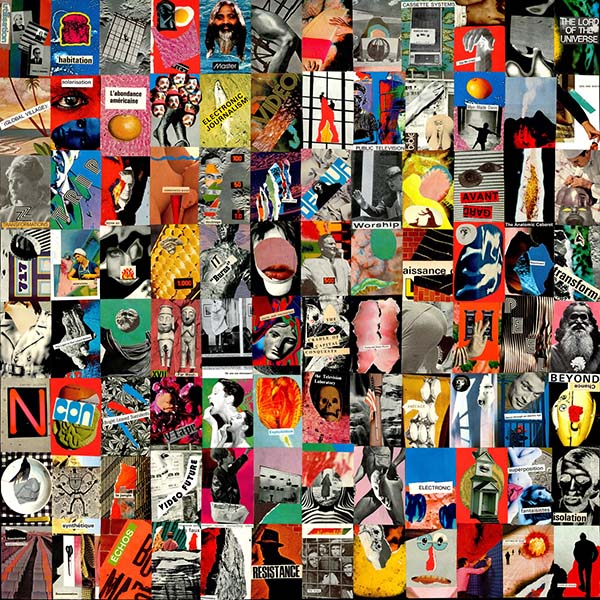 Freak Heat Waves
Bonnie's State of Mind
Victoria, BC
From the island beside an island of Johnnie Regalado:
The freaky boys' latest wave of heat has picked up some serious space debris after reflecting back from their original transmissions. Now wielding their solo palace as a brush to paint in the space between the sound, the trio have reached the equilibrium of master mixer tinkering and raw-from-the-floor reality. Subtle additions to their style blip up in the delicately placed loops and sharply focused vocals. When their songs aren't trying to reprogram your mind they are trying to move your feet.
D'une île à côté d'une île de Johnnie Regalado:
(Traduit par les coins de rue cafféinés de Marie-Pier Chevrier)
La dernière vague de chaleur de ces insolites garçons a collecté d'importants débris spatiaux depuis de leurs premières transmissions. Brandissant maintenant leur propre royaume tel un pinceau pour peindre l'espace entre les sons, le trio a atteint cet équilibre entre le mixage rafistolé à la perfection et la réalité cueillie à même le sol. De subtils ajouts à leur style en ponctuent les boucles délicatement placées et les voix finement mises au point. Quand leurs chansons n'essaient pas de vous reprogrammer le cerveau, elles font tout pour faire bouger votre corps.
Freak Heat Waves – A Civil Servant Awakening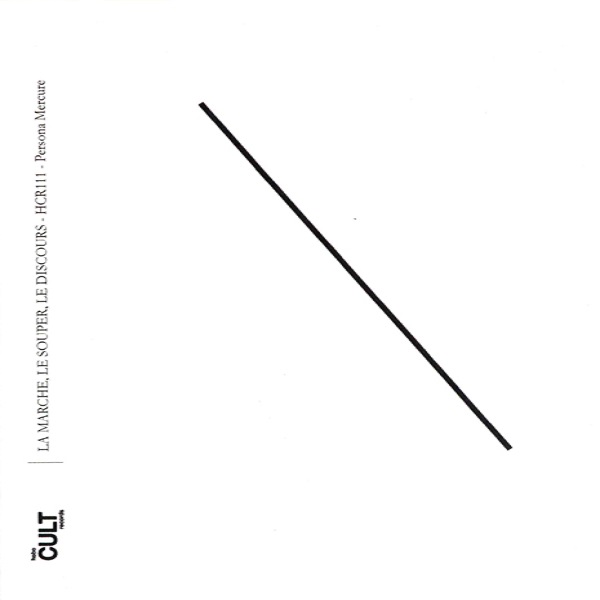 Persona Mercure
La Marche, Le Discours, Le Souper
Montreal, QC
From the sonic singularity of Johnnie Regalado:
The stark beauty of this drone is matched only by the elegant simplicity of the artwork. Three tracks that gravitate around the black holes of our mind; music made for a rendezvous where everything happens in threes. The trio of tone rings the full alert, whispers 'walk calmly towards the nearest exit' and lays out a feast amongst the infinitesimal screaming silence of space.
De la singularité sonore de Johnnie Regalado:
(Traduit par Jessica Grenier)
La beauté saisissante de ce drone n'est égalée que par la simple élégance de l'illustration. Les trois pistes gravitent autour du trou noir de nos esprits; une musique faite pour des rendez-vous où tout arrive par trois. Le trio tonal fait sonner l'alerte, murmurant de « marcher calmement vers la sortie la plus près » en exposant un festin parmi les minuscules silences criants de l'espace.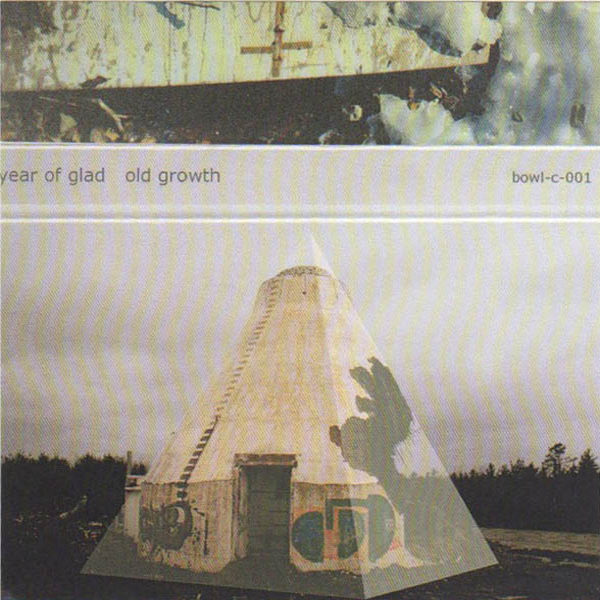 Year of Glad
Old Growth
Montréal, QC
From the self-consuming snake of Rachel Weldon:
Tones expand infinitely across an apocalyptic wasteland. Last gasps of existence smear across the temporal canvas, breathing life into a new and evolved lifeform. Euphonic in its thickness of space, Old Growth's dynamic ambience enlarges the mind. We are in here. Space slashed with subsidized time relentlessly pushes forward, growing bigger as it consumes its surroundings.
Du serpent en train de se manger lui-même de Rachel Weldon:
(Traduit par Jessica Grenier)
Les sons s'étirent à l'infini par-dessus la dévastation d'un paysage post-apocalyptique. Les derniers souffles de vie sont étalés sur le canevas temporel, donnant naissance à une nouvelle forme d'existence évoluée. Rendu euphonique par l'épaisseur de son espace, Old Growth offre des ambiances dynamiques qui élargissent l'esprit. Nous sommes ici, à l'intérieur : l'espace est lacéré par un congé payé qui cherche inlassablement à avancer, grossissant au rythme où il consume ce qui l'entoure.
---