Tag: space jams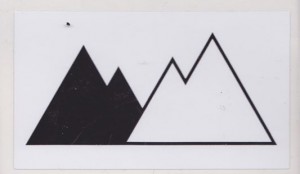 Snoqualmie
Skyland Mtn.
(Self Released)
Victoria, BC
From the space junk drawer of Johnnie Regalado:
Victoria's perennial nice guy and longtime scene stalwart, Blake Enemark, has one last parting gift for the Island Capital before real life takes him to the mainland — Skyland Mtn. Forsaking his usual lyric-based work, this ultra-grippable, never digitized cassette features hypno-ambient guitar work, found-sound and dying organs. These meditations harness the creative tentacles of Enemark and fellow bush beater Simon Haisell. The duo's genre explorations range from caravan orchestra to alt-country noise rock. In a perfect parallel universe, Snoqualmie would have scored the soundtracks for The X-Files or Twin Peaks. One day you may find yourself adrift in that infinite expanse, but as long as you have this album looping through your space helmet, it'll be beautiful instead of terrifying.
Du tiroir à débris spatiaux de Johnnie Regalado:
(Traduit par l'état méditatif d'Andréanne Dion)
Blake Enemark, éternel bon gars de Victoria et pilier de la scène musicale, offre un cadeau d'adieu à l'Île-Capitale, avant que la réalité ne le ramène sur le continent — Skyland Mtn. Sur cette cassette jamais numérisée et digne d'être collectionnée, Enemark renonce à son habituel style lyrique au profit de guitares hypno-ambiantes, de bruits en tous genres et d'orgues agonisantes. Ces méditations exploitent les tentacules créatives de Enemark and de Simon Haisell, co-animateurs de l'émission de radio Beating Around The Bush. Les explorations musicales du duo sont variées, allant d'un orchestre de roulotte à un son rock-country alternatif. Dans un monde parallèle idéal, Snoqualmie aurait écrit la bande-son de X-Files ou de Twin Peaks. Un jour vous vous retrouverez peut-être à la dérive dans cette étendue sans fin, mais pourvu que vous ayez cet album en boucle dans votre casque d'astronaute, ce sera beau à couper le souffle plutôt que terrifiant.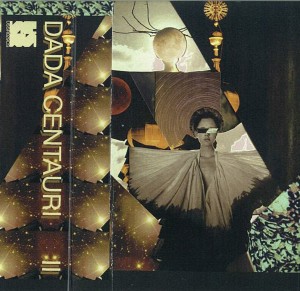 Dada Centauri
II
Calgary, AB
From the space jamb of Bryce Warnes:
When Max Ernst's clone is recruited to design the next ISS module, you can expect that he'll require the on-board sound-system to blast this tape at full volume. Andrew Hume and Whitney Ota of Burro fame reunite under the Dada Centauri banner to pump out a C60's worth of nebulous space jams. II careens from cosmic tideline ambience to foreboding quasar pulse, computer bleep-bloop to the drone of singing spheres. Occasionally, a loop or phrase straight from the library raises its hauntological head. A stellar grip courtesy of the astro-avant-garde.
Du montant spatial de Bryce Warnes:
(Traduit du balcon d'Andréanne Dion)
Quand le clone de Max Ernst est recruté pour créer le prochain module de la Station spatiale internationale, on peut s'attendre à ce qu'il ait besoin de la chaîne audio à bord pour faire jouer cette cassette à plein volume. Andrew Hume et Whitney Ota, connus pour leur rôle dans Burro, sont réunis à nouveau sous la bannière de Dada Centauri pour produire l'équivalent d'une C60 de sessions spatiales nébuleuses. II oscille entre une ambiance de démarcation cosmique et les battements prémonitoires des quasars, entre les bruits d'ordinateurs et le ronronnement de l'Harmonie des sphères. De temps à autre, un son en boucle ou une expression directement tirée de la bibliothèque pointe le bout de son nez fantomatique. Une emprise stellaire, offerte par l'avant-garde astrale.
---