Tag: Soupcans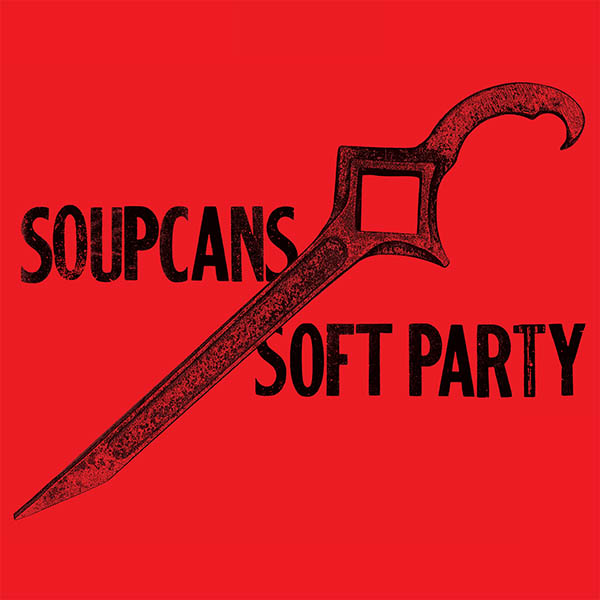 Soupcans
Soft Party
Toronto, ON
From the dank cold cellar of Mitch Jackson:
Word association would suggest a connection between Soupcans and Andy Warhol. That kind of product placement has no place on Soft Party, except if that product placement is for ear plugs. The brutal noise that persists throughout is lifted up by a constant flow of pure meat and potatoes sludge, like they are building a pipeline from the Campbell's Chunky soup factory right into the core of Hogtown, drowning Rob Ford on the Gardiner. Get your spoons ready.
De la cave froide et humide de Mitch Jackson:
(Traduit par le hache-viande plastique de Mackenzie Smedmor)
Les champs lexicaux suggéreraient un lien entre Soupcans et Andy Warhol. Ce genre de placement de produit ne se trouve nulle part sur Soft Party, à moins qu'il s'agisse de placement de produit pour des bouchons d'oreilles. Le bruit brutal qui persiste tout au long est soulevé par un déluge constant de purée viande et de boue de patates, comme s'ils construisent un pipeline de l'usine de la soupe Chunky de Campell's directement au cœur de Hogtown et font noyer Rob Ford sur la Gardiner. Préparez vos cuillères!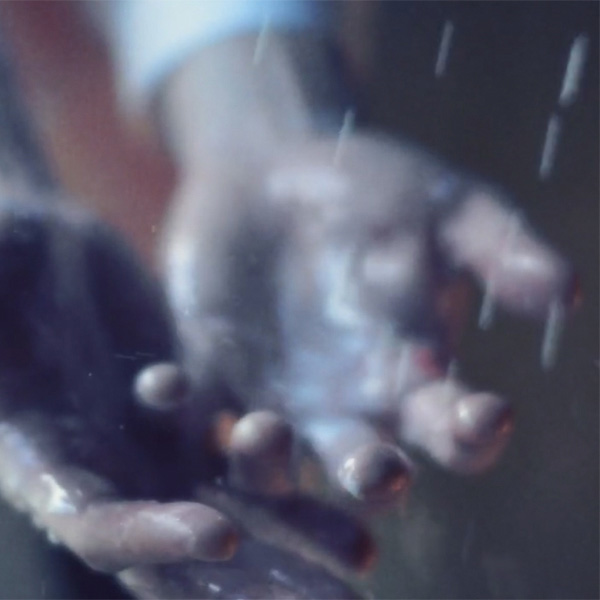 Soupcans
Crimes of the Future, Pt II
Directed by James Ryan Halpenny
Toronto, ON
From the criminal future of Josh Rohs:
Hogtown's honorary princes of pigfuck are at it again. Director James Ryan Halpenny chucks the first couple Laws of Robotics in the garburator (Take that, Asimov! ) and we get an extra sanguinary, Cronenberg-directed, Short Circuit-goes-Killdozer. The criminal future is nigh and it's pretty much just sordid sentinels from here on out.
Du futur criminel de Josh Rohs:
(Traduit par Jessica Grenier)
Les princes honoraires torontois du pigfuck s'y sont remis. Le réalisateur, James Ryan Halpenny, jette les premières Lois de la robotique aux poubelles (prends ça, Asimov! ) pour obtenir un mélange sanguinolent de Cœur circuit devient Killdozer version Cronenberg. Le futur criminel est nocturne, et à partir d'ici, il n'y a à peu près que des sentinelles sordides.
Soupcans – Crimes of the Future, Pt II from james ryan halpenny on Vimeo.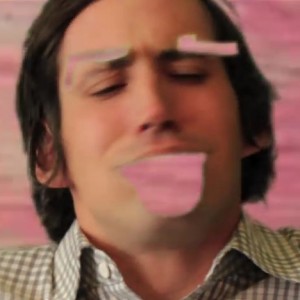 Soupcans
"Parasite Brain"
(Directed by Lindsay Cavanaugh)
Toronto, ON
From the callused knuckles of Farah Barakat:
Three guys walk into a bar and are met by a mischievous bartender who serves them a concoction of green-screened neon colour. They turn into zombie cannibals who turn on the bartender. It's perfect because it comes from the psychotropic minds of The Soupcans.
The Toronto punk patrons' brain-melting fury has recently unleashed itself onto our eyes and ears with a video from the title track on their latest EP. The concept is a mixture between a day spent in front of Photobooth on your laptop, playing a sadistic game of Operation and psychedelics. None of this sound bad to you? It's not. It's awesome.
Rather than using too much fake blood, a major element in the video, they opt for post-production special effects. Splotches are hastily drawn all over the characters and filled-in with film footage close-ups of raw meat, organs and actual blood. It's an inventive alternative that adds to the ethereal state of the video. Handheld cameras and gore elements parallel the chaotic, lo-fi track which is aptly titled ''Parasite Brain''.
De la corne des jointures de Farah Barakat:
(Traduit par l'hémoglobine de Catherine Gaucher)
Trois gars entrent dans un bar et sont accueillis par un malicieux barman qui leur sert une mixture de couleur écran-vert néon. Ils se transforment en zombies cannibales et se retournent contre le barman. Le tout est parfait, car cela arrive tout droit de l'esprit sous influence de The Soupcans.
Avec une vidéo pour la chanson-titre de leur dernier EP, ces parrains torontois de la scène punk ont récemment déchaîné leur fureur devant nos yeux et dans nos oreilles. Le concept est un mélange entre une journée passée devant le « Photobooth » de votre ordinateur, à s'adonner au jeu sadique Opération et de psychédélisme. Rien de tout cela ne sonne horrible? C'est parce que ce ne l'est pas. C'est génial.
Plutôt que d'utiliser trop de faux sang, un élément central dans cette vidéo, ils ont opté pour des effets spéciaux créés en post-production. Les éclaboussures hâtivement barbouillées partout sur les personnages sont remplacées par des séquences filmées de gros plans de viande crue, d'organes et de vrai sang. Il s'agit d'une alternative inventive qui ajoute à l'état éthéré de cette vidéo. La caméra à la main ainsi que les éléments « gore » se joignent en parallèle à la chaotique pièce lo-fi judicieusement intitulée « Parasite Brain ».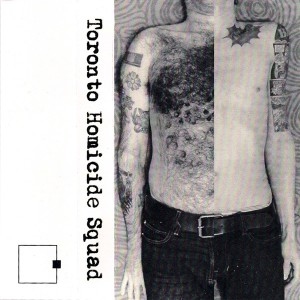 Toronto Homicide Squad
Toronto Homicide Squad
(Self Released)
Toronto, ON
From the brute fanaticism of James Lindsay:
The oft-labeled "prog-punk" duo Toronto Homicide Squad are making headway as one of the best of the new breed of Southern Ontario bands. Armed with bass and drums, the two-piece marry heavy minimalism (akin to Anagram) with intelligent, DD/MM/YYYY-style arrangements. A real meeting of the minds here with two of the city's most raucous and distinctive players: Gideon Steinberg (ex-Soupcans) pummels drums and Brandon Lim (HSY, Teen Tits Wild Wives) bullies bass with enough brute fanaticism to make the Wright brothers blush.
Du fanatisme brutal de James Lindsay:
(Traduit par Hugo Hyart)
Le duo basse-batterie Toronto Homicide Squad, souvent étiqueté "prog-punk", sont en passe de devenir l'un des meilleurs spécimens de la nouvelle génération de groupes du sud de l'Ontario qui marient minimalisme lourd (un peu comme Anagram) et arrangements ingénieux dans le style de DD/MM/YYYY. On a droit à une véritable rencontre au sommet entre deux des musiciens les plus tapageurs et originaux en ville : Gideon Steinberg ex-Soupcans au martelage de la batterie et Brandon Lim (de HSY, Teen Tits et Wild Wives) qui malmène sa basse avec assez de fanatisme brutal pour faire rougir les frères Wright.
Toronto Homicide Squad – This Way's for Show, That Way's for Tell
---