Tag: soundtrack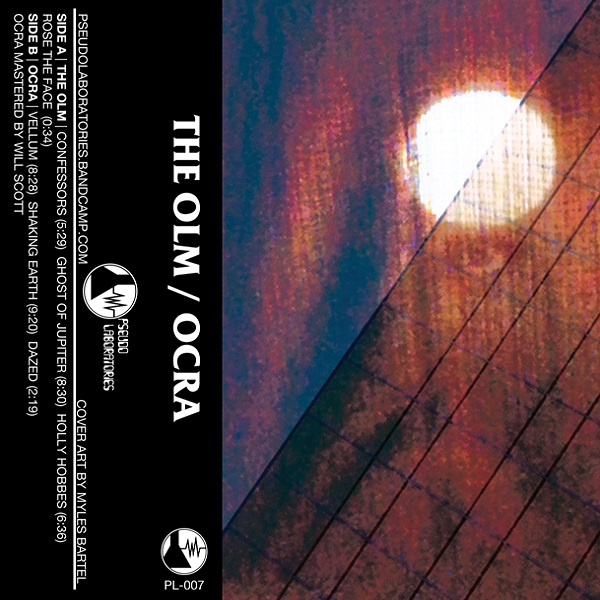 The Olm / Ocra
The Olm / Ocra
Edmonton, AB
From the timeluscent west of Heather Lune:
The Olm moans like a metal wraith, a fossil of the prehistoric ocean that lives in the mountains – badland epigrams malformed. They're a beacon sculling over the solid hide of the skyline, where the sea is held inside sun-risen fumes.
The Ocra hears a ghastly echo of our industrious carvings. Inscriptions knocking into the wind of falling bodies, the mechanisms used to slip through tap dancing waves. The scraping, digging, probing, mining. The generations, the millenia – waterbed bones compressing into an arid ocean floor.
Belonging to us, as we to it, a locked-soul.
Par l'ouest tempslucide de Heather Lune:
(Traduit par l'écho ésotérique des vents ténébreux d' Émily Traichel)
L'Olm gémit comme un spectre en métal, un fossile venu de l'océan préhistorique qui vit dans les montagnes – épigrammes malformées des badlands. Il y a un flambeau qui godille sur la peau solide de l'horizon, où la mer est enfermée dans des émanations solaires.
L'Ocra entend un écho épouvantable de gravures industrieuses. Des inscriptions cognent dans le vent de corps en chute, les mécanismes employés afin de glisser à travers les vagues qui dansent la claquette. Le grattage, creusage, sondage, l'exploitation minière. Les générations, les millénaires – les os du lit d'un fleuve qui se blottissent dans un fond d'océan aride.
Nous appartenant, comme on leur appartient, une âme-barrée.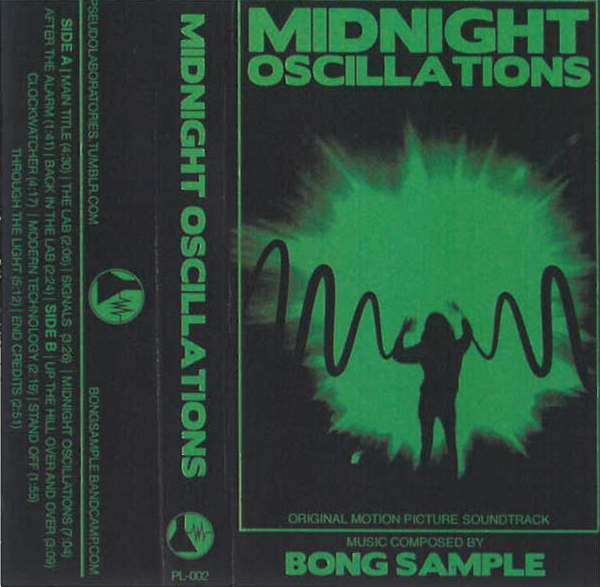 Bong Sample
Midnight Oscillations
Edmonton, AB
From the ferocious quest of Jared Majeski:
Here's a soundtrack to a film that only exists in a man's mind. Horrifically warm synth scores, channel sweeps like feathers on skin. Amid the slow freneticism and sonorous repetition, your answer(s) await amidst proprioceptive electrocution. Are we always running from something, even if we're not moving?
Par la quête féroce de Jared Majeski:
(Traduit par la grossesse sasquatchienne d'Émily Traichel)
Voici la bande-son d'un film qui n'existe que dans l'esprit d'un homme. De fiévreuses partitions de synthé, un balayage des canaux comme des plumes sur la peau. Parmi la frénésie tranquille et la répétition sonore, votre (ou vos) réponse(s) vous attend(ent) dans l'électrocution proprioceptive. Sommes-nous toujours en train de nous enfuir, même si nous sommes immobiles?
Bong Sample – Midnight Oscillations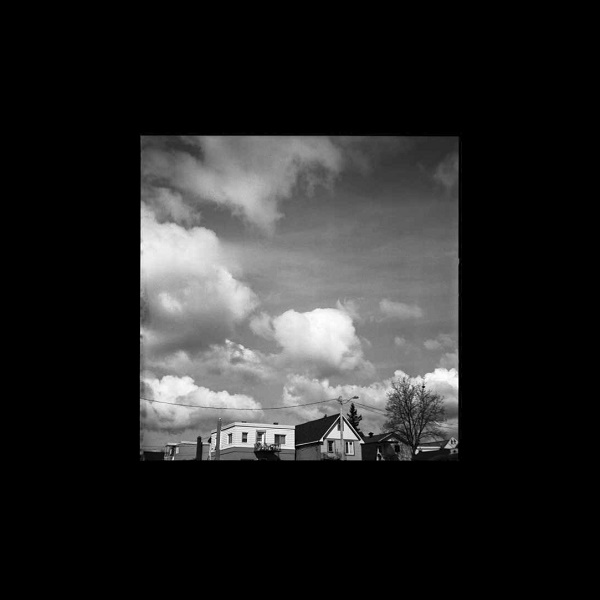 H. de Heutz
Study for Violence and Tape
Hull, QC/Ottawa, ON
From the reductive hemispheres of Rolf Klausener:
H. de Heutz' music is a conversation best had in person: eyes unblinking, breathing slow, and as time collapses, cochlea-searing frequencies radiate through rhythmic stabs that yearn to stop your heart, and lay waste to the passive mind. "Tomorrow should be fine" combines unrelenting percussion by other-worldly drummer/vocalist Olivier Fairfield, with caustic high-frequency samples, protest field recordings, and a bass line skipping through intervals darker than India ink. It descends into live audio of bassist/vocalist Nathan Medema discussing public access to protest-related road closures with RCMP officers, before an unforgiving return to the piece's acerbic closing bars.
Par les hémisphères réducteurs de Rolf Klausener:
(Traduit par les promenades inconscientes d' Émily Traichel)
La musique de H. de Heutz est une conversation qu'il vaut mieux avoir en personne: les yeux fixes, le souffle tranquille, et tandis que le temps s'écroule, des fréquences à calciner les cochlées se répandent à travers le rythme poignardant qui aspire à faire arrêter votre cœur, et ravagent l'esprit passif. « Tomorrow should be fine » amalgame une percussion implacable par le batteur/vocaliste venu d'un autre monde, Olivier Fairfield, avec des échantillons caustiques à haute fréquence, des enregistrements de champs de manifestation, et une ligne de basse qui sautille à travers les intervalles plus noirs que l'encre de Chine. La piste penche vers une trame audio du bassiste/vocaliste Nathan Medema qui discute avec des agents de la GRC de l'accès publique aux routes fermées à cause des manifs, suivie d'une reprise impitoyable des dernières mesures acerbes.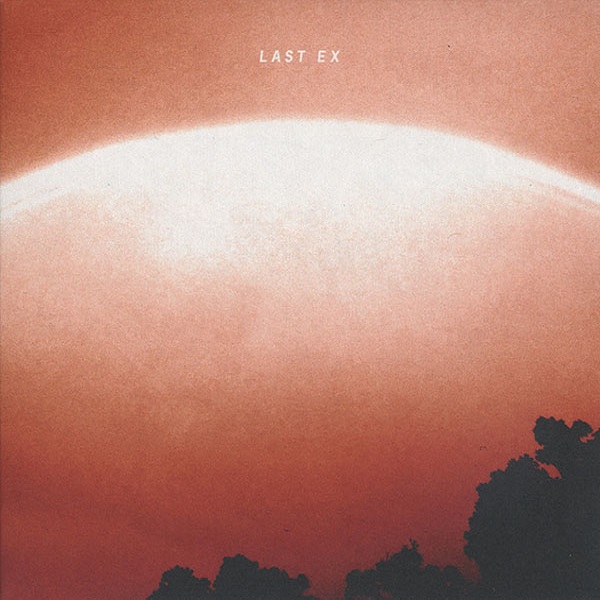 Last Ex
Last Ex
Montréal, QC
From the heavy energy of Adam Bradley:
Nightmare walls bend around you. The colours are mute and shapes are miscarried. The floor heaves like a linoleum ocean as a baby mobile tinkles hazily, each talisman representing a failure or fear. A chasm roars open. Specks at the bottom are a man of fire and a woman of water, waltzing barely, blankly in the semi-light. Through a rectangle hole you are drawn, lit by candles that writhe as snakes, nipping at your clothing. An aquamarine crystal seeps through the stone, emits waves of heavy energy. Sink to your knees. Shut your eyes. Shut your eyes.
De l'énergie pesante d'Adam Bradley:
(Traduit par la transe pétrifiée de Jessica Grenier)
Des murs cauchemardesques s'incurvent vers toi. Les couleurs sont silencieuses, les formes, inachevées. Le plancher déverse un océan de linoléum, un mobile pour bébé scintille paresseusement; chaque talisman représente un échec ou une peur. Un gouffre s'ouvre en éclatant. Tu vois des étincelles tout au fond, dans la pénombre : un homme de feu et une femme d'eau, leur presque valse, leur regard vide. Ton corps est attiré par une ouverture rectangulaire éclairée par des chandelles qui se tortillent comme des serpents en essayant de mordre tes vêtements. Un cristal aigue-marine sourd du roc en émettant des ondes d'énergie pesante. Tu tombes à genoux. Ferme les yeux… Ferme les yeux.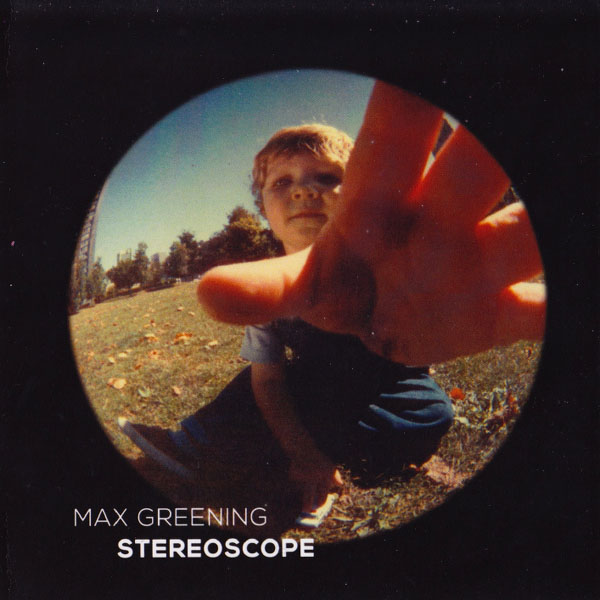 Max Greening
Stereoscope
Vancouver, BC
From the reverberating metallurgy of Jake Bornheimer:
A stone submarine sinking to the depths of the ocean. A pitch black dome with all the sky's constellations laid out upon it. A still pool of water with a single shining coin at the centre. At times it seems like Stereoscope is a film in auditory form. It's a collection of moments, captured in thick rippling sound. Speaking voices arise from the surface of the music, wreathed in crackles and pops. It is at once richly organic & precisely synthetic, with Heckish clouds of static noise revolving stereoscopically around the observer.
Des réverbérations métallurgiques de Jake Bornheimer:
(Traduit par l'insularité frileuse de Marie-Pier Chevrier)
Un paquebot de pierre coulant vers les profondeurs de l'océan. Un dôme noir de jais où s'étend chaque constellation. Une pièce d'or scintillante au coeur d'une flaque d'eau immobile. Stereoscope a des allures de film se prenant pour une chanson. Comme une collection de moments encastrés dans un son épais et houleux. Des dialogues en émergent, couronnés de crépitements et cliquetis. Le tout est à la fois d'un vivant palpable et d'une précision mécanique, avec des nuages de bruit statique à la Hecker en révolution stéréoscopique autour de l'observateur.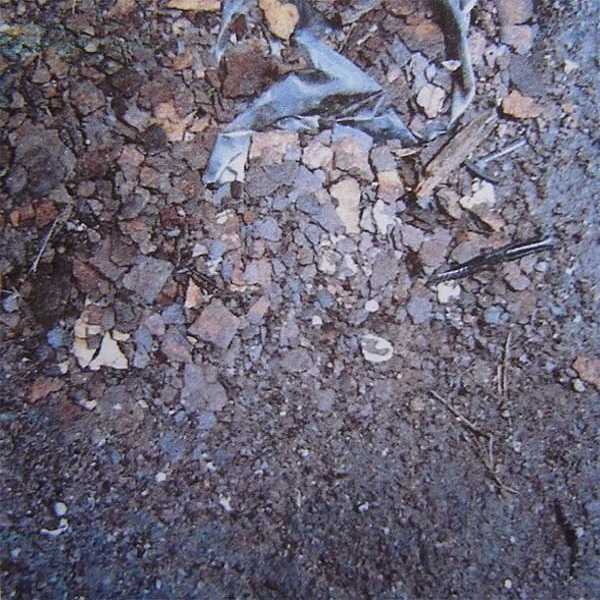 Émilie Payeur
Table des matières
Montréal, QC
From the seismic telegraph of Mathieu Bédard:
Sound is a visual element. To hear something is to see it in the mind's eye. Table des matières plays like the soundtrack for an abstract film creating the images it's accompanying. Divided between the raw nature of the sounds and their disembodied resonance, it is altered and amplified in the course of their wavelength. The music is a reciprocal action between the source and the trace of the objects heard, between a dot and a line: cosmos is morse code. The wires of the receiver are crossed, and the listening devices vibrate. From the melody of singing birds to the razorblades of peaking feedback, there is a natural transition. This is the music made by a tree falling in the forest without a witness.
Du télégraphe sismique de Mathieu Bédard:
(Mathieu Bédard)
Le son est un élément visuel. Entendre quelque chose, c'est le voir dans son esprit. Table des matières s'écoute comme la trame sonore d'un film abstrait qui crée elle-même les images qu'elle accompagne, partagée entre la pure réalité des sons et leur résonance désincarnée, altérée et amplifiée durant le cours de leur trajet. La musique est une action réciproque entre la source et la trace des objets entendus, entre un point et une ligne : le cosmos est un code morse. Et les fils du récepteur s'entremêlent, les appareils qui écoutent vibrent aussi. De la mélodie des oiseaux aux pics tranchants du retour de son, la transition est naturelle. Un arbre qui tombe dans la forêt sans témoin produit cette musique.
Émilie Payeur – Points et lignes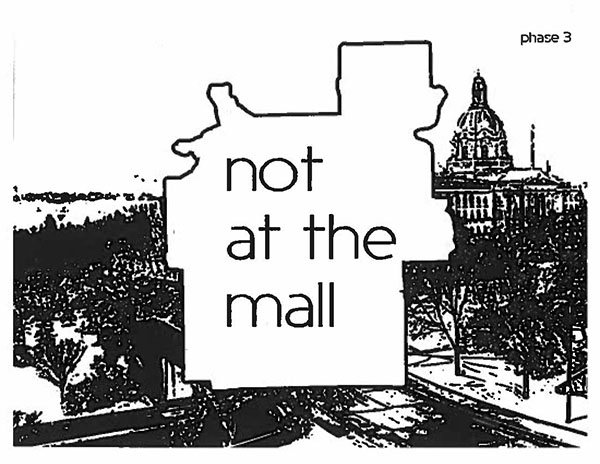 Not at the Mall – Phases 3-6
One born and raised Edmontonian and one transplanted Southern Albertan
4 issues, 8 pages each, saddle stitch by thread
(Self Released)
Edmonton, AB
From the cartographies of Brian Fauteux:
Sometimes we need to be reminded about where and how to locate culture and have experiences outside of places that beg, "You need to be here, you need to shop here, you need to be seen here."
Recalling the Situationists' derive, Not at the Mall contains traces, maps, fragments, soundtracks, and guides for locating one's self in Edmonton, calling attention to our presence in the city, peeling back the spectacle's veneer to release "everything in this northern, land-locked island town, that's not at the mall."
Readers are invited to search and explore the city. An image of a painted flamingo, in-flight, soars across a building's facade, asking us, "Can you find this door?"
"One of the greatest moments of winter is the moment just before you get on the ice." Yes, it's cold here, most of the time. But there's beauty in this frozen landscape. We learn this from the black-billed magpie, a long-time permanent resident who navigates the Edmonton winter eating seeds, rodents, and the garbage that's been left outside.
De la cartographie de Brian Fauteux:
(Traduit par Jessica Grenier)
Nous avons parfois besoin de nous faire rappeler comment – et où – trouver de la culture et avoir des expériences ailleurs que dans les endroits qui nous supplient : « Vous devez venir ici / acheter ici / être vus ici ».
Gardant en tête la dérive des Situationnistes, Not at the Mall contient des cartes, des fragments, des trames sonores et des guides pour se localiser à Edmonton tout en focalisant l'attention sur notre présence géographique et en retirant le vernis spectaculaire pour tout libérer « dans cette ville-île nordique encrée sur terre, qui n'est pas au centre commercial. »
Les lecteurs sont invités à chercher en ville pour l'explorer : le dessin d'un flamand rose en plein vol sur la façade d'un immeuble nous demande « Pouvez-vous trouver cette porte? ».
« Un des meilleurs moments de l'hiver est celui juste avant de monter sur la glace. » Oui, il fait froid la plupart du temps ici, mais il y a de la beauté dans ce paysage gelé. C'est ce que nous apprend la pie d'Amérique, qui réside ici depuis longtemps et qui passe l'hiver à manger des graines, des rongeurs et les poubelles qui traînent dehors.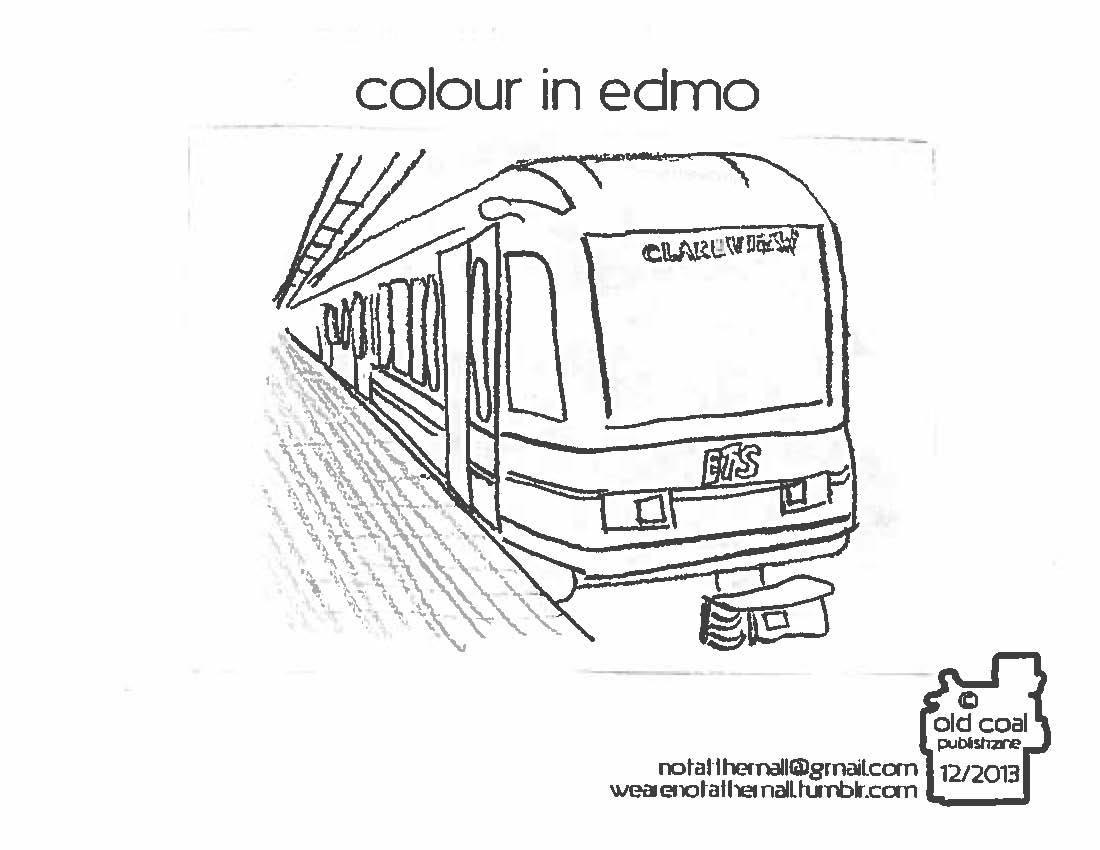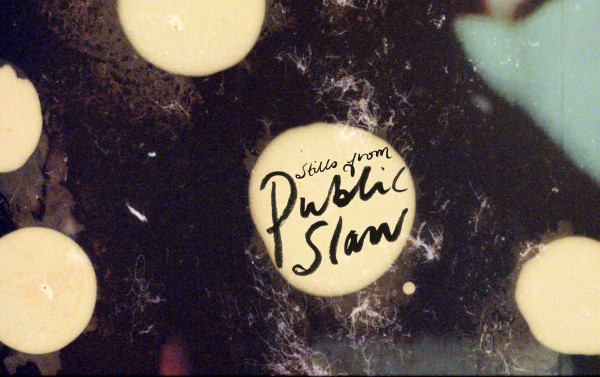 The Public Slaw overloads and overwhelms the senses with a splice 'n' diced opus of gastric proportions. Andrew Zukerman and Winston Hacking, the bugged out brains behind Exploding Motor Car, send this short film, soundtrack and accompanying book on a crash course into scrambled pleasure centres. From the vibrant vignettes of its opening section (kung fu pandas, puppies, and one perplexed vampire) to the b&w cool-out at its close (dancer Minae Omi shrouded in monochrome) this ADHD A/V farrago will leave its viewers finely shredded.
Exploding Motor Car
The Public Slaw
Toronto, ON
From the ravaged plate of Jesse Locke:

Andrew Zukerman – The Public Slaw (pt 1)
The Public Slaw overloads and overwhelms the senses with a splice 'n' diced opus of gastric proportions. Andrew Zukerman and Winston Hacking, the bugged out brains behind Exploding Motor Car, send this short film, soundtrack and accompanying book on a crash course into scrambled pleasure centres. From the vibrant vignettes of its opening section (kung fu pandas, puppies, and one perplexed vampire) to the b&w cool-out at its close (dancer Minae Omi shrouded in monochrome) this ADHD A/V farrago will leave its viewers finely shredded.
The Toronto premiere and book launch of The Public Slaw takes place Friday, Sept. 12 at 811. More information here.
De l'assiette ravagée de Jesse Locke:
(Traduit du sandwich de beurre de peanut et de confiture de Catherine Debard)

Andrew Zukerman – The Public Slaw (pt 1)
The Public Slaw sature et submerge les sens avec un opus-fricassée aux gourmandes proportions gastriques. Andrew Zukerman et Winston Hacking, les cerveaux irrités derrière Exploding Motor Car, ont envoyé ce court film accompagné d'une trame sonore et d'un livre, véritable cours intensif de plaisirs brouillés. Des thématiques vibrantes titillent l'appétit dès l'ouverture (kung fu pandas, animaux cutes, et un vampire perplexe) jusqu'à la période de relaxation finale, une image en noir et blanc de la danseuse Minae Omi enveloppée de monochrome. Ce fractal hyperactif audio-visuel laissera le lecteur finement haché.
The Toronto premiere and book launch of The Public Slaw takes place Friday, Sept. 12 at 811. More information here.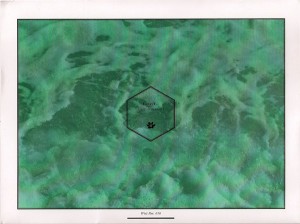 Loscil
City Hospital
Vancouver, BC
From the monads of Kyle Valade:
Scott Morgan a.k.a. Loscil originally created City Hospital as a soundtrack for Lunar Caustic, a novella published in 1963 by Malcolm Lowry. With the priming of the titles of the four parts that comprise this piece, it's easy to hear things that sound closer to the coast such as foghorns, waves and the monotonous pace of a coal barge. Kelly Wyse's piano is obscured by a sustained note that has been mostly broken down into static, a note presumably sampled by Morgan and altered. To my drummer's ear, it jumps by what sound like octaves, with bass-heavy thuds keeping pace underneath distant reverby pianos and more waves. Each scene is drawn out and collides with the next so that the minutiae of each composition only becomes perceptible after they recede and something new surges into place.
Des monades de Kyle Valade:
(Traduit par les petites perceptions de Vincent Rondeau)
Loscil, de son vrai nom Scott Morgan, a composé City Hospital comme trame sonore pour le mini-roman Lunar Caustic de Malcolm Lowry, publié en 1963. Les titres des quatre sections de cette pièce évoquant une atmosphère marine, on reconnaît à l'écoute les cors de brume, le son des vagues et le rythme monotone d'un chaland. Le piano de Kelly Wyse est voilé par une note insistante, échantillonnée par Morgan et désintégrée jusqu'au grésillement : on dirait (du moins à mon oreille de batteur) qu'elle sautille d'un octave à l'autre, tandis que des basses sourdes gardent la cadence sous le son des pianos réverbérés et des vagues. Chaque scène s'étire jusqu'à empiéter sur la prochaine, de manière à ce que les détails de chaque composition ne deviennent perceptibles qu'après coup.
Seth Smith
Lowlife OST
(Fundog)
Halifax, NS
From the anti-melodies of Christina Bell:
This psychotropic cassette complements the cinematic experience that is Seth Smith's same-titled, equally hazy, DIY-style film Lowlife. The soundtrack is an extension of some of Smith's previous allusions to noisy experimentation with the prominent rumble of a blisteringly solemn tuba. Severed guitar twangs and aluminum effects ripple and crash over (mostly) marine-themed songs, oozing between a vividly dark musicality and murkily minimalistic anti-melodies. Relish in the slug-licking haze.
Des antimélodies de Christina Bell:
(Traduit par la trame sonore de Julie Forget)
Cette cassette psychotrope complémente l'expérience cinématographique que propose le film bricolé du même nom et tout aussi trouble Lowlife de Seth Smith. La trame sonore est une extension de certaines allusions antérieures de Smith à l'expérimentation bruyante moyennant le célèbre grondement d'un tuba solennellement foudroyant. Des sons tranchés de corde pincée de guitare et des effets d'aluminium se propagent (pour la plupart) parmi des chansons à thème marin, glissant entre une musicalité sombre avec éclat et des antimélodies d'un minimalisme obscur. Prenez grand plaisir au brouillard léchant les limaces.
---