Tag: soundscape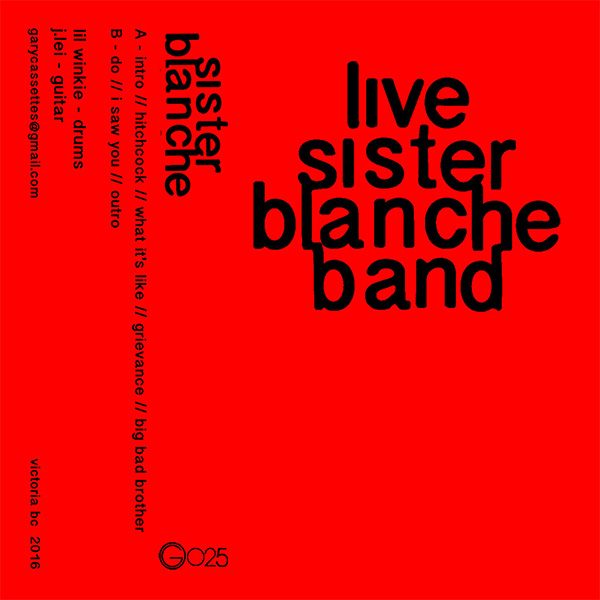 Sister Blanche
Live Sister Blanche Band
Victoria, BC
From the demonic haze of Mark Gillis:
Buried in the heart of the pit, the snarls of Sister Blanche carve through your skin and grind themselves deep inside your soul. With every abrasive noise, the mechanized monster that is Sister Blanche grows larger. As the gears turn, the entire system overheats, spewing smoke and ash. Burnt to a crisp, the remnants of Sister Blanche emit a thick, demonic haze of smog while the world plummets into a deeper despair. No light, no hope.
Du brouillard démoniaque de Mark Gillis:
(Traduit par les déambulations nocturnes de Julie Mayer)
Enterrés au cœur du puits, les hurlements de Sister Blanche transpercent votre peau pour s'enraciner profondément dans votre âme. Chaque bruit abrasif fait grossir le monstre mécanique qu'est Sister Blanche. Tandis que les engrenages tournent, le système tout entier surchauffe, crachant de la fumée et des cendres. Carbonisés, les restes de Sister Blanche émettent un épais brouillard démoniaque alors que le monde plonge dans un désespoir plus profond. Sans lumière, pas d'espoir.
Sister Blanche – Intro//Hitchcock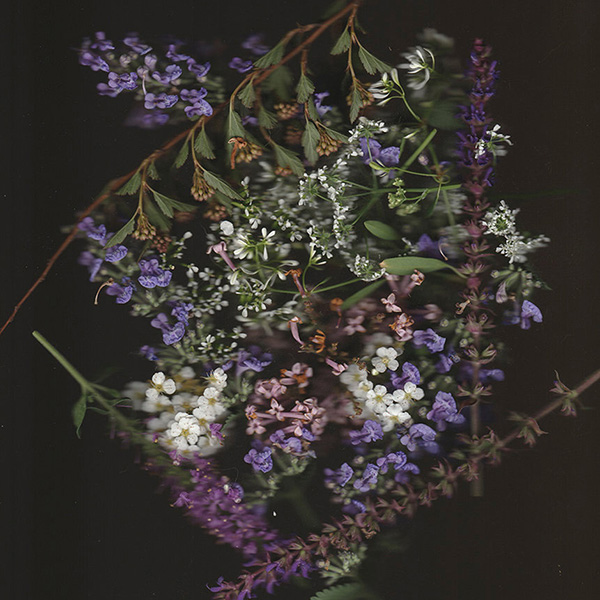 Pyramid//Indigo & SKIN
Split
Self-Released
Edmonton, AB // Montréal, QC
From the ever-expanding skies of Brian Fauteux:
Radio static is how we'll know we're eventually alone. That everything is over. Here is where Pyramid//Indigo's "Lydian Grains" begins. A slight crescendo, disconcerting, leads to "Hands, Bursting with Light." Sounds gleaned from frosted prairie fields build atmospheric swells that call the wild. A long final glance of pink and gold before the graying of sky.
Flip the split.
SKIN calls forth a soundscape marked by the hum of arthropod wings, wind seeping through a window's breach, and the lure of a music box melody. Perhaps there are signs of life after all.
Des cieux toujours grandissants de Brian Fauteux:
(Traduit par les lèvres gercées de Julie Mayer)
Des bruits parasites, voilà comment nous saurons que nous sommes éventuellement seuls. Que tout est fini. C'est ici que « Lydian Grains » de Pyramid/Indigo commence. Un léger crescendo, déconcertant, mène à « Hands, Bursting with Light ». Des sons glanés dans les champs de prairie givrés érigent des remous atmosphériques interpellant la campagne : un long coup d'œil ultime rose et or avant que le ciel vire au gris.
Changez de face.
SKIN évoque un paysage sonore marqué par le bourdonnement d'arthropodes ailés, le vent s'infiltrant par la craque d'une fenêtre et l'attrait suscité par la mélodie d'une boîte à musique. Peut-être y a-t-il des signes de vie après tout.
Pyramid//Indigo – Lydian Grains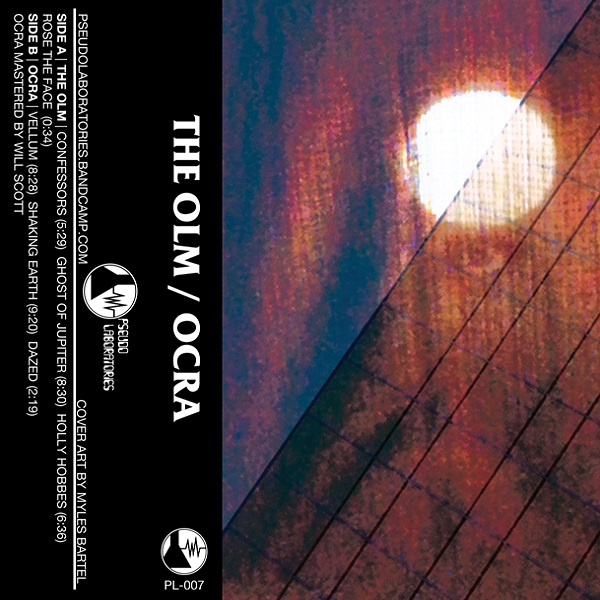 The Olm / Ocra
The Olm / Ocra
Edmonton, AB
From the timeluscent west of Heather Lune:
The Olm moans like a metal wraith, a fossil of the prehistoric ocean that lives in the mountains – badland epigrams malformed. They're a beacon sculling over the solid hide of the skyline, where the sea is held inside sun-risen fumes.
The Ocra hears a ghastly echo of our industrious carvings. Inscriptions knocking into the wind of falling bodies, the mechanisms used to slip through tap dancing waves. The scraping, digging, probing, mining. The generations, the millenia – waterbed bones compressing into an arid ocean floor.
Belonging to us, as we to it, a locked-soul.
Par l'ouest tempslucide de Heather Lune:
(Traduit par l'écho ésotérique des vents ténébreux d' Émily Traichel)
L'Olm gémit comme un spectre en métal, un fossile venu de l'océan préhistorique qui vit dans les montagnes – épigrammes malformées des badlands. Il y a un flambeau qui godille sur la peau solide de l'horizon, où la mer est enfermée dans des émanations solaires.
L'Ocra entend un écho épouvantable de gravures industrieuses. Des inscriptions cognent dans le vent de corps en chute, les mécanismes employés afin de glisser à travers les vagues qui dansent la claquette. Le grattage, creusage, sondage, l'exploitation minière. Les générations, les millénaires – les os du lit d'un fleuve qui se blottissent dans un fond d'océan aride.
Nous appartenant, comme on leur appartient, une âme-barrée.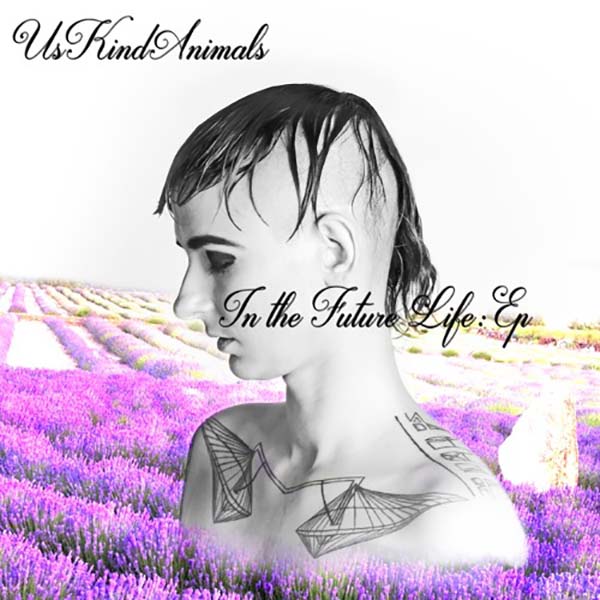 UsKindAnimals
In the Future Life EP
(Self-Released)
Montréal, QC
From the 4am catharthis of Heather Lune:
Is it holy to dance? Flee a frozen night in the dark underground chambers, to carve into the archaic beats and feel so new, so modern. And the summer comes: the long long sun, you need to get drunk in that hot light with desperation. But the anxiety as the frost creeps in again, the sun slips. In the manic chill, UsKindAnimals sing wild hymns to the soul over blindness-seeking carnal rhythms. Hear the auld disco dirge of ecstatic mourning? It's the death dance of winter, a skeleton shaking yourself out of your own cold corpse.
De la purge matinale de Heather Lune:
(Traduit par Sergio Calla)
La danse est-elle sacrée ? Fuir des tunnels souterrains pendant une nuit glaciale pour s'intégrer dans les sons archaïques afin de se régénérer et de se moderniser. Puis l'été arrive avec ses rayons de soleil étendus, donnant envie de se soûler désespérément dans cette lumière chaude pour encore une fois angoisser au départ du soleil et à l'arrivée du gel. Dans cette frénésie frisquette, UsKindAnimals chantent à l'âme des hymnes sauvages cherchant aveuglement des mélodies bestiales. Faire un deuil euphorique en écoutant de la bonne vieille musique d'enterrement? C'est la macabre danse hivernale. Un squelette qui vous secoue pour vous faire sortir de votre propre corps refroidi.
UsKindAnimals – Animal Dream feat. Emilie Monnet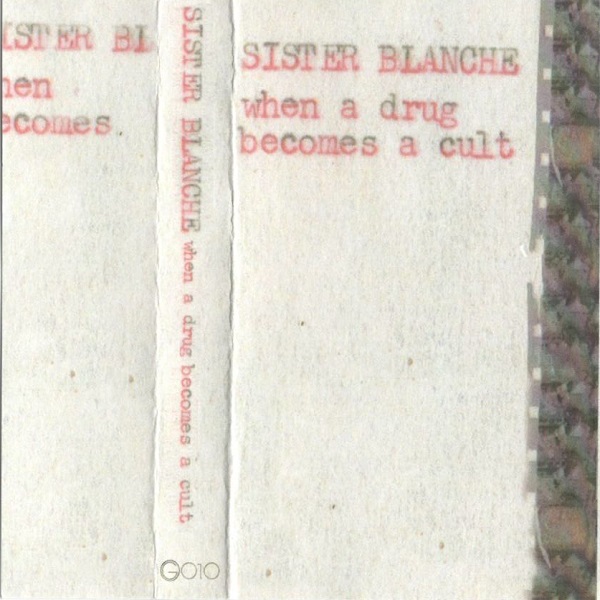 Sister Blanche
When a Drug Becomes a Cult
(Gary Cassettes)
Victoria/Vancouver, BC
From the gnawed appendages of Piper Curtis:
Wandering through a witchy haze, feet not quite touching the ground. Waves of discontent fill the air. Feeling intensely lovely, calm amongst unrest and agitation. There is a dissonance between us and this fuzzy dreamscape.
Static, moving all around. Witches watch through a shroud of fog. Dusk descended before we awoke here and remains, permeating.
Par les appendices rognés de Piper Curtis:
(Traduit par la scansion sabbatique de Benoit Arcand)
Errance dans une brume de sabbat, les pieds pas tout à fait au sol. Des ondes de discorde emplissent l'atmosphère. Le sentiment d'être ardemment aimable et posé dans ce tumulte, ce trouble. Il y a dissonance entre nous et ce paysage onirique flou.
La statique fluctuant tout autour. Des sorcières guettent à travers des linceuls de brouillard. Le crépuscule tombe avant que nous nous réveillions, et demeure, prégnant.
Sister Blanche – When A Drug Becomes A Cult
Union Suit
Held Onto
(Self Released)
Fredericton, NB
From the retrospective youth of Mike Roy:
Cool water cascades over rocks in a running stream. Tranquil, but the realization overwhelms you. These rocks are moving. These rocks are being disturbed. These rocks are being pushed from what they know. Fear envelops you, but the entire process is striking. Beautiful change is happening, but there is nothing left for you to grip.
De la jeunesse rétrospective de Mike Roy:
(Traduit par Jessica Grenier)
Une eau fraîche cascade sur des rochers en formant un ruisseau. C'est paisible, mais la réalisation t'assaille : ces roches sont en train de bouger. On les déplace en les poussant hors de leur terrain connu. La peur t'enveloppe malgré tout ce processus étonnant. Un changement superbe se produit, sauf qu'il n'y a plus rien à quoi s'agripper.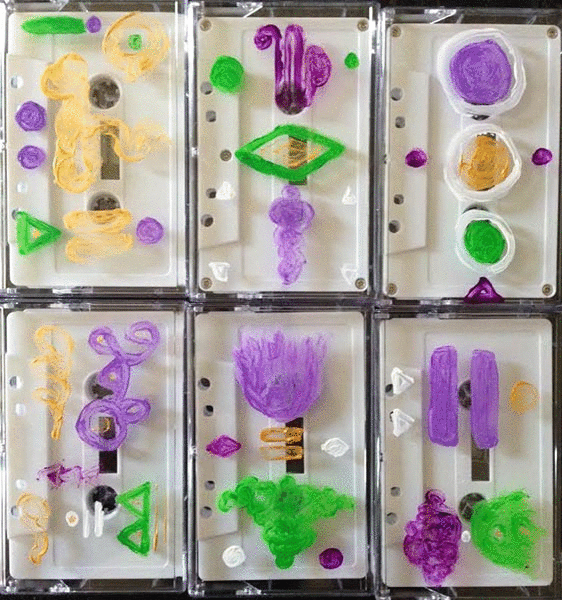 Matthew 'Doc' Dunn
Dance Me to the Light // Inner World Blues // The Floating Realm
(Cosmic Range // Medusa Editions)
Toronto, ON
From the expanding head of Kevin Hainey:
A trilogy of new tapes from the ever-present psychedelic fingers of Matthew "Doc" Dunn comes on strong in follow-up to the All Is LP. Released by the kind courtesy of his own Cosmic Range and soul brother #1 Ayal Senior's Medusa Editions, these six suite-like sides flow through the expanding channels of Dunn's endless rivers of psychedelic altruism, freaked out electronic primitivism, soulful lonesome folk, and spirit jazz grooving. A multi-instrumentalist at the top of his game, this trilogy expands on the promise his All Is and Tecumseh LPs demonstrated, and presents an elaborate auditory glimpse into the mindful capabilities of this alarmingly talented and worthy sonic journeyman. May these tapes fuel Dunn's growing legend as a radical at the forefront of Canada's underground like a gallon of gasoline on a campfire.
De la tête en expansion de Kevin Hainey:
(Traduit par Jessica Grenier)
Les doigts psychédéliques de l'éternel Matthew « Doc » Dunn reviennent en force avec une trilogie de cassettes faisant suite à All Is LP. Ces six côté continus, une gracieuseté de Cosmic Range et de son âme frère #1, Medusa Editions de Ayal Senior, suivent les canaux grandissant des rivières infinies de Dunn, passant par un altruisme psychédélique, un primitivisme électronique complètement fou, un folk aérien solitaire et des rythmes spirituels de jazz. Venant d'un multi-instrumentaliste qui n'a plus rien à apprendre, cette trilogie élargit la promesse manifestée dans ses All Is et Tecumseh et laisse apercevoir une parcelle détaillée des capacités conscientes de ce compagnon acoustique dangereusement talentueux. Que ces cassettes alimentent la légende grandissante de Dunn en tant qu'avant-gardiste radical de l'underground canadien, tels des galons de gaz dans un feu de camp.
Matthew 'Doc' Dunn – Dance Me To The Light [side 1]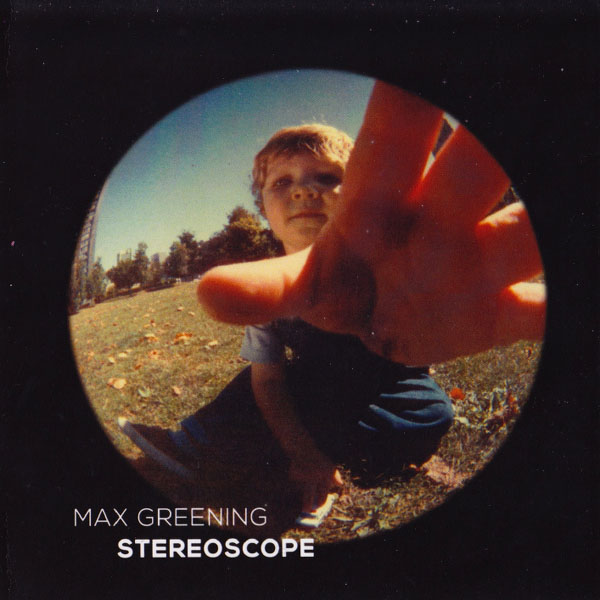 Max Greening
Stereoscope
Vancouver, BC
From the reverberating metallurgy of Jake Bornheimer:
A stone submarine sinking to the depths of the ocean. A pitch black dome with all the sky's constellations laid out upon it. A still pool of water with a single shining coin at the centre. At times it seems like Stereoscope is a film in auditory form. It's a collection of moments, captured in thick rippling sound. Speaking voices arise from the surface of the music, wreathed in crackles and pops. It is at once richly organic & precisely synthetic, with Heckish clouds of static noise revolving stereoscopically around the observer.
Des réverbérations métallurgiques de Jake Bornheimer:
(Traduit par l'insularité frileuse de Marie-Pier Chevrier)
Un paquebot de pierre coulant vers les profondeurs de l'océan. Un dôme noir de jais où s'étend chaque constellation. Une pièce d'or scintillante au coeur d'une flaque d'eau immobile. Stereoscope a des allures de film se prenant pour une chanson. Comme une collection de moments encastrés dans un son épais et houleux. Des dialogues en émergent, couronnés de crépitements et cliquetis. Le tout est à la fois d'un vivant palpable et d'une précision mécanique, avec des nuages de bruit statique à la Hecker en révolution stéréoscopique autour de l'observateur.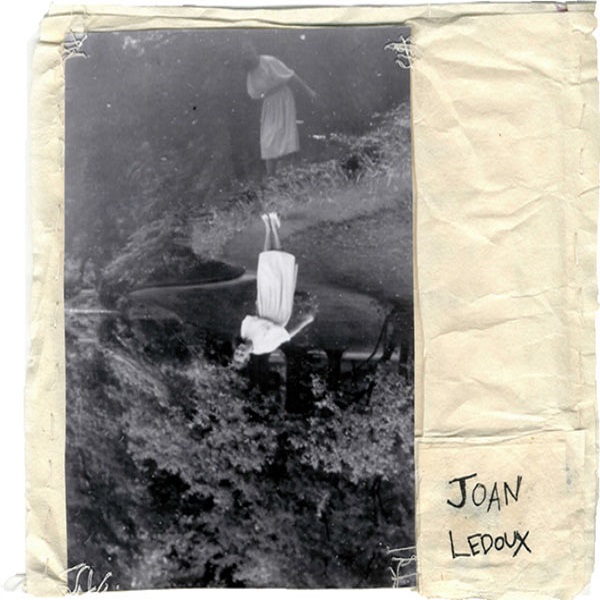 Joan Ledoux
EP
(Self Released)
Gatineau, QC
From the dainty digits of Noah Sherman:
This debut ranges from calming to irritating to somber to simply unnerving – then the next track starts. The focal point in the EP comes on the ultimate track in which noise music interrupts the beautifully delicate soundscape, before fading back to obscurity and allowing the soft tones to take over once more. It's a perfect contrast that epitomizes the audio adventure.
Des doigts délicats de Noah Sherman:
(Traduit par Jessica Grenier)
Ce premier album passe de relaxant à irritant, à sombre, à carrément perturbant – puis la deuxième piste commence. Le point fort arrive à la dernière piste, où du noise vient interrompre la beauté délicate d'un paysage sonore avant de retourner dans le néant, laissant les douces tonalités reprendre le dessus. Cet excellent contraste illustre à la perfection l'aventure audio.

Joan Ledoux – Prom Dress/Burial Ground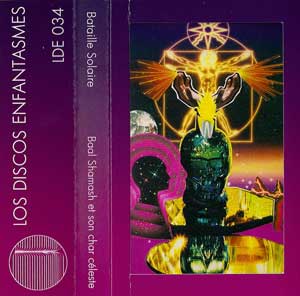 Bataille, Solaire
Baal Shamash et Son Char Céleste
Montreal, QC
From the histoire de l'oeil of Jesse Locke:
Asäel Robitaille drifted listeners into an earthbound psych-pop lull on The Lemon Tape, but on this solo expedition he fires up the thrusters into uncharted space. Time-shifting arpeggios and soft comets of synth create a vessel for his sidelong explorations, seamlessly flowing from one zone to the next. Montreal main-stay Félix Morel contributes a perfectly tripped collage for the foldout, part Mati Klarwein and part Barbarella. A+ all around.
De l'histoire de l'œil de Jesse Locke: (Traduit par Maya Keshav)
Asäel Robitaille drifted listeners into an earthbound psych-pop lull on The Lemon Tape, but on this solo expedition he fires up the thrusters into uncharted space. Time-shifting arpeggios and soft comets of synth create a vessel for his sidelong explorations, seamlessly flowing from one zone to the next. Montreal main-stay Félix Morel contributes a perfectly tripped collage for the foldout, part Mati Klarwein and part Barbarella. A+ all around.
---