Tag: smooth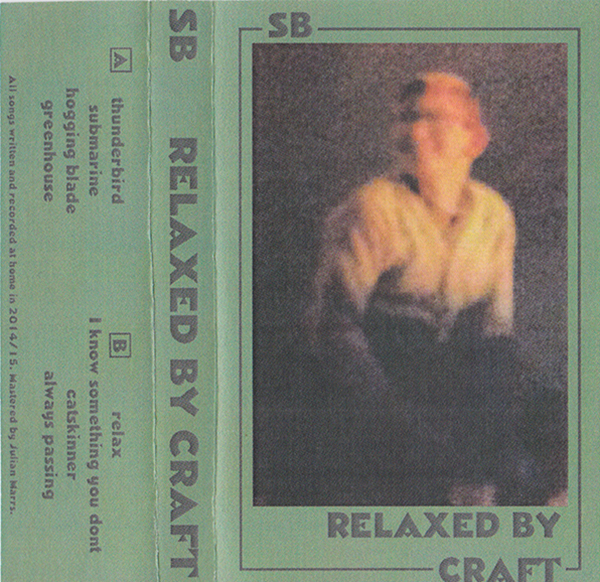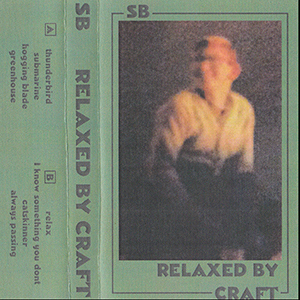 SB
Relaxed by Craft
(Self-Released)
Victoria, BC
From the shaking hands of Morgan Cook:
This smooth, hazy, sunshine-slacker is a moody heavy-lidded atmospheric romp in sun-dappled oblivion. Fully realized and materialized by Logan Holmes in the Greenhouse. At dusk shut your eyes to the sun, lizard-like, and let the last of its heat and light melt your neomammalian complex. Resolution. Beck.
Des mains tremblantes de Morgan Cook:
(Traduit par Julie Mayer)
Ce slacker ensoleillé, fluide et brumeux est une pièce maussade, hermétique et atmosphérique dans un oubli tacheté de soleil. Entièrement réalisé et produit par Logan Holmes aux studios Greenhouse. Au crépuscule, ferme les yeux sous le soleil, comme un lézard, et laisse les dernières parcelles de sa chaleur et de sa lumière fondre ton complexe néo-mammalien. Dénouement. Beck.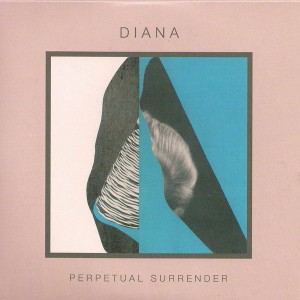 From the twilit haze of Adam Bradley:
Perpetual Surrender is a perfect lounge-pop record. Spun of magenta silk and scintillant sequins, fluid melodies are sown artfully to confident experimentation. Army girl Carmen Elle may at any moment coo coyly to seduce or sharply switch to lashing poignancy. Synths swaddle the mood under winking, starlit skies before yanking guitar solos spill out over the twilit haze. The recordings bear the post-whatever novelty of saxophone weep, punchy drum machine and reverb sass, giving us berth upon a familiar ship to new tropical sands.
Du brouillard crépusculaire d'Adam Bradley:
(Traduit par Natalie Binda)
Perpetual Surrender est un disque lounge-pop parfait. Tissées d'une soie magenta et de paillettes scintillantes, de fluides mélodies sont disséminées artistiquement dans une expérimentation pleine d'assurance. À tout moment, Carmen Elle, d'Army girl, pourrait roucouler pudiquement pour séduire ou passer brusquement à une intensité poignante. Les synthétiseurs emmaillotent l'atmosphère sous le clignotement des ciels étoilés avant que les coups secs des solos de guitare débordent sur le brouillard crépusculaire. Les enregistrements supportent l'innovation post-tout des lamentations du saxophone, du dynamisme de la boîte à rythmes et de la réverbération audacieuse, nous donnant couchette sur un navire familier vers de nouveaux sables tropicaux.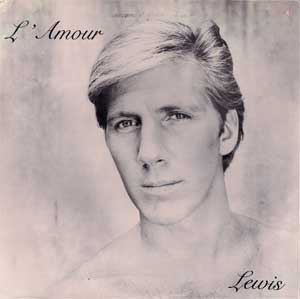 Lewis
L'Amour
(R.A.W. Records)
???, Canada
Originally Released: 1983
From the summer's moon of Aaron Levin:
Thanks to the hard work of Numero Group's Rob Sevier, the world's most epic soft-synth mumbler has been caught with a Canadian citizenship. What started with a chance pull in an Edmonton flea-market by one Jon Murphy, ended in a bewildering world-wide phenomenon of softness. Lewis' lone LP from 1983 is as unusual as it is delicate; an incomprehensible whispered drawl lingers above mysts of smooth-laced synthesizers and nylon guitar as Lewis croons his way through inaudible love, suffering, and mid-afternoon bliss. The confusion accelerates as you begin to dissect the record: dedications to Christie Brinkley, an incredible facsimile on the cover (looking surprisingly like Aaron Levin), a record label named R.A.W., and a history of rip-offs and potential murders (uncovered by multiple individuals tracking members associated with Lewis' LP). In the end there are no answers. Lewis remains a mystery, with only his name (not Lewis), citizenship (Canadian), and a PO Box in Hawaii. I once found five copies in Calgary, Alberta, which makes me believe this unidentified future softness began in the heart of wild roses. But we may only wonder. Until then, enjoy the most incomprehensible album in the universe (yes, it's softer than THOMAS). If you can transcribe the lyrics to "I Thought The World of You" I will give you a rare record. [Special thanks for those involved in uncovering the Lewis mystery (and laughing at me when I began to champion it): Jon Murphy, Rob Sevier, Jack Fernwood, and Douglas McGowan].
De la lune estivale d'Aaron Levin: (Traduit par le clair de lune de Maya Keshav)
Grâce au travail dur de Rob Sevier de Numero Group, le marmonneur soft-synthé le plus énorme du monde a été attrapé avec une citoyenneté canadienne. Ce qui a commencé avec une trouvaille dans un marché aux puces à Edmonton de Jon Murphy a fini en tant que phénomène planétaire déroutant de douceur. Le seul LP de Lewis de 1983 est aussi étrange que délicat; un chuchotement incompréhensible reste au-dessous des brouillards de synthés doux en dentelle et de la guitare en nylon pendant que Lewis chantonne à travers l'amour inaudible, les souffrances, et la joie d'après-midi. La confusion augmente pendant que tu commences à disséquer l'album: les dédicaces à Christie Brinkley, un fac-similé incroyable sur la couverture (qui ressemble étonnamment à Aaron Levin), une étiquette qui s'appelle R.A.W., et une histoire d'arnaques et de meurtres possibles (découverts par plusieurs personnes qui ont suivi les membres associés au LP de Lewis). Au bout du compte, il n'y a aucune réponse. Lewis reste un mystère, avec seulement son nom (pas Lewis), sa citoyenneté (canadienne), et une boîte postale à Hawaii. Un fois j'ai trouvé cinq copies à Calgary, en Alberta, qui me donne l'idée que cette douceur imminente anonyme a commencé au cœur des roses sauvages. Mais on ne peut que se demander. Jusqu'alors, on vous présente l'album le plus incompréhensible dans l'univers (oui, c'est même plus doux que THOMAS). Si vous pouvez transcire les paroles de "I Thought The World of You" je vais vous donner un morceau rare. [J'aimerais remercier surtout ceux qui s'impliquaient dans le dévoilement du mystère de Lewis (et de rire de moi quand j'ai commencé de le défendre): Jon Murphy, Rob Sevier, Jack Fernwood, and Douglas McGowan].
Lewis – I Thought The World of You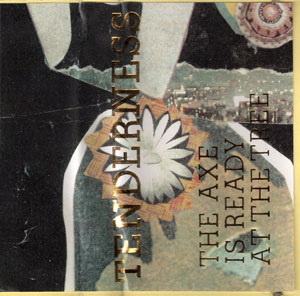 Tenderness
The Axe Is Ready At The Tree
(Self Released)
Moncton, NB
From the grace under fire of Jesse Locke:
Free-floating memories of Sunday morning devotionals merge with the holy ghost of Ann Peebles on this earth-rattling rave-up in the name of. Fresh to def with instantaneous heft and a front-to-back set of unshakeable tunes, Chrissy Reichert's pitch (and paradigm) shifted bangers twist up Tranzac avant-squawk with dusted brother 'No C' Zukerman, including feline sound effects guaranteed to freak out your cats. Tenderness could be 2012's sonic salvation. Get ur grip on.
De la grâce sous les feux de Jesse Locke: (Traduit par les souvenirs de la grâce de Maya Keshav)
Les souvenirs flottants des dévotions de dimanche matin fusionnent avec le Saint-Esprit d'Ann Peebles dans cette rave stupéfiante au nom de. Au courant avec le poids instantané et une série côte à côte de tounes inébranlables, les morceaux décalés et paradigme-changeants tordent l'avant-cri de Tranzac avec le frère saupoudré 'No C' Zukerman, y compris les effets sonores félins qui sont garantis de faire capoter tes chats. Tenderness peut être le salut sonique de 2012. Saute dessus.
Tenderness – We Lay Our Broken World In Sorrow At Your Feet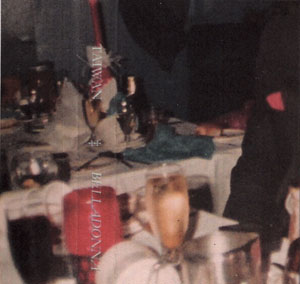 Taiwan
Belladonna
(Self Released)
Edmonton, AB
From the mind's island of Jesse Locke:
File Under: Angelo Badalamelty. Stealthily trailing his previous tone-float into the celestial spring, Phil Dickau reemerges with the ill-omened warble jams of Taiwan. Hidden deep in the mustiest corners of the Black Lodge, he re-imagines Twin Peaks' timeless soundworld as a nightmaric smooth jazz Buddha Box. Groove to the sound of your mind liquefied.
De l'isle de la tête de Jesse Locke: (Traduit par les coins de Maya Keshav)
Classification: Angelo Badalamelty. En suivant furtivement son dernier char de ton dans la source céleste, Phil Dickau réapparaît avec les bœufs gazouillants de mauvais présage de Taiwan. Caché au fond des coins les plus poussiéreux du Black Lodge, il recrée le paysage sonore intemporel de Twin Peaks comme un Buddha Box smooth jazz cauchemardesque. Balançe-toi au son de ton cerveau liquéfié.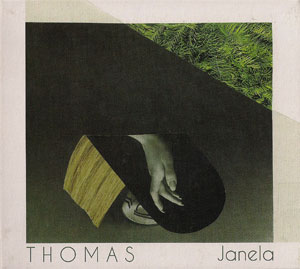 THOMAS
Janela
Toronto, ON
From the divine celebration of Aaron Levin:
Janela burns eternal; an outlier within the data-set of cosmic dance musik. Layers of its breath carry our spirits, buoyed by waves of emotional grace. Each listening a ceremony; a christening for THOMAS' ascension. Every song a Eucharist; a celebration for the last feast of genre. And each movement brimming with quanta of popular majesty, shimmering in sync by the union of the jazz. It is heaven. It is joy. It is love. Janela is our last supper. And our revelation. Join hands, minds, and hearts with your neighbour as our spirits dance with ecclesiastical smoothness into the heavens of rhythm and bass.
De la fête divine d'Aaron Levin: (Traduit par le paradis éternel de Maya Keshav)
Janela vit éternellement; un cas unique dans l'ensemble de données sur la dance cosmique. Les couches de son souffle font voler nos esprits, soutenus par les ondes de grâce emotionnel. Chaque écoute est une cérémonie; un baptême pour l'ascension de THOMAS. Chaque chanson est une Eucharistie; une fête pour le dernier festin de genre. Et chaque mouvement déborde de quanta de majesté populaire, en chatoyant en phase par l'union du jazz. C'est le paradis. C'est la joie. C'est l'amour. Janela est notre Cène. Et notre révélation. Joignons les mains, les têtes et les cœurs avec ton voisin pendant que nos esprits dansent avec la douceur ecclésiastique dans les cieux de rythme et de basse.
THOMAS – (Without So Much As A) Thank You
---