Tag: sludge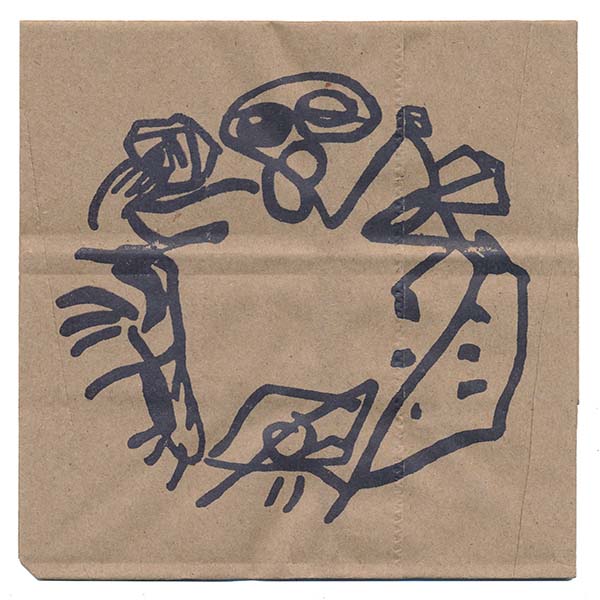 Catbag
Missing Holes
(Self-Released)
Halifax, NS
From the ancient fluids of Magnus Tiesenhausen:
In a dim sub-level zone, a new consciousness arises out of different micro bacteria and algae. It is you and I. Catbag, performing the role of the cauldron-stirrers, remove smoking items from the brine. Everything suddenly seems very immediate, very close. Magic order reveals itself in the discarded piles of relics. M. Wiebe's voice comes to us, a reassurance of human thought in the primordial sludge. We stumble on the path, but stay true to our course. We negotiate with the giant insects and leeches. It's not a safe record, but it's comforting. It's a place to rest in unease, it's a place of acceptance. Fear is familiar. The missing hole is filled by an absence.
Des fluides antiques de Magnus Tiesenhausen:
(Traduit par Julie Mayer)
Dans une zone souterraine dont l'éclairage est tamisé, une nouvelle conscience émerge de différentes micro bactéries et algues. C'est toi et moi. Les membres de Catbag, jouant le rôle de touilleurs de casseroles, enlèvent des choses fumantes de la saumure. Tout semble soudain très immédiat, très proche. Un ordre magique se révèle dans les piles de reliques abandonnées. La voix de Mitchell Wiebe nous parvient, une parole rassurante de pensée humaine dans la boue primordiale. Nous trébuchons sur le chemin, mais restons fidèles à notre trajectoire. Nous négocions avec les insectes géants et les sangsues. L'album n'est pas un disque sûr, mais il est réconfortant. C'est un endroit où l'on se repose dans le malaise, un lieu d'acceptation. La frousse est familière. Le trou manquant est empli d'absence.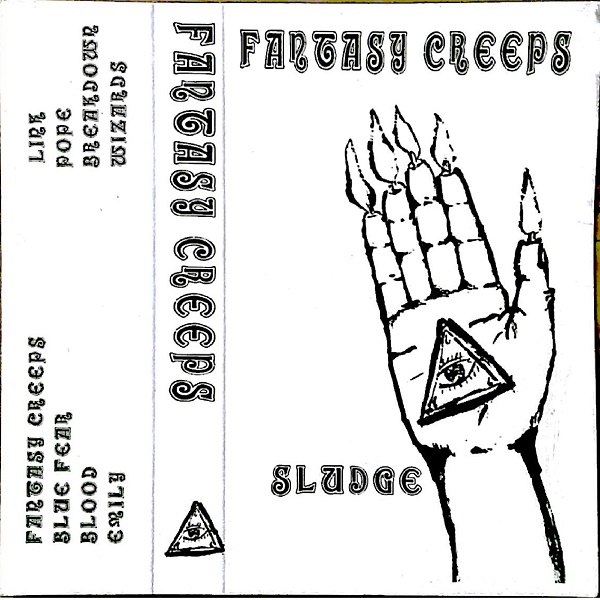 Fantasy Creeps
Sludge
(Self-Released)
Victoria, BC
From the Monster Manual of Bryce Warnes:
Fantasy Creeps check for weirdness and roll a natural 20. Complete with a front cover typographic tribute to Ozzy et al., "Sludge" is blacklit nostalgia for junior high basement sesh paranoia. Vocalists trade duties, creating a shoulder-angel, shoulder-devil dichotomy of faded angst-moan and classic rock wail. Keeping with this damaged aesthetic, the tape audio is janked, wavering in and out, constantly retreating and advancing. Which makes it hard to focus, sometimes, like reading the Monster Manual through thick clouds of nag champa. Ensorcelling nonetheless. "Sludge" is eight-track art brut for red-eyed dungeon crawlers.
Du Manuel des monstres de Bryce Warnes:
(Traduit par le sourire du dragon Julie Mayer)
Fantasy Creeps effectue un test de bizarrerie et obtient un 20 naturel au lancer de dés. Fourni avec une pochette rendant un hommage typographique à Ozzy et cie., Sludge est la nostalgie à lumière noire du temps où, ados, on devenait parano grâce aux séances de spliffs dans le sous-sol. Les chanteurs se relayent, créant une dichotomie ange-démon de gémissement d'angoisse estompé et de geignement rock classique. Suivant cette esthétique accidentée, la bande audio est en zigzag, ondule par intermittence, bat en retraite et attaque constamment. Ce qui rend des fois la concentration difficile, comme si on lisait le Manuel des monstres à travers d'épais nuages de nag champa. Ensorcelant néanmoins. « Sludge » est composé de huit morceaux d'art brut pour les explorateurs de donjon aux yeux rougis.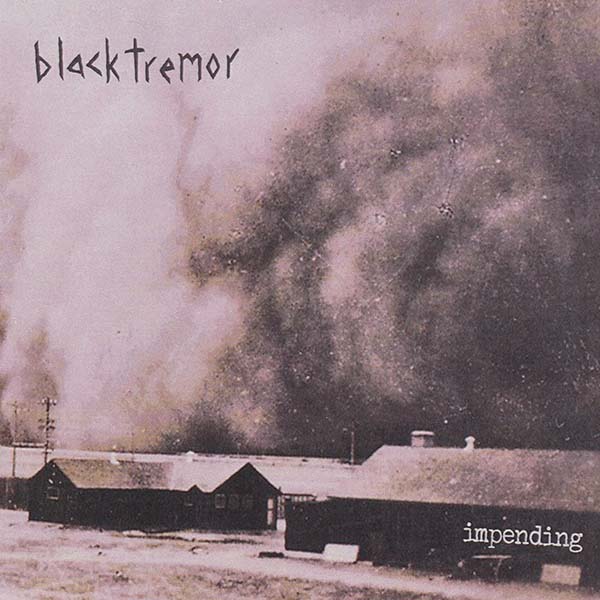 Black Tremor
Impending
(Self Released)
Saskatoon, SK
From the heavy, heavy light of Joshua Robinson:
Like older siblings, they are flame. Dancing at the mouth of the end of it all. Cracks in the welkin overhead; impending kismet. Noumena in mirrors. Siimilar yet singular, gaining reverence for a rapture forced rather than happened upon; conjured rather than readily given; spliced, destroyed and put back together again, all while calamity whispers unto itself that the break in the storm is the end of the beginning of the end. The blackening tremors below allude to the baser animism in us all; rattled, reckoned; the chasm is all that matters. We are all heavy in the light.
Par la lourde, lourde lumière de Joshua Robinson:
(Traduit par la tête animale d' Émily Traichel)
Comme les aînés de la famille, ils pètent le feu. Dansant là où la fin de tout débouche. Des fentes dans la voûte céleste; le destin imminent. Noumènes dans les miroirs. Semblables, mais singuliers, gagnant une révérence pour une extase forcée plutôt que tombée dessus; conjurée plutôt que donnée; épissée, détruite et à nouveau reconstruite, tandis que la calamité se chuchote que l'éclaircie après l'orage est la fin du début de la fin. Les tremblements noircissant d'en bas font allusion à l'animisme infâme à l'intérieur de nous tous; secoué, calculé; le gouffre est tout ce qui compte. Nous sommes tous lourd dans la lumière.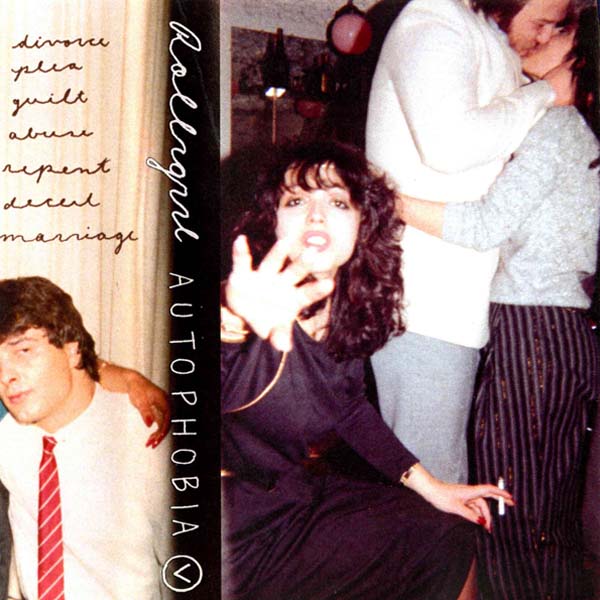 Rollrgrrl
Autophobia
(Self Released)
Montréal, QC
From the sludge streets of Johnnie Regalado:
Beats that side scroll through the sludge of a beat-em-up's mean streets. Looped hiss trips around the moody madness of forgotten and unwanted family photos. Samples cobbled from the clang and clatter of a cluttered apartment's junk drawer. These tracks skip the needle out of fixation, giving tone to the fuzzed out gray matter.
Des rues boueuses de Johnnie Regalado:
(Traduit par Jessica Grenier)
Des rythmes défilant à travers la boue de rues malfamées à régler des comptes. Un sifflement en boucle qui se débat dans la folie changeante de photos familiales oubliées et non désirées. Des extraits arrachés d'un bric-à-brac : toutes les cochonneries d'un appartement accumulées dans un tiroir. Ces pistes font sauter l'aiguille par fixation, donnant une tonalité à la matière grise.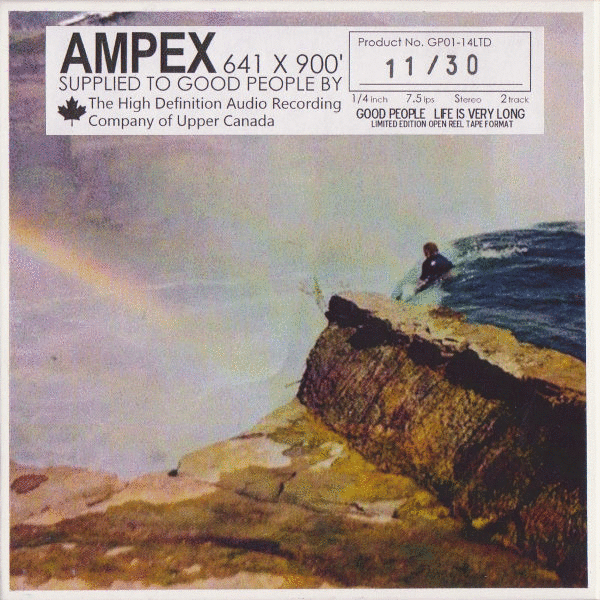 Good People
Life is Very Long
(Self Released)
Toronto, ON
From the sticknpoke-stained hand of Liam Kennedy:
The stick-n'-poke-stained hand of the lifeguard waves you on. You're up next on Powerviolence, the waterslide in the multi-gen post-grow-op punk-house. It smells like bongwater. Inside, your experience parallels a DMT trip soaked in the legacy of the hardcore music that is the very fabric of your enclosure. Blows to the head may not be a part of the design but certainly contribute to the experience. Like Alice, you tumble into a wonderland of frustration, black-out aggression, and the marginalization of humanity in general. The pit and the sweaty, bruised mess you'll be after is your White Rabbit. You did this to yourself.
Du sticknpoke tachant la main de Liam Kennedy:
(Traduit par Jessica Grenier)
La main recouverte de tatouages artisanaux du sauveteur te fait signe d'avancer. C'est ton tour de grimper dans Powerviolence, glissade d'eau dans la maison punk multigén post-grow-op . Ça sent comme l'eau d'un bong. Une fois à l'intérieur, ton expérience se dédouble en un trip de DMT inondé de musique hardcore, celle-là même qui compose ton enclos. Les coups que tu reçois sur la tête ne sont peut-être pas voulus, mais ils font partie de l'expérience. Tout comme Alice, tu tombes dans un pays des merveilles fait de frustration, d'agressions, de pertes de connaissance et de marginalisation générale de l'humanité. L'épave couverte de sueur et de bleus que tu seras après, c'est ton Lapin blanc. Tu t'es fait ça à toi-même.

Good People – You're Only as Rank as You Feel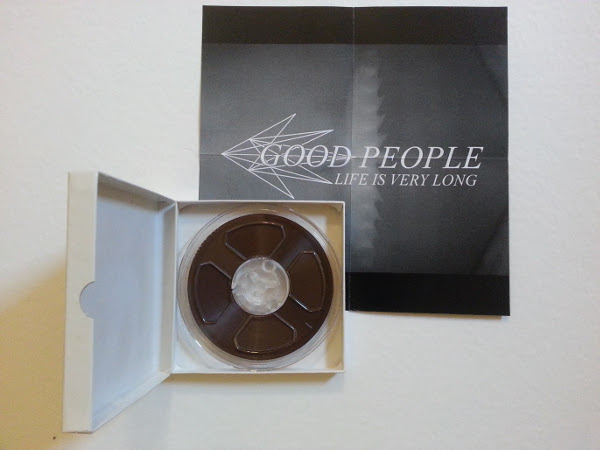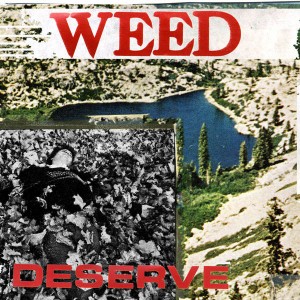 Weed
Deserve
Vancouver, BC
From the scrawled sheets of Bryce Warnes:
Weed's bummed-out love music has always been delivered on tsunami-magnitude fuzz waves, Will Anderson's vocals deep six in the mix and almost incomprehensible. The murk fits with sludge-pop's other aesthetic signifiers: scrawled lyrics sheets, all-ages shows, a blog full of tour pics that could have come from a thrift shop photo cube. On earlier releases this haze threatened to swallow superior songwriting and musicianship, nonetheless leaving intact bittersweet melodies that hang around like old takeout boxes in the back of a station wagon.
Deserve is a new story. The sludge is still there, but it pops. Anderson screams himself hoarse on "Gun Shy", Hugo Jr.'s bass propels "Silent Partner" with diabolic intensity, and on album opener "Heal," Bobby's toms are almost hypnotic. Lyrically, it's still all (obliquely) about the touring life, estranged love, failure. Amber and Ryan, liner note protagonists since With Drug b/w Eighty, continue to make appearances. It's all familiar, but so, so fresh. For the newcomer, this record is a high-fidelity gateway into Weed's sonic universe. For the aficionado, it's a long-awaited long-play debut, one that gives the band the space and sound they deserve.
Des feuilles griffonées de Bryce Warnes:
(Traduit par le flegme bouillonnant de )
La musique d'amour vagabonde de Weed a toujours été servie par vagues distorsionnées de l'ampleur d'un tsunami, la voix de Will Anderson submergée à la limite de l'incompréhensible. Le brouillard convient aux autres signifiants du sludge-pop : pages de textes griffonnées, spectacles pour tous les âges, un blog rempli de photos de tournée qui auraient pu provenir d'un cube photo dans une boutique d'occasion. Dans les parutions précédentes cette brume menaçait d'avaler la composition et la musicalité supérieure, gardant tout de même intactes des mélodies aigre-douce qui traînent comme de vieux plats pour emporter à l'arrière d'une station wagon.
Deserve est une autre histoire. Le sludge est toujours là, mais il éclate. Anderson hurle de sa voix rauque sur "Gun shy", la basse de Hugo jr propulse "Silent Partner" avec une intensité diabolique, et sur la piste d'ouverture "Heal", les toms de Bobby sont presque hypnotique. Côté lyrique, tout se ramème encore (obliquement) à la vie en tournée, l'amour à distance, l'échec. Amber et Ryan, protagonistes des textes de pochette depuis With Drug b/w Eighty, continuent de faire des apparitions. Ça demeure familier, mais tellement, tellement frais. Pour le nouveau venu, cet album est une incursion haute-fidéité dans l'univers sonique de Weed. Pour le mordu, c'est un long-jeu longuement attendu, qui donne au groupe l'espace et le son qu'il mérite.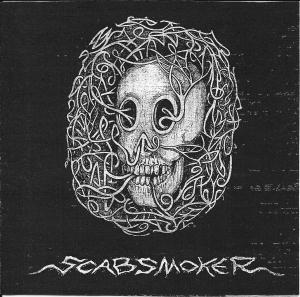 Scab Smoker
Scab Smoker
(Self Released)
Winnipeg, MB

A power trio which sways from
down-tempo doom
to
British Heavy Metal
, and their drummer's tape manipulations are the glue that holds it all together? If the tectonic shifts don't diminish you with a blink, nervous hums will creep up through
Crabskull
's eerie non-sequiturs and form pustules on any clean mind —
infectious stoner metal
in its newest mutation, perversion, persuasion, enticing all to bang head, bang head, bang head.
[audio:http://weirdcanada.com/wp-content/uploads/2012/04/04-butcher-of-daemons.mp3|titles=Scab Smoker – Butcher of Daemons] Scab Smoker – Butcher of Daemons
[audio:http://weirdcanada.com/wp-content/uploads/2012/04/06-call-of-the-first-aethry.mp3|titles=Scab Smoker – Call of the First Aethry] Scab Smoker – Call of the First Aethry


From the magnetic eyes of Aaron Levin:
Continuing with their general disregard for genre fortification, PIG return with a c26 frothing with ataxic punk and chaotic sludge. After a side of perilous adventures through mires of improvised drones and guitar destruction, the quadro deliver a full blast of 90s doom-punk occultism. Part Altered Beast, part Ghosts and Goblins, Magnetic synthesizes the darkest parts of adjective-punk and coagulates them into an eerie resin of fractured sounds. A rare gift stolen from the hand of Moira. NO CONTINUES. GRIP++


From the post-pubescent sludge of Jesse Locke:
From The Cramps (radical) to Mates of State (barf) to the Plastic Ono Band (radical barfing), musical married couples are nothing new. However, what sets thee Grown-Ups' Sara and Josiah Hughes apart is that they're cuter than a pair of bulldogs on snowboards that know how to turn up the rock and turn down the suck. Joined by third member/producer Darrell on "dad guitar" (nice Conchords reference, guys), they've now teamed with the almighty Bart for tape release number two. Eight songs of angry punk sludge that sound just as pitted as their debut but now with more Crazy Horse guitar solos (see: opener "Meat") and Art Brut-esque motivational meta-songs (see: "Start A Band!"). This is the soundtrack for the skateboarding video game you invented in your brain. The musical equivalent of a cherry-coke slurpee with a stolen chocolate bar tucked in the cup. The creepy-lovable cover photo rules too, but I really just wish it was a drawing of Odie crossed with Jughead.
---