Tag: six heads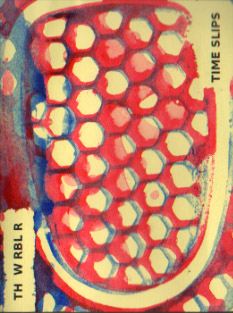 Th W rbl r
Time Slips
Toronto, ON
From the unwound spools of Kevin Hainey:
A constant staple and supporter of the Canadian experimental scene for a ballpark of 30 years, William A. Davison (the man behind Th W rbl r) takes to heart and pumps out the finest in surrealistic music perspectives. Enamored by the shadowiest corners of the late-70s-thru-80s' founding schoolrooms of torturous sound rituals, he's been slathering his sciences into the filthy basements and well swept halls of Toronto's noise and improv scenes for as long as anyone can care to remember. Davison's a founding and key member of collective creation unit Six Heads, played a key role in the 90s industrial war machine Phycus, and has been widely involved with an array of collaborative and group projects too lengthy and kaleidoscopic to list.
This month Davison (billed under his M.Stactor nom de plus) played Colour Out of Space, the esteemed Brighton, U.K. international experimental sound festival arranged these past six years by Dylan Nyoukis. I hope as many in attendance as possible had a chance to grip this, Davison's latest tape. A strong sophomore for a rarely performed project, Time Slips gives Davison's obsession with manipulating music from tapes a time to run. It's a slippery descent into the smooth infinities magnetized and run between plastic spools, a deep, brown cavern of dubbed delights that only wows and flutters with heightened sensory wonders and fervour the further you delve into it.
De la Bobine Dissipée de Kevin Hainey:
(Traduit par le Moulinet Tendu de Joannie Pharand)
Un partisan constant et essentiel à la scène expérimentale canadienne depuis une bonne trentaine d'années, William A. Davison (l'homme derrière Th W rbl r) prend au cœur et fait ressortir la meilleure perspective en musique surréaliste. Amoureux des coins les plus sombres des premières salles de classe (de la fin des années 1970 jusque dans les années 1980) où se tenaient des rituels sonores alambiqués, il étalait ses sciences dans les sous-sols dégoûtants et les corridors bien balayés des lieux d'improvisation et salles de spectacles de Toronto depuis aussi longtemps qu'on puisse s'en souvenir. Davison est l'un des fondateurs, en plus d'être un membre essentiel, de l'unité collective créative Six Heads, il a joué un rôle important dans les années 1990 dans la machine de guerre industrielle Physcus, et a été largement impliqué dans une gamme de collaborations et de projets de groupes trop longue et kaléidoscopique à énumérer.
Ce mois-ci, Davison, annoncé sous le nom M.Stactor a joué au Colour Out of Space, un festival international d' expérimentation sonore respecté de Brigthon, au Royaume-Uni, organisé par Dylan Nyoukis depuis les six dernières années. J'espère que le plus grand nombre de gens possible a eu la chance de saisir le plus récent enregistrement de Davison. Time Slips est le solide second album de ce projet rarement présenté, qui donne à l'obsession de Davison pour la manipulation de cassettes, tout le temps nécessaire. C'est une pente glissante vers la douce infinité captivante, un passage entre des bobines de plastique, une profonde caverne brune de grand plaisir doublé qui ne fait qu'étonner et s'agiter avec des merveilles sensorielles vives et adorées au fur et à mesure que vous y plongez.
The W rbl r – Side A [excerpt]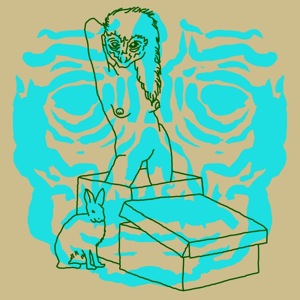 Six Heads
Cardboard Oracle
(Wintage Records & Tapes)
Toronto, ON
From the corrugated ESP of Jesse Locke:
With decade-spanning CVs instilling sonic seasickness, Toronto's smirking surrealists have become an underground institution of near NSB proportions. Carboard Oracle marks Six Heads' inaugural expedition on vinyl, and it's a seriously woozy cruise. Sipping from the same strange brew as Smegma, A-side "Smaller, Larger, Lighter (Incantation of the Naugahyde Witch)" finds Twin Peaks' little man from another place bubbling up the bong and raiding a kid's tickle trunk to find a kalimba. The flip slides even further sideways, as "Carnival Dust" spins on a not-so-merry-go-round of smeared signals, chimes and disconnected static from the depths of the Devil's Triangle. Not for the faint of stomach.
De la perception extrasensorielle de Jesse Locke: (Traduit par les six têtes de Maya Keshav)
Avec les CV qui passent les décennies en distillant le mal de mer sonique, les surréalistes souriants de Toronto sont devenus une institution avant-garde de dimensions presque égales à celles de NSB. Carboard Oracle est l'expédition inaugurale de Six Heads en vinyle, et c'est une croisière tellement enivrante. En sirotant de la même infusion bizarre que Smegma, la face A "Smaller, Larger, Lighter (Incantation of the Naugahyde Witch)" trouve le petit homme d'un autre endroit de Twin Peaks en train de faire bouillonner un bong et de dévaliser la planque de jouets d'un enfant pour trouver une sanza. L'autre face est même plus tordue, quand "Carnival Dust" tourbillonne sur un carrousel de signes tachées, de carillon et de larsen déconnecté du fond du triangle de l'enfer. C'est pas pour les estomacs faibles.
Six Heads – Smaller, Larger, Lighter (Incantation of the Naugahyde Witch) (excerpt)
---