Tag: simon frank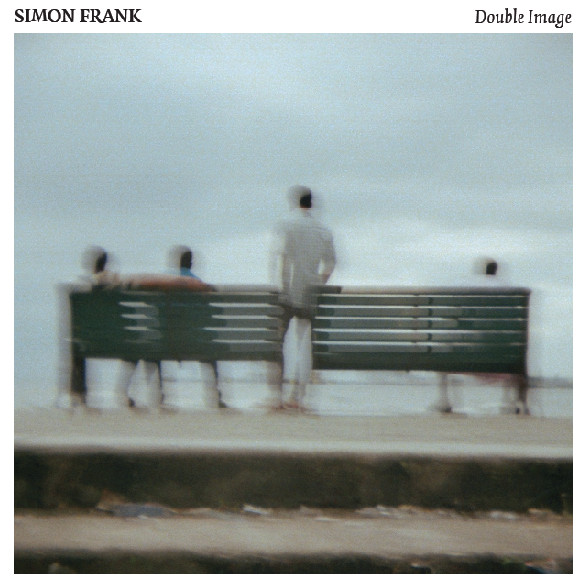 Simon Frank
Double Image
Toronto, ON
From the perpetual phase of Javier Fuentes:
Simon Frank, one half of Hot & Cold, takes a break from working on his ESG PhD to drop another visionary post-punk gem. Darkened disco lights revolve to the ticking beats as weakened amps blast out commands, attempting to simultaneously subdue and awaken our senses. We listen to the rambling truths from a midnight lecturer, his swagger reminding us of our distant ideals. Caught in the cold wave of a nightclub exodus, these double images keep our bodies in sweltering heat.
De la phase sans fin de Javier Fuentes:
(Traduit par Jacinthe Laplante)
Simon Frank, un des deux membres de Hot & Cold, prend une pause de son doctorat en ESG pour sortir un autre bijou post-punk visionnaire. Des lumières disco assombries tournoient au rythme des tic-tacs pendant que des amplis crachent des ordres en tentant d'apaiser nos sens et de les réveiller en même temps. On écoute les vérités décousues d'un conférencier nocturne, sa démarche arrogante nous rappelle nos idéaux lointains. Pris dans la vague froide à la sortie d'une boîte de nuit, ces doubles images maintiennent nos corps dans une chaleur étouffante.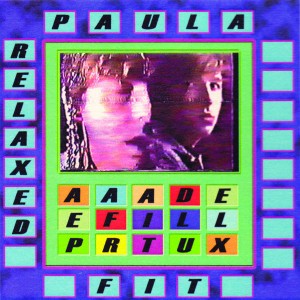 Paula
Relaxed Fit
Montréal, QC
From the blue sunrise of Simon Frank:
More than a year after it was released online, Paula's Relaxed Fit hits the vinyl big time. In the meantime, Tops guitarist David V. Carriere's alter ego has helped me soundtrack 12-hour bus rides, poured out of roommates' speakers during exam season, and made it to the playlist at a party or two. Relaxed Fit is a high-quality collection of semi-electronic, hyper-positive pop miniatures. Punchy drum machines, synth hooks, and cut-up processed guitars set up meaningless/meaningful, melancholic/euphoric lyrics. Even Cadence Weapon stops by for a guest verse, and on "Totally Nice" (one of two previously unreleased tracks) most of the chorus is just "ecstasy!" shouted out. So only one question remains: when we will get the Prime Cuts 12"?
American dreamers: David Carriere from Paula is currently on tour with his other band TOPS. They're playing shows with Sean Nicholas Savage and King Krule. See the Arbutus Records page for more info!
Du lever de soleil bleu de Simon Frank:
(Traduit de l'aube azur de Catherine Gaucher)
Plus d'un an après sa sortie en ligne, Relaxed Fit de Paula nous frappe de plein fouet en vinyle. Entre-temps, l'alter ego de David V. Carriere, guitariste de Tops, m'a déjà fourni la bande sonore pour mes interminables périples d'autobus, a joué dans les haut-parleurs de mes colocs durant les fins de session et s'est immiscé dans une fête ou deux. Semi-électronique et ultra-positif, Relaxed Fit est une brillante collection de miniatures pop. De percutantes boîtes à rythmes, des synthés entraînants et des collages de guitares modulées mettent la table pour des paroles insignifiantes/signifiantes, mélancoliques/euphoriques. Même Cadence Weapon s'invite le temps d'un couplet, tandis que le refrain de «Totally Nice!» (l'un des deux titres précédemment inédits) est un pur cri d'« extase! ». Une seule question demeure : quand aurons-nous droit au 12 pouces de Prime Cuts?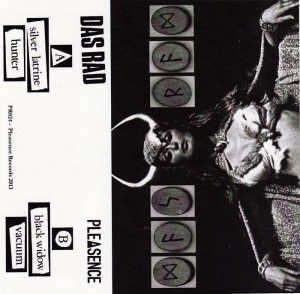 Das Rad
Das Rad
Toronto, ON
From the ethereal cavedom of Simon Frank:
Das Rad are Toronto's ethereal cavemen. The black denim-clad trio's wind tunnel rock is equal parts ecstatic chant and muddy trudge. Over rhythmic pummel, bass carries most structure and melody, leaving guitar and vocals to be united in waves of flange. "Silver Latrine" has the perfect title, dragging La Dusseldorf down to a filthy bathroom, while "Vacuum" pressurizes and tightens their approach to point that ghost harmonies emerge within the fuzz. Rad.
Des cavernes éthérées de Simon Frank:
(Traduit par les latrines argentées de Stéphanie Trottier)
Das Rad sont les hommes de caverne éthérés de Toronto. Habillé de denim noir, le trio nous présente un rock-ouragan qui est, d'une part, un chant exalté, et d'autre part, une marche pénible dans la boue. Accompagnée de trituration rythmique, la basse est centrale à la structure et à la mélodie, unissant la guitare et les voix par des vagues de brides mécaniques. Silver Latrine est le titre parfait, traînant La Dusseldorf jusqu'à de miteuses salles de bain. Quant à elle, Vacuum exerce de la pression et resserre son approche pour prouver que des harmonies fantômes peuvent bel et bien émerger de la poussière. Radical.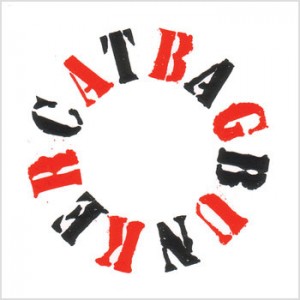 Catbag
Bunker Junker
Halifax, NS
From the crypt kickery of Simon Frank:
Catbag hang out somewhere between the crypt and a charmingly decrepit seaside lounge. Their first LP missive confronts this dichotomy head on: the A-side Bunker captures trance-inducing duets for sax and maracas that are slowly joined by growls and throbbing bass fuzz. But the synthetic swoop that opens the B-side Junker heralds a different sort of active background music where vibraphone and organ are dusted on more subtle but equally eerie grooves. You might feel an ocean breeze, but it'll be a cold one.
Des mélodies cryptiques de Simon Frank: (Traduit par l'orgue étrange de Maya Keshav)
Catbag se détendent quelque part entre la crypte et un salon littoral merveilleusement décrépit. Leur premier LP confront directement cette dichotomie: Bunker de la face A saisit les duos qui provoquent les transes pour le saxo et les maracas auxquels on ajoute lentement les grognements et le fuzz palpitant de basse. Mais la descente synthétique qui commence la face B Junker proclame une différente sorte de musique de fond active où le vibraphone et l'orgue saupoudrent les mélodies plus subtile mais également étranges. Peut-être que tu sens une brise de l'océan, mais elle sera froid.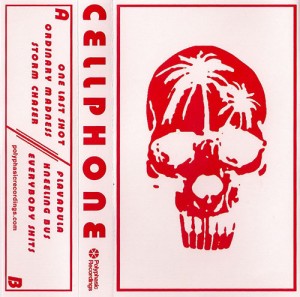 Cellphone
Cellphone
Toronto, ON
From the bill shock of Simon Frank:
From the Queen West corridor comes a jolt of synthesized punk fit to soundtrack your next trip into the Sprawl. Eardrum scraping drum machine snaps provide the accompaniment to guitars, bubbling electronic tones and swathes of fuzz-riddled bass. The skull-and-palm-trees cover finds its expression in vocals that dart from yelps to booming horror soundtrack chants, but Cellphone is also simply the sound of overheated asphalt.
Du choc addition de Simon Frank: (Traduit par Maya Keshav)
Du couloir Queen West il arrive un coup de punk synthétique qui veut être la bande-son de ton prochain voyage dans l'étendue urbaine. Les claquements de boîte à rythme qui grattent les tympans fournissent l'accompagnement aux guitares, aux tons bouillonnants électroniques et aux bandes de basse trempées de fuzz. La couverture d'un crâne avec des palmiers trouve l'expression dans le chant qui fait la gamme depuis les cris jusqu'aux chants retentissants d'une bande-son d'épouvante, mais en plus Cellphone est simplement le son de l'asphalte surchauffé.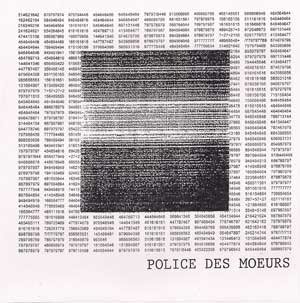 Police des Moeurs
Police des Moeurs EP
Montreal, QC
From the noble purity of Simon Frank:
Police Des Moeurs may be Alphaville's greatest export since Lemmy Caution and Anna Karina. The duo intuitively know when to let sequencers speak for themselves, when to chime in, and when to command their drum machines to play another remorseless fill. Best experienced while observing Brutalist architecture, a worn existential paperback in your pocket. [Note: Certain copies of the 7″ may come packaged with a page from George Orwell's 1984.]
De la limpidité noble de Simon Frank: (Traduit par les mœurs moins nobles de Maya Keshav)
Police Des Mœurs peut être la plus grande exportation d'Alphaville depuis Lemmy Caution et Anna Karina. Le duo connaît intuitivement quand il faut laisser parler librement les séquenceurs, quand il faut intervenir, et quand il faut commander leurs boîtes à rythmes de jouer un autre fill sans pitié. La meilleure façon de le ressentir, c'est pendant que tu observes l'architecture brutaliste, avec un livre de poche usé existentiel dans ta poche. [N.B.: Certaines copies du 7" sont accompagnés d'une feuille de 1984 d'Orwell.]
Police des Moeurs – Il vient d'un pays qui n'existe plus

Our hero Paula heads out into the neon sleaze of Montreal. Cigarettes are purchased and undershirts get danced in. Upbeat drum machine clatter, sky-scraping synth, and a final sheet metal guitar solo take us to dejected former
Silly Kisser
David Carriere slouching in an emergency room. Director Jasper Baydala channels the bittersweet vibe perfectly through VHS fuzz, freeze-frames, and fast cuts.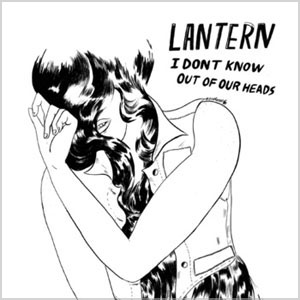 Lantern
I Don't KNow b/w Out of Our Heads
Halifax, NS // Montreal, QC // Philadelphia, PA
From the cosmic murk of Simon Frank:
Cheaper than a leather jacket but equally effective at scaring your parents, Lantern's new single takes them to new levels of speaker-blowing oblivion. "I Don't Know" resurfaces from this summer's tape on Night People, jabbed with adrenaline by drummer Sophie White's Maclise-via-hambone beat. But B-side "Out of Our Heads" is the true highlight—nearly five minutes of relentless bass-as-extra-tom-tom, high pitched smears of sneers, and a final solo of celestial murk. For Cuban heels only.
De l'obscurité cosmique de Simon Frank: (Traduit par Odile Leclerc)
Moins cher qu'un gilet de cuir mais aussi efficace pour faire peur à vos parents, le nouveau solo de Lantern les apportent à un autre niveau d'oubli de haut-parleur au fond. ''I Don't Know'' resurgit de cette cassette d'été sur Night People, entrecoupé d'adrénaline par le rythme Maclise via Hambon de la batteuse Sophie White. Mais la face B ''Out of Our Head'' est le vrai fait saillant—presque cinq minutes d'implacable basse-comme-extra-tom-tom, de traces de ricanment aigus et d'un solo final d'obscurité céleste. Pour les talons Cubains seulement.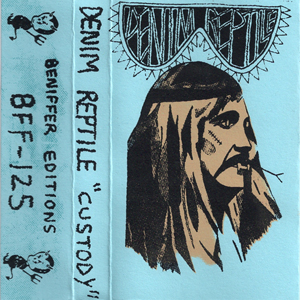 Denim Reptile
Custody
Toronto, ON
From the second puberty of Simon Frank:
From the manufactured landscape of Southern Ontario a new hybrid emerges. The Denim Reptile moves nimbly on warbling electronic feet across man made hills, but its tough exterior is defined by unabashed parking lot guitar solos. Donning an Iron Maiden T-shirt, the lizard king compresses roadhouse blues through a Windows 95 soundcard. A much needed flashback to basements of the early digital era.
De la deuxième puberté de Simon Frank: (Traduit par la jeunesse éternelle de Maya Keshav)
Du paysage manufacturé de l'Ontario du Sud, un nouveau hybride apparaît. Le Denim Reptile marche lestement sur les pieds gazouillants électroniques à travers les collines synthétiques, mais son extérieur solide est défini par les solos imperturbables de guitare du parking. En mettant un t-shirt Iron Maiden, le roi des lézards transforme le blues restoroute avec une carte son Windows 95. Un flash-back bien nécessaire aux sous-sols des débuts de l'ère numérique.
Denim Reptile – Smokin' Broken Glass
Denim Reptile – Heavy Duty Mama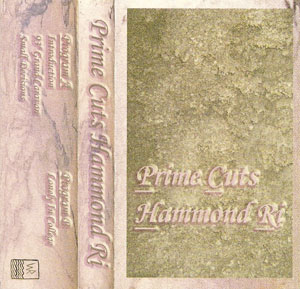 Prime Cuts
Prime Cuts Hammond Ri
(Water Records)
Montreal, QC
From the minivan cruise of Simon Frank:
The simplest sandwich can be a delicacy in the right hands. So it is with Prime Cuts. Synthesist Nick's aqueous tones conjure up Mile End Machu Picchus while drummer Riley masters the art of percussion-as-hook, stretching across the sky with single bars of rhythm from your favorite Sub-Saharan freedom fighter cassette. But what really grabs the heart are the chanted Zen laments for undergrad living: "Nothing is working/I wish I were surfing/Lonely in college."
De la croisière en camionnette de Simon Frank: (Traduit par l'affection de Maya Keshav)
Le sandwich le plus simple peut être un mets délicat dans les mains douées. C'est la même chose avec Prime Cuts. Les tons aqueux du synthèsiste Nick évoquent les Machu Picchus de Mile End pendant que le batteur Riley maîtrise l'art de percussion-comme-accroche, en se répandant à travers le ciel avec les mesures de rythmes de ta cassette préférée de résistant subsaharien. Mais ce qui touche vraiment les cordes sensibles sont les lamentations chantées zen pour la vie étudiante: "Nothing is working/I wish I were surfing/Lonely in college." [Rien ne fonctionne/ J'aimerais mieux surfer/ Solitaire à l'université]
Prime Cuts – Lonely in College
---