Tag: silly kissers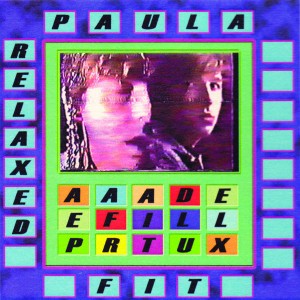 Paula
Relaxed Fit
Montréal, QC
From the blue sunrise of Simon Frank:
More than a year after it was released online, Paula's Relaxed Fit hits the vinyl big time. In the meantime, Tops guitarist David V. Carriere's alter ego has helped me soundtrack 12-hour bus rides, poured out of roommates' speakers during exam season, and made it to the playlist at a party or two. Relaxed Fit is a high-quality collection of semi-electronic, hyper-positive pop miniatures. Punchy drum machines, synth hooks, and cut-up processed guitars set up meaningless/meaningful, melancholic/euphoric lyrics. Even Cadence Weapon stops by for a guest verse, and on "Totally Nice" (one of two previously unreleased tracks) most of the chorus is just "ecstasy!" shouted out. So only one question remains: when we will get the Prime Cuts 12"?
American dreamers: David Carriere from Paula is currently on tour with his other band TOPS. They're playing shows with Sean Nicholas Savage and King Krule. See the Arbutus Records page for more info!
Du lever de soleil bleu de Simon Frank:
(Traduit de l'aube azur de Catherine Gaucher)
Plus d'un an après sa sortie en ligne, Relaxed Fit de Paula nous frappe de plein fouet en vinyle. Entre-temps, l'alter ego de David V. Carriere, guitariste de Tops, m'a déjà fourni la bande sonore pour mes interminables périples d'autobus, a joué dans les haut-parleurs de mes colocs durant les fins de session et s'est immiscé dans une fête ou deux. Semi-électronique et ultra-positif, Relaxed Fit est une brillante collection de miniatures pop. De percutantes boîtes à rythmes, des synthés entraînants et des collages de guitares modulées mettent la table pour des paroles insignifiantes/signifiantes, mélancoliques/euphoriques. Même Cadence Weapon s'invite le temps d'un couplet, tandis que le refrain de «Totally Nice!» (l'un des deux titres précédemment inédits) est un pur cri d'« extase! ». Une seule question demeure : quand aurons-nous droit au 12 pouces de Prime Cuts?

Our hero Paula heads out into the neon sleaze of Montreal. Cigarettes are purchased and undershirts get danced in. Upbeat drum machine clatter, sky-scraping synth, and a final sheet metal guitar solo take us to dejected former
Silly Kisser
David Carriere slouching in an emergency room. Director Jasper Baydala channels the bittersweet vibe perfectly through VHS fuzz, freeze-frames, and fast cuts.
Arbutus Records Showcase
Pop Montreal 2010
(Thursday September 30, 2010 @ The Rialto Theatre)
Montreal, QC
::web/sounds::


From the new indie of Aaron Levin:
In the closing tides of 2010 there are few festivals left. And as this little corner of a website gleaned a few weeks ago, Canada's premiere indie-music festival (Pop Montreal) came through with a succinct and telling slogan: Weird is the New Indie. The obvious correlation is incidental, but the shifting focus to emerging music is a welcomed modulation in agenda. And to further drive the point home, Pop Montreal and Weird Canada will be presenting a showcase from one of Canada's furthest reaching boutique imprints. Arbutus Records (home to Sean Nicholas Savage, Grimes, Silly Kissers and many more) has become an asylum for many westward ex-pats flourishing within the inexplicable fringe-pop spectrum and has occupied prime real estate within Weird Canada's own borders. The label has grown from an e-mail address and a cd burner to a veritable force within the diy pop explosion running its course through our collective consciousness. Arbutus' materials have appeared on Pitchfork, Gorilla VS Bear, Altered Zones, Stereogum, Weird Canada (ha!), etc. and I can say without hyperbole that many within the indie music community are anxiously awaiting to hear their future. So, with much excitement, I'd like to encourage all of our readers in-and-around the Montreal area to attend both Pop Montreal and one of the best showcases during the five-day festival. Sebastian Cowan has worked many magicks; for that we love him dearly. Congratulations!
Pop Montreal & Weird Canada Present
Arbutus Records Showcase
SILLY KISSERS
GRIMES (album release)
POP WINDS
BLUE HAWAII
Date: Thursday September 30th @ 9pm
Location: The Rialto Theatre
Price: Five Dollars (available at Phonopolis & Cheap Thrills)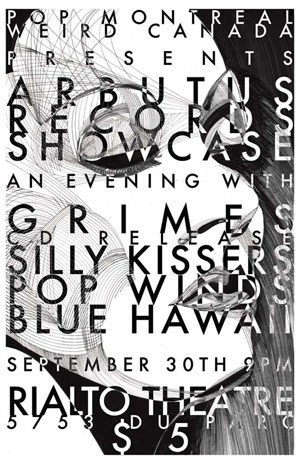 From the perilous necklace of Aaron Levin:
I want to live Precious Necklace. I want tight sweaters. VIP access to the clurb. Double martinis. False love. Teen soundtracks blasting. I want the whole world in a song and I want to dance; pulsing drum machines, echoey vocals and exaggerated pop-harmonies. Let the music take you back in time. Nintendo, cocaine, plastic people, and radio hits. Sex in bathrooms and parental neglect. Stereotypes. We've lost our youth. We can take it back. The Silly Kissers, in a futuristic act of heroism, are our only hope. Their fourth and most realized effort to-date showcases their perfected 80s-pop ventriloquism. Precious Necklace is a re-imagining that only nostalgia can deliver; glossing over the weaknesses of an era we will never truly understand and manipulating the pearls of its bounty to deliver every genre's saving grace: synthetic pop perfection. Precious Necklace, released as a limited-edition 10″ on Montreal's Arbutus Records, is a 10/10 major-scale heart-melt. The world has never needed so much. They will deliver. GRIP. IT. NOW.
Audio clip: Adobe Flash Player (version 9 or above) is required to play this audio clip. Download the latest version here. You also need to have JavaScript enabled in your browser.
Silly Kissers – You Could Even Like Me
Audio clip: Adobe Flash Player (version 9 or above) is required to play this audio clip. Download the latest version here. You also need to have JavaScript enabled in your browser.
Silly Kissers – Treat Me Like You Do
Audio clip: Adobe Flash Player (version 9 or above) is required to play this audio clip. Download the latest version here. You also need to have JavaScript enabled in your browser.
Silly Kissers – Precious Necklace
Silly Kissers
Halloween Summer
(Self Released)
Montreal, QC
::web/sounds::
The first time I got close to another women (during our junior-high dance) I went for a butt-grab. I was twelve. She told me she had to go to the bathroom and never returned. The confusion hanging in the air post-grab-pre-rejection would have been the perfect foreground for the Silly Kissers' new adventure into vintage summer-of-'84 teenage angst. Six months after they dropped Love Tsunami, their take on the more danceable side of '84, the Silly Kissers return with a thoughtful, less sugary, and more interesting segue into the unchartered waters of extreme-catchiness and mid-80s radio-faire. They depart from the Human League standard and set-course towards a more emotional and distorted take on '80s-balladry. The rapid key-scales and spoken-word segways are still there, so you know it's the same band of creative sailors on a quest for some higher understanding of pop. The new album is a grower and it's blowing up my spot right now. I love it.
Audio clip: Adobe Flash Player (version 9 or above) is required to play this audio clip. Download the latest version here. You also need to have JavaScript enabled in your browser.
Audio clip: Adobe Flash Player (version 9 or above) is required to play this audio clip. Download the latest version here. You also need to have JavaScript enabled in your browser.
Silly Kissers
Love Tsunami
(Self Released)
Montreal, Quebec
::web/sounds::
Someone bought a ticket to London, 1985. The Montreal duo walked into Human League's studio and downloaded Philip Oakley's soul into Garage Band. Infectious synth-pop of the highest retro variety. While many throw-back groups suffer from sounding stale and "modern," I get a complete vintage vibe from this band that goes beyond audio and into the writing, phrasing, and sexualizing. I have on idea what they sound like live, but the 12-song CDR released in late-2008 is a pop sensation. Sean Nicholas Savage sings on a few songs.
Audio clip: Adobe Flash Player (version 9 or above) is required to play this audio clip. Download the latest version here. You also need to have JavaScript enabled in your browser.
---