Tag: shred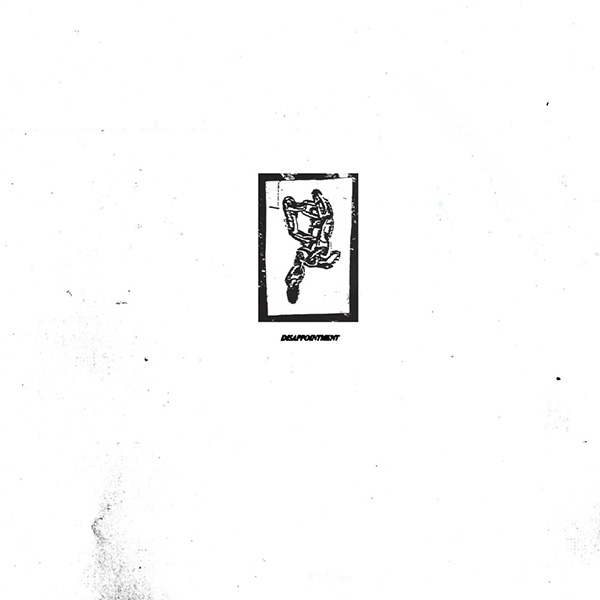 Tunic
Disappointment
Public Tone
Winnipeg, MB
From the constant disappointment of Josh Rohs:
Winnipeg's Tunic roll up their sleeves on their 7" debut, a tetra-pack of knuckle-dragging noise-punk as exothermic (and ephemeral) as an arc flash. These Manitoban noisemongers scrape and claw through tracks like adderall-fueled Liz-kids. Got an itch you can't scratch? Can't get no satisfaction? Here's a dose of *Disappointment*.
Du désappointement constant de Josh Rohs:
(Traduit par la chambre noire de Julie Mayer)
Le groupe Tunic de Winnipeg retrousse ses manches sur son tout premier super 45 tours, un Tetra Pak de punk noise primitif aussi exothermique (et éphémère) qu'un arc électrique. Ces sonoriers manitobains égratignent et griffent à travers les chansons comme de jeunes lézards roublards nourris à l'Adderall. Tu n'peux pas te *scratcher* pour soulager ta démangeaison? T'es pas satisfait? Voici une dose de *Disappointment*.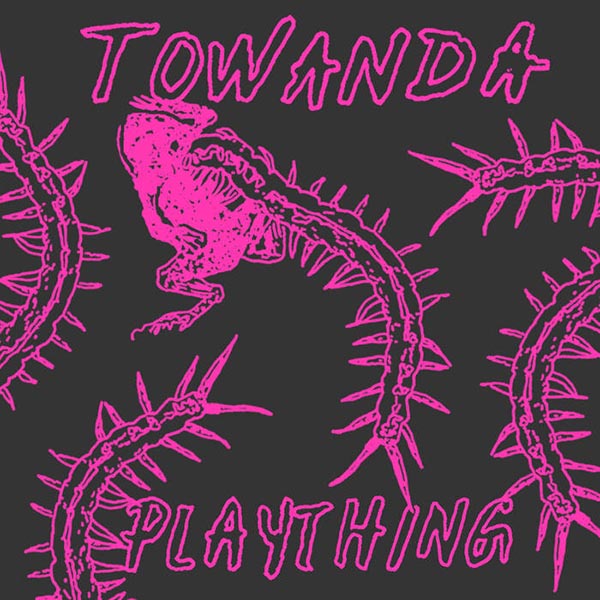 TOWANDA
Plaything
(Self-Released)
Montréal, QC
From the shadow puppet sonata of Mackenzie Smedmor:
The air is thick with sonic fuzz, and the overbearing shadow of unease hangs above. While most suck in the bitter smog, Towanda lets out the snarls we've learned to outwardly deny and inwardly accept. The inexpressible desires churn the hedonist angst in the belly of your existence… because "love is wasted on the loved." The demanding pulsations rupture the peaceful plastic façade in a chaotic yet oddly soothing mantra.
Plaything unapologetically toys with its players amidst devastating intimacy and snarky euphoria.
De la sonate de marionnettes de l'ombre de Mackenzie Smedmor:
(Le brouillard amer de Odile Leclerc)
L'air est épais de duvet sonique et l'ombre de malaise impérieuse se balance au-dessus. Pendant que la plupart aspirent le brouillard amer, Towanda laisse sortir les grognements que nous avons appris à nier extérieurement et à accepter intérieurement. Les désires inexprimables retournent la colère hédoniste dans le ventre de votre existence…parce que ''L'amour est gaspillé sur l'aimé.''. Les pulsations exigeantes rompent la façade paisible de plastique dans un mantra chaotique, mais étrangement apaisant. Le jouet joue sans honte avec ses joueurs parmi une intimité dévastatrice et une euphorie mordante.
Adrian Verdejo
Modern Hearts: New Music For Electric Guitar
Vancouver, BC
From the black domino of Lael Johnston:
Tell me about the third. Tell me about the sixth. Dad failed me. Don't be defeated by laundry. Travel forwards, travel sideways, alone or with a friend. Canadian "Rye" Cooder. Apparently Greg Godovitz threw the original score of Tubular Bells in a fire. Mike singed his fingers pulling it out.
Lael Johnston is the Music Director at Chestermere High School Calgary.
Du domino noir de Lael Johnston:
(Traduit par l'As de trèfle de Joannie Pharand)
Parle-moi du troisième. Parle-moi du sixième. Mon père m'a laissé tomber. Ne vous laissez pas abattre par le lavage. Allez de l'avant, allez sur les marges, seul ou avec un ami. Le « Rye » Cooder canadien. Il semble que Greg Godovitz ait jeté la bande originale de « Tubular Bells » au feu. Mike s'est légèrement brûlé les doigts en le retirant.
Lael Johnston est le directeur musical de l'école secondaire Chestemere, Calgary.

Adrian Verdejo – The Black Domino (Rodney Sharman, 1988)
Adrian Verdejo – Septet For Six Electric Guitars and Bass (James Tenney, 1981)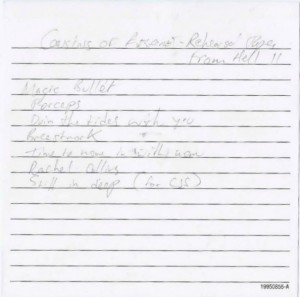 Cousins of Reggae
Rehearsal Tapes From Hell II
(Self Released)
Ottawa, ON
From the summa slamma of Javier Fuentes:
Blake Hargreaves has been a key conspirator in several mind-warping outfits, with an output that extends across all formats. One of his longest running projects is the fuzz-fried collaboration with Liam Thurston as Cousins of Reggae. The latest document to leak out from the duo's cavernous jam space lets us in on an inspired session of wasteland ballads and damaged zones. Stripping away pieces of the exterior chaos to entangle themselves further inside our cerebral vacuum, the disjointed melodies spin into glorious burnout. It sounds like the theme music for an old western taking place in a post-nuclear desert. On those vaporized plains, the only voice you can hear is the phantom sun. A proposition to enter the coolness of a shadowy ledge is rebuffed in favour of a walk back into the heat. Another masterful negotiation of abrasion and abandonment, and a crucial addition to the Cousins' canon.
Cousins of Reggae – Still In Deep (for CJS)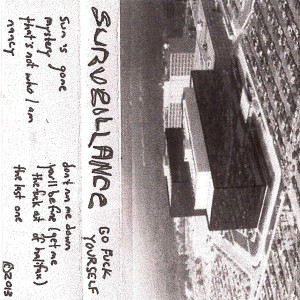 Surveillance
Go Fuck Yourself
(Self Released)
Halifax, NS
From the stereo mountain of Jesse Locke:
Tucked inside a zine-grade cassette sleeve with the sinister image of NSA HQ, this shambly Halifax trio upholds the Nova Scotian no-fi tradition. Slashing through the hiss with a barrage of blurred hooks, caterwaul harmonies and Mascisized overdrive, Surveillance alternate between sensitive slack and slam-dance squeal. Just because you're paranoid doesn't mean they aren't after you…
De la montagne stéréo de Jesse Locke:
(Traduit d'un pied de chèvre par Nicolas Coutlée)
Derrière une pochette de cassette arborant la sinistre image du QG de la NSA, ce chaotique trio d'Halifax perpétue la tradition néo-écossaise no-fi. Se frayant un chemin à travers le grichage à coups de mélodies embrouillées, d'harmonies de miaulements et de distortion mascisisée, Surveillance alterne entre la mollesse sensible et les cris perçants du mosh pit. Ce n'est pas parce que vous êtes paranoïaque qu'ils ne sont nécessairement pas après vous…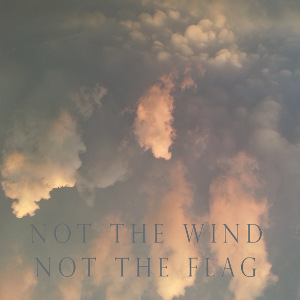 Not the Wind, Not the Flag
Garments of Light
Toronto, ON
De la cabane secrète d' Eamon Quinn:
(Traduit de la sonde spatiale de Justine Gabias)
Aussi expansif, mystérieux et joyeux que la pochette signée Victoria Cheong, le nouveau CD de Not The Wind, Not The Flag nous arrive gracieuseté des esprits allumés de chez Healing Power Records. Dans cette galaxie temporelle de nu jazz cosmique transporteur, on peut presque apercevoir Colin Fisher (cordes et autres trucs) et Brandon Valdivia (percussions) se retirer dans une cabane secrète, façon A Beautiful Mind. Là-bas, ils s'inspirent des liens dissimulés entre les piles savamment disposées d'émouvants ESP-Disks, de cassettes nouvel-âge égarées et de la collection personnelle Nonesuch Explorers de la sonde Voyager.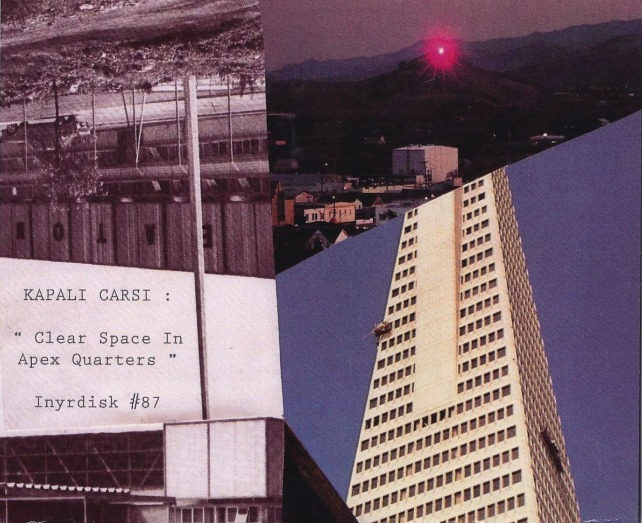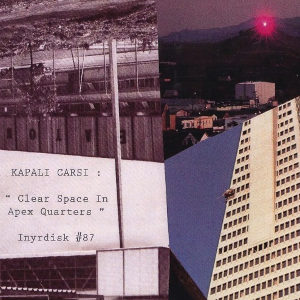 Kapali Carsi
Clear Space In Apex Quarters
(Inyrdisk)
Toronto, ON
From the broken bylaw of Javier Fuentes:
Kevin Hainey, head of noise complaints at Inyrdisk, continues his prolific solo output with his latest release as Kapali Carsi. Deep sea diving into a drone zone bermuda triangle, twisted sounds resurface from the depths after evading coast guard radars. Blown out amps act as receivers as they pick up distant static from the ocean floor. Mixed amongst the chopping hum of nearby oil tankers, your ears might catch pieces of the hushed conversations between drillers and tuxedoed executives. Heed the call of the beacon lights and head to these clear spaces.
De la règlementation transgressée de Javier Fuentes:
(Traduit par le bleu marin de Julie Forget)
Responsable des plaintes relatives au bruit à Inyrdisk, Kevin Hainey continue ses sorties prolifiques en solo avec son dernier disque sous le nom de Kapali Carsi. S'adonnant à la plongée sous-marine dans un triangle des bermudes bourdonnant, des sons refont surface des profondeurs après avoir échappé aux radars des garde-côtes. Les amplis crevés agissent comme des récepteurs en ramassant des parasites lointains du fond de l'océan. Exposées au fredonnement tranchant des pétroliers voisins, vos oreilles pourraient aussi capter des bribes de conversations secrètes entre foreurs et cadres en smoking. Écoutez l'appel de la lumière du phare et dirigez-vous vers ces espaces limpides.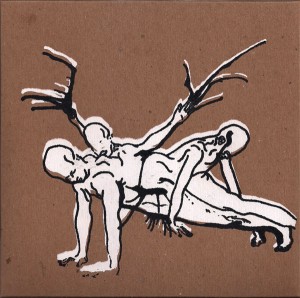 WTCHS // Das Rad
Split Lathe
(Perdu)
Hamilton, ON // Toronto, ON
From the brooding darkness of James Lindsay:
It's been a big year for Hamilton's WTCHS, whose mournful post-hardcore could be a soundtrack for Steeltown in decay. On "Overkilmer/Some Girls" they have a chilly, haunted echo like the members of Fugazi holding a séance to channel the spirit of young Robert Smith. This contrasts their live performances, where the lights go off, the bottom drops out, and all the shadows nod their heads in agreement with the brutish monster that broods in the dark. They're never afraid to share their releases with kindred souls, but hopefully there's a solo LP looming just over the horizon.
On the flipside, Toronto's morticians of rock 'n' roll, Das Rad, exhume their strongest work to date. Like a deranged surgeon sewing bits of bodies together, they graft the Cocteau Twins' romantic moods and non-lyrical vocalizations with Black Sabbath's cloak and cross wearing proto-metal. Surprisingly, the Promethean they create is anything but dour, loving life as it reenacts Saint Vitus's dance around the room, even though it dresses only in black.
Des ténèbres rampantes de James Lindsay:
(Traduit par la danse de Saint-Guy désapprise de Nicolas Coutlée)
Grosse année pour le groupe WTCHS de Hamilton, dont le post-hardcore mélancolique pourrait servir de bande sonore à la ville de l'acier en déclin. L'écho paisible et fantomatique de « Overkilmer/Some Girls » résonne comme si les membres de Fugazi tenaient une séance de spiritisme pour entrer en contact avec le jeune Robert Smith. Cette ambiance contraste avec leurs concerts, où les lumières s'éteignent, quelque chose se brise, et soudain les ombres se mettent à hocher de la tête à l'unisson avec la bête sauvage qui rôde dans les ténèbres. Le groupe ne craint pas de partager la vedette avec des âmes compatibles, mais heureusement un album solo point à l'horizon.
De l'autre côté, les croque-morts du rock and roll, les Torontois de Das Rad, exhument leurs meilleures pièces à ce jour.Tels des chirurgiens fous couseurs de bouts d'organe hétéroclites, ils greffent au romantisme et aux vocalisations sans paroles des Cocteau Twins le proto-métal à croix et tunique de Black Sabbath. Surprenamment, la créature prométhéenne qui voit le jour n'a rien d'effrayant, mais incarne plutôt l'amour de la vie alors qu'elle réinterprète [la danse de Saint-Vitus] tout de noir vêtue.Grosse année pour WTCHS de Hamilton dont le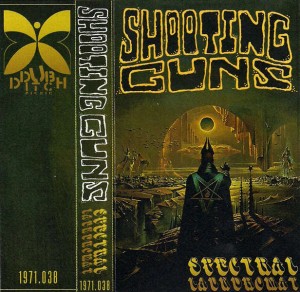 Shooting Guns
Spectral Laundromat
Saskatoon, SK
From the nuclear water of Jared Majeski:
A rare eyetooth of cutting room mayhem, Spectral Laundromat is another sludge-trudge journey from the Biggest Smoke in the prairies. Noticeably more shredding, delicate (enough) cymbal tins and straight-toed twangs blanketed by all sorts of atmosphere you likely won't hear again. What is this mystical cosmicity and where will it take us? Shred your skin, ryde the dragon and find out. It doesn't seem like the doom will end any time soon.
De l'eau nucléaire de Jared Majeski:
(Traduit par les déchirements d'Andréanne Dion)
Une collection de perles rares jamais parue sur un album auparavant, Spectral Laundromat est une autre traversée dans la boue venue de la plus grande ville des Prairies. Sensiblement plus de « shred », des cymbales (assez) délicates et des vibrations simples recouvertes de toutes sortes d'ambiances que vous n'entendrez probablement jamais plus. Qu'est-ce que ce cosmos mystique et où nous mènera-t-il? Déchiquetez votre peau, montez sur le dragon et découvrez-le. Il semble que le malheur ne se terminera pas de sitôt.
Shooting Guns – Deepest Purple (for Krang)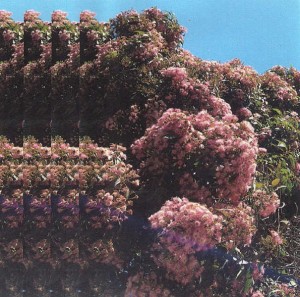 Fuck Off Dad
Fuck Off Dad
Calgary, AB
From the faded subconscious of Cameron Noble:
A quick online search for "fuck off dad" delivers varied results: A Twitter account dedicated to leaving angry messages for oblivious fathers, plus YouTube confessionals ranging from mildly entertaining to heart wrenching. And then there's the duo from Calgary who leave no room for subtlety. Fuck Off Dad's self-titled release is a no-holds-barred 30 or so minutes of noise. Their particular brand — a series of crashes, fills, solos, guitar screeching and feedback — both commands your attention and fades into the subconscious. At times, they are reminiscent of Fantomas (Mike Patton's avant-garde acid metal band) or John Zorn translated into distorted guitar. The outlier track, simply titled "B2", is a quieter version of the previous chaos. Unsurprisingly, it stands out by proving that they do in fact possess restraint. Fuck Off Dad eschews any form or structure, which can be liberating and must be cathartic for the players involved. Not recommended for mixtapes.
Du subconscient estompé de Cameron Noble:
(Traduit entre Montréal et Toronto par Andréanne Dion)
Une recherche rapide en ligne des mots « fuck off dad » donne des résultats variés: un compte Twitter consacré à laisser des messages haineux à des pères indifférents, et des confessions sur YouTube, allant du passablement divertissant au tout simplement déchirant. Et puis, il y a le duo de Calgary qui ne laisse pas de place à la délicatesse. L'album éponyme de Fuck Off Dad offre 30 minutes ou presque de bruit sans ménagement. Leur genre de musique — une série de fracas, de remplissages, de solos, et le son perçant des guitares et du feedback — attire l'attention et s'estompe dans le subconscient tout à la fois. Par moments, ils évoquent Fantomas (le groupe de métal acid avant-garde de Mike Patton), ou encore John Zorn joué sur des guitares distordues. Le morceau d'exception, simplement intitulé « B2 », est une version plus calme du chaos précédent. Cette chanson se démarque, car elle prouve qu'ils savent faire preuve de retenue. Fuck Off Dad rejette toute forme de structure, ce qui peut être libérateur et sans doute cathartique pour les musiciens. Ce n'est toutefois pas recommandé pour les mixtapes.
---