Tag: shooting guns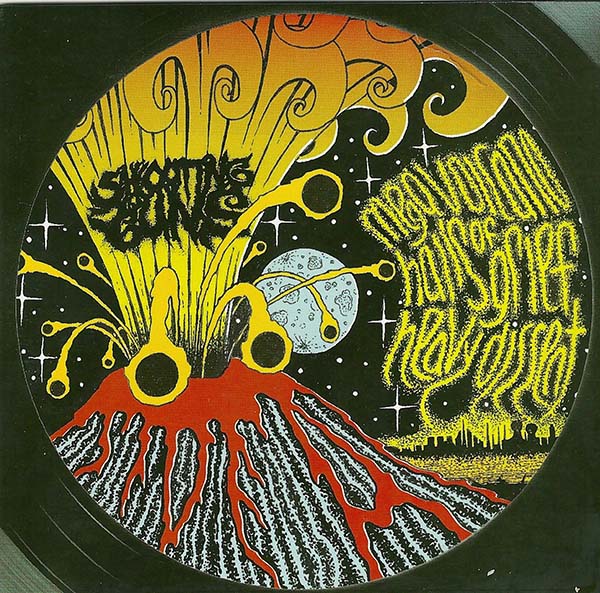 Shooting Guns // Hawkeyes
Brothers of the Nod
Saskatoon, SK // Waterloo, ON
From the bawkwind hootleg of Josh Rohs:
You've been lied to. Observe your compass needle. Magnetic declination nods to the truer north: the exact midpoint between Waterloo and Saskatoon. There stands a megalith, coloured obsidian and cloaked in undulating fuzz fraternal. A loudspeaker spews out Brothers of the Nod's outerstellar overdrive, seeping more booze than a Hawkwind bootleg. Doom-kosmische dirtbags of the world, unite.
De l'enregipirement strate présentant Hawkwind de Josh Rohs:
(Traduit par l'aurore boréale de Julie Mayer)
On t'a menti. Observe l'aiguille de ta boussole. La déclinaison magnétique fait un clin d'oeil au nord plus vrai que le nord vrai: le point milieu exact entre Waterloo et Saskatoon. À cet endroit se dresse un mégalithe, une obsidienne colorée enveloppée dans un ondoyant fuzz fraternel. Un haut-parleur crache la suractivité hors-stellaire de Brothers of the Nod et suinte plus de gnôle qu'un enregistrement pirate présentant Hawkwind. Marginaux doom-kosmische, unissez-vous!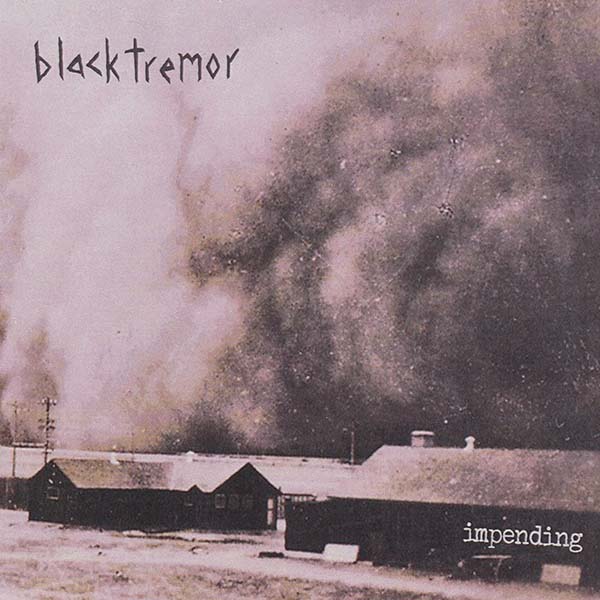 Black Tremor
Impending
(Self Released)
Saskatoon, SK
From the heavy, heavy light of Joshua Robinson:
Like older siblings, they are flame. Dancing at the mouth of the end of it all. Cracks in the welkin overhead; impending kismet. Noumena in mirrors. Siimilar yet singular, gaining reverence for a rapture forced rather than happened upon; conjured rather than readily given; spliced, destroyed and put back together again, all while calamity whispers unto itself that the break in the storm is the end of the beginning of the end. The blackening tremors below allude to the baser animism in us all; rattled, reckoned; the chasm is all that matters. We are all heavy in the light.
Par la lourde, lourde lumière de Joshua Robinson:
(Traduit par la tête animale d' Émily Traichel)
Comme les aînés de la famille, ils pètent le feu. Dansant là où la fin de tout débouche. Des fentes dans la voûte céleste; le destin imminent. Noumènes dans les miroirs. Semblables, mais singuliers, gagnant une révérence pour une extase forcée plutôt que tombée dessus; conjurée plutôt que donnée; épissée, détruite et à nouveau reconstruite, tandis que la calamité se chuchote que l'éclaircie après l'orage est la fin du début de la fin. Les tremblements noircissant d'en bas font allusion à l'animisme infâme à l'intérieur de nous tous; secoué, calculé; le gouffre est tout ce qui compte. Nous sommes tous lourd dans la lumière.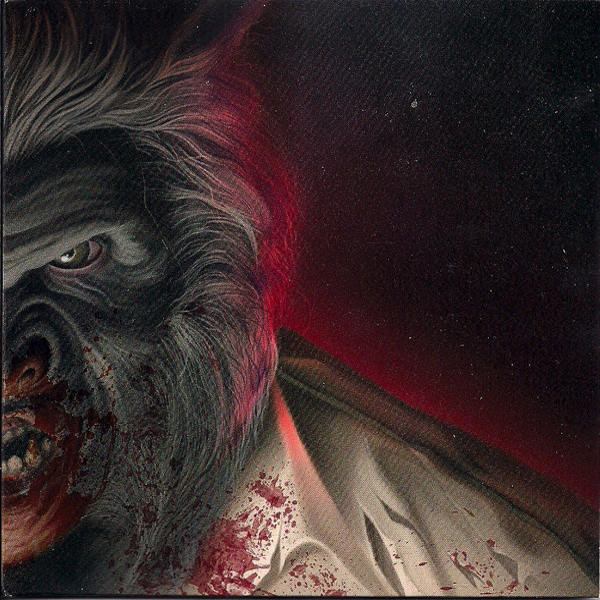 Shooting Guns
WolfCop Soundtrack
Saskatoon, SK
From the concrete therapy of Jesse Locke:
The harmonic steppenwolves howl back at the moon with an OST for this grindhouse of burners filmed in the backwoods and blacktops of Saskatchewan. Previous riff-razing liftoffs sprawled out as vast as the prairie sky, yet these instrumental mood-setters swell and spark out in the length of a lycanthropic attack. In the calm before the bloodbath, there's nothing to do but clap for the wolfman.
De la thérapie de réel de Jesse Locke:
(Traduit par Jessica Grenier)
Les loups des steppes harmoniques hurlent à la lune sur leur trame sonore originale pour ce grindhouse filmé dans les ruelles du fin fond de la Saskatchewan. Même si leur dernier décollage a riff-rasé une étendue aussi vaste que le ciel des prairies, ces créateurs d'ambiance instrumentale gonflent puis explosent le long d'une attaque de lycanthrope. C'est le calme avant la saignée, il n'y a rien d'autre à faire que d'attendre le Wolfman.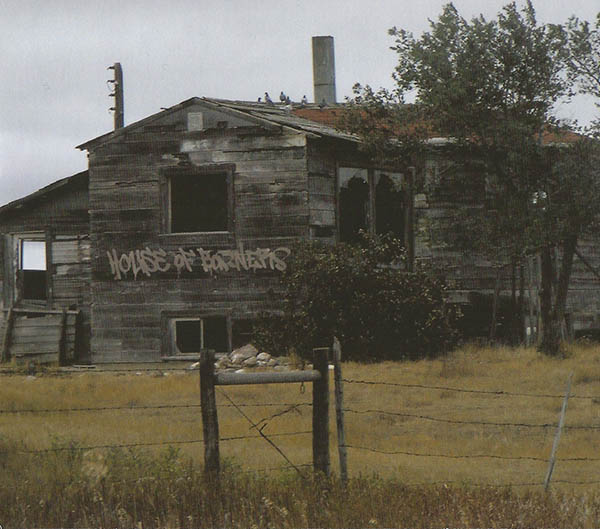 Various Artists
House of Burners
Saskatoon, SK
From the cold home of Kelly MacNeil:
Pre-Rock Records, the label operated by Saskatoon's Shooting Guns, presents a compilation of movers and shakers in Canada's heavy/psych/garage scene, from Victoria to Moncton. Surges of power and serenity lap at our minds like waves that gently caress the coasts. With the might of all storms we hear the riffage of burning, churning, heavy-as-lead, doom-laden psych. In the eyes of the storms we are lulled and enthralled by the voices of sirens as they sing psychedelic lullabies. On a cliff, above the tumultuous brine, youth gather in a lighthouse's garage to shout in defiance to the storm.
Du chez-soi frisquet de Kelly MacNeil:
(Traduit par les flots nostalgiques de Louis-Félix Pellerin)
Pre-Rock Records, le label Saskatonien dirigé par Shooting Guns présente une complication d'artistes notoires dans la scène heavy/psychédélique/garage canadienne, de Victoria jusqu'a Moncton. Des montées de puissance et de sérénité nous lèchouillent l'esprit tel des vagues qui clapotent contre le rivage. C'est avec la puissance d'innombrables tempêtes qu'on entend un riffage doomesque psychédélique brûlant, bouillant et d'une lourdeur de plomb. Dans l'oeil de ces tempêtes, nous sommes attirés et ensorcelés par la voix des sirènes et leurs berceuses psychédéliques. Sur une falaise, bien au-dessus des eaux tumultueuses, des jeunes s'assemblent dans le garage d'un phare pour crier leur défiance à la tempête.

Black Thunder – Too Late/Death Stare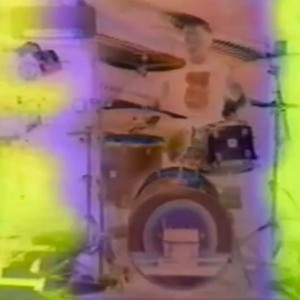 Shooting Guns
"No Fans"
(Directed by Tyler Baptist)
Saskatoon, SK
From the kaleidoscope eyes of Doreen Girard:
Inspired by '80s public access variety TV, Saskatoon's Tyler Baptist hatches a kaleidoscopic Beat Club-style video out of middle Canada's favourite psych-rock pentangle's anti-hit, "No Fans." Things get hammy with a generous use of greenscreen, broadcast switcher and video feedback overlay effects. Not to mention a prototypically listless introduction from the glacial host and actual news footage from the Martensville, SK Satanic ritual abuse daycare scandal, for which the album is named.
Des yeux kaléidoscopiques de Doreen Girard:
(Traduit par LL Francus)
Inspiré par la télévision communautaire de variétés des années 80s, Tyler Baptist de Saskatoon accouche d'une vidéo kaléidoscopique dans le style « Beat Club » pour l'anti-succès « No Fans » du pentagramme psych-rock favori du Canada central. Le ton devient théâtral avec l'utilisation généreuse d'un fond vert, d'un mélangeur vidéo et des effets de rétroaction-superposition. Sans compter l'introduction prototypiquement indifférente par une animatrice glaciale, accompagnée d'images réelles d'un reportage sur le scandale des abus rituels sataniques dans une garderie de Martensville (SK), d'où le titre de l'album.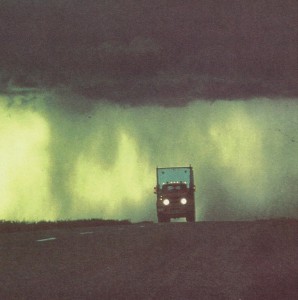 Shooting Guns
Brotherhood of the Ram
Saskatoon, SK
From the Kansas tornado of Trevor Blumas:
The land of open skies plays a leading role in a lot of Shooting Guns' music, but here, it seems to take the center stage. Brotherhood of the Ram's behemoth sound creates an immediate inclination to draw comparisons between what seems to be happening in Saskatchewan right now and the Palm Desert scene of the '90s. The poet mind might conjure up an image of the cosmic heavens blanketing over rolling fields of Ergot-infected Rye, and swallowing up the earth with an infinite blackness. Shooting Guns manage to pull a sweet nostalgic toke from this particular brand of bong rock, and they pull it hard, deep, and blow it out like a Kansas tornado with all of hell's fury. Wyatt and Billy would be proud.
De la tornade infernale de Trevor Blumas:
(Traduit depuis la cité d'Émeraude par Andréanne Dion)
Les Prairies jouent généralement un rôle important dans la musique de Shooting Guns, mais sur cet album, elles semblent être au premier plan. Le son immense de Brotherhood of the Ram crée dès le départ une tendance à établir des comparaisons entre ce qui semble se passer en Sasktachewan en ce moment et la scène musicale de Palm Desert dans les années 90. Un esprit poétique pourrait faire apparaître une image des cieux cosmiques recouvrant les champs de seigles vallonnés et contaminés par l'ergot, engouffrant la terre dans une noirceur sans fin. Shooting Guns arrivent à aspirer une douce bouffée nostalgique de ce genre particulier de rock planant, et ils l'aspirent profondément avant de la recracher avec toute la fureur infernale d'une tornade au Kansas. Wyatt et Billy en seraient fiers.
Shooting Guns – Brotherhood of the Ram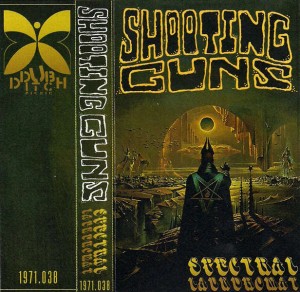 Shooting Guns
Spectral Laundromat
Saskatoon, SK
From the nuclear water of Jared Majeski:
A rare eyetooth of cutting room mayhem, Spectral Laundromat is another sludge-trudge journey from the Biggest Smoke in the prairies. Noticeably more shredding, delicate (enough) cymbal tins and straight-toed twangs blanketed by all sorts of atmosphere you likely won't hear again. What is this mystical cosmicity and where will it take us? Shred your skin, ryde the dragon and find out. It doesn't seem like the doom will end any time soon.
De l'eau nucléaire de Jared Majeski:
(Traduit par les déchirements d'Andréanne Dion)
Une collection de perles rares jamais parue sur un album auparavant, Spectral Laundromat est une autre traversée dans la boue venue de la plus grande ville des Prairies. Sensiblement plus de « shred », des cymbales (assez) délicates et des vibrations simples recouvertes de toutes sortes d'ambiances que vous n'entendrez probablement jamais plus. Qu'est-ce que ce cosmos mystique et où nous mènera-t-il? Déchiquetez votre peau, montez sur le dragon et découvrez-le. Il semble que le malheur ne se terminera pas de sitôt.
Shooting Guns – Deepest Purple (for Krang)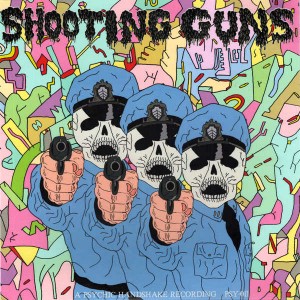 Shooting Guns // Krang
Split 7″
Edmonton, AB // Saskatoon, SK
From the mile high club of Jesse Locke:
Two of Western Canada's heaviest combos smoke out their respective sides of this 7" like the Melvan on a full tank. Yes, these prairie-dog longhairs are both of the blunted variety, but there's a slinky strain of melody wading through the haze. Par for the course, the scorched blues of Krang gets rolled up with warped electronics, buried echo-vox and drum fills spinning with nonchalant ease. Flipside, the Toon Towners take a more traditional whack at the psych/stoner-rock heritage with ominous organ vamps leading the charge. No shoes, no shirt, no mind, no problem.
Des prouesses de haute voltige de Jesse Locke:
(Traduit par les poumons calcinés de Nicolas Coutlée)
On doit à deux des plus lourds combos de l'Ouest du Canada les faces enfumées de ce 7" tout droit sorties du pot d'échappement de la Melvan. Bien sûr, ces chiens des prairies au poil long ne font pas dans la dentelle, mais une affriolante ligne mélodique perce tout de même la boucane. Comme prévu, le blues écorché de Krang est enrobé d'effets électroniques distordus, d'echovox enfouis et d'une bonne dose de percussions tournoyant avec aisance désinvolte. De l'autre côté, les natifs de Toon Town s'attaquent à l'héritage stoner/psych rock de manière plus traditionnelle à grands renforts d'improvisations à l'orgue de mauvais augures. Pas de souliers, pas de t-shirt, pas de raison, pas de problème.
Shooting Guns – Sky High and Blind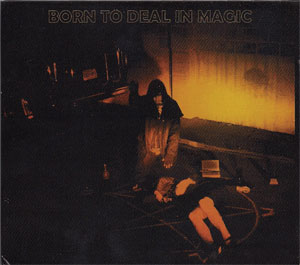 Shooting Guns
Born To Deal in Magic: 1952-1976
Saskatoon, SK
From the pusher man hex of Jared Majeski:
Today's harem of mind-expanding disciples has once again enslaved the flaxen western pastures with expansive aural trudge. Toon Town is home to psych giants Shooting Guns, and with Born To Deal in Magic: 1952-1976, they preach their apocalyptic revival to the unwashed masses — leaving a few carcasses along the way. We're past the antiquation of combines, crop dusters and funny towns; enter the time of the hyper-evolved mountain man making even more mountainous sounds. With song titles like "Public Taser", "Last Great Depression" and "Stay Awake Forever", you can truly feel the devilish lament in the hearts and bones of this five-piece. With more releases in the near horizon, that sweet, groovy haze will just get that much sweeter. Good thing these guys bring their lunch pails to work.
De la malédiction dealeur de Jared Majeski: (Traduit par la lamentation diabolique de Maya Keshav)
L'harem de disciples tête-gonflants d'aujourd'hui a encore assujetti la pâture blonde de l'ouest avec une marche pénible auditive étendue. Toon Town est le domicile des géants de psych Shooting Guns, et avec Born To Deal in Magic: 1952-1976, ils prêchent leur renaissance apocalyptique à la tourbe— en laissant quelques cadavres derrière en cours de route. On a dépassé l'ancienneté des moissonneuses, des avions d'épandage et des villes bizarres; voici le temps du montagnard hyper-évolué qui crée les sons même plus montagneux. Avec les titres de chansons comme "Public Taser", "Last Great Depression" et "Stay Awake Forever", on peut vraiment sentir la lamentation diabolique dans les cœurs et les os de ce cinq-partie. Avec plus de morceaux à l'horizon, ce brouillard doux et balançant va devenir même plus doux. C'est une bonne chose que ces gars apportent leurs dîners au travail.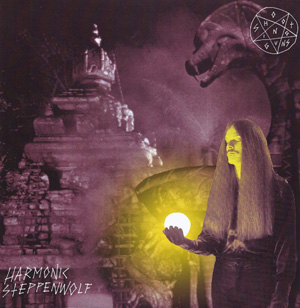 Shooting Guns
Harmonic Steppenwolf b/w Dopestrings
(Self Released)
Saskatoon, SK
From the ungodly broth of Jared Majeski:
Inhabiting the same netherworld that bore another wyrd shapeshifter, landlocked wizards Shooting Guns have loosened the chains on a double-wide psychedelic stampede. Sleep-y riff drones meander the prairie plane, giving stoners and weary-eyed roadsters the asphalt jilts. Crunchy roll-off and fuzz stir "Harmonic Steppenwolf" in an ungodly broth of delay and analog FX, while "Dopestrings" is that fateful trundle off the impending buffalo jump. It's an unrelenting dirge of the heaviest kind – a doomy soundtrack to isolation among one-horse towns and two-horse centres this side of the Canadian Shield. These freaky longhairs are masters of their prey, and leave nothing to waste except your miiiiiiiinds.
Du bouillon blasphématoire de Jared Majeski: (Traduit par Odile Leclerc)
Habitant le même enfer qui porte un autre change-forme de wyrd, les sorciers enclavés Shooting Guns ont desserré les chaines sur une débâcle de maison mobile psychédélique. Des bourdonnements de riffs endormis errent dans le plateau de la prairie, donnant aux fumeurs d'herbe et aux torréfacteurs aux yeux fatigués le goût de plaquer l'asphalte. De croquants descentes de fréquences et des émois flous ''Harmonic Steppenwolf'' dans un bouillon blasphématoire d'attente et d'analogue FX, pendant que ''Dopestrings'' est l'acheminent fatidique hors de l'imminent saut de bison. C'est un implacable chant funèbre du genre le plus lourd—une bande sonore de la fin à l'isolation parmi les villes à un cheval et les centres à deux chevaux sur ce coté du Bouclier Canadien. Ces cheveux-longs insolites sont des maîtres de leur proie et ne laisse rien se perdre à l'exception de vos espriiiiiiits.
Shooting Guns – Harmonic Steppenwolf
---