Tag: shining wizard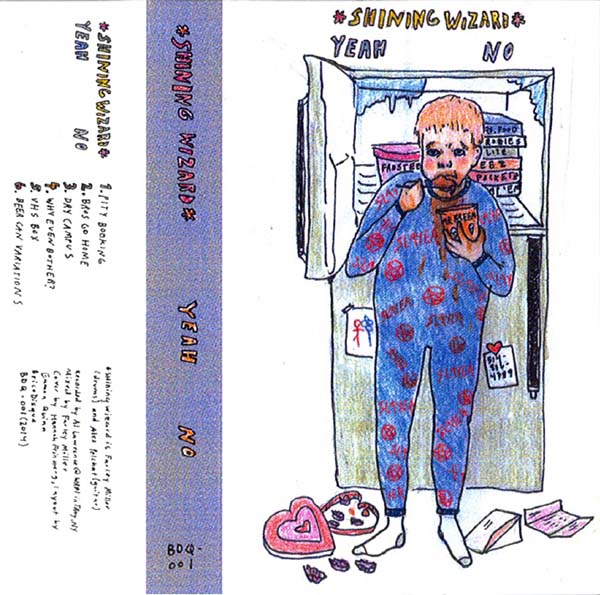 * Shining Wizard *
Yeah No
(BricoDisque)
Montréal, QC
From the basement kitchen tapes of Talia Jacob:
Big & brazen, Yeah No stirs up a fine ruckus of sublimely collapsing construction. Shining Wizard invites you to dance clumsily, flailing on the fringe of coherence where Alex Pelchat electric slides like wildcat sandpaper & Farley Miller taps out a beat so nimble it always seems frustratingly, beautifully, out of reach. Hearken! Here is noise that will devour you whole & spit you out, red-faced & panting.
Shining Wizard – Beer Can Variations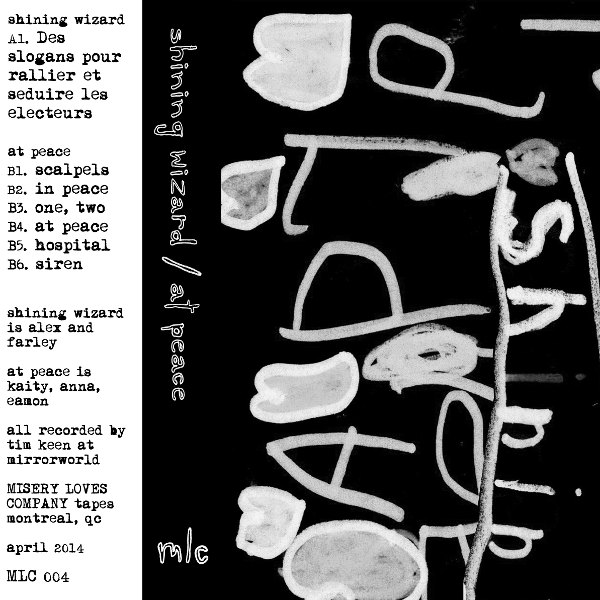 New Canadiana :: Shining Wizard // At Peace – Split Cassette (Misery Loves Co.)
Shining Wizard // At Peace
Split
Montréal, QC
From the transcendental quarantine of Don L'Orange:
Eating itself from the inside out, the process may take days. It may take days to chew through the bone alone. Like taking out the trash, or scraping the gunge off old food, this is a horrible job. But, I am (un)happy to get a paycheque. My stomach wretches, bits of bile find their way up. I will sleep in the belly tonight. Will I be digested by morning? Who cares?
De la quarantaine transcendantale de Don L'Orange:
(Traduit par Jessica Grenier)
Se manger soi-même depuis l'intérieur peut prendre des jours. Simplement réussir à mâcher un os peut prendre des jours. C'est une tâche pénible, comme sortir les poubelles, ou gratter la mousse sur de la nourriture oubliée. Mais je suis (mal)heureux de recevoir une paye. Mon estomac se soulève, des bouillons de bile remontent jusqu'à mes lèvres. Ce soir, je dormirai dans le ventre. Est-ce que je serai digéré durant la nuit? Et alors?

Shining Wizard – Des slogans pour rallier set seduire les electeurs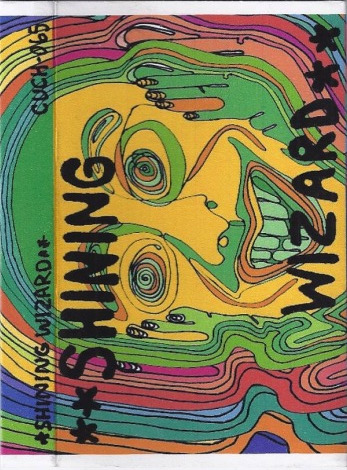 Shining Wizard
No Room For
Montréal, QC
From the barred hyphenation of Javier Fuentes:
A walk into Shining Wizard's world quickly turns into a perpetual stumble and slip. Headspinning shifts that mirror the spectrum-melting artwork courtesy of the Pink Noise's Tara Desmond. Raw tunes hit the burnt pile after filtering through the new-normal radiation levels courtesy of their fellow Montreal tenants. Rogue fuzz pedals conjure up a cloud of tumultuous dust while flangers extend their reach in every direction. A barely standing kit topples to ground level while the drummer gleefully digs into the wreckage to bury the remaining sounds. This is morning music for waking up in a bizarro world.
De la césure interdite de Javier Fuentes:
(Traduit de la tête d'arc-en-ciel de Catherine Debard)
Une promenade dans l'univers de Shining Wizard tourne rapidement en un enchaînement de pas vacillants, c'est tituber et glisser perpétuellement. Les changements de directions abruptes miroitent le visuel de Tara Desmond de the Pink Noise, un spectre de couleurs fondant étourdissant. Des chansons brutes aboutissent sur la pile de sons mutants après être filtrées dans le nouveau niveau de radiation musicale, courtoisie de leurs compères Montréalais. Des pédales de fuzz de voyous font apparaître un nuage de poussière tumultueux tandis que le flanger s'étire dans toutes les directions. Un kit de drum qui se tient à peine s'écrase sur le sol, le batteur fouille dans les décombres en jubilant. Il veut enterrer les débris de son restants. C'est une musique de matin pour se réveiller dans un monde bizarro.
Shining Wizard – Roosevelt Bars the Hyphenated
Shining Wizard – Hollywood Ponders Movie on Book About Snowden
---