Tag: shearing pinx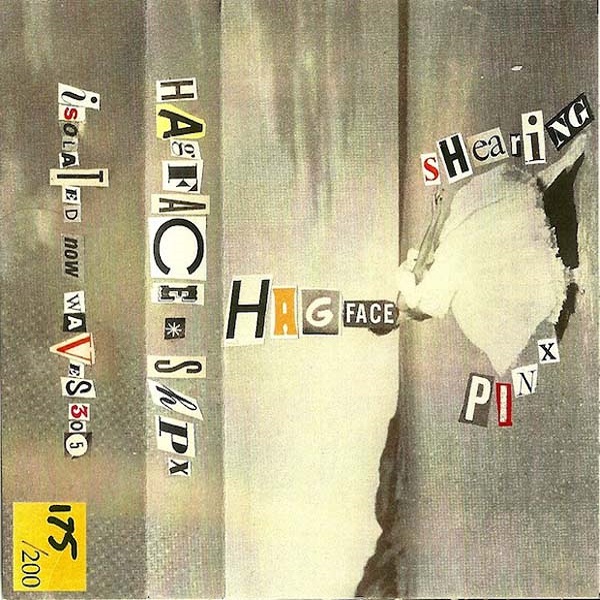 Hag Face/ Shearing Pinx
Split
Calgary, AB/Vancouver, BC
From the holy drywall of Josh Rohs:
Vancouver's sultans of cacophony meet Calgary's noise-conjuring witch punx for a feral, ferrous oxide-bound dichotomy made in house show hell. Wyrd friends, both old and new materialize at 3 a.m., plug in and melt face. You're left with nothing but a couple holes in yer drywall, a disfigured tympanic membrane, and a cognitive shift into warp drive. Grip now, and live out your remaining days in shredded bliss.
De la cloison sèche bénie de Josh Rohs:
(Traduit par Jessica Grenier)
Les sultans de la cacophonie de Vancouver se joignent aux sorcières punx de Calgary le temps d'une dichotomie sauvage gravée en oxyde de fer lors d'un spectacle maison infernal. Chers amis Wyrd, nouveaux et anciens, quand sonnent [trois heures du matin], branchez-vous puis sentez votre visage fondre. Vous en sortirez avec des trous dans la cloison sèche, une membrane tympanique mutilée et un changement cognitif à une vitesse supraluminique. Mettez la main dessus et vivez heureux à jamais, dans les liens sacrés du déchiquetage.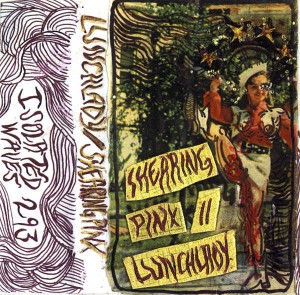 Lunch Lady // Shearing Pinx
Take That, The Devil!
Vancouver, BC
From the Denny's Restaurant of Don L'Orange:
One day, men will stop confidently singing alongside other men. They will stop strumming like it means something and move to Greece. They will argue it was forced displacement. Sue Greece, then. Anyway, back to real music: this split tape is New Anglia's "Old Time Religion". Lunch Lady churches that shit, while the North's most-hated preachers throw a cup of hot strap oil onto the baptismal candidate. The burning abates when we wrap them in a giant maple leaf. Maple-infused Polysporin! Cool that burn and tuck in to a buttermilk short stack!
Du restaurant Denny de Don L'Orange:
(Traduit en Grèce par Raphaël Foisy)
Un jour, les hommes arrêteront de chanter avec assurance côte à côte. Ils cesseront de gratter leur guitare comme si cela signifiait quoi que ce soit, puis ils déménageront en Grèce. Ils prétendront que c'était un déplacement forcé. Alors, poursuivez donc la Grèce. Bon, de retour à la vraie musique : cette cassette split est le « Old Time Religion » de la Nouvelle Anglia. Lunch Lady vénère cette chose, alors que les prédicateurs les plus détestés du Nord lancent une coupe d'huile bouillante sur le candidat au baptême. Le brûlement diminue lorsque nous les enroulons dans une feuille d'érable géante. Du polysporin infusé d'érable! Refroidissez cette brûlure, puis attaquez-vous à une pile de crêpes au babeurre!

Lunch Lady – Recipe for Congealed Ambrosia Salad

Shearing Pinx – Dose of Strap Oil / Alaska (Ext. Version) / Like a Bolt from the Blue / Crack the Balance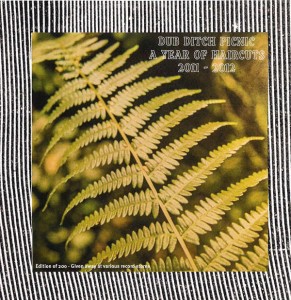 Various Artists
A Year of Haircuts
Asterisk, Canada
From the weathered report of Gregory Pike:
One 1936 July day, in Winnipeg, it was a record 42.2 °C (visualize: the hallucinatory sweat-fever of Shearing Pinx's "Violence"). On Christmas Eve 1879, it was -47.8 °C (visualize: the hypothermic chaos-scramble of Velvet Chrome's "Étude en Psychobilly"). That's a 90 °C disparity. A disparity large enough to match the range of kraut-drone, hypno-pop, and space-terror on this comp from Dub Ditch Picnic — the 'Peg's home of the strange. Somehow, all at the same time, it's the soundtrack to both lying in the summer sun on a patchwork quilt blanket, and going snow-blind in some prairie field, lost and kilometres from home.
Du rapport de Gregory Pike, exposé aux intempéries Gregory Pike:
(Traduit par le thé noir aromatisé à la confiture de bleuets de Julie Mayer)
En juillet 1936, Winnipeg a connu un record de chaleur atteignant 42,2 °C (imaginez la fièvre et les suées hallucinatoires de « Violence » de Shearing Pinx). En 1879, il a fait -47,8 °C à la veille de Noël, (imaginez le brouillage chaotique et hypothermique de « Étude en Psychobilly» de Velvet Chrome). Entre ces deux pôles, une variation de 90 °C ; un écart assez grand pour le comparer à l'éventail de drone allemand, de pop hypnotique et de terreur spatiale qui forme cette compil de Dub Ditch Picnic ? la maison de l'étrange de Winnie. D'une manière ou d'une autre, c'est à la fois le disque idéal pour lézarder sous le soleil estival, étendu sur une courtepointe en patchwork ou contracter la cécité des neiges dans une prairie perdue située à des kilomètres de chez soi.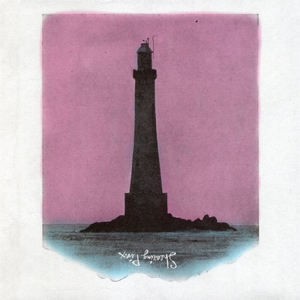 Shearing Pinx
Night Danger
Vancouver, BC
From the evening perils of Aaron Levin:
As a relic from the triumvirate evenings of dual guitar destruction, Night Danger contains the last recordings Shearing Pinx conjured within their triplicate state. Gripping the mic for the first time, Erin Ward obliterates all previous associations and takes "Sufferer" to a new level of avant-gothery. They further circumvent every convention with "Play Nice", assailing a burnt blues jam into thirteen minutes of distorted twilight and chromatic space. Weaving within the trio's high-level riffery and abject tonal assault, Night Danger uniquely steals this very special space within Canada's creative cosmos. Posthaste grippage.
Des périls de soirée d'Aaron Levin: (Traduit par Odile Leclerc)
En tant que relique des soirées triumvirats d'une double destruction de guitare, Night Danger contient les derniers enregistrements de Shearing Pinx conjuré dans leur état triplé. Attrapant le micro pour la première fois, Erin Ward oblitère toutes associations précédentes et apporte ''Sufferer'' à un autre niveau d'avant-gotherie. Ils mettre encore plus en échec chaque convention avec ''Play Nice'', assaillant un jam de blues brûlé en treize minutes de crépuscule tordu et d'espace chromatique. Tricottant dans le haut niveau de riff du trio et d'attaque tonale abjecte, Night Danger vole d'une façon unique ce très spécial endroit dans le cosmos créatif du Canada. Post-dépêche d'attrapage.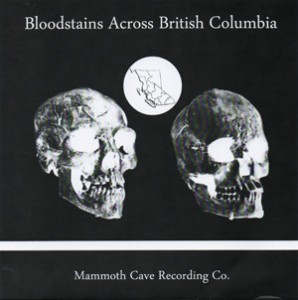 Various Artists
Bloodstains Across British Columbia
Vancouver, BC
From the park-side rippery of Aaron Levin:
In a show of ridiculous viscosity, Mammoth Cave have focused massive gravity waves on the festering Vancouver fringe-punk milieu, condensing their sinusoids into ten bursts of minute-long mayhem. It's the second in their Bloodstains series of Provincially-minded polaroids capturing this psychotic wave of ADD. Bands include: Nü Sensae, Role Mach, White Lung, Shearing Pinx, AHNA, Shipyards, Needles//Pins, B-Lines, Manic Attracts, Indian Wars, Young Mums, Timecopz, and Student/Teacher. Shred.
Du shred du parc d'Aaron Levin: (Traduit par la viscosité de Maya Keshav)
En signe de viscosité ridicule, Mammoth Cave se sont concentrés avec les énormes ondes de gravité sur le milieu pourrissant de fringe-punk de Vancouver, en condensant leurs sinusoïdes en dix une-minute éclats de pagaïe. C'est le deuxième dans leur série Bloodstains de polaroïds d'esprit provincial qui saisissent cette vague psychotique de TDA. Les groupes incluent: Nü Sensae, Role Mach, White Lung, Shearing Pinx, AHNA, Shipyards, Needles//Pins, B-Lines, Manic Attracts, Indian Wars, Young Mums, Timecopz, et Student/Teacher. Déchirez.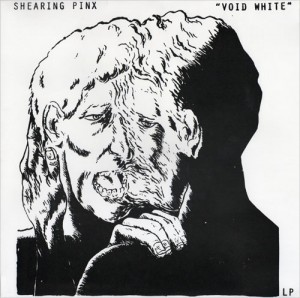 From the steady doggin' it of Aaron Levin:
Wrapped in the searing red-line of low-end distortion, the dualic Pinx are entombed for the first time on polyvinyl. Even as a duo, the cavernous cacophony of their sinusoids are preserved; null waves of guitar shreddery percolate every trough and groove while a pounding machine gun fires upon skin-covered cylinders into adjective-oblivion. "Dired-Out" captures their corse ritual with precise dignity, offering two minutes of harsh improv before descending into a swinging western narrative with droning vocals and pulsating guitar rhythms, ushering our frayed minds into a static groove. They. Just. Won't. Stop. VOID GRIP.
De la procrastination stable d'Aaron Levin: (Traduit par Odile Leclerc)

Enveloppé dans les lignes rouges brûlantes des distorsions de low-end, les duo des Pinx sont mis en tombe pour la première fois sur polyvinyle. Même en tant que duo, la cacophonie caverneuse de leurs sinusoïdes sont préservées; des ondes neutres de déchirage de guitare se répand dans chaque creux et rainure pendant qu'une mitraillette martèlante fait feu sur les cylindres couverts de peau vers un oubli adjectif. ''Dired Out'' capture leur rituel brute avec de la dignité précise, offrant deux minutes de dure improvisation avant de descendre vers une entraînante narration de western avec des chants bourdonnant et des rythmes de guitare palpitant, menant nos esprits effilochés vers une cavité statique. Ils. Ne. Veulent. Tout. Simplement. Pas. Arrêtés. VIDE ATTRAPE.
Shearing Pinx – Magnolia's Tomb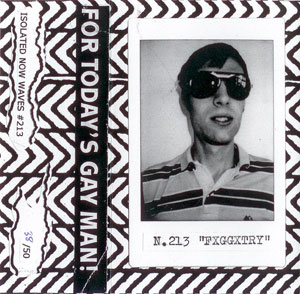 From the spastic anguish barrage of Jarrett Samson:
Nic Hughes is as close as Vancouver's underground scene has to royalty, something even a cursory glance at the staggering number of releases on his Isolated Now Waves label lends undeniable credence to. Never content to rest on such laurels, Hughes continues to produce great art at a pace few could muster (let alone match), and his solo project N.213's latest, FXGGXTRY, proves his merit yet again. While undeniable tapped from a similar vein as his work with Shearing Pinx, this cassette manages to deviate and define itself as a more personal and introspective work without all of that singer-songwriter bullshit that usually follows such descriptors. Soaked in anger (or anguish?), barrages of spastic, massive guitars slide sinew-tight over each other before slamming up against noisy rumbles of sound collage hum and restrained, unworldly instrumentals. To top it off, Hughes' inimitable vocals continue to put reverb-fetishists everywhere to shame. There's an ominous feeling to the whole record as if some strange current runs through its every connection, a basement tape concept album in denial. To put it simply? FXGGXTRY is the best N.213 release to date.
Du déluge nerveux d'angoisse de Jarrett Samson: (Traduit par Maya Keshav)
Nic Hughes est plus ou moins le roi de l'avant-garde de Vancouver, quelque chose dont la quantité stupéfiante d'enregistrements avec son étiquette Isolated Now Waves est témoin. Jamais content de se reposer sur ses lauriers, Hughes continue de produire les chefs-d'œuvres à un rythme peu de gens pourraient suivre (encore moins égaler), et son projet solo le dernier de N.213, FXGGXTRY, démontre son mérite une fois encore. Même si elle est indéniablement créée dans la même veine que son travail avec Shearing Pinx, cette cassette arrive à dévier et à se définir en tant que travail plus personnel et plus introspectif sans toute la merde d'auteur-compositeur-interprète qui suit normalement les tels adjectifs. Trempées de colère (ou d'angoisse?), les pluies d'énormes guitares tremblantes glissent sur l'un et l'autre aussi raides que le tendon avant qu'elles heurtent les grondements bruyants de bourdonnements de montages du son, et les morceaux instrumentaux contenus et détachés de ce monde. En plus de tout ça, le chant inimitable de Hughes continue de faire honte à tous les fétichistes de réverbération partout. L'album complet a l'air menaçant comme si un courant bizarre coule dans chacun de ses connexions, un album conception sous-sol cassette qui est dans le déni. Pour le dire simplement? FXGGXTRY est le meilleur N.213 enregistrement jusqu'à maintenant.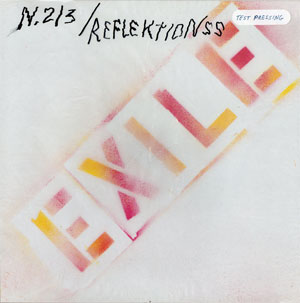 No. 213 // Reflektionss
The Next Best Thing
Vancouver, BC // Vancouver, BC
From the glimmering clamor of Aaron Levin:
NMR found a bold pairing between the bristled pulses and maniacal low-end of N.213 and Reflektionss. Their combined dualic forces swerve between harrowing drum-machine hermetics and fist-fulls of gothic concoctions frothing with digital spume. While N.213 jacks your hybrid with scorching no limit dialogues, Reflektionss pipet their basemental minimalism straight through your nervous system. Both foster a millennial convolution of arresting fear and 21st century mellow, so grip fast before their divergent crests wash you into nihilism. [Pressing note: pictured above is the test-pressing gripped from the Isolated Now Waves merch table. The actual release differs significantly.]
De la clameur chatoyante d'Aaron Levin: (Le mode en rafale de Odile Leclerc)
NMR a trouvé un assortiment audacieux entre les battements hérissés et les low-ends maniaques de N.213 et Reflektionss. Leur double force combinée dévie entre les angoissantes batteries hermétiques et les pleines poignées de concoctions gothiques moussantes d'écume digitale. Pendants que N.213 lève au cric votre hybride avec de brûlants dialogues illimités, Reflektionss pipette leur minimalisme de sous-sol directement à travers votre système nerveux. Les deux accueillent une convolution millénaire de peur saisissante et de douceur du 21e siècle, alors attrapez le vite avant que leurs sommets divergents vous submergent dans le nihilisme. [ Note pressante : décrit en haut est le pressage test saisi du stand d' Isolated Now Waves. La sortie actuelle diffère significativement.]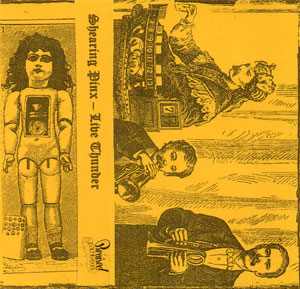 Shearing Pinx
Live Thunder
Vancouver, BC
From the living thunder of Joni Sadler:
After last year's killer Weaponry LP, Shearing Pinx one-up themselves with this live recording from a gig in Thunder Bay. Anyone who's been lucky enough to witness these Vancouverites tear up a basement on one of their cross-country ventures knows that their live show is a blistering, noisy affair; this tape is a testament to the sheer distorted force that is Shearing Pinx in their element. Choice cuts from Weaponry take on a whole new sense of urgency when they're drenched in this much grit and fuzz. Get your hands on the tape or better yet – catch the band next time they hit your town and watch this shit go down in real life.
Du tonnerre vivant de Joni Sadler: (Traduit par le sens de l'urgence de Maya Keshav)
Après le LP étonnant "Weaponry" de l'année passée, Shearing Pinx se dépassent avec cet enregistrement live d'un concert à Thunder Bay. N'importe qui est assez chanceux d'avoir vu ces vancouverois anéantir sur une de leurs tournées à travers Canada connaît que leur spectacle vive est un événement cinglant et bruyant; cette cassette est témoign de l'énergie pure et déformée qui est Shearing Pinx dans leur élément. Les parties de choix de Weaponry prennent un tout nouveau sens de l'urgence quand elles sont trempées de cette quantité de poussière et de fuzz. Mettez la main sur cette cassette ou encore mieux— allez voir le groupe la prochaine fois qu'il rend visite à votre coin et regardez ces conneries se passer dans la vie vraie.
Shearing Pinx – Live Thunder Side A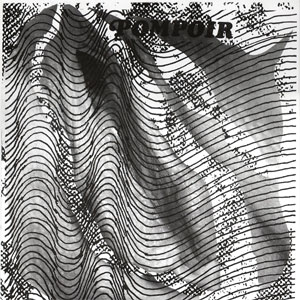 Pompoir
Exploding Time
Vancouver, BC
From the burnt locker of Paul Lawton
At one point in the second half of Exploding in Time, Nic Hughes (Pompoir's lead singer and leading member of Shearing Pinx) repeats "Do you feel this?" and to this I say: Yes! I am absolutely feeling this. Pompoir's grunge has been filtered through an accentuated Vancouver-alienation, giving the songs on Exploding Time a feeling unstuck in time and place while still capturing the sounds of this relativistic-event in Vancouver's scene. In fact, after the first few listens I had pangs of jealousy that I don't currently live in Vancouver to hear these bands on any given weekend. I'll go out on a limb and say, of all the records that have come out of the Vancouver scene in the last five years (and lets face it, there have been a fuck-load of records… SHPX alone have over ten thousand releases!) Pompoir's Exploding Time lands firmly in the "essential" category. Comes in fantastic silkscreened B-Side and album-covers. The vinyl is limited to 300 copies.
[Levin's Note: The photo used in this review is the rare, test-pressing vagina-cover variant (#15/20). The actual album art is quite similar. This record slays.]
Du casier brûlé de Paul Lawton:
(Traduit par Maya Keshav)
À un point dans la seconde moitié de Exploding Time, Nic Hughes (le chanteur en chef de Pompoir et membre leader de Shearing Pinx) répète ''Do you feel this?'' et à ça je dis : Oui! Je ressens ça absolument. Le grunge de Pompoir a été filtré à travers une aliénation accentué de Vancouver, donnant les chansons sur Exploding Time en sentiment décollé dans le temps et l'espace tout en capturant les sons de cet évènement réalistique sur la scène de Vancouver. En effet, après les premières écoutes j'avais des pincements de jalousie que je ne vive pas présentement à Vancouver pour écouter ces groupes durant n'importe quelle fin de semaine. Je vais prendre un risque et dire que de tous les enregistrements qui ont sortis de la scène de Vancouver dans les dernières cinq années (et faisons-y face, il y a eu beaucoup d'enregistrements…SHPX à lui seul a plus de dix–milles sorties!) Exploding Time de Pompoir atterrit fermement dans la catégorie ''essentielle''. Livré dans de fantastique B-Side sérigraphié et des couvertures d'albums. Le vinyle est limité à 300 copies.
[Note de Levin: la photo utilisée pour cette critique est la rare et variante, couverture vaginale presseuse de test (#15/20). L'art de l'album actuel est assez similaire. Cet enregistrement fait un massacre.]
---