Tag: shake! records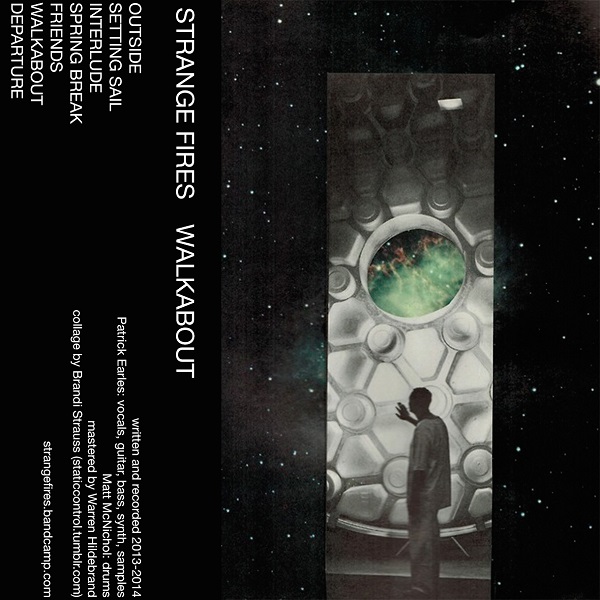 Strange Fires
Walkabout
Edmonton, AB
From the twinkly toes of Kelly MacNeil:
Walkabout is a tumble through town, showing us all of the secret and special places. Edmonton's Strange Fires yips into culverts, taping the echoes and keeping them warm in their front breast pocket. Together we wander, throw stones in ponds, staring at the ripples, watching fish dart. Walkabout is a time of solemn remembrance, the kind that fills your heart with sparks and makes your toes wriggle. Beneath layers of dust, dirt, and snow we come to see the beauty in the old places we know.
Des orteils brillants de Kelly MacNeil:
(Traduit par Julie Mayer)
L'album Walkabout nous montre tous les endroits secrets et spéciaux de la ville qu'il traverse à la course. Originaire d'Edmonton, le groupe Strange Fires jappe dans les caniveaux, enregistre les échos et les garde au chaud dans sa poche poitrine. Ensemble, nous vagabondons, nous lançons des cailloux dans les mares, nous fixons les ondes et regardons les poissons s'enfuir. Walkabout est un moment de commémoration solennelle, du genre qui remplit votre cœur d'étincelles et fait tortiller vos orteils. Sous les couches de poussière, de saleté et de neige, nous parvenons à voir la beauté des lieux qui nous sont bien familiers.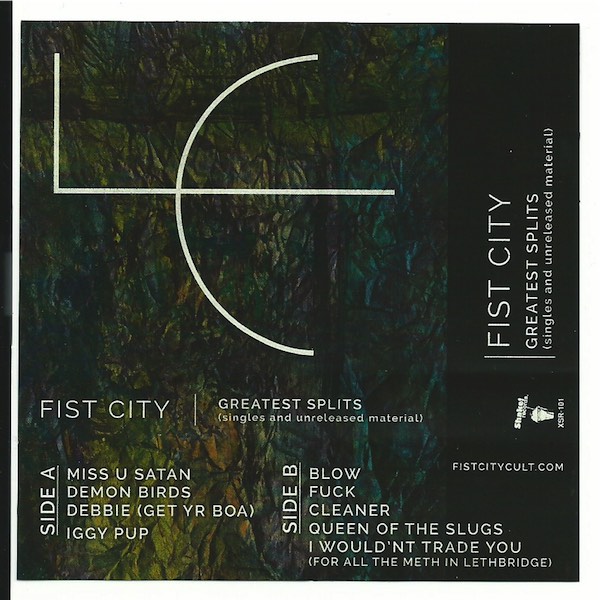 Fist City
Greatest Splits
Lethbridge, AB
From the ginger ale pizza bong runoff of Mitch Jackson:
If any band truly represents the pinnacle of all that is weird and good in Canada, it would be Fist City. Greatest Splits lets the Satan worshiping reptilian fiends inject terror into the hearts and minds of I AM Canadian™ Canada over riffs, noise and anthems buried underneath the fires and fuzz of hell. But that fuzz can only cover up so much of the unholy union. You too will realize that you miss Satan and you'll take him back at the Lethbridge Denny's tonight. Let him baptize you in meth and grand slams.
Des restants de bong, pizza et gingerale de Mitch Jackson:
(Traduit par les bribes sautillantes de Marie-Pier Chevrier)
S'il existe un groupe qui sache illustrer la somme de tout ce qui ce fait d'étrangement beau au Canada, il s'agit bien de Fist City. Greatest Splits laisse les bêtes reptiliennes satanistes injecter la terreur dans les coeurs et les esprits de I AM Canadian™ par-dessus les riffs, le bruit et les hymnes qu'enterrent les feux et les furies de l'enfer. Mais cette furie ne peut couvrir l'entièreté de cette union damnée. Vous réaliserez que Satan vous manque aussi et vous l'accueillerez à nouveau au Denny's de Lethbridge ce soir. Laissez-le vous baptiser de meth et de grands slams.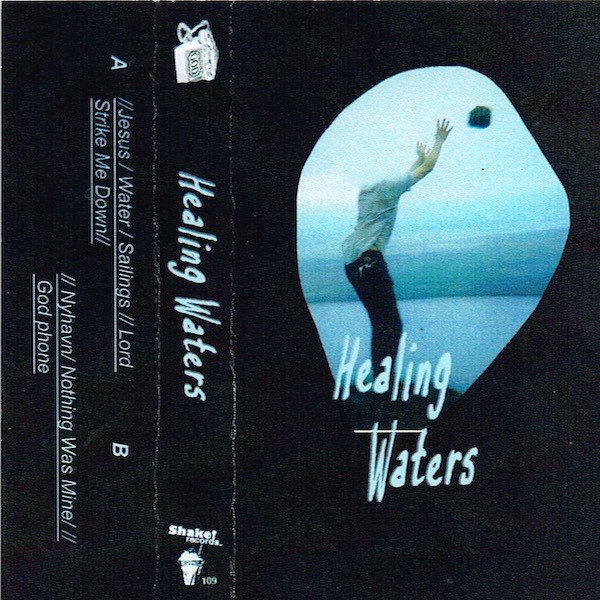 Healing Waters
Water
Victoria, BC
From the aquaphobic hallucinations of Sara Bortolon-Vettor:
Curves of black and blue fluid create a divine ripple effect. Sun sparkles. The water is warm. Our minds bloat and float away like abandoned canoes, left to drift. Passengers' punctured souls litter the water's floor. As the heaviness behind our eyes turns our gaze downward, staring into the water, we wonder whether our thoughts will drown. Be gone forever.
Des hallucinations aquaphobiques de Sara Bortolon-Vettor:
(Traduit par Diane Beaupré)
Des courbes de fluides noirs et bleus créent un effet d'ondulation divin. Le soleil brille. L'eau est chaude.. Nos esprits se gonflent et partent à la dérive comme des canots abandonnés à la merci du courant. Les âmes perforées des passagers jonchent le plancher des eaux. Alors que nos paupières lourdes nous font baisser les yeux et fixer les profondeurs de l'eau, nous nous demandons si nos pensées couleront. Disparaître à jamais.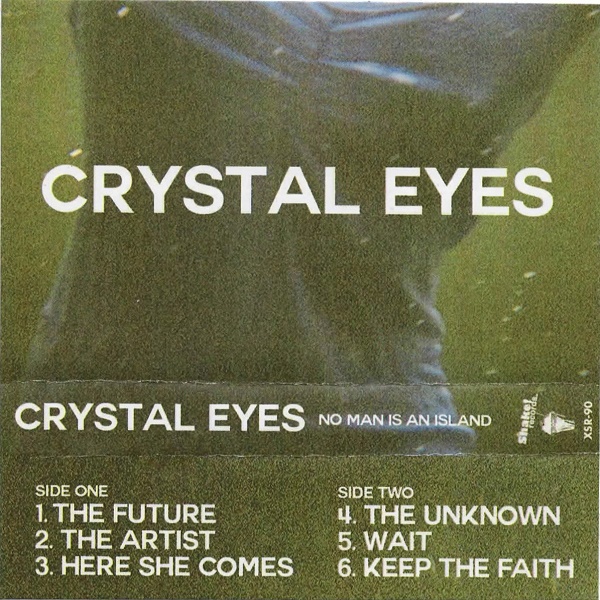 Crystal Eyes
No Man Is An Island
Calgary, AB
From the sticky note musings of Mackenzie Smedmor:
Goth kids have a romantic side. An afternoon of warm fuzzed guitar sunshine makes a great escape from the ceaseless marching of high school hallways, where you take your crush to the hillside and weave conversations into a euphonious scrapbook of everything from renaissance literature to rock'n roll.
Their sweet yet glassy eyes make you swoon and ponder just where these wonderful melodies form and where they will go. Will you ever dive to the depths of their dark sea of thought? Or will you float on this cloud of distorted ambiguity to the unknown…
Des rêveries de *Post-it* de Mackenzie Smedmor:
(Traduit par Julie Mayer)
Les jeunes gothiques ont un côté romantique. Un après-midi ensoleillé de guitare chaleureuse est l'occasion d'une escapade parfaite loin des marches incessantes dans les corridors de l'école secondaire, du genre de celles où vous emmenez votre flirt sur le versant d'une colline et tissez vos conversations en un scrapbook euphonique qui regroupe tout, de la littérature datant de la Renaissance au rock'n'roll.
Leurs yeux doux mais vitreux vous font pâmer et réfléchir aux endroits où ces merveilleuses mélodies se forment et où elles s'en iront. Plongerez-vous dans les profondeurs de leur sombre mer de pensées un jour? Ou flotterez-vous sur ce nuage d'ambiguïté distordue vers l'inconnu…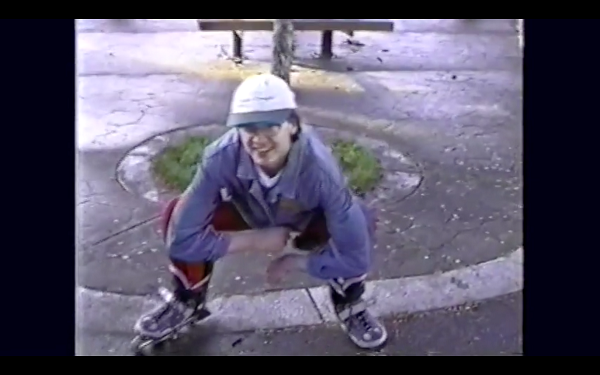 />
Girlfrend
Caroline
(Directed by: Jakob Nielsen)
Victoria, BC
From the worn-out knee pads of Sacha KW:
Finally, a tribute to both rollerblading and VHS camcorders, two elements of the 1980s aesthetic which could have aged with grace. We should give credit where it's due, and celebrate those who can write a great pop song as well as play guitar while skating. Girlfrend's video for "Caroline" is an endearingly trippy snapshot of grown men in pursuit of daytime adventure. With the assistance of a few chorus-laden licks and a public park, anything is possible. This is the soundtrack for getting moving, breathing outdoor air, and ordering candy off the Internet.
Des genouillères maganées de Sacha KW:
(Traduit par la pochette de vidéocasette décolorée de Mackenzie Smedmor)
Enfin, un double hommage aux patins à roues alignées et aux caméscopes VHS, deux éléments de l'esthétique des années 80 qui auraient pu vieillir avec grâce. Nous devons reconnaître le talent de ceux qui en ont et célébrer ceux qui peuvent composer une super chanson pop et jouer de la guitare en patinant. La vidéo « Caroline » de Girlfrend est un instantané affectueusement délirant d'hommes adultes à la recherche d'aventure en pleine journée. À l'aide de quelques riffs chargés de refrains et un parc public, tout est possible. C'est la bande sonore pour bouger, prendre l'air et commander des bonbons par internet.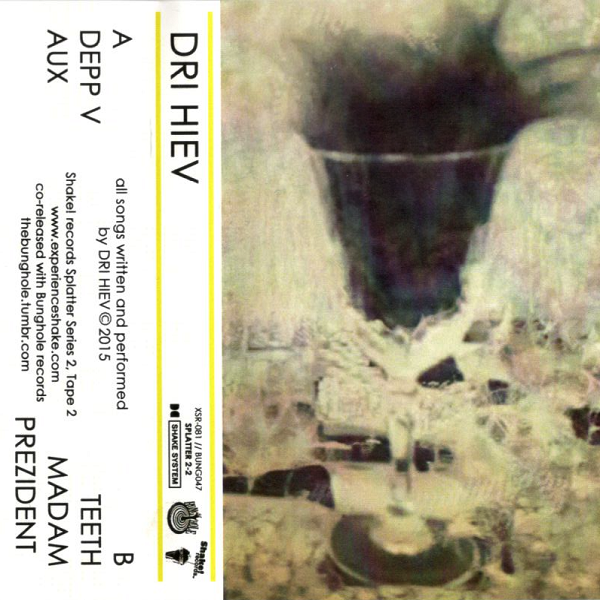 From the chilly chambers of Piper Curtis:
Whirring, head full of cotton, confused. Astray in methodical disarray. Marching past—calling out, too hard to make out, can't be heard. A denouncement.
Angry, defiant. A refrain of malaise.
Par les chambres frisquettes de Piper Curtis:
(Traduit par le gris culbutant d' Émily Traichel)
Bourdonnant, une tête pleine de coton, confus. Égaré dans le désordre méthodique. Défilant—interpellant, trop dur à distinguer, impossible d'être entendu.Une dénonciation. Furieux, irrévérencieux.
Un refrain de malaise.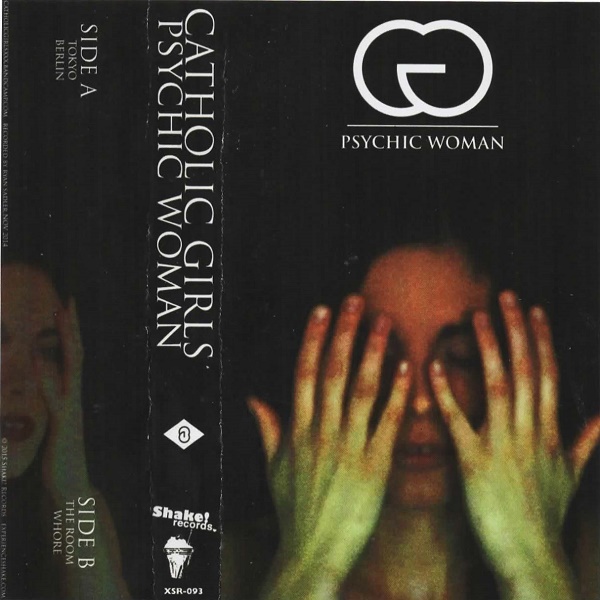 Catholic Girls
Psychic Woman
Calgary, AB
From the black X-marked hands of Mackenzie Smedmor:
An entrancing pulse initiates this party. Harshly contorting you, your body submits to a bewitching dance. Even your fingers are possessed to float on the smoke of hazy synthesizers. No longer a struggle, the rhythm matches your heart rate and sustains you until dawn. The question sprouts and flourishes and re-animates the somnambulist your mind ditched for the night.
Catholic Girls, once again, master the awakening rites of your being.
Des mains marquées d'un X noir de Mackenzie Smedmor:
(Traduit par Julie Mayer)
Des pulsations envoûtantes amorcent ce party. Te contorsionnant avec rudesse, ton corps se soumet à une danse ensorcelante. Même tes doigts flottant sur la fumée des synthétiseurs brumeux semblent possédés. Le rythme de la musique devient facile; il coïncide avec celui de ton pouls et te tient debout jusqu'aux aurores. La question germe et s'épanouit. Elle réanime le somnambule que ton esprit a abandonné pour la nuit.
Encore une fois, Catholic Girls maîtrise les rites d'éveil de ton être.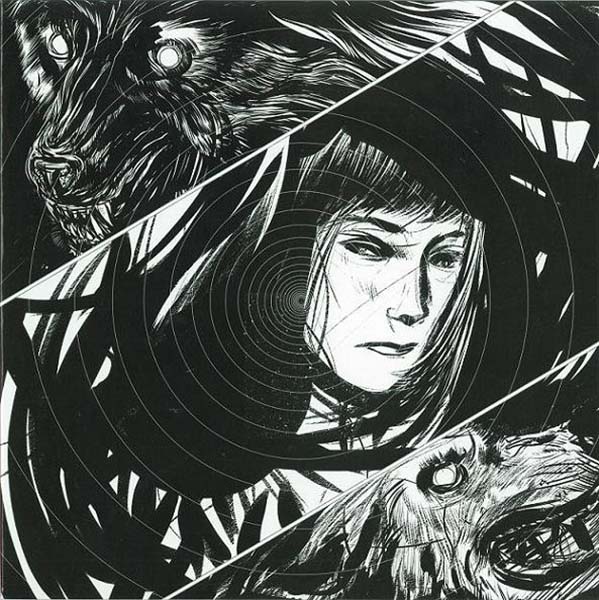 Terra
Couldn't Save This
Medicine Hat, AB
From the therapeutic helmet of Trevor Angst:
A herald abdicates his duties to become a harbinger. He gives an exit speech of honest introspection and narrates his inner conflicts to the hearkening convergence of the rank and file. His oratory is tonally commanding and it's mastered with a silver tongue. People discern the vocalized afflictions. It is sheathed like a cupped mic to make a bull horned public address of incurable conditions.
Du casque thérapeutique de Trevor Angst:
(Traduit par le clavier post-numérique de Mackenzie Smedmor)
Un héraut renonce à ses responsabilités afin de devenir un annonciateur. Il tient un discours de sortie d'une honnête introspection et narre ses conflits internes jusqu'à la convergence prêtant l'oreille du rang et du fichier. Son oratoire adopte un ton autoritaire et est maîtrisé avec une grande éloquence. Les gens distinguent les afflictions vocalisées. C'est recouvert comme un microphone enveloppé pour faire une allocution publique audacieuse à conditions irrémédiables.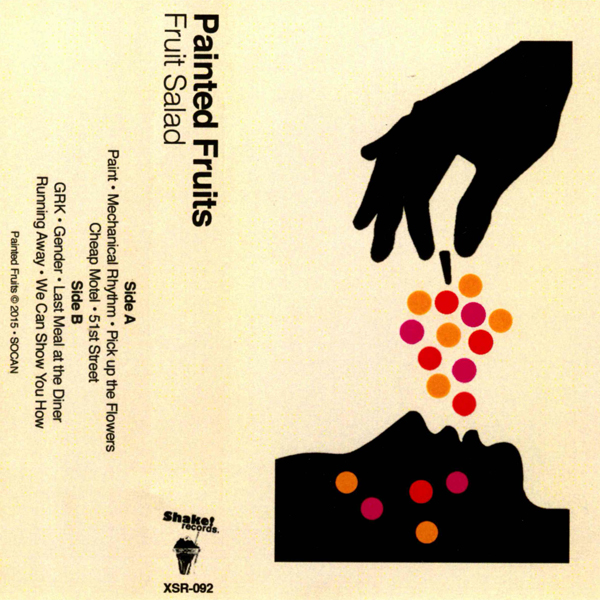 Painted Fruits
Fruit Salad
Victoria, BC
From the fruit medley of Johnnie Regalado:
The Painted Fruits are back with a fresh coat of jangle-pop, layered on thick and dripping vibrant vibes. Their distinct medley of glam and garage is a refreshing and delicious serving of tone. This latest slab of tape is kicked up in the eye of a perfect storm; a harmonic home job recording that balances making noise without being a noisy neighbour. The PF flyers pluck their rhythms along the fine line between a grin and a glare.
Du *medley* de fruits de Johnnie Regalado:
(Traduit par la pêche juteuse à point de Julie Mayer)
Les Painted Fruits sont de retour avec une couche fraîche de cliquetis pop étalée sur d'épaisses coulées d'ambiances vives. Leur medley distinct de glam et garage est une portion de sonorité délicieuse et rafraîchissante. Cette toute dernière cassette a été produite dans l'œil d'une tempête parfaite; un enregistrement harmonique fait maison qui manie l'art de faire du bruit sans être un voisin bruyant. Les baskets volantes de PF cueillent leurs rythmes le long de la mince ligne qui sépare un sourire d'un regard noir.
Painted Fruits – Mechanical Rhythm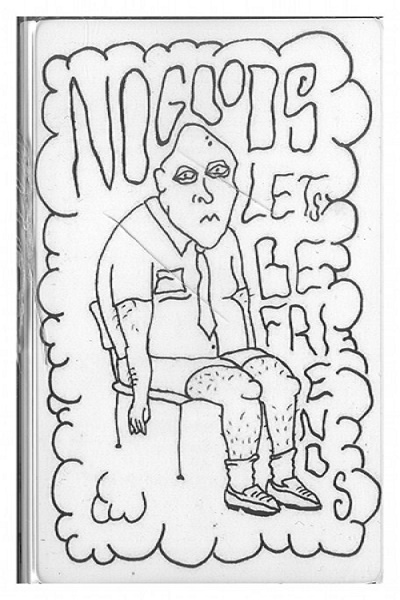 NoGoods
Let's Be Friends
Victoria, BC
From the phosphorescence of Noah Sherman:
NoGoods presents the type of psychedelic, high-intensity punk that can be enjoyed by your lonesome, or while you dance it out with dozens of tightly packed bodies in the sweaty confines of a garage somewhere – the latter being preferable. Try to not move your body when your hear the melodious, addicting guitar riffs, the pounding drums, and the familiar energy of the voice. If that sounds like a challenge, it's because it is.
De la phosphorescence de Noah Sherman:
(Traduit par le cerveau à moitié bon d' Alexis Maurice)
NoGoods présente un type de punk psychédélique à haute intensité pouvant être apprécié en solitaire, mais préférablement en dansant avec des douzaines d'autres humains coincés et suintants dans un garage quelque part. Essaie de ne pas te mettre à bouger sur ces riffs aux mélodies addictives, le tapage de la batterie et l'énergie familière du chanteur. Ça ressemble à un défi? C'en est un.
---