Tag: sexy merlin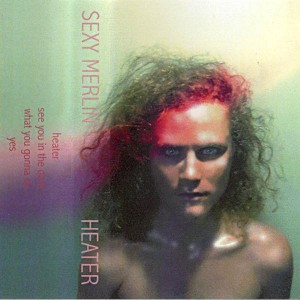 Sexy Merlin
Heater
Toronto, ON
From the bongo beat of Paul Lawton:
Adjectives serve no purpose here, as Sexy Merlin is not something you come to intellectually. Which is not to call Heater anti-intellectual, as this maxi-single has a mindfulness most modern dance producers would be wise to cop. You either feel the bass in your pleasure centres or you miss the point entirely. Rhythmic layering, unique sonic textures and a sprinkle of mystery emerge from these tunes, colluding to embed themselves in the body. Move. Don't think.
Editor's Note: The scanned image above is the j-card for the limited edition cassette, but the quintessential format of Heater is its 12″ version complete with disco sleeve. Sexy, indeed.
Du bongo beat de Paul Lawton:
Ici, tous les adjectifs sont inutiles. Sexy Merlin ne se prête pas à une approche intellectuelle. Mais ce n'est pas non plus de l'anti-intellectualisme : ce maxi démontre une présence d'esprit que la plupart des créateurs de musique dance moderne feraient bien d'imiter. Soit on ressent les basses fréquences dans les organes du plaisir ou on n'a rien compris. Il ressort de ces pièces des textures sonores uniques, des rhythmes à plusieurs niveaux et une pincée de mystère qui s'unissent pour s'incruster dans le corps. Bougez, ne pensez pas.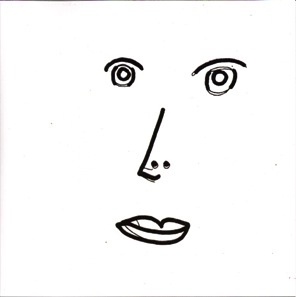 Sexy Merlin
Sexy Merlin
Toronto, ON
From the kinky wizardry of Jesse Locke:
Forget about drum 'n' bass, this is drum 'n' drum. Sexy Merlin (the man on the traps for Foxfire, Mausoleum and White Suede) is a one-man Liquid Liquid, jamming the urban gamelan like it's his birthday and the sticks are made of glitter. This mad (wizard) hatter freaks the funky beat and leaves witches grinding in the coven. Bold moves from Pleasence and seven inches of high fidelity bamboo bangers.
De la sorcellerie olé olé de Jesse Locke: (Traduit par la baguette magique de Maya Keshav)
Oubliez la batterie et la basse, voici la batterie et la batterie. Sexy Merlin (l'homme qui joue la batterie pour Foxfire, Mausoleum et White Suede) est un Liquid Liquid solo, en jouant le gamelan urbain comme si c'est son anniversaire et les batons sont construits de paillettes. Ce chapelier (sorcier) fou balançe à un rythme funky et laisse les sorcières peloter dans le sabbat. Les mouvements osés de Pleasence et sept pouces de succès hi-fi en bambou.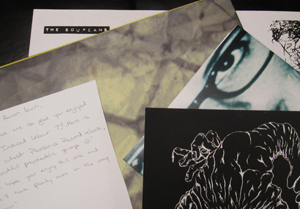 Pleasence Records
Toronto, ON


Swirling within the endless cosmos of polyphonic doctrine, Toronto's Pleasence Records remain an ardent force of diversity alongside the orthogonal streams of TO's new underground. Their catalog grows in dimension with each mind-boggling effort, exemplified by the soft yacht-rock of Young Guv easing into Man Made Hill's burnt fidelity. I was stoked to hear that Managing Editor Jesse Locke met with the head honchos from Pleasence this week. Dig below.
Aaron Levin
Big Lurch
Weird Canada
weirdcanada.com
Man Made Hill – Hard Breeze Is Gonna Blow
1 :: How did you launch your label and why? C.R.E.A.M.?
We were both at an Induced Labour show in early 2010 where Leslie (Predy) smashed a pint glass off the stage, dove into the shards, and was dragged by her pants around her ankles by the crowd. Deirdre later picked the glass out of her ass. That night we both fell in love with them. Later that spring, over some very fine homemade Italian food with friends, Deirdre stated her intention to release their record and James wanted in. The record took a while to put out so we released a Vagina Bison tape, a 7″ split from Gay/White Suede, and a 7″ EP from Suitcase Sam in the interim. By the time the Induced Labour record came out, we were already working with more artists. It's been rolling steadily ever since.
2 :: To date, which of your releases has been: a) the best-seller, b) your favourite and c) the biggest bummer?
Young Guv & The Scuzz has undoubtedly been our best seller. We've sold that record all over the world. He also recorded the Tropics, Huckleberry Friends, and Gay/Sexy Merlin records we've put out. He's one of the most prolific guys in Toronto right now. The Soupcans and Suitcase Sam have also worked very hard to get their records out there, selling a few at every show, playing as often as they can around town and touring Canada and the States.
As for B, that's like picking your favourite child. We're so proud of them all! Our favourite is usually whatever we're working at the moment, since usually that means we're listening to it over and over and over before the final press. You become quite intimate with the record, like you've known it for years.
The only time it feels like a bummer is when a record we really love doesn't have the immediate impact we feel it deserves. We become like angry parents at their kid's hockey game.
3 :: What sets you apart from other labels? Music, art, liner notes, posters, glossy 8.5" x 11" head-shots?
We initially connected over music by both being record collectors. Deirdre works at She Said Boom records in Toronto and James would hang out there for hours browsing, yakking about bands, listening to different records. We like to think there's a certain diversity in our catalog that reflects our broad tastes. We never wanted to have a genre label that would only release a specific style. I don't think we could ever commit to that, there's just too much different stuff we're into.
4 :: Future plans? What can grippers look forward to gripping?
By this time next year you'll be hearing records by Pon De Replay, Fleshtone Aura, John Milner You're So Boss, Wasted Nymph, Odonis Odonis, a VHS tape of the last Induced Labour performance, and hopefully a few others.
Pleasence Records Discography (to date)
PR000::Vagina Bison – Self Titled(2010, Cassette)
PR001::Induced Labour – Self Titled(2010, 7″)
PR002::Gay/White Suede – Split(2010, 7″)
PR003::Suitcase Sam – Get It To Go(2010, 7″)
PR004::Pleasence T-Shirt
PR005::The Soupcans – Erotic Nightmare(2010, 12″)
PR006::Sexy Merlin – Self Titled(2011, 7″)
PR007::Gay/Sexy Merlin – Self Titled(2011, 7″)
PR008::Young Guv & The Scuzz – Bedroom Eyes b/w Rumors(2011, 7″)
PR009::Tropics – Pale Trash b/w Earmarked(2011, 7″)
PR010::Huckleberry Friends – Vision b/w Disaster Keyz(2011, 7″)
PR011::The Pink Noise – Gilded Flowers(2011, 12″)
PR012::Man Made Hill/Young Truck – (2011, 12″)
(Traduit par Odile Leclerc)


Tourbillonnant dans l'infini cosmos de doctrine polyphoniques, les Pleasence Records de Toronto restent une force ardente de diversité au long des courants orthogonaux du nouveaux sous-terrain de TO. Leur catalogue grandit en dimensions avec chaque effort ahurissant, exemplifié par le doux rock de yacht de Young Guy se relâchant dans la fidélité brûlée de Man Made Hill. Je fus excité d'entendre que l'éditeur en chef, Jesse Locke, a rencontré le grand patron de Pleasence cette semaine. Creusez ci-dessous.
Aaron Levin
Gros vacillement.
Weird Canada
weirdcanada.com

Man Made Hill – Hard Breeze Is Gonna Blow
1:: Comment avez-vous lancé votre label et pourquoi? C.R.E.A.M.?
Nous étions tous les deux à un spectacle de Induced Labour au début de 2010 où Leslie (Predy) a écrasé une chope de verre hors de la scène, a plongé dans les éclats et fut tirée par ses pantalons autour de ses chevilles par la foule. Deirdre a ramassé plus tard le verre hors de son derrière. Cette nuit là, nous avons tous deux tombé en amour avec eux. Plus tard ce printemps là, en mangeant un repas de mets italiens finement préparé maison avec des amis, Deirdre a déclaré son intention de faire sortir leur enregistrement et James le voulais. L'enregistrement a pris un certain temps à faire alors on a sorti une cassette de Vagina Bison, un 7'' divisé de Gay/White Suede, et un 7'' EP de Suitcase Sam dans l'intérim. Par le temps que l'enregistrement d' Induced Labour fut sorti, Nous travaillions déjà avec plus d'artistes. Ça l'a roulé stablement depuis ce temps là.
2:: Jusqu'à maintenant, laquelle de vos sorties a été: a) la meilleure vente b) votre préférée et c) la plus grosse déception?
Young Guy & The Scuzz ont sans aucun doute été nos meilleures ventes. On a vendu cet enregistrement partout autour du monde. Il a aussi enregistré les records de Tropics, HuckleBerry Friends et Gay/Sexy Merlin que nous avons faits. Il est un des mecs les plus prolifiques à Toronto présentement. Les Soupcans et Suitcase Sam ont aussi travaillé très dur pour faire sortir leur enregistrement, en vendant quelques uns à chaque spectacle, jouant aussi souvent qu'ils le pouvaient autour de la ville et faisant des tournées au Canada et dans les États. Pour B, c'Est comme choisir ton enfant préféré, nous en sommes tous fières!! Notre préféré est habituellement peu importe sur quoi on travaille présentement, puisque ça veut dire qu'on l'écoute encore et encore et encore avant le pressage final. Vous devenez plutôt intime avec le record, comme si vous l'Aviez connu pour des années. Les seules fois que c'est ressenti comme une déception c'Est quand un record qu'on aime vraiment n'a pas l'impact immédiat que nous sentons qu'il mérite. Nous devenons comme des parents fâchés à la partie d'hockey de leur enfant.
3:: Qu'est-ce qui vous différencie des autres labels? De la musique, de l'art, des livrets, des affiches, de reluisant 8.5'' x 11'' et des photos?
Nous avions initialement connectés avec la musique en étant tous deux des collectionneurs de records. Deirdre travaille aux enregistrements She Said Boom à Toronto et James allait là pendant heures, se promenant et jacassant à propos de groupes, écoutant différents enregistrements. Nous aimons penser qu'il y a une certaine diversité dans nos catalogue qui reflète nos larges goûts. Nous n'avons jamais voulu avoir un label genre qui sortirait seulement un style spécifique. Je ne pense pas qu'on pourrait s'engager à ça, il y a juste trop de trucs différent que nous aimons.
4 :: Des plans futurs? Qu'est-ce que les saisisseurs peuvent avoir hâte de saisir?
By this time next year you'll be hearing records by a VHS tape of the last Induced Labour performance, and hopefully a few others. À ce temps si l'année prochaine vous entendrez des records de Pon De Replay, Fleshtone Aura, John Milner You're So Boss, Wasted Nymph, Odonis Odonis, par une cassette VHS de la dernière performance de Induced Labour et on espère, quelques unes de plus.
Pleasence Records Discography (à date)
PR000::Vagina Bison – Self Titled(2010, Cassette)
PR001::Induced Labour – Self Titled(2010, 7″)
PR002::Gay/White Suede – Split(2010, 7″)
PR003::Suitcase Sam – Get It To Go(2010, 7″)
PR004::Pleasence T-Shirt
PR005::The Soupcans – Erotic Nightmare(2010, 12″)
PR006::Sexy Merlin – Self Titled(2011, 7″)
PR007::Gay/Sexy Merlin – Self Titled(2011, 7″)
PR008::Young Guv & The Scuzz – Bedroom Eyes b/w Rumors(2011, 7″)
PR009::Tropics – Pale Trash b/w Earmarked(2011, 7″)
PR010::Huckleberry Friends – Vision b/w Disaster Keyz(2011, 7″)
PR011::The Pink Noise – Gilded Flowers(2011, 12″)
PR012::Man Made Hill/Young Truck – (2011, 12″)
---