Tag: sex church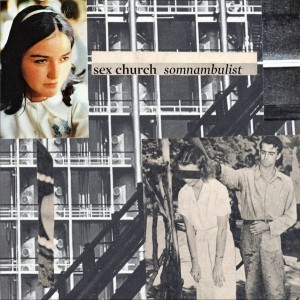 Sex Church
Somnambulist
Vancouver, BC
From the 9-5 grind of Jesse Locke:
The Somnambulist 12" is a straight-line descent into Sex Church psychosis. Churning and grinding like a bellyful of barbed wire, this ceaselessly bleak Vancouver crew pops their latest dose of downers on 45 rpm. "Hidden Hand" skulks off the needle drop with torture chamber vox and a spiked wall of sound, before "Slipped" rockets from the tomb on a pulse-quickening riff ripped from the pages of their beloved Cheater Slicks. Switch it to the "Wrong Side" and the tempo plunges down to Flipper territory via death-march guitars, thunderstruck drums and sinister sax. Props to St. Henri pirate Shaun Anderson for raising the flag on Instant Pleasure and the continued unfuckwithability of thee Psychic Handshake.
Du 9 à 5 de Jesse Locke:
Le 12″ « Somnambulist » est une descente vertigineuse dans la psychose de Sex Church. Les Vancouvérois résolument sombres nous offrent cette dernière dose déprimante en 45 tours de rythmes tordus et grinçants comme un bouquet garni de barbelés. Sur « Hidden Hand » une voix de torture se démène à travers un mur de son hérissé, tandis que « Slipped » surgit de la tombe avec un riff électrisant venu tout droit de chez Cheater Slicks. De l'autre côté (« Wrong Side ») le tempo s'alourdit et devient flipperesque avec des guitares de marche funèbre, une batterie retentissante et un saxophone sinistre. Remercions le pirate de Saint-Henri Shaun Anderson d'avoir hissé le drapeau d'Instant Pleasure avec la collaboration de l'irréductible Psychic Handshake.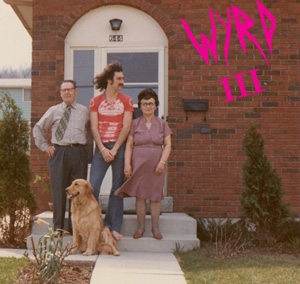 Today is your last day to vote. These final hours are ripe to give you one more reason to believe. BOOM: our keystrokes are bursting with galvanized fervor as we present the official traveling line-up for Wyrd III and the brand new Wyrd Montreal:
///// WYRD III /////
Red Mass
Dirty Beaches
GOBBLE GOBBLE
Wyrd Visions
Sex Church
Famines
Long, Long, Long
Hobo Cubes
Bernardino Femminieli
Velvet Chrome
Feral Children
Silver Dapple
Ketamines
Makeout Videotape
Role Mach
+
???Secret Surprise Guest??? (TBA May 10, 2011)
This wyld traveling caravan (plus local shreddery and other surprises) will be bursting through the following cities:
MAY 20 :: EDMONTON @ Dinwoodie
MAY 21 :: CALGARY @ No. 1 Legion
MAY 22 :: VANCOUVER @ Waldorf Hotel
Tickets for Wyrd III will be available April 1st, 2011! Full band bios, schedule, and other details will be posted next week! Please help us tell the world!
PS – We are doubly excited to let a little secret loose: many of these bands will be tearing through Montreal for a new incarnation of Wyrd. Details soon!
Hearts,
Aaron Levin & Paul Lawton
Wyrd III


Canada's modern-psychedelic scene is re-emerging, painted new colours and worshiping new Gods. Gone are the pretenses of 60s pop-lysergia; in its place we gladly fall before false idols and re-hashed idioms. And why not? When it's done well, we put our minds on a true trip thru hell. Sex Church easily accomplishes this with their mix of doomy, pedantic guitar drones and gothic romanticism; parsing liturgy and psych in a bewildering and addictive way. The songs are long, depressing and mesmerizing; perfect musical beds for basement-evenings in your teenage vortex. And if that all made sense, they throw in a pop-punk ballad for the last minute of Dead End; nothing is ever too easy anymore. 300 copies pressed on black vinyl via Vancouver's Sweet Rot records. Die vicariously.
[audio:http://weirdcanada.com/binary/Sex_Church-Dead_End.mp3] Sex Church – Dead End
[audio:http://weirdcanada.com/binary/Sex_Church-Let_Down.mp3] Sex Church – Let Down
---