Tag: Selina Koop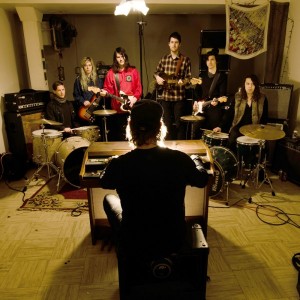 V. Vecker Ensemble
In The Tower
Vancouver, BC
From the dark tower of Selina Koop:
No stone is left unturned in this dark and epic transmutation led by Vancouver's Keith Wecker. A haunting and timeless approach to a fully formed aesthetic comes to life with a pulse and many heads. True visionaries and boundary pushers are few and far between. Enter V. Vecker Ensemble.
De la sombre tour de Selina Koop:
(Traduit par le pouls et la tête d' Aliké Harel)
Rien n'est laissé pour compte dans cette sombre transmutation épique dirigée par le vancouvérois Keith Wecker. Lancinante et intemporelle, son approche esthétique portée à maturité prend vie avec un pouls et plusieurs têtes. Les vrais visionnaires et les êtres qui transcendent les fontières sont loin d'être nombreux. Découvrez le V. Vecker Ensemble.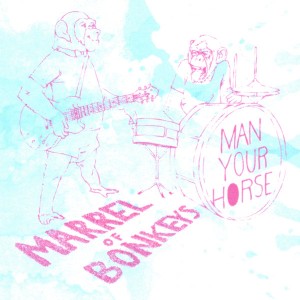 Man Your Horse
Marrel of Bonkeys
(Self Released)
Vancouver, BC
From the aural palindrome of Selina Koop:
Vancouver's energetic instrumental duo Man Your Horse feverishly induce an aural palindrome-esque experience on Marrel of Bonkeys. Julian Marrs — of Marrs Pedals fame — layers off meteoric explosions of intricate and agitated guitar lines, while hard-hitting Scott Petrie meets him in full force on the kit. This is a no-holding-back, uninterrupted puzzle of twisting and morphing tones and rhythms. A landscape riddled with animalistic peaks of distortion and dynamic exploration. Get into it.
Du palindrome auditif de Selina Koop:
(Traduit par la portée magique de Julie Forget)
Man Your Horse, l'énergique duo instrumental de Vancouver, provoque fébrilement une expérience auditive palindrome-esque sur son album Marrel of Bonkeys. Julian Marrs – de Marrs Pedals – étale des explosions météoriques de lignes de guitare complexes et agitées, pendant que le percutant Scott Petrie le rejoint en force à la batterie. Voici un puzzle ininterrompu et sans retenue de sonorités et de rythmes sinueux en transformation. Un paysage rempli de sommets de distorsion bestiaux et d'exploration dynamique. Plongez-y.
---