Tag: self published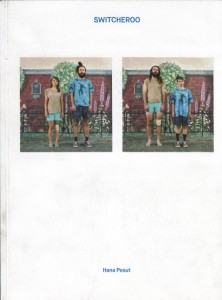 Switcheroo
Photographs by Hana Pesut
(Self Published)
[76pp., perfect bound, colour]
Vancouver, BC
From the perceptual shifting of Robin Jenkins:
Hana Pesut's Switcheroo is a collection from her ongoing series, utilizing a deceptively simple method:
1. Take a photograph of a pair of people.
2. Swap clothes.
3. Take a second photograph of the pair.
Repeat this process a few dozen times and one becomes acquainted with Switcheroo. This three-step simplicity has allowed Hana to capture the most subtle and surreal effects that a minimal shift of figures between portraits can accomplish. In each pair, features seem to jump in and out of our perceptual focus. Where in the first image a coat obscures a portion of a tree, it is revealed in the second. A FuBu football jersey hops between wearers. Each small shift contributes to an overall perspectival jump that floats between the photo pairs. Perhaps, we could say that Hana has invented the sartorial gestalt shift. We've lost stability, but we've gained a multitude of aspects hovering just on the edges of each image.
Du glissement perceptif de Robin Jenkins:
(Traduit par l'arbre caché de Virginie Langlois)
Switcheroo, de l'artiste Hana Pesut est un recueil d'une série récurrente pour laquelle elle a recours à une méthode d'une simplicité trompeuse :
1. Prendre deux personnes en photo.
2. Intervertir les vêtements.
3. Prendre une deuxième photo des deux personnes.
Réitérer ce processus plusieurs dizaines de fois et vous obtenez Switcheroo. Ce processus simple en trois étapes a permis à Hana de saisir les effets les plus subtils et les plus surréalistes qu'un simple glissement de détails d'un portrait à l'autre permet d'obtenir. Pour chaque duo, certains détails semblent surgir dans notre champ de perception ou au contraire s'en échapper. Lorsque dans la première image une veste cache une partie d'un arbre, celle-ci est révélée dans la seconde image. Un maillot de football Fubu passe d'une personne à l'autre. Chaque glissement, aussi minime soit-il, contribue à un changement de perspective global qui flotte entre les duos de photos. Qui sait, Hana a peut-être inventé le glissement de forme vestimentaire. On a perdu en stabilité, en revanche on y a gagné une multitude d'aspects qui planent aux confins de chaque image.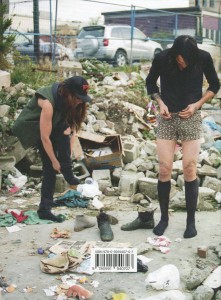 Dumb #1 and #2
Illustrated by: Georgia Webber
(Self Published)
[16 pp., staple bound]
Toronto, ON
From the black, white, and red pages of Christina Bell:
Georgia Webber's new comic series Dumb delightfully documents what happens when your body becomes your enemy and stubbornly refuses to cooperate. Webber uses her literary voice to tell the story of how she physically loses her voice. The first two editions of Dumb are beautifully composed, featuring pristine red, black, and white illustrations. Webber's clean-lined approach is endearingly infused with emotion, perfectly portraying her frustrating situation. Luckily Dumb #2 leaves the story's issue unresolved, allowing comic lovers to gleefully anticipate more of these charming comics to come!
Des pages noires, blanches et rouges de Christina Bell:
(Traduit par la minute de silence de Nicolas Coutlée)
Dumb, la nouvelle série bédé de Georgia Webber, documente avec brio ce qui se produit lorsque votre corps devient votre ennemi et refuse obstinément de coopérer. Weber utilise sa voix littéraire afin de raconter comment elle a perdu l'usage de ses cordes vocales. Avec ses illustrations épurées en rouge, en noir et en blanc, les deux premiers numéros de Dumb présentent une belle composition. Infusés d'émotion, les traits nets de Webber illustrent parfaitement sa frustrante situation. Heureusement, Dumb #2 se termine de manière irrésolue et laisse donc les amoureux du neuvième art anticiper avec joie la suite de cette charmante bande dessinée.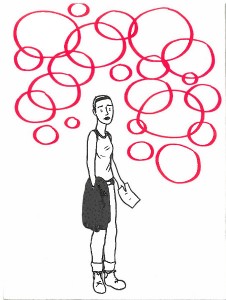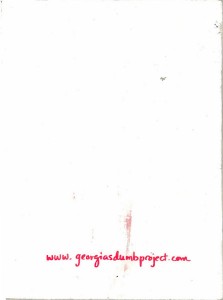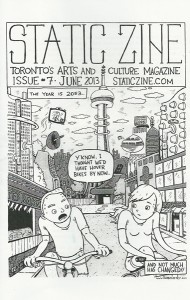 Static Zine – Issue #7
Edited by: Jessica Lewis, Aviva Cohen and Melody Lamb
(Self Published)
[16 pp., staple bound]
Toronto, ON
From the divinations of Laura Stanley:
The uncertainty of our future continues to generate predictions from those who are unable to foresee what it will bring. In a fun fusion of both text and visuals, the Toronto trio behind Static Zine – Jessica Lewis, Aviva Cohen, and Melody Lamb – and their contributors produce their own prophesies in issue number seven of their publication. From a cat version of The Bachelorette, to Aly Lamanes's piece on the evolution of the gaydar, to Tom Lowery's narrative of a society who has lost the ability to truly communicate, Static Zine unties a continuum of voices with a firm grasp on a uniquely creative key. In their ability to support the imagination of the individual contributors while maintaining a strongly blended collectiveness, Static Zine is a strong voice for both the present and the future of zines.
Des divinations de Laura Stanley:
(Traduit par Alex Vail)
L'incertitude de notre futur continue de générer des prédictions de la part de ceux qui sont incapables de prévoir ce qu'il va nous apporter. Dans une fusion ludique entre texte et images, le trio de Toronto derrière Static Zine – Jessica Lewis, Aviva Cohen et Melody Lamb – et leurs contributeurs proposent leurs propres prédictions du futur dans la septième édition de leur publication. D'une version féline de The Bachelorette à un article de Aly Lamanes sur l'évolution du gaydar, en passant par un récit de Tom Lowery sur une société qui a perdu la capacité de réellement communiquer, Static Zine dénoue un continuum de voix qui ont une emprise ferme sur un ton créatif unique. Dans leur habileté de soutenir l'imagination de chaque contributeur tout en maintenant une collectivité bien mélangée, Static Zine incarne une voix puissante pour le présent et le futur des zines.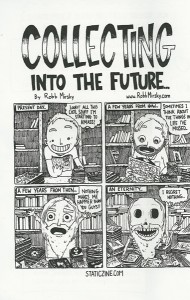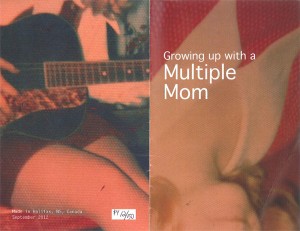 Growing Up With a Multiple Mom
Written by: Jenny Gillespie
(Self Published)
(6 pp., soft cover, staple bound)
Halifax, NS
From the multiplicity of Jordan Voith:
Growing up with a Multiple Mom creates a space for connection. Jenny's pain is an afflicted organ pumping sickness into her life. It is insidious and powerful, manifesting in her relationships and her behaviours and her thoughts. To know Jenny we must know her pain. And, more than anything else, that is how Growing up with a Multiple Mom works – as an exercise in understanding and an attempt at mitigation through sharing. It is an uncomfortable read, but that is the point; this is uncomfortable subject matter. The reader's discomfort is a sharing of the weight. And boy is it weighty.
De la multiplicité de Jordan Voith:
(Traduit par la souffrance littéraire de Julie Forget)
Le livre Growing up with a Multiple Mom crée un espace propice à la connection propice à la connection. La douleur de Jenny est un organe souffrant qui injecte la maladie dans sa vie. Elle est insidieuse et puissante et se manifeste dans ses relations, dans ses comportements et dans ses pensées. Pour connaître Jenny, il faut connaître sa douleur. Mais plus que tout, c'est de cette façon que Growing up with a Multiple Mom fonctionne – en tant qu'exercice de compréhension et en tant que tentative d'allègement par le partage. Il s'agit d'une lecture pénible, mais c'est bien son but, le sujet étant pesant. L'inconfort du lecteur est un partage de ce poids. Et ouf… quel poids lourd à porter.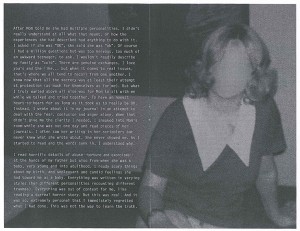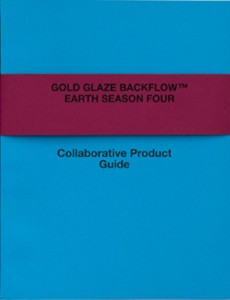 Gold Glaze Backflow™
Written by: Chris White
(Self Published)
Toronto, ON
Published: 2011
From the euphemistic suffocation of David Steinberg:
Eyes split open, awake in a cold sweat, the words throbbing saccharine in your head: Gold Glaze Backflow™ is excited about the new possibilities in store for the future. A frosty retrograde awaits us, and Chris White wants to show you all about it. Collaborative Product Guide sounds benign at first, but the euphemistic suffocation that it represents soon becomes clear. Inside the four beautifully / brightly bound guides are Brazil-esque juxtaposed illustrations, photographs, and text all pointing to a backwards-facing future, a yawning chasmic discord between progress and public benefit.
De la suffocation euphémistique de David Steinberg: (Traduit par Odile Leclerc)
Les yeux grands ouverts, réveillé en sueur sueurs froides, les mots saccharines palpitant dans votre tête : Gold Glaze Backflow™ est excité à propos des nouvelles possibilités en attente pour le futur. Une rétrograde givrée nous attends et Chris White veut tout vous montrer de celle-ci. Collaborative Product Guide sonne bénin en premier, mais la suffocation euphémistique que ça représente devient rapidement clair. À l'intérieur des quatre guides magnifiquement/ vivement liés se tiennent les illustrations Brazil-esque juxtaposées, des photographies et du texte pointant tous vers un futur faisant face à l'arrière, une discorde d'abîme baillant entre le progrès et le profit publique.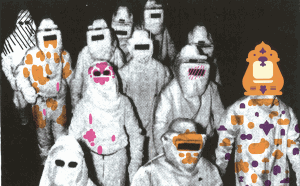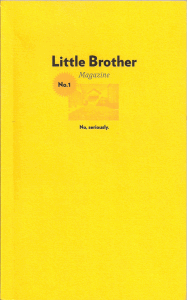 Little Brother Magazine No. 1
Written by: Various Authors
(Self Published)
[93pp. Perfect Bound; Risograph]
Toronto, ON
Published: 2012
From the risograph sun of James Lindsay:
Look how strong our little brothers have grown, look how handsome they are in their smart yellow jackets. Here's Ellie Anglin, full of empathy, in a story from a stray cat's POV; Chris Randle proves that he knows a thing or two about Proust (though we always suspected he did) in his densely lyrical fiction, and Andrew Kaufman (don't tell anyone, but he's always been our favourite) with his effortless realist surrealism. Then there's Cian Cruise, freshly film schooled, with the balls to compare Fellini to something animated named Shin Seiki Evangelion from Japan; spending most of the time with Elissa Pearl Matthews, Shari Kasman and their beautiful photo-essay meets flash-fiction mash-up about tiny houses. These are some of the reasons why we love our little brothers, but there are others too.
Du soleil risographe de James Lindsay:
(Traduit par Odile Leclerc)
Regardez à quel point nos petits frère sont devenu forts, regardez comme ils sont beaux dans leurs brillant gilet jaune. Voilà Ellie Anglin, pleine d'empathie, dans une histoire du point de vue d'un chat de gouttière; Chris Randle prouves qu'il sait une chose ou deux à propos de Proust (Bien que nous nous en avions toujours douté) dans sa fiction de lyrique à forte densité, et Andrew Kaufman (ne le dites à personne, mais il a toujours été notre favoris) avec son surréalisme réaliste facile. Puis il y a Cian Cruise, fraîchement sorti de l'école du film, avec les boules pour comparer Fellini à quelque chose d'animé nommé Shin Seiki Evangelion du Japon; passant la majorité de son temps avec Elissa Pearl Matthews, Shari Kasman et leur superbe fusion de composition-photo rencontre la fiction-flash à propos de petites maisons. Celles-là sont quelques unes des raisons pourquoi nous aimons nos petits frères, mais il y en a d'autres aussi.
---