Tag: scuzz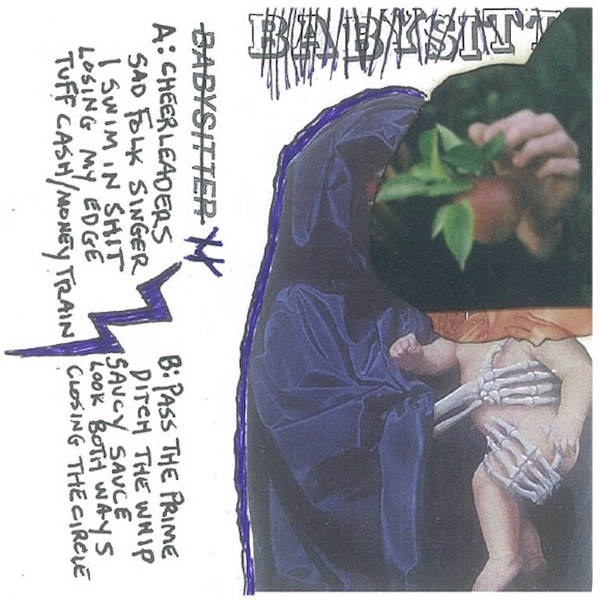 Babysitter
Tape 7
Montréal, QC
From the ditched whip of Jesse Locke:
The seventh entry in Babysitter's cassette series is a clogged knot of hair, cigarrette butts, and burnt ramble-riffs. The mouthful of gravel that we've come to know and love now sound like the inner monologue to a bleary-eyed daydream with the black mould on your roof spinning overhead. The only way to bust out of this sofa surf haze is to get back with your crew, grab a sax, and set fuzzboxes on stun.
Du fouet abandonné de Jesse Locke:
(Traduit par Jessica Grenier)
La septième entrée de la série de cassettes de Babysitter est un paquet de cheveux emmêlés, de mégots de cigarettes et de riffs brûlés. Cette bouchée de gravier qui nous est devenue si chère sonne comme le monologue intérieur accompagnant une rêverie, les yeux à moitié ouverts, sous un plafond tournoyant couvert de moisissure. Le seul moyen pour se sortir de ce surf de sofa vaporeux est d'aller retrouver tes chums, de mettre la main sur un sax et de régler les boites à fuzz sur paralyser.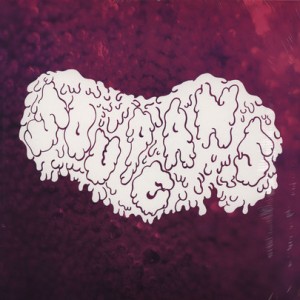 The Soupcans
Good Feelings
Toronto, ON
From the negative jeans of Jonathan Carroll:
I'd like to invite you all to participate in a new game: The Soupcans' "Lights Off Challenge." In the dark, the primally dissonant and vaguely British "Feelings" created by the Toronto band's latest outing seem far and away from what is typically thought of as "Good," but maybe my idea of that word is too narrow. Good Feelings probably sounds like the alternate universe zombie apocalypse Beach Boys, living in a nuclear winter California. Proving that they're not modern-day four horsemen, The 'Cans take a few space odysseys into the comedically crude and crass. That being said, I think I made it through three songs before the darkness started pressing in, and the lights came back on. Let's see if you can do any better, punk.
Des jeans négatifs de Jonathan Carroll:
(Recousus par Vincent Rondeau)
J'aimerais vous proposer de participer à un nouveau jeu : le Défi « Dans le noir » des Soupcans. Dans l'obscurité, « Good Feelings », le dernier album vaguement british et brutalement dissonant du groupe torontois, semble très loin de ce qu'on croit généralement être « bon », mais c'est peut-être ma conception de ce mot qui est trop limitée. C'est peut-être le son qu'auraient eu les Beach Boys dans un univers parallèle de zombies au beau milieu de l'hiver nucléaire post-apocalyptique californien. Pour prouver qu'ils ne sont tout de même pas les quatre cavaliers de l'apocalypse de l'ère moderne, les 'Cans se livrent volontiers à des exercices comiques ou vulgaires. Ceci étant dit, ça ne m'a pris que trois chansons avant que les ténèbres deviennent étouffantes et que je doive rallumer les lumières. Voyons voir si t'es capable de faire mieux, jeune punk.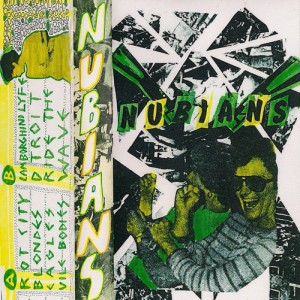 Nubians
Nubians
(Self Released)
Montreal, QC
From the lamborghini lyfe of Aaron Levin:
File under: utterly blasted crust bursting with nihilistic shreddery. Tearing through every inch of magnetic magma wrapping their debut offering, Nubians embark on a crusade of bosonic annihilation crammed with enough attitude to crush, kill, destroy stress. SICC WIDDIT.
De la vie en lamborghini d'Aaron Levin: (Traduit par Maya Keshav)
Classification: la croûte complètement explosée qui déborde de shred nihilistique. En déchirant chaque pouce de magma magnétique qui emballe leur première création, Nubians commencent une croisade d'anéantissement bosonique remplie d'assez de culot pour écraser, tuer, et détruire le stress. SAUTÉ DESU.
---