Tag: scribbler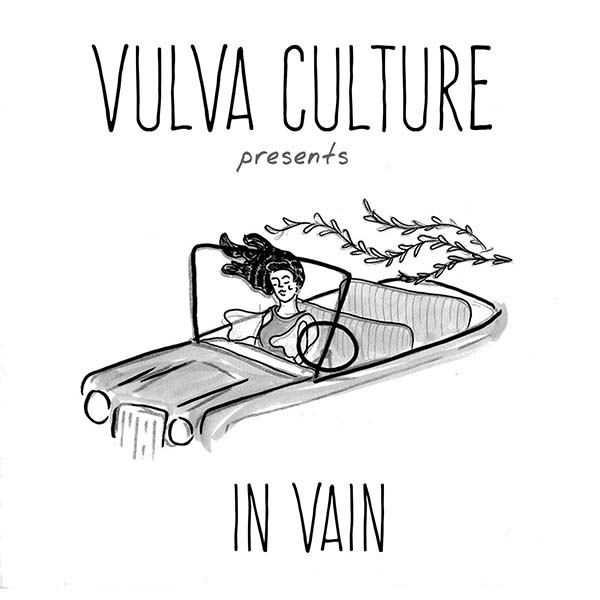 Vulva Culture
In Vain
(Self-Released)
Halifax, NS
From the academically distracted delerium of Caleb John Schriver:
Vulva Culture's In Vain syndicates the eerie, melodic, and anxious sound of Halifax's North End district. Early shoegaze and doo wop jazz meet at the Lynchian Road House in a fly-by-night covert romance.
Reverberating guitar riffs and operatic vocals ring out like rusted springs of old furniture, where reclining rhythms wear on your posture. In Vain is a safe haven for emotional deluge, an incubator of familiar comfort built by somber feelings and propelled by the beauty found in coming to terms with what ails you.
Du délire académiquement distrait de Caleb John Schriver:
(Traduit par le fredonnement anxieux de Mathieu Bédard )
In Vain de Vulva Culture regroupe les sonorités étranges, mélodieuses et anxieuses du quartier North End d'Halifax. Du shoegaze primitif et du jazz doo wop se rencontrent dans un bar routier lynchien, le temps d'une romance illicite et secrète.
Les riffs de guitare réverbérés et les chants lyriques retentissent comme les ressorts rouillés de vieux meubles, dont les rythmes inclinables usent votre posture. In Vain est un abri sécuritaire pour déluge émotionnel, un incubateur de réconfort familier construit en hébergeant des sentiments perturbés, propulsé par la beauté qu'on trouve à accepter ce qui fait mal.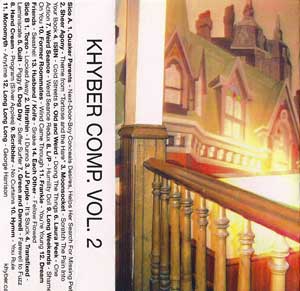 Various Artists
Khyber Compilation II
(Self Released)
Halifax, NS
From the monomythic archways of Alison Lang:
Halifax's most endearing/enduring art space, the Khyber, has once again been feted with a compilation of tape tunes from local artists and musicians, most of whom have played/jammed/come of age under the archways, the ballroom, the turret. As with last year's comp, this is a love letter to something fragile and beautiful and important – moreover, it's massive (27 songs!), thoughtfully curated and brilliant. There are so many meaty, gorgeous gems here – Monomyth's "Anytime" is soaring sweetgaze, while scene vets Scribbler reach achingly fuzzed-out heights with "No Curtains." The winsome youngsters of ISBN donate a slice of grainy, brainy twang-pop and there are similarly tasty outings from the now-defunct Long Long Long and its ashes, Each Other, risen in Montreal to smile and destroy. There's a ripper Dog Day track too, and a song from local supergroup Green and Darnelle that nods at the city's 90's ghosts and then gnashes them to shreds. Look, I could go on for fucking pages about this tape, I really could, but in the end, I'll leave with some words from a particular standout, the haunting lament "Wind Came Through" by Former Roommates (who, I think, actually are former roommates): The Khyber needs your love, always, and these songs do too. Listen and linger: this is a sound of a scene piled with riches.
Des porches voûtés monomythiques d'Alison Lang: (Traduit par les tourelles imaginaires de Maya Keshav)
L'espace d'art le plus attachant et le plus tenance de Halifax, le Khyber, est encore honoré avec une compilation de tounes cassette des artistes et des musiciens du coin, dont la plupart a joué, fait la bœuf, et est devenu majeur sous les porches voûtés, la salle de bal, la tourelle. Comme pour la compilation de l'année passée, celle-ci est un lettre d'amour à quelque chose de fragile et beau et important — en plus, c'est énorme (27 chansons!), brillant et choisi pensivement. Il y a tant de bijoux consistants et superbes ici— "Anytime" de Monomyth est le sweetgaze planeur, alors que les vétérans de la scène Scribbler atteignent les hauteurs fuzzées à pleurer avec "No Curtains." Les jeunes attachants d'ISBN fournissent une pointe de twang-pop granuleuse et futée, et il y a les balades savoureuses de même du maintenant-défunt Long Long Long et ses cendres, Each Other, qui ont apparu à Montréal pour sourire et détruire. Il y a un morceau balançant de Dog Day aussi, et une chanson du supergroupe du coin Green and Darnelle qui fait allusion aux fantômes de la ville des années 90, et puis les déchirent en éclats. Tu vois, je pourrais continuer pour les feuilles et les feuilles à propos de cette cassette, vraiment je pourrais, mais à la fin, je vais te laisser quelques mots d'une chanson remarquable, la lamentation obsédante "Wind Came Through" par Former Roommates (qui, je crois, sont vraiment les anciens colocs): Le Kyhber a besoin de ton amour, toujours, et ces chansons en ont besoin, aussi. Écoute et reste ici plus longtemps: voici un son d'une scène qui déborde de riches.
Green and Darnelle – Farewell to Fuzz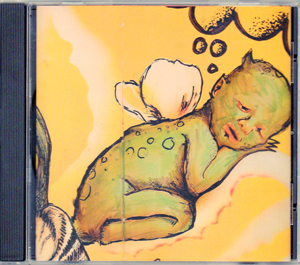 PIG / !Kung San / Scribbler
S/Pl/It
(meager / radiator)
(all over), NS
Aaron Levin:
PIG continues to deliver their strange brew of time-lapse-weird-punk on this interesting document of Nova Scotia's experimental-everything scene. Splitting the bill with PIG are !Kung San, a somewhere-between pastoral noodling and post-hardcore endeavor from Westville, and Scribbler, Halifax's gravity-lens for experimental-anything in the Maritimes. Scribbler's six contributions seem to be cut-ups from an insane live-set full of atonal screaming and guitar shreddery; relentless stuff. And, man, I just can't get enough of PIG; the three tracks from them were not enough!
Aaron Levin:
PIG continue de fabriquer leur strange brew de voyage-dans-le-temps-punk-bizarre avec ce reportage intéressant de la scène toute-éxperimentale de la Nouvelle-Écosse. En partageant la cassette avec PIG il y a !Kung San, quelque chose quelque part entre les boeufs pastoraux et l'entreprise post-hardcore de Westville, et Scribbler, la lentille gravitatonnelle pour tout ce qui est expérimental aux Maritimes. Les six morceaux de Scribbler ont l'aire d'être des bribes d'une spectacle dingue remplie des hurlements atonaux et les lambeaux de guitare; c'est incessant. Et, ouf, j'aurai jamais assez de PIG; ses trois morceaux n'étaient pas assez!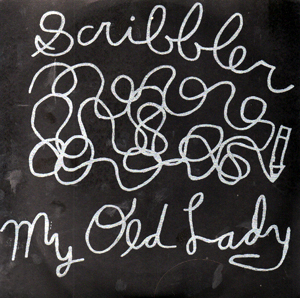 Scribbler
My Old Lady
(Stumparumper)
Halifax, NS
Scribbler is, as far as I can tell, a strange group of pseudo-druid, feudal-revivalists operating in the Halifax region (where there are more bands than people). I got their 7″ in the mail and it's a mixed brew of depressing one-mic-in-a-box loner folk, manic distorted folk-rock, and (my favorite) a thirty-second cosmic noise-hippie freak-out. Even stranger is their remix project featuring a variety of artists I had never heard about doing even-weirder interpretations of their songs (including one amazing electro-psych track that's no longer on their **Space (but will hopefully be on the soon-to-be-released C-90 containing all the remixes)). You, the reader, are also welcome to participate in the remix project, so feel free to contact them. In the meantime, pick up the 7″ if you're into echoey lonertude from the bowels of Canada's most creative city.
Scribler est, aussi loin que je puisse dire, un étrange groupe de pseudo druide, d'évangélistes feudal opérant dans la région d'Halifax (où il y a plus de groupes que de gens). J'ai eu leur 7'' par la poste et c'était un bouillon d'un mélange de déprimant un-micro-dans-une-boîte de reclus, de rock-folk tordu maniaque et (mon préféré) un trente secondes de panique de bruit hippie cosmique. Encore plus étrange est leur projet de remix présentant une variété d'artistes que je n'avais jamais entendu parlés à propos de faire des interprétations de leurs chansons (incluant une époustouflante piste de psych électro qui n'est plus sur leur Space, mais qui va, on espère, figurée sur le bientôt-en-vente C-90 contenant tout les remix.) Vous, le lecteur, êtes aussi bienvenue à participer dans le projet de remix, alors n'hésitez pas à les contacter. Entre temps, choisissez le 7'' si vous êtes dans la solitude qui fait écho des tripes de la cité la plus créative du Canada.
---