Tag: scotch tapes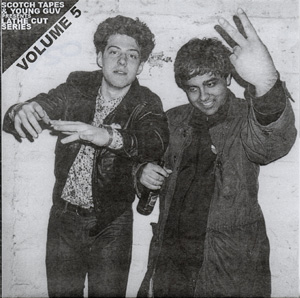 Actual Water
return with flourishing pop familiarity. A veritable anthem for teen lovers (and burnt, middle-aged adults yearning for a sip from the fountain of popular youth), "Latoya" is an instance source of vibronic sensation, driving romantic conviction through your
ectoplasm
into the eternal core of your quad-valve palpitator. Steady twelve-string madness, insatiable marimba, and a hilariously rad back-up vocal bonanza complete the ridiculously summery attitude, granting this fifth lathe the title of "infinite jam."
[audio:http://weirdcanada.com/wp-content/uploads/2011/07/ACTUALWATERlatoyaFINAL.mp3|titles=Actual Water – Latoya] Actual Water – Latoya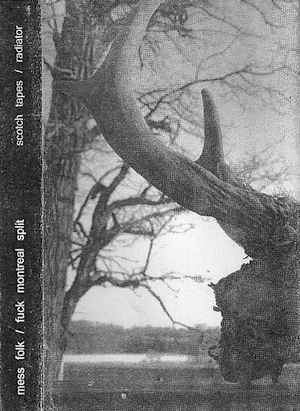 Mess Folk
: C'est l'été, il fait chaud pis t'es quand même dans ce bar-là, celui qui va faire mal le lendemain et qui se cure avec une plottée de bines pis les fonds de la veille. Du rock garage boueux qui sonne comme si tu te faisais verser de la bière dans les trous d'oreille. Tu te réveilles hungover, tu cales ton Gatorade trop vite pis tu vires la cassette de bord.
Fuck Montreal
sonne le glas et te paraphrase un mal de tête dans lequel se confondent des chants tribaux pis des comptines patibulaires sur un fond de grunge hanté. Fuck Montreal essaie peut-être de te faire peur, mais t'es là pour leur montrer que t'es pas pire tuff pis que tu combats le feu par le feu – pis que plus que ça fait mal, moins ça fait mal.
From the beautiful f**king mess of Benoit Poirier:
Mess Folk: It's the summer, it's hot and you're still in that bar. You know it's gonna hurt tomorrow and you're gonna cure it with cold beans and leftovers. The band's sludgy garage rock sounds like having cans of beer poured into your ears. You wake up hungover, drink your Gatorade way too fast and flip the tape. Fuck Montreal make the bells toll and paraphrase a headache in which tribal chants and creepy nursery rhymes intertwine in a confused mass over spooky grunge riffs. They might try to scare you, but you're there to show them that you're kinda tuff and that you fight fire with fire – and that the more it hurts, the less it hurts.
[audio:http://weirdcanada.com/wp-content/uploads/2011/04/Weird_Canada-Mess_Folk-No_Jobs.mp3|titles=Mess Folk – No Jobs] Mess Folk – No Jobs
[audio:http://weirdcanada.com/wp-content/uploads/2011/04/Weird_Canada-Fuck_Montreal-Bucket_of_Blood.mp3|titles=Fuck Montreal – Bucket of Blood] Fuck Montreal – Bucket of Blood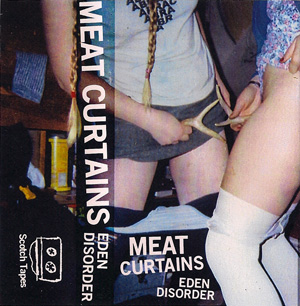 Meat Curtains
Eden Disorder
Halifax, NS

From the teenage glue-huffing of
Mark Teo
:
Meat Curtains exist in a Northern Atlantic alternate dimension, one where
Kathleen Hanna
kicked the shit out of
Courtney Love
in '95 (both in the alley and for popular music supremacy). All piss 'n' piss stains, the hilariously titled
Eden Disorder
is un-fucking-flappable. No-fi teenage glue-huffing ("Flipper Mom") collides with carnival cacophony ("Boys Are My Flowers"), while dumpster-diving guitars skid beneath stream-of-consciousness,
all-in schizo rants
("Syphilis is the New Clear Pepsi"), leaving a trail of
primordial ooze
in its wake. By the time singer Molly Meatloaf snarls "I'm in heat!" — part declaration, part challenge — it's time to change your pants. Welcome to the new face of riot grross.
[audio:http://weirdcanada.com/wp-content/uploads/2011/04/Flipper-Mom.mp3|titles=Meat Curtains – Flipper Mom] Meat Curtains – Flipper Mom
[audio:http://weirdcanada.com/wp-content/uploads/2011/04/I-Hate-Rock-N-Roll.mp3|titles=Meat Curtains – I Hate Rock N Roll] Meat Curtains – I Hate Rock N Roll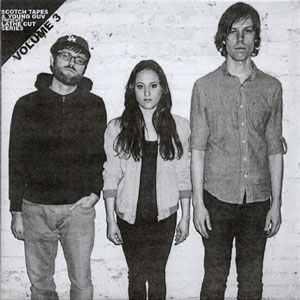 Bruised Knees
Badwater & Holy See's Horror
Toronto, ON

Yet another face-melting insertion within the
Scotch Tapes
and
Young Guv
lathe series. Two slabs of soylent plastic were necessary to capture the wikked vibrations emerging from Toronto's Bruised Knees. Eerie, synthetic mellowtones are sandwiched between cultic clamor and shattering shimmer, spinning psychedelic sinusoids around our sonic horizon. The
Huckleberry influence
runs deep within the wincing metal and triplic drummery; thud, thud, thud, thud, burn burn burn burn. What else lay dorment in Guv's lair? Grip before the patina groweth.
[audio:http://weirdcanada.com/wp-content/uploads/2011/03/BRUISEDholyseesMIX2.mp3|titles=Bruised Knees – Holy See's Horror] Bruised Knees – Holy See's Horror
[audio:http://weirdcanada.com/wp-content/uploads/2011/03/BRUISEDbadwaterFIN.mp3|titles=Bruised Knees – Badwater] Bruised Knees – Badwater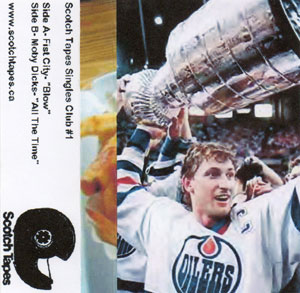 Fist City // Moby Dicks
Blow b/w All The Time
Lethbridge, AB

The Scotch Tapes (Cas)Singles Club launches like a wrist shot straight to the top shelf where grandma keeps the peanut butter. By now, regular readers of Weird Canada should be intimately familiar with the
Fist City
formula, and once again the razor-wire gtr-punks keep up their sister act with heart-racing panache. After an ear-piercing, amp-squealing intro, "Blow" dissolves into double-speed
Daydream Nation
sprawl, while the spoken-squawked vocals
ring the alarm
. Side B sees Southern Alberta brother band
The Moby Dicks
smudge and fudge through two minutes of B.T.F.O. bad-daditude, as frontman Joel Butler barks out commands over brain-buzzing riffs. Grip it and flip it and flip it again.
[audio:http://weirdcanada.com/wp-content/uploads/2011/03/Blow-Fist-City.mp3|titles=Fist City – Blow] Fist City – Blow
[audio:http://weirdcanada.com/wp-content/uploads/2011/03/Moby-Dicks-All-the-Time.mp3|titles=Moby Dicks – All the Time] Moby Dicks – All the Time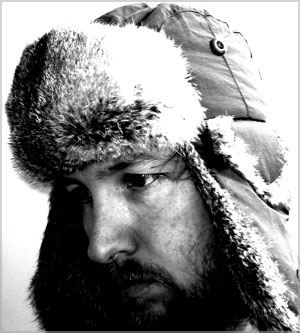 Interview with: Al Bjornaa
From: Scotch Tapes
(conducted by: Zachary Fairbrother)
Batchawana Bay, ON
Scotch Tapes has quickly become Canada's premier cassette label, pumping out thousands of tapes to brilliant minds all around the world. In addition to the plethora of magnetic strips crafted in the ghettos of rural Ontario, Scotch Tapes has been capturing Toronto's burgeoning underground punk scene via plastic lathe-cut brilliance in a collaborative series with Young Guv's Ben Cook. In 2011, they embarked on yet-another lathe-series with Montreal's No Vacation. As 2011 began with the redesign of Scotch Tapes' rather hilarious website and their subsequent world domination, we decided to link Zacharay Fairbrother with Scotch Tapes founder and sole-proprietor Al Bjornaa for a featured chat about his rural adventuring.
Aaron Levin
Weird Canada
www.weirdcanada.com
---
/////////////// AL BJORNAA INFERRED VIEWS ///////////////
Zachary
::
I'm into how landscapes and environment influence people's creativity. Why do you base your label where you do [
Batchawana Bay
]? How do the often cosmopolitan sounds play out in your environment?
Al
::
I base Scotch out of Batchawana Bay because it's close to my family. I have lived all over the country but this has always been home. There have been some health issues in the Bjornaa family the past few years and its been nice to be able to help out. We run a family fishing business and I have had to take a larger role in that. Plus it's a beautiful area. I live on the beach! The north shore of Lake Superior is my favourite place on Earth.
I have always been a huge music fan. Both of my parents love music. Although their tastes may differ from mine, they passed on a passion for good music. Most of the people who live in my area think the music I release sounds like a "badger caught in a wood chipper" but most people from the area think its cool that I run a record label in such a small place. Whenever I go for coffee or breakfast at the local diner, everyone always asks how the label is doing.
Zachary
::
I have heard of your beach shows. I hope you will you be doing more of this. Who has played? What was your favorite?
Al
::
I haven't done an actual beach show in ages but I have had a lot of bands pass through here and hang out for a day or two. Its a tough area to get a decent show. I mean I could likely set up a show in Sault Ste. Marie (which is notorious for TERRIBLE shows) or they can hang out here for a night, have some drinks, go swimming and get a good meal. I am hoping that this year with a new space, I can host more bands and maybe do some recordings and send them back on the road with a new tape or lathe. Some of the best times I've had drinking/ hanging out/ recording have been with Play Guitar, The Famines, Dirty Beaches, Grown-Ups, Gobble Gobble, Nobunny… There are tons. I am hoping to make Batchawana Bay a "must-stop" for bands touring Canada. Not to play shows but to have a great day off mid-tour where they can do laundry, relax, jump in the lake, maybe practice some new stuff they have been working on. 2011 is already getting booked up at Casa de Al with Bucketseat stopping here in March.
Zachary
::
I see that your label is doing some collaborative splits how did this come about?
Al
::
Yeah. I wanted to work with a few cool labels. I have a lathe series coming out with No Vacation Records (Brett Wagg from Pink Noise/ Campaign For Infinity) Brett basically just asked if I would be interested and since I love the music he puts out, I was totally in. I also put out a 7″ with No Clear Records from Florida. I imagine if any label contacted me and I liked the band, I would probably be interested. I know that Ben Cook (Fucked Up, Young Guv, etc) and I have a few co-releases lined up for his new label, Marvelous Music, as well. We will be co-releasing the Roommates LP this summer/ fall.
Zachary
::
I see you have a vast list of upcoming releases. Are all these going to happen??!
Al
::
You bet your sweet buttocks! In the first two years of Scotch, I released almost 200 tapes. I take the label very seriously. Its become more than a hobby. It's basically a second full-time job. I plan on putting out about 70 tapes, 30 lathes and 10 vinyl releases in 2011. There are times when I get tired and need a break… and those are the times where I just take like 2-3 weeks off, don't check emails and basically disappear. But when I do that, I normally come back with 4-5 releases at once.
Zachary
::
What is up with the lathe series? Does the type of Lathe reflect the artist?
Al
::
Well… I have two series going. There is the Scotch/ Young Guv series. Ben Cook [of Young Guv] records all the bands that share his jam space and then we release a song or two from them. So far, I have put flexis out for Huckleberry Friends, Tropics, Bruised Knees & Lonely Wholesome with Actual Water, Dentata, Wyrd Visions and I think 2 more to come. The other series is the aforementioned series with No Vacation. There are some pretty killer bands scheduled for that like FNU Ronnies and Factums (who I LOVE!) The type of lathe really doesn't come into play. I mean the one I did for We All Inherit The Moon HAD to be a square plexiglass lathe because of the ideas they had for the art but most bands don't really care that much. They just think lathes are fun.
Zachary
::
Do you think there is a Canadian Sound? And what from your perspective are the sounds of the different scenes within Canada?
Al
::
I don't think there is a specific Canadian sound. It's such a vast area geographically that it's tough to narrow down one sound. I think Vancouver has a great weirdo punk scene with bands like Shearing Pinx, Nu Sensae, Twin Crystals, etc. who really have their own genre that isn't like anything else in the country. When you move into the prairies you have bands like Myelin Sheaths, Fist City, Grown-Ups, Moby Dicks… sort of that heavy garage punk stuff. They all totally feed off of each other. Ontario is sort of weird. Toronto is just starting to get a good scene again. I think the bands that Ben and I are releasing on the lathe series are going to get big really fast this year. That jam space is oooozing talent. Montreal always has a great scene. I think that city spawns some of the most creative and unique artists. And the whole Halifax scene… that city reminds me of Portland, Oregon. EVERYONE is in a band and creates visual art and silkscreens t-shirts and makes zines and drinks good beer if they can afford it but will drink shit if that's all they have and dresses cool without thinking they dress cool. One of my absolute favourite cities on the planet!
Zachary
::
What has got you most excited about 2011?
Al
::
SUMMER! I hate winter more than anything! That and doing this interview for Weird Canada! Thanks, Zach…


From the power pop distinction of Jesse Locke:
Since the dawn of the aughts, Lethbridge music mainstay Paul Lawton and songwriting partner JL Hankey have been cranking out infectious little pop tunes under a variety of aliases (James and The Giant, Coruscant, Light Years and James Leroy). The pitch-shifted vox will turn heads first, yet the duo's tweaked backdrops include everything from slacker jangle to AM radio breeze, canned crowd sounds to Rapture-ous debauchery (when's the last time you heard that comparison?). Distinction collects the cream of the crop before the pair's latest project The Ketamines drops its debut LP on Dead Beat Records, plus 7-inches on HoZac, Southpaw and Odd Box.
[audio:http://weirdcanada.com/wp-content/uploads/2010/12/01-Wasting-Our-Time.mp3|titles=James Leroy – Wasting Our Time] James Leroy – Wasting Our Time
[audio:http://weirdcanada.com/wp-content/uploads/2010/12/02-Celebration.mp3|titles=James Leroy – Celebration] James Leroy – Celebration
[audio:http://weirdcanada.com/wp-content/uploads/2010/12/09-Nervous.mp3|titles=James Leroy – Nervous] James Leroy – Nervous


From the ate too many chocolate bars of Aaron Levin:
Young Governor soars to anthemic heights on this six minute post-pizza buffet. Its jangly rhythm bursts with gusto, jamming the radio glam treachery of cult heros into a reverb-soaked elucidation. This day-time special is crafted for all your teenage fantasies; let it seep into your pores and shake the foundation of your pubescent ethos. A fantastic voyage into 80s pop-punk anthemy. Hand-cut lathe on "pizza glass" by Scotch Tapes. Sounds rad at both speeds. Eat it up!
[audio:http://weirdcanada.com/binary/Weird_Canada-Young_Governor-Pizza_Face.mp3|titles=Young Governor – Pizza Face] Young Governor – Pizza Face


From the 6.5″ pink flexi of Aaron Levin:
The inaugural 6.5″ fluorescent flesh of Scotch Tapes and Young Guv's Lathe Cut Series is a gothic reconnaissance into the arcane marshes of numinous folk-garage. The first 90 seconds of Testing begin the mystic ceremonies of your private mind garden before launching into a fury of tribal magyks and recondite rhythms. It's a brilliant realignment of the English folk tradition into the disparate, atonal now; an arduous ceremony cut on a 6.5″ slab of pink plastic and limited to 50 copies. Highly recommended.


From the polyamorous disaster of Michael Deane:
Looking onto the mid-northern thunderous tundra puts me in a perfect place to relate to the Roommates' "Back to the Sun," the latest in a flurry of side-projects from Fucked Up guitarist Ben Cook. The breezy, straightforward pop hooks tinged with melancholy and longing speak directly to me. "Back to the Sun" is self-conscious, with sun-yearning lyrics matched by the sweetly sad vocals and tom-heavy thumping we're used to from Young Governor. The flip of this cassingle is the slightly creepy, slightly goofy anthem that follows two dudes trying to talk their gals into a "Girlfriend Swap". Infectious hooks and an entertaining story-line make it repeatable power pop magic. "Don't roll your eyes at me / Let's do things differently / We're all just one big family / So let's give it a try." I'm not quite convinced by their logic, but you can't deny these hits.
[Levin's Note: I'm very convinced. Hit me on my beeper.]
---