Tag: sax jams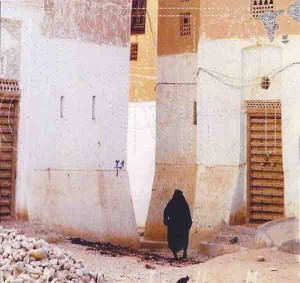 Notta Comet
Alliums
(Self Released)
Montréal, QC
From the gas cans of V. Rachel Weldon:
Imagine E-street's skronking saxman as the Pied Piper of the post rock-apocalypse. Math and poetry duke it out violently on Alliums in a show of precise, chaotic and cacophonous execution. Spoken word artist Alex Williams nails all the meaningless little rituals to the wall of a tenement Montréal kitchen that is all to familiar with containing passive explosive domestic fits. Hard to believe it's not a comet.
Des bidons d'essence de V. Rachel Weldon:
(Traduit par les petits rituels absurdes de Vincent Rondeau)
Imaginez le saxophoniste grinçant du E Street Band en joueur de pipeau de Hamelin de l'apocalypse post-rock. Les mathématiques et la poésie se livrent à un combat de géants sur Alliums dans un tourbillon de performances précises, chaotiques et cacophoniques. Alex Williams déclame ses textes en clouant tous les petits rituels absurdes de la vie quotidienne au mur de la cuisine d'un appartement montréalais qui connaît trop bien les disputes domestiques explosives. On croirait voir passer une comète.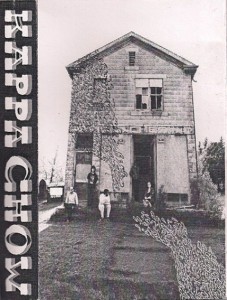 From the shred shed of Jesse Locke:
The turnt minds behind Astral Gunk split the sides of this cassette with paired off-the-floor sessions from Kappa Chow's Sackville and Montreal incarnations. The former packs a sax blurt that shimmies like a ramshackle Shrines, while the slow churn of "Bang Bang" is positively Flipperesque. The backside brings some more gospel yeh-yeh to its buzzsaw garage, yet the fidelity drops down to boombox-in-a-trash-can levels of grizzle. Boss tunes from both line-ups, and any band with a name borrowed from Pootie Tang gets a lifetime thumbs up.
De la cabane en lambeaux de Jesse Locke:
(Traduit par Joannie Pharand)
Les esprits frénétiques derrière Astral Gunk divisent les faces de cette cassette par la combinaison de sessions hors-de-ce-monde de Kappa Chow, des incarnations provenant de Sackville et de Montréal. Le premier laisse échapper un son de saxophone qui se dandine comme les Shrines délabrés, alors que le doux bouillonnement de « Bang Bang » est véritablement Flippant. Du dos de la cassette, on amène encore plus de gospel yeh-yeh au son garage bourdonnant de scie mécanique, et pourtant, la fidélité décline à un niveau de pleurnichement ghetto-blaster-de-poubelle. Boss s'accorde aux deux programmes et tout groupe portant un nom emprunté à Pootie Tang est approuvé à vie.
Kappa Chow – Save Your Opinion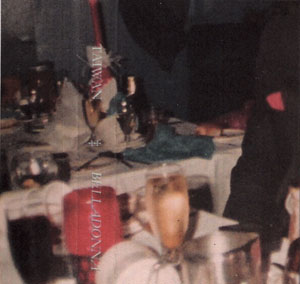 Taiwan
Belladonna
(Self Released)
Edmonton, AB
From the mind's island of Jesse Locke:
File Under: Angelo Badalamelty. Stealthily trailing his previous tone-float into the celestial spring, Phil Dickau reemerges with the ill-omened warble jams of Taiwan. Hidden deep in the mustiest corners of the Black Lodge, he re-imagines Twin Peaks' timeless soundworld as a nightmaric smooth jazz Buddha Box. Groove to the sound of your mind liquefied.
De l'isle de la tête de Jesse Locke: (Traduit par les coins de Maya Keshav)
Classification: Angelo Badalamelty. En suivant furtivement son dernier char de ton dans la source céleste, Phil Dickau réapparaît avec les bœufs gazouillants de mauvais présage de Taiwan. Caché au fond des coins les plus poussiéreux du Black Lodge, il recrée le paysage sonore intemporel de Twin Peaks comme un Buddha Box smooth jazz cauchemardesque. Balançe-toi au son de ton cerveau liquéfié.
---