Tag: Sara Bortolon-Vettor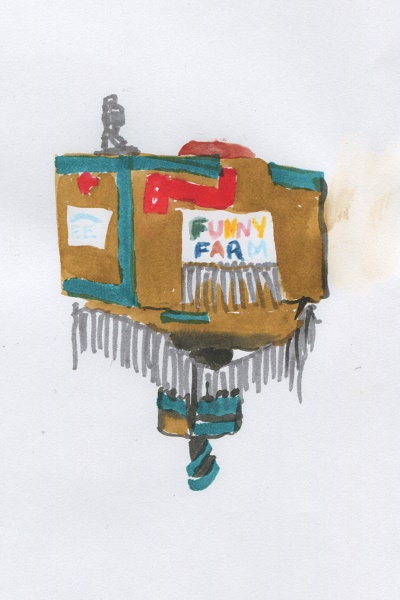 Electric Eclectics
(Illustrations by: Megan Arnold // Photos by: Josh Cwintal)
Meaford, ON
Various Artists: Jennifer Castle, Scott Hardware, Castle If, Ice Cream, Sourpussy, Darknesses, HSY, Bile Sister, Scattered Clouds, Doom Tickler, Xuan Ye
From the mydriasis of Sara Bortolon-Vettor:
We are at the peak of Scotch Mountain. Beings of the weirdo variety, charming locals of Meaford and the artists within us all are called to the funny farm to gather. As the sun sets, beautiful beings adore the fuscia lit sky while our auditory senses are tickled with wonder. Electric Eclectics is a fantasy world to many who seek to escape their concrete surroundings and experience artistry in nature.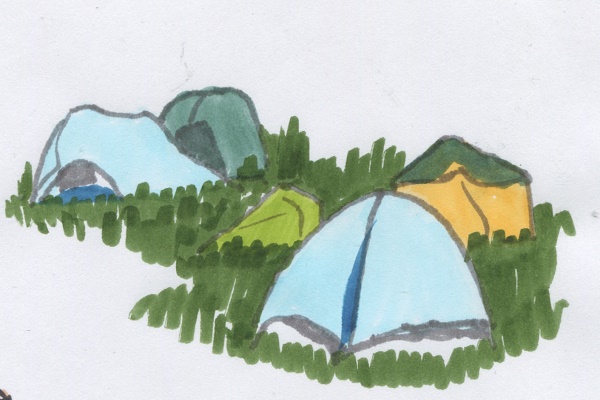 Camping on top of Scotch Mountain.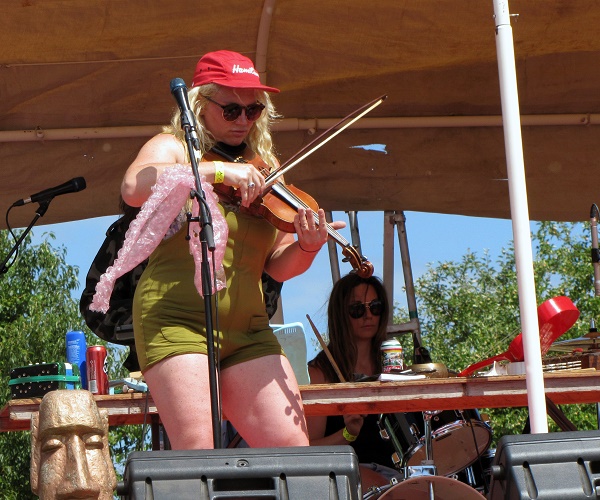 Sourpussy brings humor and cacophony to any willing ear.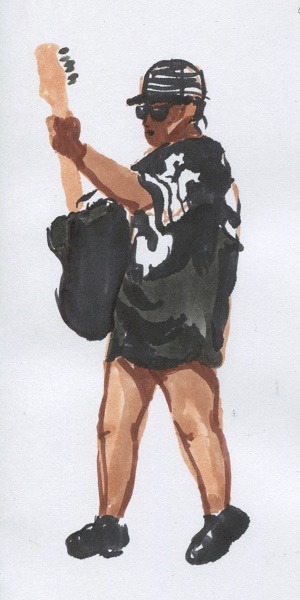 Darknesses performs a noisy-sludge of dark-pop on the EE mainstage.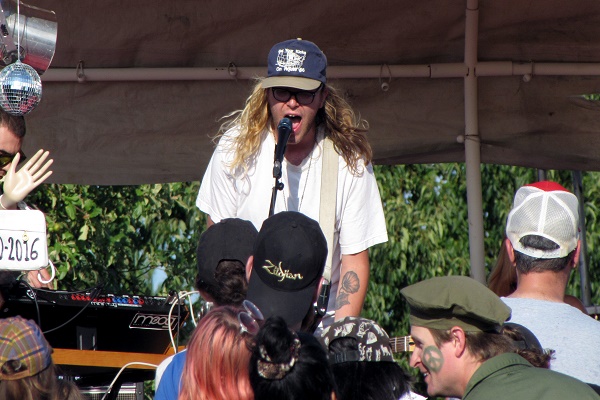 HSY coaxed the relaxed crowd into a captivated fervor.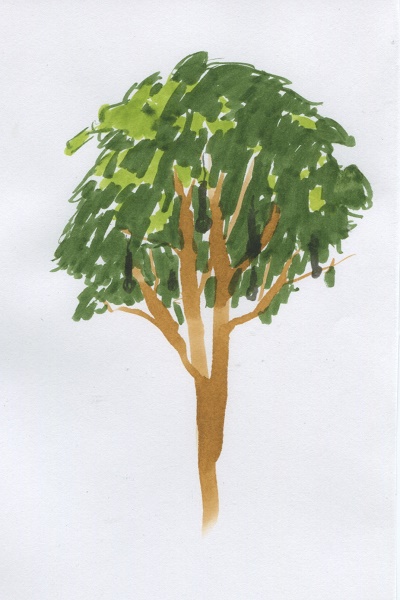 A single tree amidst the fields of wheat and grass.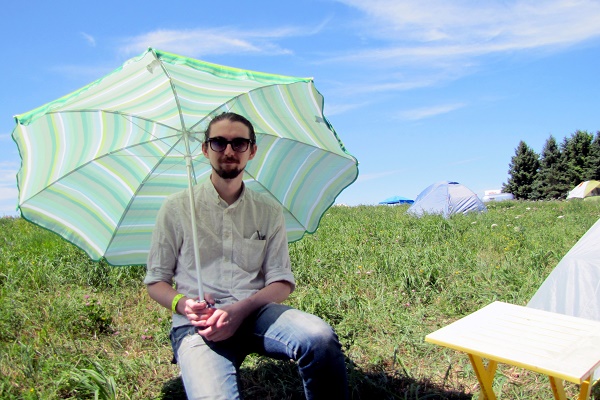 Taking a much needed retreat from the unrelenting heat rays.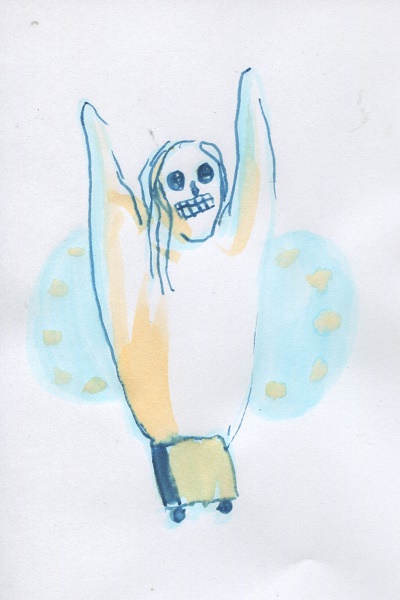 Apetechnology's ghostly being welcomes the crowd at EE mainstage.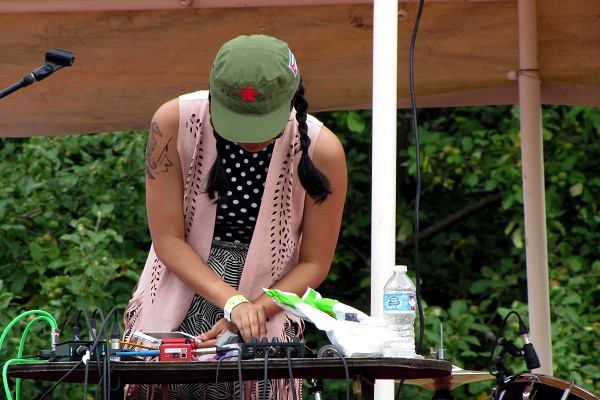 "This isn't working" Xuan Ye said right before leaving the knobs behind and asking the crowd if she should sing instead.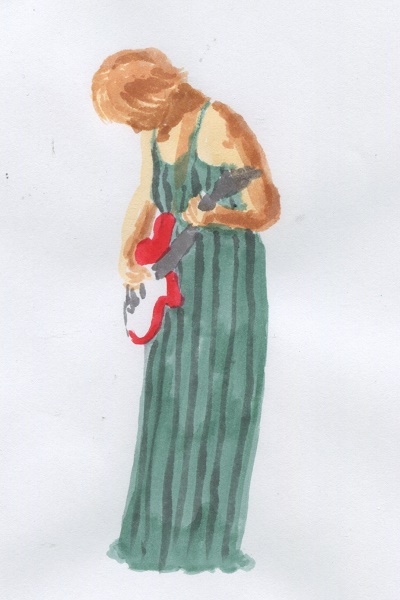 Audience members listen intently to the warm voice of Jennifer Castle.
EE's curation by Chris Worden (Co-director/Natural Thirst) is eccentrically diverse and distinctive. Thanks to the incomparable artists, Gordon Monahan (Co-director/Sound Artist/Owner) and Laura Kikauka (Performance Artist/Owner) for welcoming us all to their funny farm.
De la mydriase de Sara Bortolon-Vettor:
(Traduit par le paysage sonore de Maya Keshav)
On est au sommet de Scotch Mountain. Les drôles d'êtres, les résidents charmants de Meaford et les artistes que nous conservons à l'intérieur se ressemblent à la maison de fous. Au coucher du soleil, les belles âmes adorent le ciel illuminé en fuchsia, pendant que nos sens auditifs sont chatouillés par l'émerveillement. Electric Eclectics est un monde fantastique pour ceux qui cherchent à échapper leurs environs en béton pour vivre l'art dans la nature.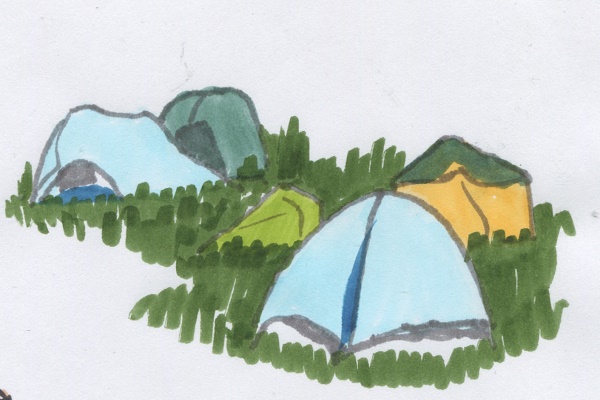 Le camping au sommet de Scotch Mountain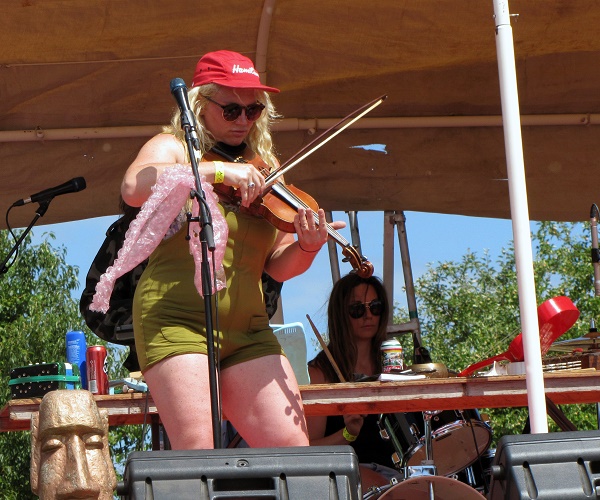 Sourpussy apporte l'humour et la cacophonie à n'importe quelle oreille enthousiaste.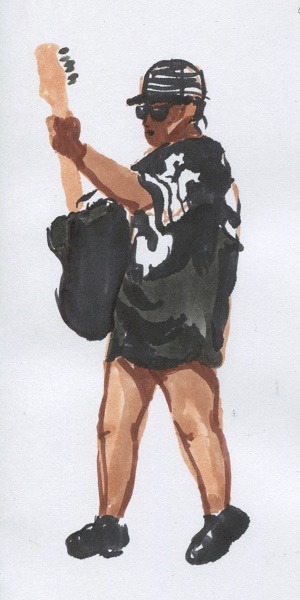 Darknesses joue une boue bruyante de dark-pop sur la scène principale d'EE.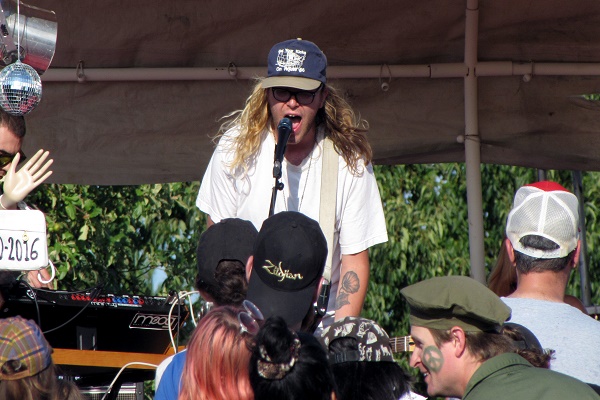 HSY provoque une ferveur captivée dans la foule détendue.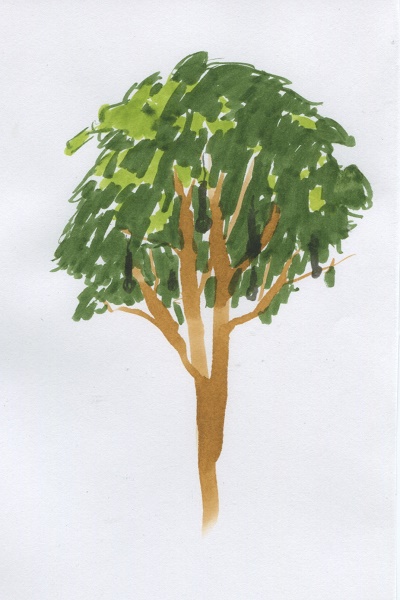 Un seul arbre parmi les champs de blé et d'herbe.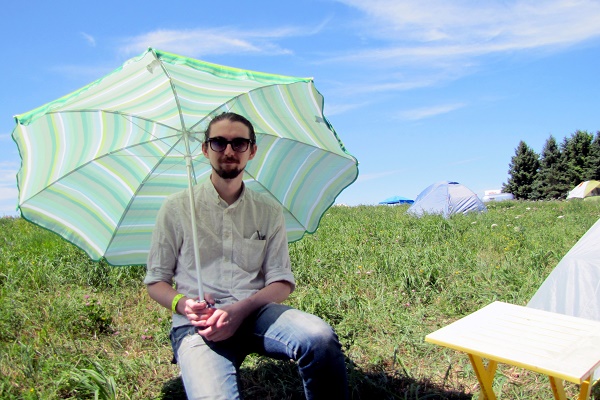 En faisant une pause bien nécessaire de la chaleur continuelle.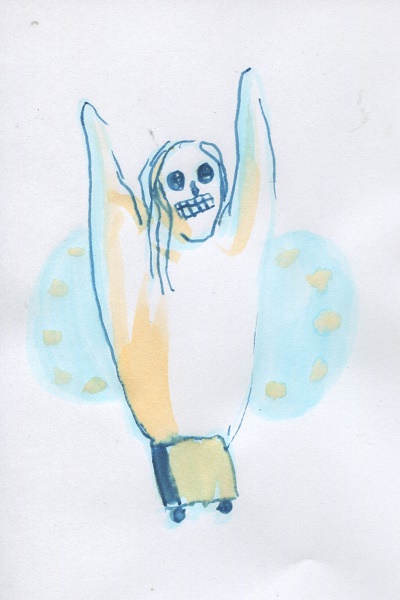 L'être fantomatique d'Aptechnology accueille la foule sur la scène principale d'EE.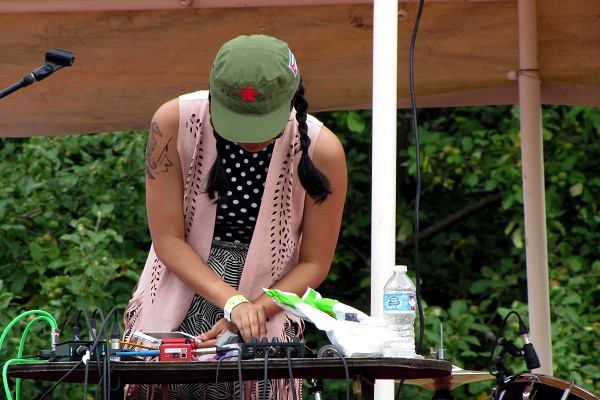 Xuan Ye a dit « Cela ne marche pas » avant qu'elle ait quitté les boutons et demandé à la foule si elle pouvait chanter à la place.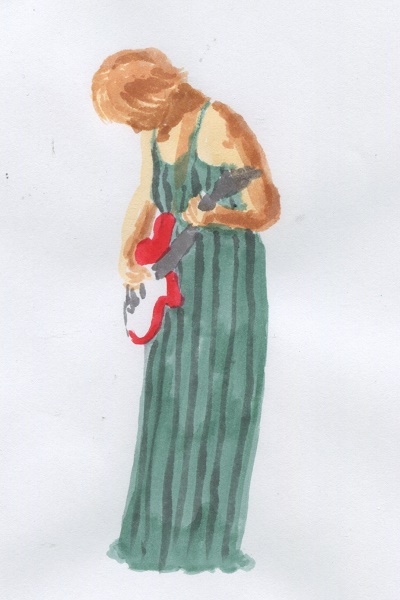 Les membres de l'auditoire écoutent attentivement la voix chaleureuse de Jennifer Castle.
Conclusion— La gamme de musique à EE organisée par Chris Worden (co-réalisateur/ Natural Thirtst) est excentriquement diverse et distincte. Merci aux artistes incomparables, à Gordon Monahan (co-réalisateur/ artiste sonore/ propriétaire) de nous avoir accueilli à leur maison de fous.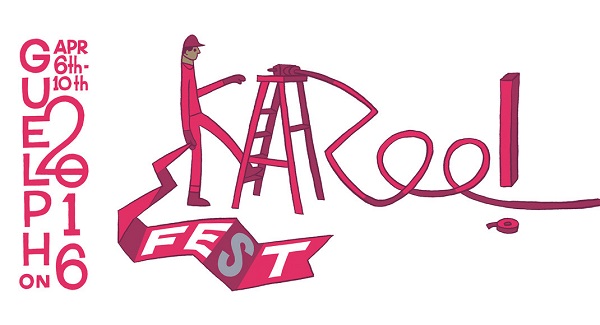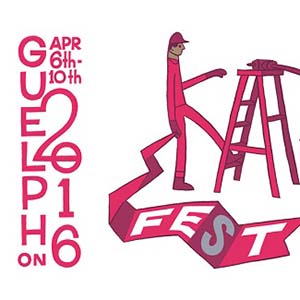 Kazoo! Fest 2016
Guelph, ON
From the ruling fingers of Sara Bortolon-Vettor:
Kazoo! Fest oozes out over 5 days in the intimate downtown core of Guelph. The 8th Kazoo! runs from April 6-10 2016, and soars to hit every weird sweet spot imaginable. An experiential annual delight, lifting our sneakers above the clouds.
What can you expect this year in the Royal City, where everything rules? A tightly curated lineup of everyone's favourite darlings, dreamers, stoners, visionaries, originators, best bad dads, experimenters, soul lifters, and heart tuggers are charming your ears over 5 blissed-out days.
Check out the Guelph Night Market (buy handmade stuff at night); Golden Bus Film Screenings (featuring Life of a Craphead's Bugs); contemporary dance; improv with The Making Box; the Kazoo! Print Expo; experiential art installations like the TrinkeTron 6750; plus live visuals and art gushing all over town.
Meet us at Vienna's for breakfast?
Par les doigts gouvernants de Sara Bortolon-Vettor:
(Traduit par les orifices fleurissants d'Émily Traichel):
Kazoo! Fest s'écoule le long de 5 jours dans l'intimité du coeur du centre-ville de Guelph. Le 8e Kazoo! a lieu du 6 au 10 avril 2016, et s'enligne pour toucher à tous les points forts du weird. Un délice annuel expérientiel, qui élève nos baskets par dessus les nuages.
À quoi pouvez-vous vous attendre cette année dans la cité royale, où régnent toutes sortes d'expression créative? Une programmation soigneusement sélectionnée des bien-aimés, rêveurs, stoners, visionnaires, initiateurs, méchants pères, expérimenteurs, leveurs d'esprit, et vibreurs de cordes sensibles préférés de tout le monde vous enchante les oreilles pendant 5 jours de félicité.
Découvrez le marché de nuit, le Guelph Night Market (achetez des items faits à la mains la nuit); les Golden Bus Film Screenings (en vedette, Bugs de Life of a Craphead); de la danse contemporaine; de l'impro chez The Making Box; l'exposition d'imprimerie de Kazoo!; des installations d'art expérientielles telle que le TrinkeTron 6750; et encore bien plus de montages visuels en direct et d'art qui jaillissent partout dans la ville. 
Rendez-vous chez Vienna pour le déjeuner?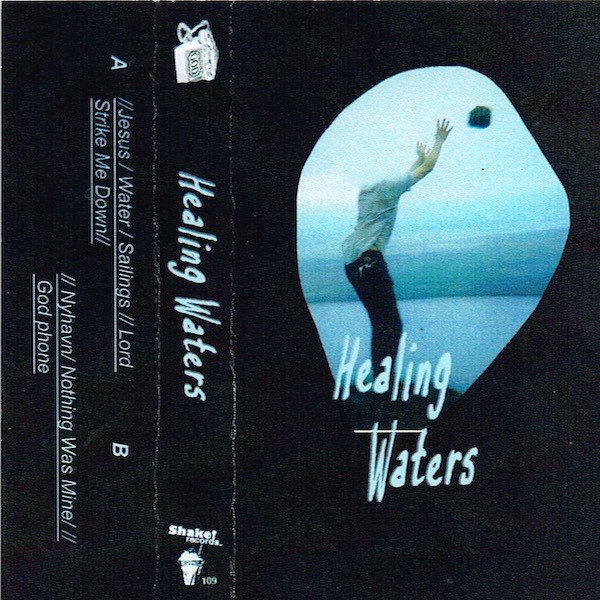 Healing Waters
Water
Victoria, BC
From the aquaphobic hallucinations of Sara Bortolon-Vettor:
Curves of black and blue fluid create a divine ripple effect. Sun sparkles. The water is warm. Our minds bloat and float away like abandoned canoes, left to drift. Passengers' punctured souls litter the water's floor. As the heaviness behind our eyes turns our gaze downward, staring into the water, we wonder whether our thoughts will drown. Be gone forever.
Des hallucinations aquaphobiques de Sara Bortolon-Vettor:
(Traduit par Diane Beaupré)
Des courbes de fluides noirs et bleus créent un effet d'ondulation divin. Le soleil brille. L'eau est chaude.. Nos esprits se gonflent et partent à la dérive comme des canots abandonnés à la merci du courant. Les âmes perforées des passagers jonchent le plancher des eaux. Alors que nos paupières lourdes nous font baisser les yeux et fixer les profondeurs de l'eau, nous nous demandons si nos pensées couleront. Disparaître à jamais.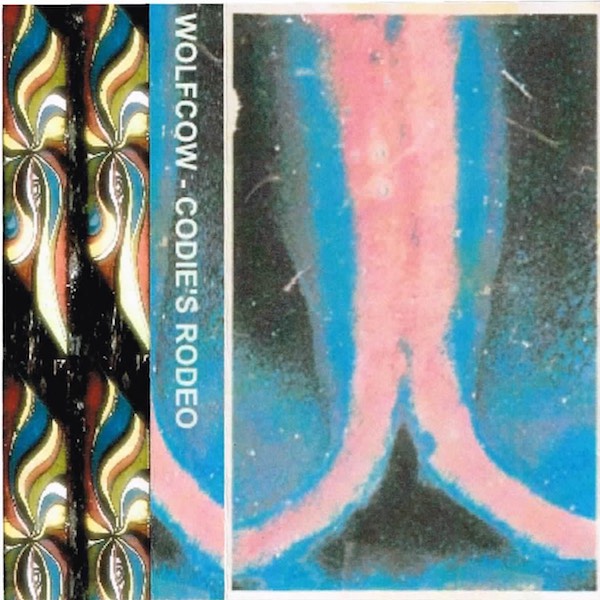 WOLFCOW
CODIE'S RODEO
(Self-Released)
Toronto, ON
From the upper respiratory system of Sara Bortolon-Vettor:
Sweating psychosis: the kind you get from impulsively doing speed and climbing a mountain. Taking a breath is excruciatingly satisfying. Lack of oxygen has you high. Enthralled in manic hallucination, your heart pops out of your chest. Warm and bloody. Dangling above you. Forever, slightly out of reach…
Des voies respiratoires supérieures de Sara Bortolon-Vettor:
(Traduit par le larynx silencieux de Joannie Pharand)
Psychose en transpiration : le genre de sueur qu'on a quand on prend du speed impulsivement et quand on escalade une montagne. Reprendre son souffle est atrocement satisfaisant. Un manque d'oxygène donne des hallucinations. Captivé par un épisode illusoire, votre cœur sort de votre poitrine. Chaud et saignant. Se balançant au-dessus de vous. Toujours, légèrement hors d'atteinte…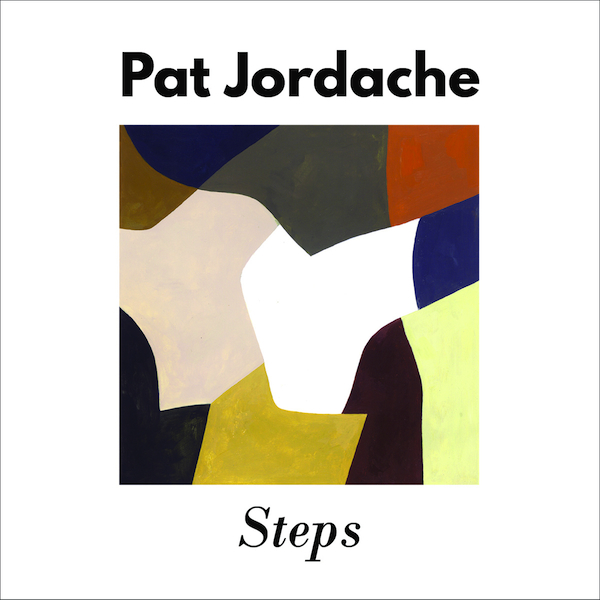 Pat Jordache
Steps
Montreal , QC
From the summer-pop vibes of Sara Bortolon-Vettor:
Dancing mania is precisely what happens when listening to Pat Jordache's Steps. We are invited to explore his world, a chaotic orchestral playground. Synths rise and fall like peaks and valleys. Guitars represent the sun and the groove guides us with commanding beats and luscious bass. The voice is always changing, representing characters who carry the album's narrative – a pursuit for utopia. Do we watch the flowers grow or do we move to oil city? What is your paradise?
Des ondes de pop estivale de Sara Bortolon-Vettor:
(Traduit par les glaçons en sueur de Julie Mayer)
La manie dansante est précisément ce qui se passe lorsqu'on écoute Steps de Pat Jordache. On est invité à explorer son monde : un terrain de jeu orchestral et chaotique. Les synthés montent et descendent comme monts et vallées. Les guitares représentent le soleil et le groove nous guide d'un rythme ferme et d'une basse aguicheuse. La voix de l'artiste ne cesse de changer afin de représenter les personnages qui portent le récit de l'album : la poursuite de l'utopie. Regardons-nous les fleurs pousser ou déménageons-nous vers pétroville? Quel est votre paradis?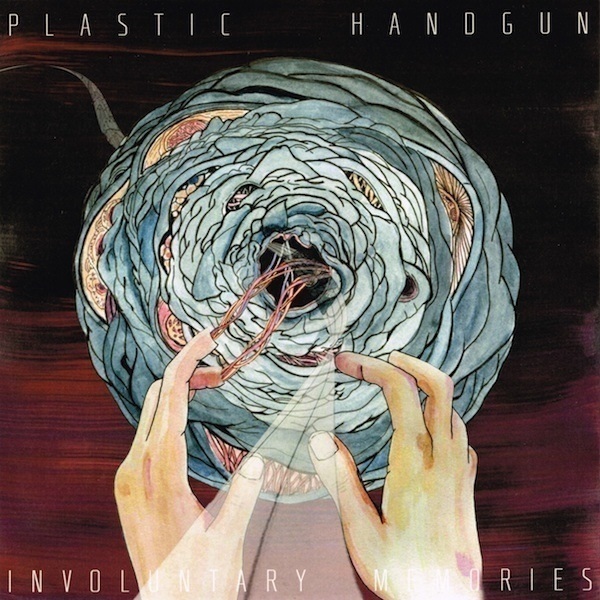 Plastic Handgun
Involuntary Memories
(Self-Released)
Toronto, ON
From the REM sleep of Sara Bortolon-Vettor:
Dreams collide with reality in united pleasure as momentous occasions of the past tickle present thought. Paths cross and fresh roads are carved. Curious minds crave discovery of the unknown! But is this real? Recollections transform into experimental orchestrations of electronic-surreality. Recorded and produced by Mark Di Giovanni over a four-month period, Involuntary Memories is the first release from Toronto's experimental, dreamy post-rock project, Plastic Handgun.
Du sommeil paradoxal de Sara Bortolon-Vettor:
(Traduit par les paupières lourdes de Jessica Grenier)
Le rêve rencontre la réalité dans un élan de plaisir réciproque occasionné par l'union de pensées actuelles et d'occasions mémorables passées. Des chemins se croisent; de nouvelles routes se creusent : mais est-ce bien réel? Des souvenirs deviennent une orchestration expérimentale électronique irréelle. Involuntary Memories, le premier album de Plastic Handgun, ce projet de rêverie expérimentale post-rock de Toronto, a été enregistré et produit par Mark Di Giovanni sur une période de quatre mois.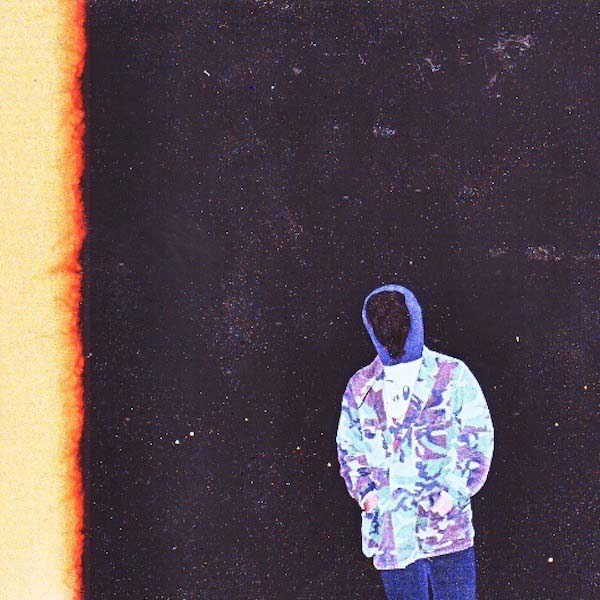 ACAB Rocky
Groups
Victoria, BC
From the grey clouds of Sara Bortolon-Vettor:
Victoria, BC's psych-punk project, ACAB Rocky take us by the heart and hands, allowing us to be happy being sad. Home recorded Groups is a demo compilation of the gloomy-joyous moments experienced on rainy days in the 1990s. Soulful and vulnerable vocals accompanied by lush harmonious guitar in, "Among My Own" bring out the sad-but-happy slacker in all of us. Stories of past lovers, never-ending house parties, bad trips and good trips come flashing back.
Des nuages gris de Sara Bortolon-Vettor:
(Du poisson Babel de Joel Mak)
Le projet psyché-punk de la Victoria en Colombie-Britannique, ACAB Rocky nous prend par le cœur et par les mains, et l'on se délecte d'être triste. Album enregistré à la maison, Groups est une compilation de démos qui saisit [les moments boudeurs-joyeux] vécus durant des jours pluvieux pendant les années 90. Les chants souls et délicats accompagnés de la guitare harmonieuse et luxuriante de la chanson « Among My Own » font ressortir le paresseux triste, mais heureux en chacun de nous. Des histoires d'anciens amants, de soirées sans fin, des mauvais et de bons voyages nous reviennent en mémoire.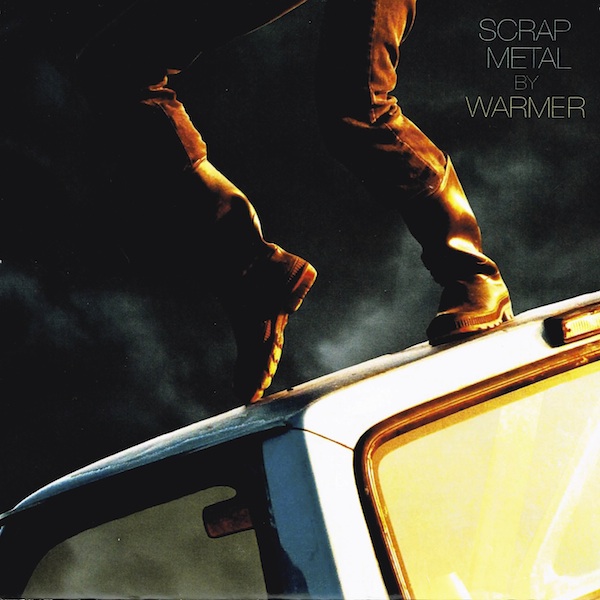 Warmer
Scrap Metal
(Self Released)
Kingston, ON
From the cannabinoid receptors of Sara Bortolon-Vettor:
Tripped out psych-punk trio Warmer teaches us to consistently embrace our environment whether we are in the woods "Howling With Coyotes" or smoking grass with friends. Scrap Metal is a fuzzed-out forest of hallucinogenic guitar accompanied by smooth, dynamic vocals. Sunlight swirls dance beneath your eyelids as tranquil, yet blunt rhythmic textures evoke inner ecstasy. These hazy-punks of Kingston deliver a hard-hitting, psychotropic debut.
Des récepteurs cannabinoïdes de Sara Bortolon-Vettor:
(Traduit par le sac de chips éventré de Jessica Grenier)
Le trio de psych-punk capoté Warmer nous apprend l'acceptation systématique notre environnement, que l'on soit dans les bois (« Howling With Coyotes ») ou en train de fumer de l'herbe avec des amis. Scrap Metal est une forêt *fuzz*ante de guitares hallucinogènes accompagnées d'une voix douce et dynamique. Des tourbillons de soleil dansent derrière nos paupières en suivant l'extase entraînée par les rythmes texturés, directs mais paisibles. Ces punks enfumés de Kingston nous livrent un premier album psychotrope qui frappe fort.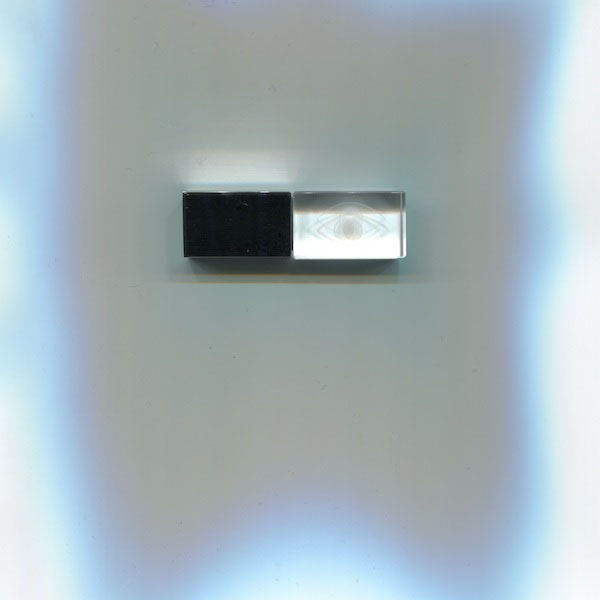 NONI WO
U S B E P
Montréal, QC
From the auditory cortex of Sara Bortolon-Vettor:
Reminiscent of your favourite ice cream in a heat wave or the morning after the acid-orgasm infused beach party, NONI WO's U S B E P encourages us to believe in our senses. The Montreal based four-piece guide us through a sensual myriad of soft-swelling harmonies across a landscape of synthesized-rhythmic bliss and thick bass grooves. "Specter" is a spectacle of shiny, sultry guitars gliding us through soft pink clouds of glistening synths. A daydream cross-wires into reality.
Du cortex auditif de Sara Bortolon-Vettor:
(Traduit par Jessica Grenier)
U S B E P de NONI WO's – en évoquant ta crème glacée préférée lors d'une vague de chaleur ou encore le lendemain d'un beach party imbibé d'acide/orgasmes – nous invite à faire confiance à nos sens. Le quatuor montréalais nous guide dans une myriade sensuelle d'harmonies gonflant doucement dans la béatitude d'un paysage de rythmes synthétiques et de basse épaisse. « Specter » est un spectacle de guitares brillantes et voluptueuses qui nous entrainent à travers les nuages roses duveteux des synthétiseurs chatoyants. Un rêve éveillé devenu réalité.
---