Tag: sans aids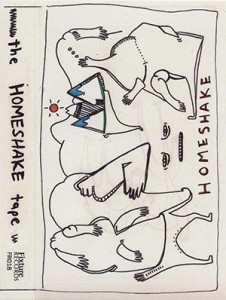 Homeshake
The Homeshake Tape
Montreal, QC
From the wizardly wisdom of Gabriel Jasmin:
Times change. Since the last time I wrote something here, Peter Sagar of Sans AIDS relocated to Montreal and rechristened his project Homeshake. And the sound sort of went from chill-but-angsty to sooo very chill and Zen and cool. Perhaps that's Peter getting older and wiser, but I think in reality it's just what happens when you hang around this guy for too long. Anyway, Fixture Records offers us this amazing tape 100% packed with jams and a few cut-up sound effects, too. Do yourself a favour and dig in.
Du très sage Gabriel Jasmin:
Les temps changent. Je pense bien que depuis la dernière fois que je suis passé ici, Sans AIDS sont déménagés à Montréal et se sont rebaptisés Homeshake. Et leur son a changé aussi, passant de chill-mais-nerveux à vraiment très chill et zen et cool. Peut-être parce que Peter s'est assagi, mais en vérité je dirais que c'est juste ce qui arrive lorsqu'on passe trop de temps avec lui. L'important, c'est de remercier Fixture Records pour cette cassette 100% excellente. Vas-y, saute dans l'eau tête première.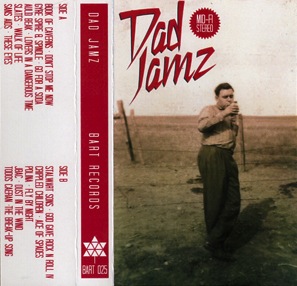 Various Artists
Dad Jamz
Asterisk, Canada
From the soft-rock epoch of Jesse Locke:
From concept to cassette, Dad Jamz is a gas. This cheeky comp finds the bands of the Bart Records and Revolution Winter clan tackling FM staples of the late '70s – early '80s soft-rock epoch with varying results of ridiculousness. Amidst choice picks from Queen, Kansas, Motörhead and Dire Straits (Slates' "Walk of Life" is a standout), label flagship Stalwart Sons crowd surf Kiss/Argent's "God Gave Rock 'N' Roll To You" with original lyrics across seven guitar-squealing minutes. Gyre Spire and Spindle deserve props for taking on Kim Mitchell's perpetually unhip anti-drinking anthem "Go For Soda", while Auld Beak clearly have love for Bruce Cockburn deep down. Polina's straight-faced Rush cover is a winner, and WC fave Sans AIDS could make even Bachman and Cummings shed a tear.
De l'époque de rock doux de Jesse Locke: (Traduit par Odile Leclerc)
De concept à cassette, Dad Jamz est un gaz. Cette compilation impertinente trouve les groupes du Bart Records et du clan Revolution Winter plaquant les éléments de base FM de l'époque de rock doux de la fin des années 70-débuts 80 avec des résultats variant de ridicules. Parmi les meilleurs choix de Queen, Kansas, Motörhead et Dire Straits (Listes' "Walk of Life" est remarquable), le label en vedette Stalwart Sons surf la foule ''God Gave Rock 'N' Roll To You '' de Kiss/Argent avec des paroles orininales à travers sept minutes de couinement de guitare, Gyre Spire and Spindle mérite un "bien fait" pour se charger du perpétuel hymne anti-boisson démodé de Kim Mitchelle ''Go For Soda'', pendant qu'Auld Beak a au fond, clairement de l'amour pour Bruce Cockburn. La couverture Rush sérieuse de Polina est une gagnante, et le préféré de WC, Sans AIDS, pourrait même faire verser une larme à Bachman et Cummings.
Auld Bleak – Lovers in a Dangerous Time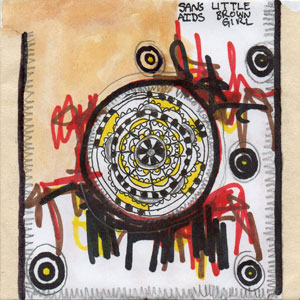 Sans Aids
Little Brown Girl
(Self Released)
Edmonton, Alberta
From the nostalgic words of Aaron Levin:
This side project from Outdoor Miners' frontman Peter S. has to be the best lo-fi pop excursion done with two feet, two hands, one guitar, and two drums. When you write it out like that it seems like a lot is going on, but it's just Peter. And it's incredible to see him work the double kick-on-a-snare drum setup while picking away at some of the catchiest and memorable guitar hooks and singing in his lazy sunday-family-drive-in fashion. They printed 50 and were pretty much sold-out before the release party.

Sans AIDS – I Just Can't Handle This
Des mots nostalgiques d'Aaron Levin:
(Traduit par l'esprit rétro de Maya Keshav)
Ce projet parallèle du leader Peter S. d'Outdoor Miners doit être la meilleure escapade de lo-fi pop fait avec deux pieds, deux mais, une guitare, et deux drums. Quand on l'écrit comme ça, c'est comme beaucoup de choses se passent, mais il n'y a que Peter. Et il est magnifique de le voir jouer la double batterie coup-de-pied-sur-la-caisse-claire pendant qu'il gratte les mélodies super entraînantes et mémorables pendant qu'il chante
de manière paresseuse tour-en-voiture-en-famille-de-dimanche. Ils en ont imprimé 50 et les ont presque tout vendus avant la soirée du lancement.
Sans AIDS – I Just Can't Handle This
---