Tag: sad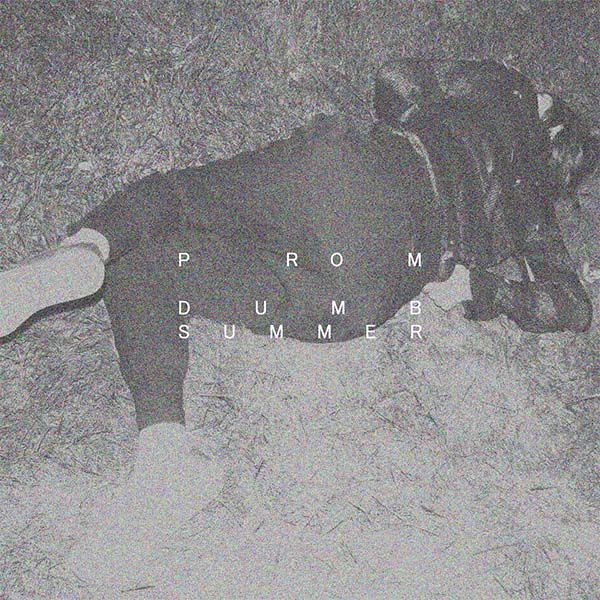 Prom
dumb summer
(Self Released)
Toronto, ON
From the shattered ornithology of Joshua Robinson:
They return, with lo-fi proverbs that speak to the static heart housed in the most whirling of us all. Tapestries hang from mildewed ceilings, affectations and tenderness falling from water spouts as charcoal recoils spiral scorned innuendo. To the criers prostrate on the yellowed floor: hold hands under cold taps as aquafirs pool in cupped hands; lips pursed, inhaling liquid healing. For those caught in the roundabout, know that heartstrings double as damaged ornithologies; clipped wings and tear ducts attuned to the crisp crackle of 'hello' followed by 'goodbye'. We are young. We are broken.
De l'ornithologie éclatée de Joshua Robinson:
(Traduit par Jessica Grenier)
Ils sont de retour avec des proverbes lo-fi qui parlent au cœur statique habitant les plus mouvementés d'entre nous. Tapisseries suspendues à des plafondsmoisis, manières et tendresse tombant de gerbes d'eau tels les rejets charbonneux spiralés d'une insinuation méprisable. Au crieur prostré sur le plancher jauni : joins tes mains sous le robinet froid comme des paumes recueillant un réservoir aquifère, les lèvres tendues pour recevoir la guérison liquide. Pour ceux perdus entre les lignes, sachez que les cordes sensibles sont aussi des ornithologies endommagées : ailes coupées et canaux lacrymaux accordés au crépitement craquant d'un « bonjour » suivi d'un « au revoir ». Nous sommes jeunes. Nous sommes brisés.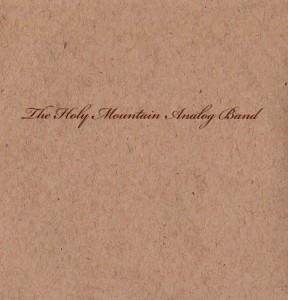 The Holy Mountain Analog Band
The Return To Lonely Mountain
(Self Released)
Victoria, BC
From the barometric upthrusts of Joshua Robinson:
Somewhere along the path to Lonely Mountain, the Holy Mountain Analog Band found themselves trapped and blinded in the haze of their harrowing ascent to the summit of these tectonic tales. This Lonely Mountain, this monster riding the abridged back of the horizon, stabs its vitrified solemnity through the stomach and out the back of the loosely hanging clouds above. These fragile escarpments, these songs of stone and glass, these winding sojourns through the rough and the wild, emerge undaunted by their barometic upthrusts. What are these nomads of the travelling heart returning to? What have they left behind? So much remains unanswered by these parables of soft travels through rolling divides. That their folk could be so lachrymose yet so palpably optimistic makes this ascent to the Mountain's balding head instantly nostalgic; nomadic folk for the helplessly landlocked.
Des sursauts barométriques de Joshua Robinson:
(Traduit lentement par l'orégénèse estomaquée de Hugo Hyart)
Quelque part sur le chemin de Lonely Mountain, le Holy Mountain Analog Band s'est retrouvé piégé et aveuglé par la brume de sa poignante ascension vers le sommet de ces contes tectoniques. Cette Lonely Mountain, ce monstre chevauchant le dos abrégé de l'horizon, poignarde sa solennité vitrifiée dans l'estomac et ressort par le dos des nuages accrochés nonchalamment au-dessus. Ces escarpements fragiles, ces chansons de pierre et de verre, ces séjours sinueux dans le rude et le sauvage, émergent vaillamment par leurs sursauts baromètriques. Où retournent donc ces nomades au coeur voyageur ? Que laissent-ils derrière eux? Tant de choses restent sans réponses par ces paraboles de voyage doux à travers des divisions roulantes. Que leur peuple puisse être si morne et pourtant si manifestement optimiste rend cette ascension vers le sommet dégarni de la Montagne instantanément nostalgique; peuple nomade pour les désespérés enclavés.
The Holy Mountain Analog Band – Return to Lonely Mountain
The Holy Mountain Analog Band – The Cheerup Boy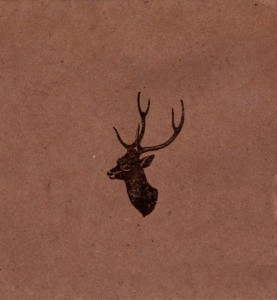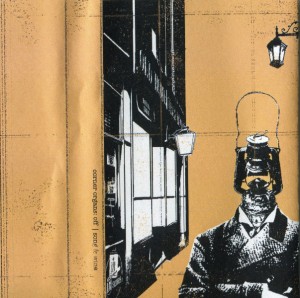 Corner Organs: Off
Songs & Wine
(Veverzay)
Halifax, NS
From the hazy fog of Joshua Robinson:
Rich with the warmth of unencumbered DIY, Nova Scotia's Corner Organs: Off rein in the damp chill of the Atlantic breeze with a basement alt-folk sound pushing these songs over cold sand, under grey skies, and through the hazy early morning fog. The minimalism of Songs & Wine is perhaps what renders it most captivating: a handful of discernible sounds bound together with threads of tape hiss soundscapes and whispered vocals begging for a reprieve from the overwhelming power of the Eastern shoreline. This juxtaposition of minimalist sounds with abstractions of austerity marks this as music not bound by geography, politics, or appropriated sentiment. This is truly Canadian gruff, with beards sweeping wood chips and dead leaves from cold cement floors. Yet the sternness and sorrow give way to a glowing pride in the knowledge that Nova Scotia's heart lies as much in its scenery as it does in the creative endurance of its inhabitants.
Du brouillard trouble de Joshua Robinson:
(Traduit par Jacinthe Laplante)
Débordant de chaleur faite maison et sans contrainte, le groupe néo-écossais Corner Organs: Off règne dans la brise fraîche et humide de l'Atlantique, avec un son alt-folk de sous-sol qui pousse ces chansons au-dessus du sable froid, sous un ciel gris et à travers le brouillard trouble de l'aube. Ce qui rend Songs & Wine si captivant, c'est peut-être son minimalisme : une poignée de sons distincts, liés par le paysage sonore du sifflement des cassettes et par les chants chuchotés qui implorent un répit de la force accablante du littoral de l'est. Cette juxtaposition de sons minimalistes et d'abstractions d'austérité révèle une musique qui n'est pas limitée par la géographie, la politique ou les sentiments appropriés. C'est de la vraie rudesse canadienne, avec des barbes balayant les planchers de ciment froids de leurs copeaux de bois et de leurs feuilles mortes. Et pourtant, l'austérité et le chagrin cèdent leur place à la fierté rayonnante de savoir que le cœur de la Nouvelle-Écosse réside autant dans son paysage que dans l'endurance créative de ses habitants.
Corner Organ: Off – All There Is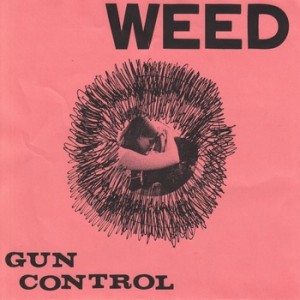 Weed
Gun Control
Vancouver, BC
From the nine mili meters of Aaron Levin:
Ease back into 90s sluritude with Weed's latest quad-platter offering of bummed-out grunge. The newly formed melancholy drips mighty rhythms into a painful chorus of subterranean solitude; the glimmering sun, locked into grooves laced with peaks and valleys, rarely yielding a morning dew more suffocating than the BOSS distortion warming each track on Gun Control. Minimal synth aficionados will be fooled by "Ben's Tour"'s opening riff, but the real heads will dive for the mail-order-only grippage. Vinyl is limited to 200 copies with a cassette-version offered via Green Burrito.
Des neuf milli mètres d'Aaron Levin: (Traduit par l'isolement banlieusard de Maya Keshav)
Laisse-toi tomber dans la marmonnitude des années 90 avec le dernier don quad-plateau de Weed du grunge maussade. La mélancolie nouvellement créée trempe les grands rythmes dans un refrain douloureux d'isolement souterrain; le soleil scintillant, coincé dans les rainures trempées de pics et de vallons, qui donnent rarément une rosée du matin plus étouffante que la distorsion BOSS qui réchauffe chaque morceau sur Gun Control. Les aficionados du synthé minimal seront trompés par le premier riff de "Ben's Tour", mais les vrais experts vont sauter dans l'achat qui est disponible exclusivement par la poste. Il n'y a que 200 copies en vinyle avec une version cassette disponible via Green Burrito.
---