Tag: Saccharine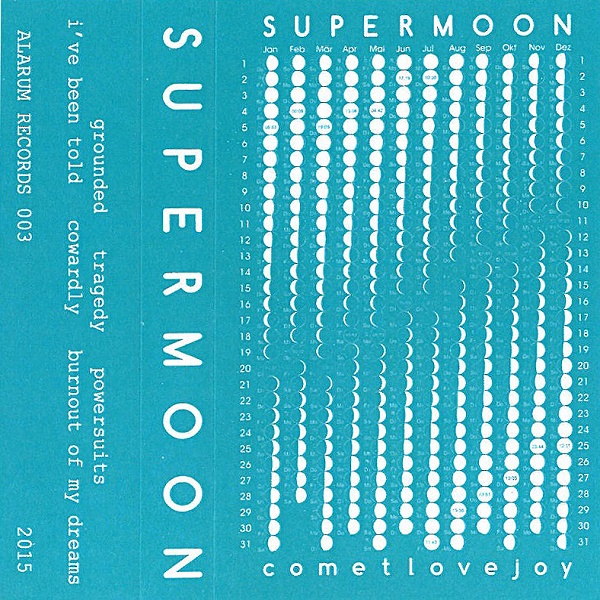 Supermoon
Comet Lovejoy
Vancouver, BC
From the sweet tooth of Sam Joseph:
From the ashes of Movieland, a new squad of Vancouver fuzz-poppers emerges. The girls of Supermoon are suited up and ready for liftoff with their debut, Comet Lovejoy. A brilliant sugar rocket of twee-pop, S.S Supermoon climbs into the stratosphere before activating full thrust at halfway point (and album standout) "Powersuits," leaving behind a serpentine exhaust plume. Headed for the cosmos, this spaceship burns at full speed until Comet Lovejoy reaches its frenetic, panicked conclusion. You suddenly find yourself back on solid ground, experiencing a sugar hangover for the ages.
Du bec sucré de Sam Joseph:
(Par le pschiiit sucré d' Aliké Harel)
Des cendres de Movieland renaît une nouvelle brigade fuzz-pop vancouvéroise. Les filles de Supermoon sont parées au décollage de leur premier album, Comet Lovejoy. Une brillante fusée au sucre de twee-pop, la station spatiale Supermoon s'élève dans la stratosphère avant d'actionner son propulseur (et la pièce maîtresse de l'album) « Powersuits » à mi-chemin, laissant la fumée d'échappement serpenter dans son sillage. En route vers le cosmos, la navette bat son plein jusqu'à ce que Comet Lovejoy atteigne un apogée frénétique et paniqué. Retour brutal sur la terre ferme, vous voilà aux prises avec la surdose de sucre du siècle.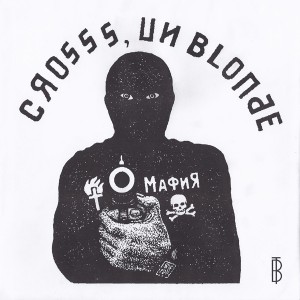 Un Blonde // Crosss
Split
Calgary, AB // Hamilton, ON
From the obsidian blues of Javier Fuentes:
Night-time rituals conducted inside obsidian caverns. Crosss play on with trembling rhythms and buzzing guitars that challenge and guide the uninitiated to the psychedelic unknown. The haunted six string melodies of a prolific Calgarian echo deep into the walls. Un Blonde's ceremonial chants delivered like a prairie druid leading us into rock and roll revival. This is transformation through reverberation.
Du cafard d'obsidiennes de Javier Fuentes :
(Traduit par les chants religieux de Julie Forget)
Des rituels nocturnes sont menés à l'intérieur de cavernes d'obsidiennes. Crosss continue à jouer avec des rythmes tremblants et des guitares bourdonnantes qui défient et guident les non-initiés vers l'inconnu psychédélique. Les mélodies hantées à six cordes d'un Calgarien prolifique résonnent dans la profondeur des murs. Les chants cérémoniels d'Un Blonde sont émis comme un druide des Prairies qui nous mène vers un renouveau rock and roll. Voici une transformation par la réverbération.
---