Tag: rockabilly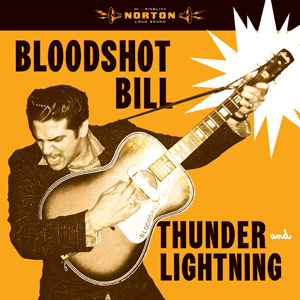 Bloodshot Bill
Thunder & Lightning
Montreal, QC
From the bongo beatin' of Pam Haasen:
Bloodshot Bill has the speed and old country rhythm of a steam locomotive, with the voice of a smoking straw boss crying for that old moon on a dark and lonely street. His vocals echo in between the legs of every woman who hears him while their soda jerks hold on tighter to keep them from slinging bras and roses. Elvis by way of death-growl peppered with bee-boppa-boppa is the music you can't sit down and listen to. Take your bongo beatin' baby to a sock hop, or just to park. Rinse. Repeat.
Du battement de bongo de Pam Haasen:
(Traduit par Odile Leclerc)
Bloodshot Bill a la vitesse d'un vieux rythme country d'un locomotive à vapeur, avec la voix d'un superviseur qui fume, pleurant pour cette vieille lune dans une allé sombre et seule. Ses chants font écho entre les jambes de chaque femme qui l'entend pendant que leur abruti de soda se tienne plus solidement pour les empêcher de tirer leurs brassières et des roses. Elvis avec des grondements de la mort saupoudré de bee-boppa-boppa est la musique que vous ne pouvez pas vous asseoir pour écouter. Amenez votre bébé de battement de bongo à une danse ou juste à une parque. Rincez. Répétez.
[audio:http://weirdcanada.com/wp-content/uploads/2011/07/Weird_Canada-Bloodshot_Bill-Crazy_Bout_The_Girl.mp3|titles=Bloodshot Bill – Crazy 'Bout The Girl] Bloodshot Bill – Crazy 'Bout The Girl
[audio:http://weirdcanada.com/wp-content/uploads/2011/07/Weird_Canada-Bloodshot_Bill-Dark_Lonely_Street.mp3|titles=Bloodshot Bill – Dark Lonely Street] Bloodshot Bill – Dark Lonely Street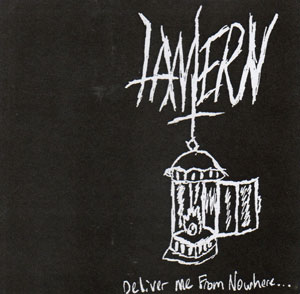 Lantern
Deliver Me From Nowhere…
Montreal, QC // Halifax, NS // Philadelphia, PA
From the brotherly love of Gabriel Jasmin:
Lantern is the duo of Zachary Fairbrother and Emily Robb, two recent Canadian expats gone to the City of Brotherly Love. Wait, are we violating Weird Canada rules? Well, I'm sure both still have Canadian passports, and this first offering is too rad to pass up. Six songs taking cues from early American folk and blues, from desolate quietness to a harmonica call and response to the blown-out fuzz-wah meltdown in "Crude Vessels of Sound." A grand foray into guitar-fueled proto-punk and psychedelic blues, Hasil Adkins cover included.
De l'amour fraternel de Gabriel Jasmin:
(Traduit par Odile Leclerc)
Lantern, c'est le duo Zachary Fairbrother et Emily Robb, deux expatriés canadiens partis vers la Ville de l'Amour Fraternel. Mais pardieu, brisons-nous vraiment les règles de Weird Canada ? Oui, peut-être, mais ils ont encore leur passeports canadiens. Aussi faut-il savoir que cette première cassette est trop savoureuse pour rester silencieux. Six compositions qui empruntent au folk et au vieux blues américain, où l'on passe de la solitude désolante à l'harmonica jusqu'au fuzz-wah anéantissant de << Crude Vessels of Sound >>. Carburant à la guitare, c'est un beau retour aux sources du proto-punk et du blues sauce psychédélique, cover de Hasil Adkins inclus.

Lantern – Crude Vessels of Sound

Lantern – Let's Take a Trip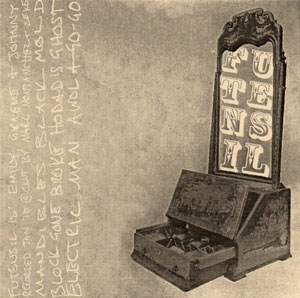 Futensil
Futensil
Montreal, QC
From the swampy high-life of Aaron Levin:
Between the legs of a warped B-52s / Cramps hybranoid exists the maligned and twisted vibrations of Montreal's Futensil. Their atonal jungle of mystic wyrdabilly shivers beneath Emily's shrieks while Psychic Handshake CIO Graeme Langdon chants his way through a distant spell of psychedelic conjure. The overall emotional damage is an addicting aural experience for any futurotic voodoo voyeur.
De la vie de pachas marécageuse d'Aaron Levin:
(Traduit par Odile Leclerc)
Entre les jambes d'un B-52s/ Cramps Hybranoïd voilé existe les vibrations malignes et tordues de Futensil de Montréal. Leur jungle atonal de mystique wyrdabilly frissonne sous les cries d'Emily pendant que CIO Graeme Langdon de Psychic Handshake scande son chemin à travers le distant sortilège de conjuration psychédélique. Le dommage émotionnel global est une expérience auditive addictante pour tout voyeur vodou futurotique.

Futensil – AWOL a Go Go

Futensil – Black Mold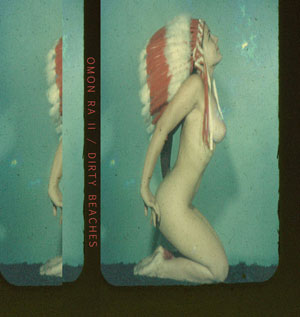 Omon Ra II / Dirty Beaches
Omon Ra II / Dirty Beaches
Montreal, QC // Vancouver, BC
From the staff of (omon) Ra, as wielded by Aaron Levin:
Omon Ra II lands in Montreal and immediately unleashes a seething explosion of post-hyperbole psych-punk: relentless equalizer rejection and blazing guitar shreddery battling for every magnetic millimeter. Meanwhile, Dirty Beaches departs Montreal for sunny Vancouver and metamorphoses into wild nullophonic mystic rockisms; wasted, minimally-greased rockabilly for deadbeat cowboys and vintage thuggery. An odd paring, but this isn't the first time the Omon moniker sat beside something equally disparate. Mind = blown.
Du bâton de (omon) Râ, manié par Aaron Levin:
Omon Ra II arrive à Montréal et lance immédiatement une explosion cinglante de psych-punk post-hyperbole: le rejet d'égaliseur incessant et la déchiqueterie torride de guitare combattent pour chaque millimètre magnétique. Au même temps, Dirty Beaches quitte Montréal pour le Vancouver ensoleillé et se transforme en rockessences mystiques, nullophoniques et folles; c'est le rockabilly bourré et minimalement graissé pour les cowboys bons à rien et la brutalité rétro. C'est un jumelage bizarre, mais ce n'est pas la première fois que le nom Omon s'est assis à côté de quelque chose également disparate. B o u l e v e r s a n t .
---