Tag: rock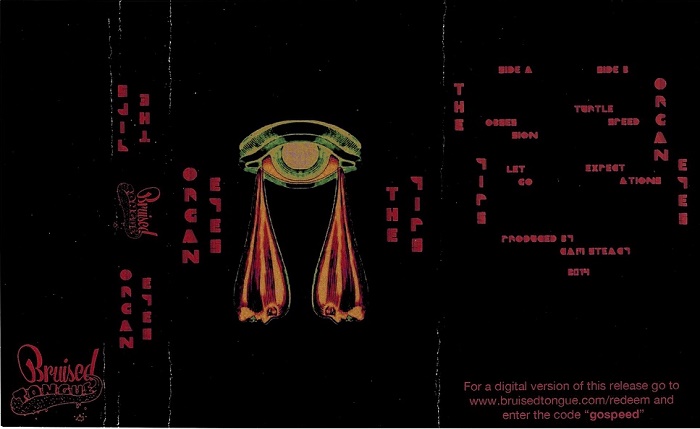 The Yips // Organ Eyes
Split
Ottawa, ON
From the new season of Matthew Blenkarn:
Winter's gone and colour's returned. Bleary-eyed yet bushy-tailed, people snow-crushed souls wake from hibernation and stumble from basement apartments onto clear, sunny sidewalks. Children spout popcorn refrains from recent blockbusters, as radio melodies float from passing cars to rest in pedestrians' ear canals. As bright days fade to humid nights, idle hooks from Centretown streets plants dreams of festivals and patio parties in residents' slumbering subconscious.
De la nouvelle saison de Matthew Blenkarn:
(Traduit par l'hémisphère gauche de Diane Beaupré)
L'hiver est parti, les couleurs reviennent. Les yeux bouffis, mais pleins d'énergie, les âmes des gens écrasées sous le poids de la neige sortent de l'hibernation des sous-sols et émergent sur les trottoirs dégagés et ensoleillés. Tandis que les chansons des radios des voitures qui passent se posent dans les canaux des oreilles des passants, les enfants chantent les refrains entraînants des récents succès. Alors que les journées illuminées se transforment en soirées humides, l'oisiveté s'accroche aux plantes du centre-ville qui rêvent de festivals et de partys sur le patio de résidents endormis béatement.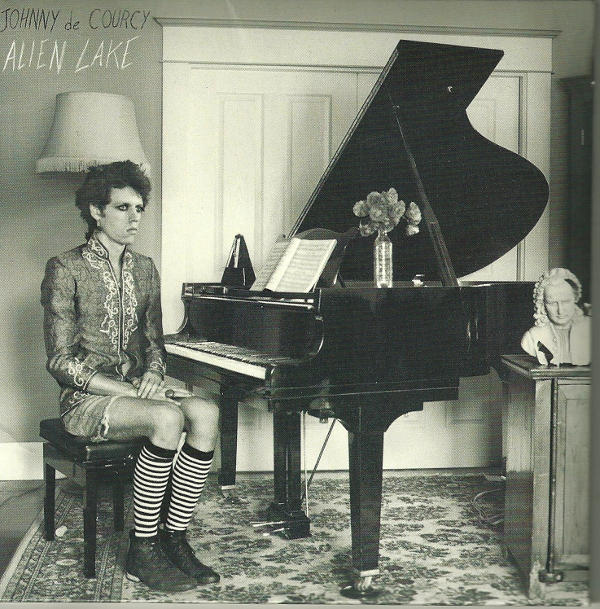 Johnny de Courcy
Alien Lake
New Westminster, BC
From the arterial reference of Josh Rohs:
Be ye in need of one of the following: gut-punch powerpop hooks, fuzz-smothered Pinkertonesque ragers, whimsical balladry, or classic rokk rave-ups (with references arterial intact)? Look no further. Not a lot could hold a Roman Candle to this Neptunian essential. As for the aqua-extraterrestrial, I'm a firm believer.
De la référence artérielle de Josh Rohs:
(Traduit par Sami Imgaline)
Êtes-vous à la recherche de hooks power pop qui déchirent? De soirées Pinkertonesques saturées? De balades fantasques, ou de* raves* classique rokk (avec références artérielles intactes? Ne cherchez plus. Presque rien n'arrive à la cheville de cet indispensable Neptunien. En ce qui concerne l'existence des aqua-extraterrestes, j'y crois fermement.
Johnny de Courcy – I Can't Be That Man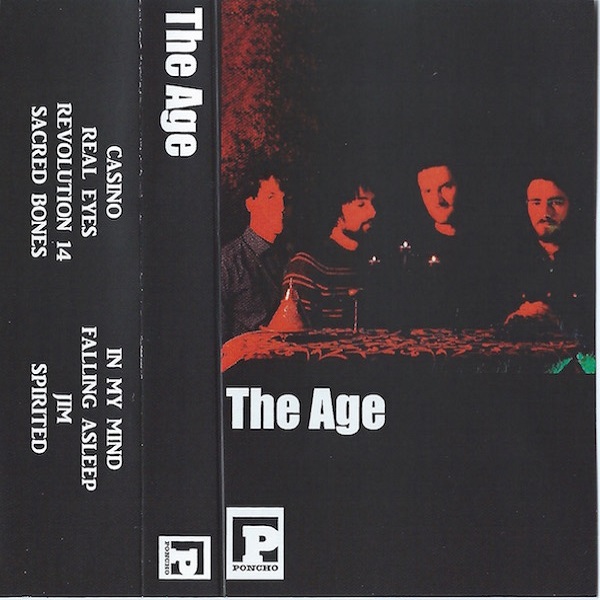 The Age
The Age
Halifax , NS
From the rock and roll disco of Mike Roy:
The vintage rock sounds of Halifax are alive and well in 2015 thanks to the sweet, sweet melodies of The Age. Like their municipal brethren of musical past, The Age don the well-worn, patched-up leather jacket of their retro influences to craft eight finely tuned rock gems that bounce and bob at all the right measures. Each half of the tape is bookended with an instrumental jam, where the group prove their charisma extends beyond catchy hooks into a melodic maelstrom of pure rock-n-roll energy.
Du disco rock'n'roll de Mike Roy:
(Traduit par le bariolé d' Aliké Harel)
En 2015, le son rock vintage vit et bat son plein à Halifax grâce aux belles et jolies mélodies de The Age. Au même titre que leurs compatriotes d'une époque musicale révolue, The Age affiche ouvertement ses influences rétro telle une veste de cuir usée et rapiécée sur ces huit pistes bien fignolées, huit joyaux de rock qui bondissent, cabriolent et battent toutes la bonne mesure. Chaque côté de la cassette se clôt par un jam instrumental, un mélodieux maelström d'énergie purement rock'n'roll prouvant que le charisme du groupe ne se limite pas à ses refrains accrocheurs.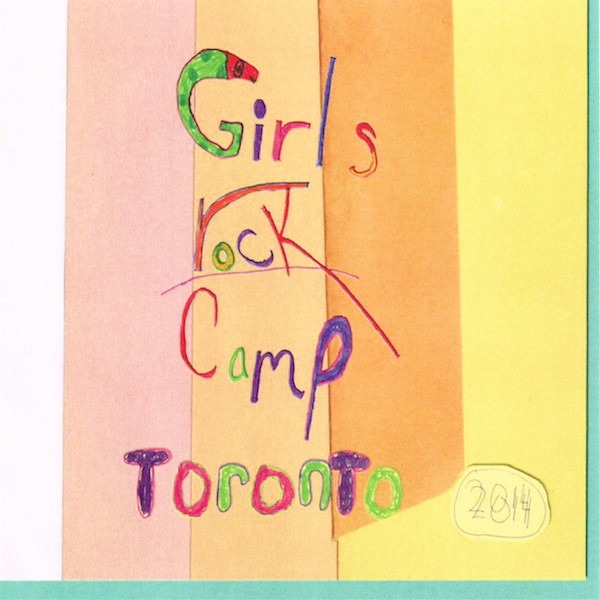 Various Artists
Girls Rock Camp Toronto – 2014
Toronto, ON
From the gushing dopamine levels of Sara Bortolon-Vettor:
Girls Rock Camp Toronto is a non-profit community organization empowering young women to play rock music. Their 2014 Compilation CD features a new kind of pop music: a fresh perspective from the voices of girls. It is genuine, fun, honest and quirky – there's nothing jaded about it. A spectacle of talents, diverse genres and instrumentations with all songs written and performed entirely by girls. The compilation includes 11 tracks highlighting the broad scope of songwriting and playing from Meteor Season's rock-pop gem, "Coming Your Way" to #pandabandits' punk-rocker, "The Great Release." To hear how this new pop will grow is worth the anticipation.
Des niveaux de dopamine débordants de Sara Bortolon-Vettor:
(Traduit par les terrasses caféïnées de Marie-Pier Chevrier)
Girls Rock Camp Toronto est un organisme communautaire à but non lucratif qui encourage les jeunes femmes à jouer de la musique rock. Leur CD Compilation 2014 met en valeur un nouveau style de musique pop de la perspective rafraîchissante des voix des filles. Authentique, ludique et farfelu, on n'y trouve absolument rien de réchauffé. Le tout, entièrement écrit et interprété par des filles, explore différents genres et instrumentations. L'album comprend 11 pistes qui dévoilent une vaste étendue d'écriture et d'interprétation, du bijou pop-rock « Coming Your Way » de Meteor Season au punk-rock « The Great Release » des #pandabandits. L'écoute patiente de l'évolution de cette nouvelle pop en vaudra certainement l'attente.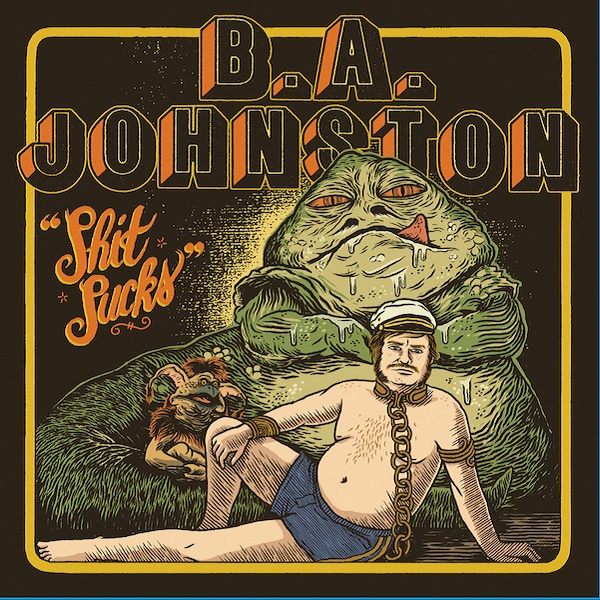 B.A. Johnston
Shit Sucks
Barrie, ON
From the very, very broke Mike Roy:
If you're familiar with the gospel according to B.A., then you already know what's in store for Shit Sucks. His tenth record utilizes simple acoustics and 8-bit blips circa 1982 to help you realize there's nothing wrong with buying the no-name brand of chips. The universals about shitty cats, skinny jeans, Fort Mac and drinking on your parents' dime are all too real, and not just because I had my mom wire me $20 last week so I could go to the bar. Long live King B.A. as he adds another jewel into his BK Crown.
Du très, très paumé Mike Roy:
(Traduit par Jessica Grenier)
Si tu connais déjà l'évangile selon B.A., tu sais ce que Shit Sucks te réserve. Son dixième enregistrement utilise une acoustique simple et des sons 8 bits sortis directement de 1982 pour te montrer qu'au fond, c'est correct d'acheter des chips No Name. L'universalité des chats merdiques, du Fort Mac, des skinny jeans et des bières achetées sur le bras des parents n'est que trop réelle – et je ne dis pas ça parce que j'ai demandé à ma mère de me virer 20 $ la semaine passée pour pouvoir aller au bar. Longue vie à B.A., le roi qui ajoute ici un autre joyau à sa couronne.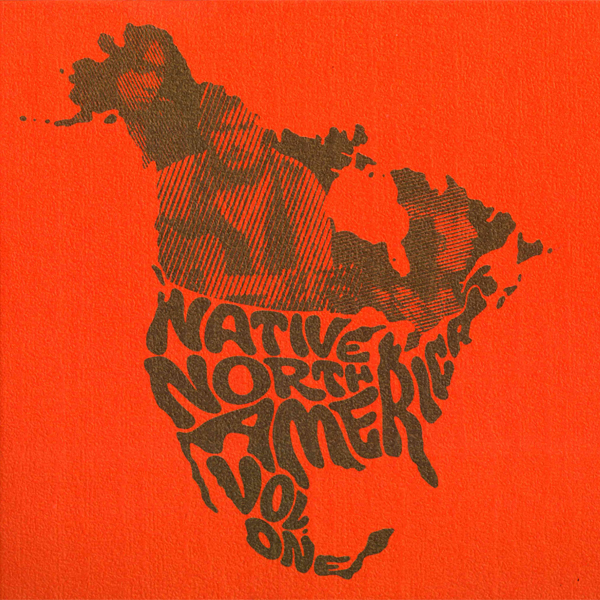 Various Artists
Native North America: Aboriginal Folk, Rock, and Country: 1966-1985 (Vol. 1)
Various,
From the anonymous fox that is Talia Jacob:
Like a reprieve from cold Canadian winters, Native North America easily enfolds you in its warmth, swaddling you in rich & deep melodies. From sea to sea, twenty-three Aboriginal artists & groups echo this land's rawest vistas; the rolling of prairies, the crispness of mountains, the coolness of woods, the smoking of cities, the choking of towns. Sonorous voices breathe a cold draft through the cozy acoustic folds of music, with rustling whispers of voicelessness, oppression, exploitation & vagrancy. In a very subtle & slow way, these songs reach deep inside of you. The compilation proves to be a beautiful intimation of music as a rediscovery of culture, voice & meaning.
De la part du renard anonyme qu'est Talia Jacob:
(En direct de l'hémisphère gauche de Diane Beaupré)
Pour vous donner un répit des froids hivers canadiens, laissez Native North America vous envelopper dans sa chaleur et vous emmitoufler dans ses riches et envoûtantes mélodies. D'un océan à l'autre, vingt-trois artistes et groupes autochtones font écho aux paysages les plus purs du pays; les immenses prairies, les montagnes majestueuses, les forêts apaisantes, les villes grouillantes, les agglomérations étouffantes. Les voix graves soufflent le froid sur la musique réconfortante, comme les bruissements murmurés de l'oppression, de l'exploitation et du vagabondage. Lentement et de façon très subtile, ces chansons vous atteignent profondément. La compilation se révèle être une magnifique invitation à redécouvrir la culture, la voix et le sentiment par la musique.
Willie Dunn – I Pity the Country
Lloyd Cheechoo – James Bay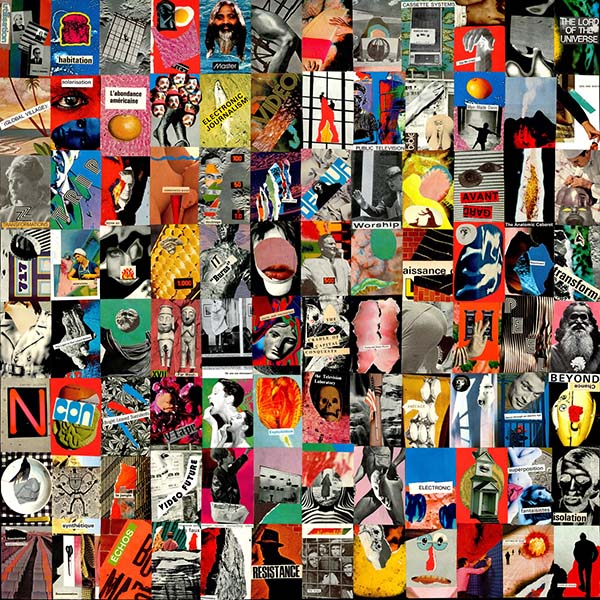 Freak Heat Waves
Bonnie's State of Mind
Victoria, BC
From the island beside an island of Johnnie Regalado:
The freaky boys' latest wave of heat has picked up some serious space debris after reflecting back from their original transmissions. Now wielding their solo palace as a brush to paint in the space between the sound, the trio have reached the equilibrium of master mixer tinkering and raw-from-the-floor reality. Subtle additions to their style blip up in the delicately placed loops and sharply focused vocals. When their songs aren't trying to reprogram your mind they are trying to move your feet.
D'une île à côté d'une île de Johnnie Regalado:
(Traduit par les coins de rue cafféinés de Marie-Pier Chevrier)
La dernière vague de chaleur de ces insolites garçons a collecté d'importants débris spatiaux depuis de leurs premières transmissions. Brandissant maintenant leur propre royaume tel un pinceau pour peindre l'espace entre les sons, le trio a atteint cet équilibre entre le mixage rafistolé à la perfection et la réalité cueillie à même le sol. De subtils ajouts à leur style en ponctuent les boucles délicatement placées et les voix finement mises au point. Quand leurs chansons n'essaient pas de vous reprogrammer le cerveau, elles font tout pour faire bouger votre corps.
Freak Heat Waves – A Civil Servant Awakening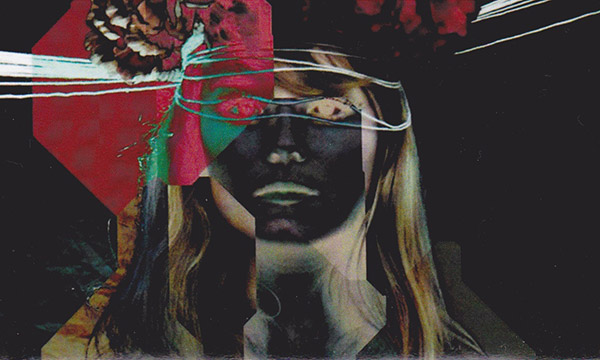 The Yips
Air Loom
Ottawa, ON
From the distorted parapets of Joshua Robinson:
Ouija words spill across distorted distances. Sound waves imbued with garage spirits that once stood so still now force their way through the parapets that keep their potential energy at bay. Air Loom is a staggering edifice of sound; a source of the waves that emanates from the eye of the storm , intorting its breath to the point of becoming the heavy dissonance that turns calm to clamour; 'yeah yeah yeahs' that reverberate across the northernly compass.
Des garde-fous tordus de Joshua Robinson:
(Traduit par Jessica Grenier)
Des mots de Ouija s'étendent sur un horizon déformé. Des vagues de son imprégnées d'esprits de garage, qui jadis restaient si immobiles, essayent de défoncer les garde-fous tenant à distance leur énergie potentielle. Air Loom est un édifice de son vertigineux; c'est la source de ces vagues qui émanent de l'œil de la tempête en tordant sa respiration intérieure, au point de devenir une lourde dissonance changeant le calme en cacophonie. Les « yeah yeah yeah » se répercutent à travers l'étendue nordique.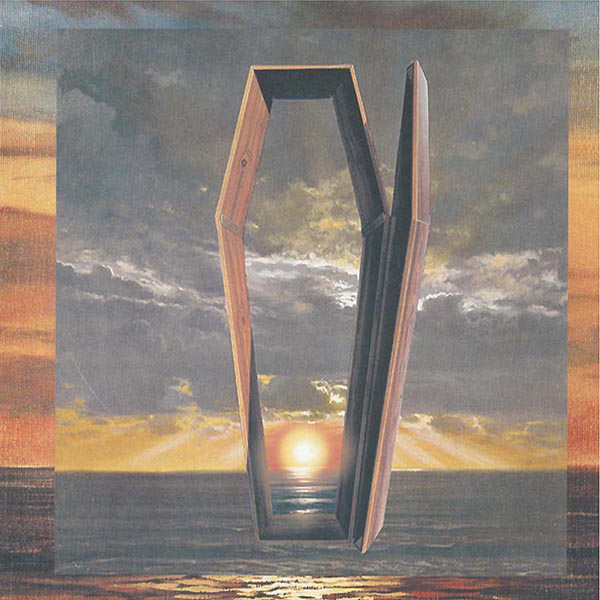 Dead Soft
Dead Soft
Vancouver, BC
From the reaching signals of Brian Fauteux:
Our windows open to the sounds and smells that haven't been present in a season's time. It's the first day of a new year when landlords turn off the heat. In rush transmissions from decades back, when music videos first tumbled through coaxial cable, hitting us with feelings that made our hairs stand on end. Or are these the signals from the dawn of college radio? Either way, Dead Soft delivers the spirit of what these forces once were, of what they never could always be.
Des signaux parvenant à Brian Fauteux:
(Traduit par Jessica Grenier)
Nos fenêtres s'ouvrent sur des sons et des odeurs qui s'étaient absentés le temps d'une saison. Les propriétaires arrêtent le chauffage, c'est le premier jour d'une nouvelle année. Ce sont des transmissions expéditives datant de plusieurs décennies; quand les vidéoclips arrivaient pour la première fois à travers les câbles coaxiaux, nous tombant dessus avec des émotions à nous dresser les cheveux sur la tête. En tout cas, Dead Soft ramène l'esprit de ce qu'étaient alors ces forces – ce qu'elles ne pouvaient pas toujours rester.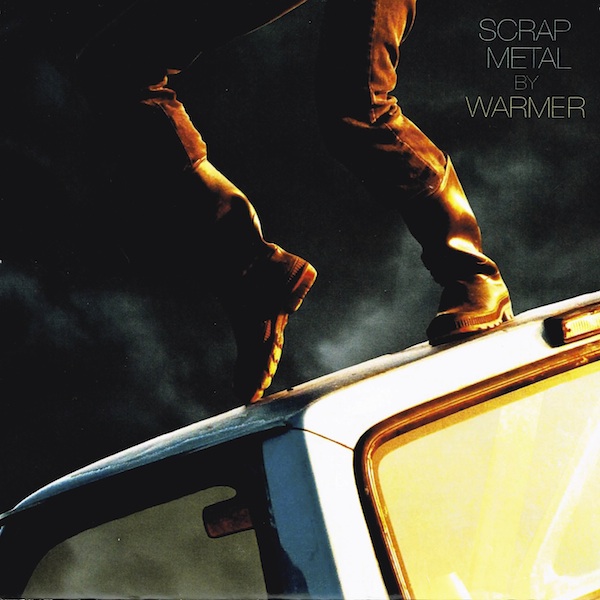 Warmer
Scrap Metal
(Self Released)
Kingston, ON
From the cannabinoid receptors of Sara Bortolon-Vettor:
Tripped out psych-punk trio Warmer teaches us to consistently embrace our environment whether we are in the woods "Howling With Coyotes" or smoking grass with friends. Scrap Metal is a fuzzed-out forest of hallucinogenic guitar accompanied by smooth, dynamic vocals. Sunlight swirls dance beneath your eyelids as tranquil, yet blunt rhythmic textures evoke inner ecstasy. These hazy-punks of Kingston deliver a hard-hitting, psychotropic debut.
Des récepteurs cannabinoïdes de Sara Bortolon-Vettor:
(Traduit par le sac de chips éventré de Jessica Grenier)
Le trio de psych-punk capoté Warmer nous apprend l'acceptation systématique notre environnement, que l'on soit dans les bois (« Howling With Coyotes ») ou en train de fumer de l'herbe avec des amis. Scrap Metal est une forêt *fuzz*ante de guitares hallucinogènes accompagnées d'une voix douce et dynamique. Des tourbillons de soleil dansent derrière nos paupières en suivant l'extase entraînée par les rythmes texturés, directs mais paisibles. Ces punks enfumés de Kingston nous livrent un premier album psychotrope qui frappe fort.
---