Tag: rock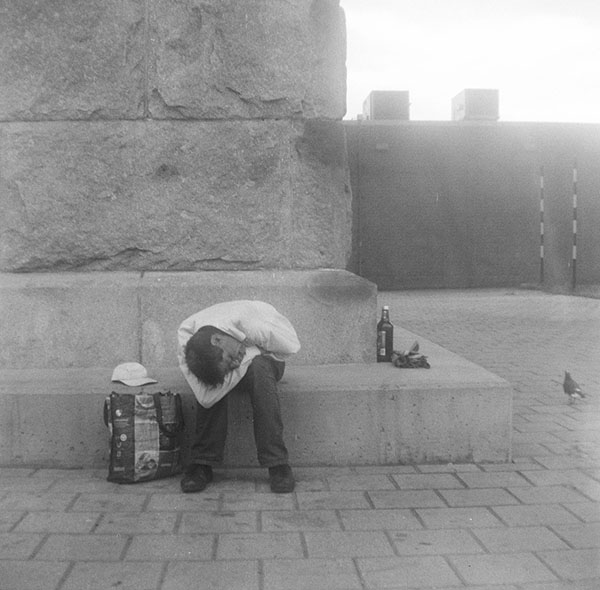 Stegosaurus
PUMMELED
Saint John, NB
From the Riverside dispatches of Ben Burnett:
Like the restless, Bukowski-esque malcontents of the 90's that preceded them – Kasher, Malkmus, Brock, – Stegosaurus desperately want to shed their own skin. Pummeled is a diary of Port City drudgery. Heavy with escapist fantasies, they're too pessimistic to be dreamers. This is a dirty, cathartic processional marching towards a darker horizon.
Des répartitions riveraines de Ben Burnett:
(Traduit par Mylène j'ai besoin de vacances Quevillon)
Tels les insatisfaits et les mécontents des années 90, du genre Bukowski, qui les ont précédés – Kasher, Malkmus, Brock, – Stegosaurus souhaite désespérément se renouveler. Pummeled est le journal de la lutte d'une ville portuaire. C'est la catharsis d'une marche processionnelle morose, vers un horizon encore plus sombre.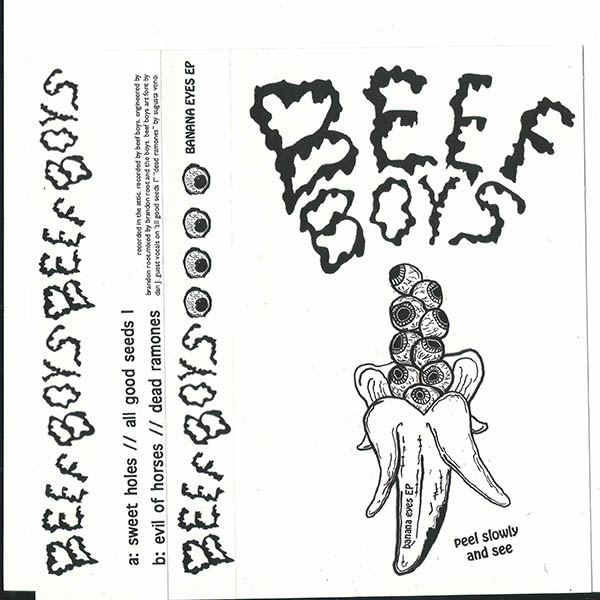 BEEF BOYS
Banana Eyes EP
(Four Eyes Recordings)
Peterborough, ON
From the anxiety ridden thought diarrhea of Mitch Jackson:
The last time I found myself in Peterborough I puked on the hood of someone's Buick. For the unacquainted, Peterborough is a safe haven in the surrounding Mad Max-esque shit storm of all terrain vehicles, and big lifted rigs. Beef Boys emanate from the underbelly of Peterborough, emerging through a slaughterhouse of reverb and fuzz, trading off surf and garage influences. They're decidedly greasy, and I have a sneaking suspicion that they all had a hell of a time tucking their flows into a bucket in minor league puck.
De la diarrhée causée par la pensée chargée d'anxiété de Mitch Jackson:
(Traduit par la surdose d'ipéca de Julie Mayer)
La dernière fois que je me suis retrouvé à Peterborough, j'ai vomi sur le capot de la Buick à quelqu'un. Pour ceux qui ne connaissent pas, Peterborough est un havre de paix situé dans le merdier Mad Max-esque débordant de véhicules tout-terrain et de grosses camionnettes qui font des cascades. Beef Boys émane des entrailles de Peterborough, émerge à travers un abattoir de réverbération et de fuzz et oscille entre des influences surf et garage. Les membres du groupe sont tout à fait louches et je commence à soupçonner qu'ils ont eu un mal fou à rentrer leur tignasse dans leur casque quand ils jouaient au hockey mineur.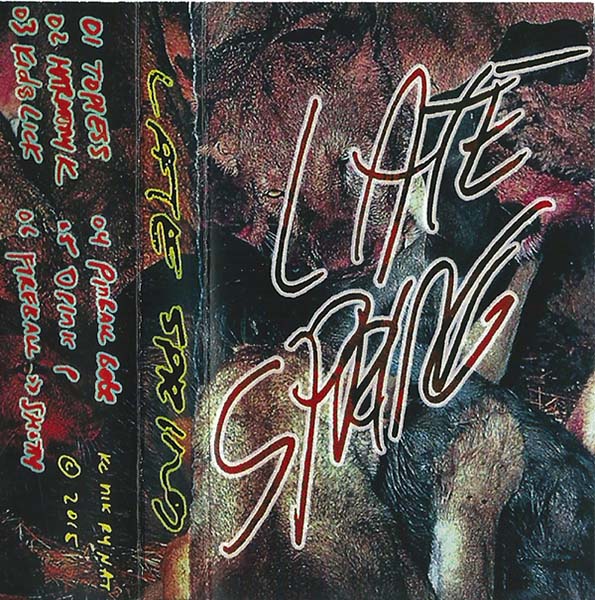 Late Spring
Late Spring
(Self Released)
Vancouver, BC
From the spinning mind of Laura Stanley:
When spring arrives late, winter still circling, a sense of longing becomes unbearable. This yearning is caught up in the mire of Late Spring. As the EP progresses, the questions asked and experiences given allow the band to hear the snow melting. A toughness has grown to take on summer's maturity.
De l'esprit bouillonnant appartenant à Laura Stanley:
(Traduit par Mylène Quevillon)
Lorsque le printemps est tardif, et que l'hiver n'en finit plus de finir, l'attente devient insoutenable. Cette aspiration est enlisée dans la fange de Late Spring. Au fur et à mesure de l'avancement de l'EP, les questions posées et les aventures vécues permettent au groupe d'entendre la neige fondre. Une force s'est développée permettant de capturer la maturité estivale.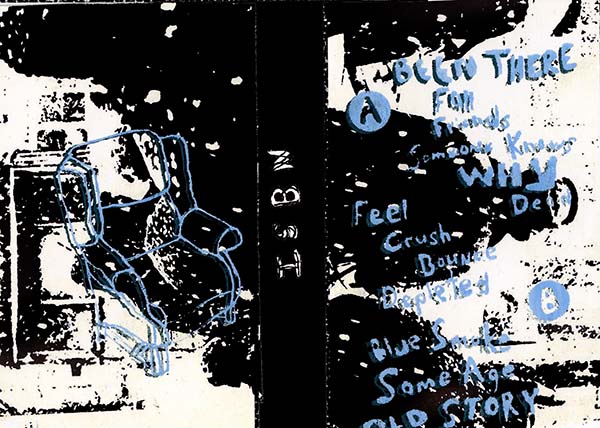 ISBN
Grimmed Out
(Self Released)
Halifax, NS
From the mild surprise of Ezra Lipton:
The new 14-song cassette from ISBN is complete with their catchy-balanced-blended sound. Their balance lies in the punchy bass and responsive drums that form the melody, and construct a foundation for the scratchy exploratory twangings of Dave Burns' guitar which fills in the rest of the sound spectrum. The existential lyrics of Luke Langille are clean and clear. Songs such as "Feel" contain honest, depressive lyrics, but when matched with melody, they create an uplifting, foot-stomping tune that will hurl itself into your memory vaults. Building and maintaining, stopping, and reapplying ensue through their audible expositions, developing a compelling 33 minute release.
De la surprise quelque peu surprenante d'Ezra Lipton:
(Traduit par l'expression légèrement stupéfaite de Louis-Félix Pellerin de Chevigny)
La nouvelle cassette de 14 morceaux d'ISBN s'harmonise avec leur musique entrainante et mélangée, mais équilibrée. Cet équilibre se trouve dans la mélodie formée par une basse dynamique et une batterie réactive; les fondements pour le grattage exploratoire de la guitare de Dave Burns, qui remplit le reste du spectre sonore. Les paroles existentielles de Luke Langille sont nettes et précises. Des morceaux comme « Feel » contiennent des paroles honnêtes et déprimantes qui, une fois couplées à la mélodie, garrochent dans la voûte de tes souvenirs une chanson inspirante qui te fera taper du pied. Construction, poursuite, arrêt et reprise naissent de ces expositions sonores, produisant un album captivant de 33 minutes.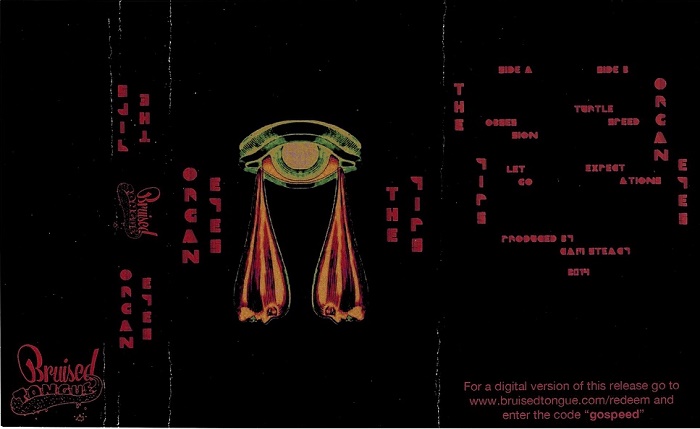 The Yips // Organ Eyes
Split
Ottawa, ON
From the new season of Matthew Blenkarn:
Winter's gone and colour's returned. Bleary-eyed yet bushy-tailed, people snow-crushed souls wake from hibernation and stumble from basement apartments onto clear, sunny sidewalks. Children spout popcorn refrains from recent blockbusters, as radio melodies float from passing cars to rest in pedestrians' ear canals. As bright days fade to humid nights, idle hooks from Centretown streets plants dreams of festivals and patio parties in residents' slumbering subconscious.
De la nouvelle saison de Matthew Blenkarn:
(Traduit par l'hémisphère gauche de Diane Beaupré)
L'hiver est parti, les couleurs reviennent. Les yeux bouffis, mais pleins d'énergie, les âmes des gens écrasées sous le poids de la neige sortent de l'hibernation des sous-sols et émergent sur les trottoirs dégagés et ensoleillés. Tandis que les chansons des radios des voitures qui passent se posent dans les canaux des oreilles des passants, les enfants chantent les refrains entraînants des récents succès. Alors que les journées illuminées se transforment en soirées humides, l'oisiveté s'accroche aux plantes du centre-ville qui rêvent de festivals et de partys sur le patio de résidents endormis béatement.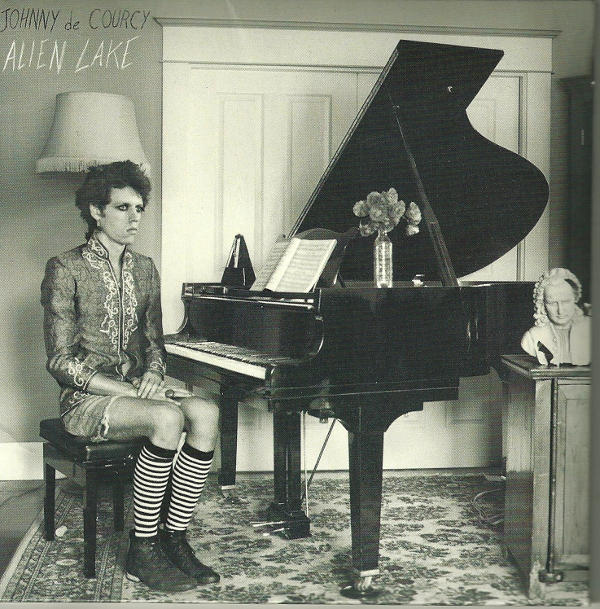 Johnny de Courcy
Alien Lake
New Westminster, BC
From the arterial reference of Josh Rohs:
Be ye in need of one of the following: gut-punch powerpop hooks, fuzz-smothered Pinkertonesque ragers, whimsical balladry, or classic rokk rave-ups (with references arterial intact)? Look no further. Not a lot could hold a Roman Candle to this Neptunian essential. As for the aqua-extraterrestrial, I'm a firm believer.
De la référence artérielle de Josh Rohs:
(Traduit par Sami Imgaline)
Êtes-vous à la recherche de hooks power pop qui déchirent? De soirées Pinkertonesques saturées? De balades fantasques, ou de* raves* classique rokk (avec références artérielles intactes? Ne cherchez plus. Presque rien n'arrive à la cheville de cet indispensable Neptunien. En ce qui concerne l'existence des aqua-extraterrestes, j'y crois fermement.
Johnny de Courcy – I Can't Be That Man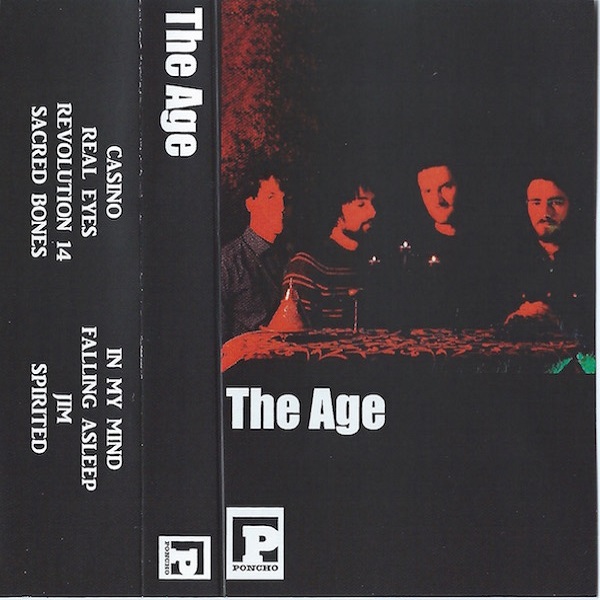 The Age
The Age
Halifax , NS
From the rock and roll disco of Mike Roy:
The vintage rock sounds of Halifax are alive and well in 2015 thanks to the sweet, sweet melodies of The Age. Like their municipal brethren of musical past, The Age don the well-worn, patched-up leather jacket of their retro influences to craft eight finely tuned rock gems that bounce and bob at all the right measures. Each half of the tape is bookended with an instrumental jam, where the group prove their charisma extends beyond catchy hooks into a melodic maelstrom of pure rock-n-roll energy.
Du disco rock'n'roll de Mike Roy:
(Traduit par le bariolé d' Aliké Harel)
En 2015, le son rock vintage vit et bat son plein à Halifax grâce aux belles et jolies mélodies de The Age. Au même titre que leurs compatriotes d'une époque musicale révolue, The Age affiche ouvertement ses influences rétro telle une veste de cuir usée et rapiécée sur ces huit pistes bien fignolées, huit joyaux de rock qui bondissent, cabriolent et battent toutes la bonne mesure. Chaque côté de la cassette se clôt par un jam instrumental, un mélodieux maelström d'énergie purement rock'n'roll prouvant que le charisme du groupe ne se limite pas à ses refrains accrocheurs.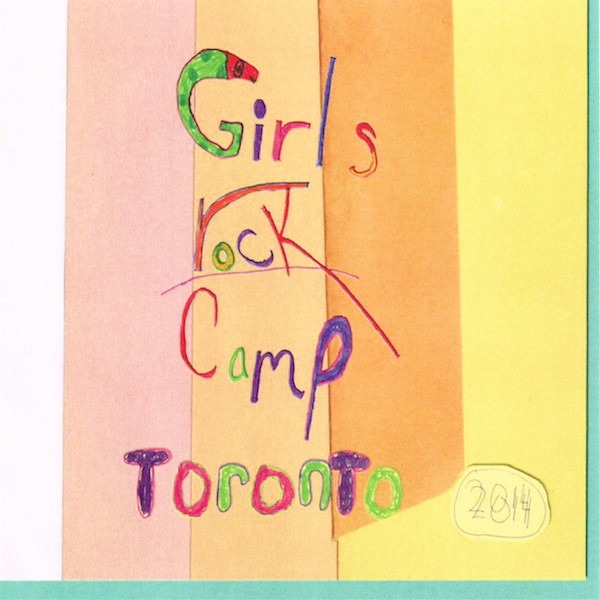 Various Artists
Girls Rock Camp Toronto – 2014
Toronto, ON
From the gushing dopamine levels of Sara Bortolon-Vettor:
Girls Rock Camp Toronto is a non-profit community organization empowering young women to play rock music. Their 2014 Compilation CD features a new kind of pop music: a fresh perspective from the voices of girls. It is genuine, fun, honest and quirky – there's nothing jaded about it. A spectacle of talents, diverse genres and instrumentations with all songs written and performed entirely by girls. The compilation includes 11 tracks highlighting the broad scope of songwriting and playing from Meteor Season's rock-pop gem, "Coming Your Way" to #pandabandits' punk-rocker, "The Great Release." To hear how this new pop will grow is worth the anticipation.
Des niveaux de dopamine débordants de Sara Bortolon-Vettor:
(Traduit par les terrasses caféïnées de Marie-Pier Chevrier)
Girls Rock Camp Toronto est un organisme communautaire à but non lucratif qui encourage les jeunes femmes à jouer de la musique rock. Leur CD Compilation 2014 met en valeur un nouveau style de musique pop de la perspective rafraîchissante des voix des filles. Authentique, ludique et farfelu, on n'y trouve absolument rien de réchauffé. Le tout, entièrement écrit et interprété par des filles, explore différents genres et instrumentations. L'album comprend 11 pistes qui dévoilent une vaste étendue d'écriture et d'interprétation, du bijou pop-rock « Coming Your Way » de Meteor Season au punk-rock « The Great Release » des #pandabandits. L'écoute patiente de l'évolution de cette nouvelle pop en vaudra certainement l'attente.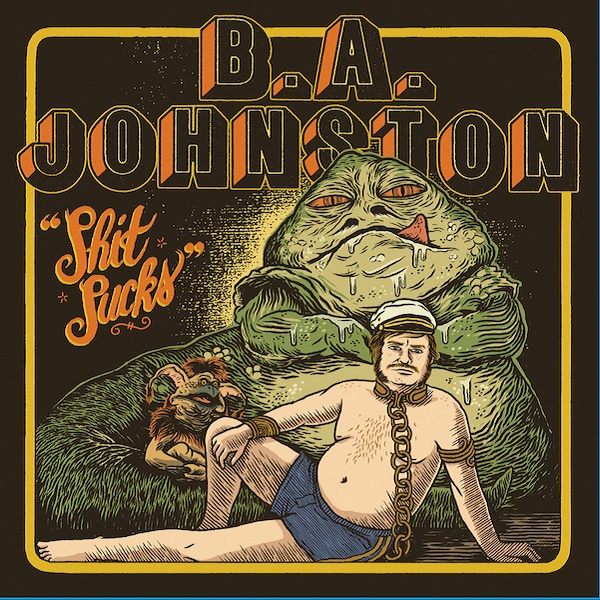 B.A. Johnston
Shit Sucks
Barrie, ON
From the very, very broke Mike Roy:
If you're familiar with the gospel according to B.A., then you already know what's in store for Shit Sucks. His tenth record utilizes simple acoustics and 8-bit blips circa 1982 to help you realize there's nothing wrong with buying the no-name brand of chips. The universals about shitty cats, skinny jeans, Fort Mac and drinking on your parents' dime are all too real, and not just because I had my mom wire me $20 last week so I could go to the bar. Long live King B.A. as he adds another jewel into his BK Crown.
Du très, très paumé Mike Roy:
(Traduit par Jessica Grenier)
Si tu connais déjà l'évangile selon B.A., tu sais ce que Shit Sucks te réserve. Son dixième enregistrement utilise une acoustique simple et des sons 8 bits sortis directement de 1982 pour te montrer qu'au fond, c'est correct d'acheter des chips No Name. L'universalité des chats merdiques, du Fort Mac, des skinny jeans et des bières achetées sur le bras des parents n'est que trop réelle – et je ne dis pas ça parce que j'ai demandé à ma mère de me virer 20 $ la semaine passée pour pouvoir aller au bar. Longue vie à B.A., le roi qui ajoute ici un autre joyau à sa couronne.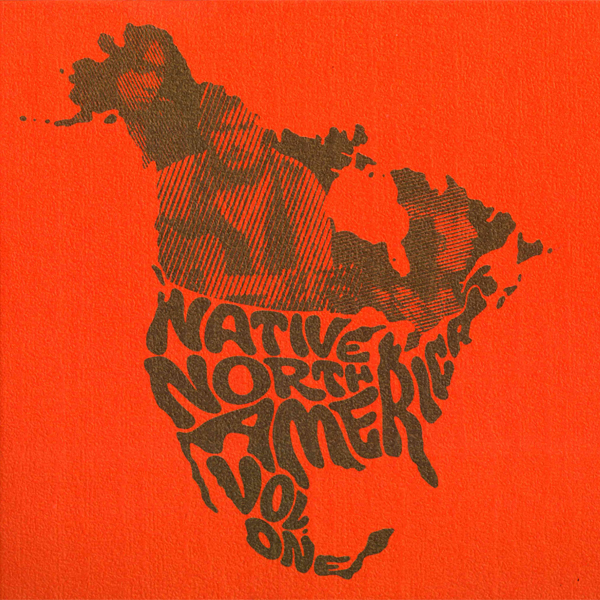 Various Artists
Native North America: Aboriginal Folk, Rock, and Country: 1966-1985 (Vol. 1)
Various,
From the anonymous fox that is Talia Jacob:
Like a reprieve from cold Canadian winters, Native North America easily enfolds you in its warmth, swaddling you in rich & deep melodies. From sea to sea, twenty-three Aboriginal artists & groups echo this land's rawest vistas; the rolling of prairies, the crispness of mountains, the coolness of woods, the smoking of cities, the choking of towns. Sonorous voices breathe a cold draft through the cozy acoustic folds of music, with rustling whispers of voicelessness, oppression, exploitation & vagrancy. In a very subtle & slow way, these songs reach deep inside of you. The compilation proves to be a beautiful intimation of music as a rediscovery of culture, voice & meaning.
De la part du renard anonyme qu'est Talia Jacob:
(En direct de l'hémisphère gauche de Diane Beaupré)
Pour vous donner un répit des froids hivers canadiens, laissez Native North America vous envelopper dans sa chaleur et vous emmitoufler dans ses riches et envoûtantes mélodies. D'un océan à l'autre, vingt-trois artistes et groupes autochtones font écho aux paysages les plus purs du pays; les immenses prairies, les montagnes majestueuses, les forêts apaisantes, les villes grouillantes, les agglomérations étouffantes. Les voix graves soufflent le froid sur la musique réconfortante, comme les bruissements murmurés de l'oppression, de l'exploitation et du vagabondage. Lentement et de façon très subtile, ces chansons vous atteignent profondément. La compilation se révèle être une magnifique invitation à redécouvrir la culture, la voix et le sentiment par la musique.
Willie Dunn – I Pity the Country
Lloyd Cheechoo – James Bay
---