Tag: rock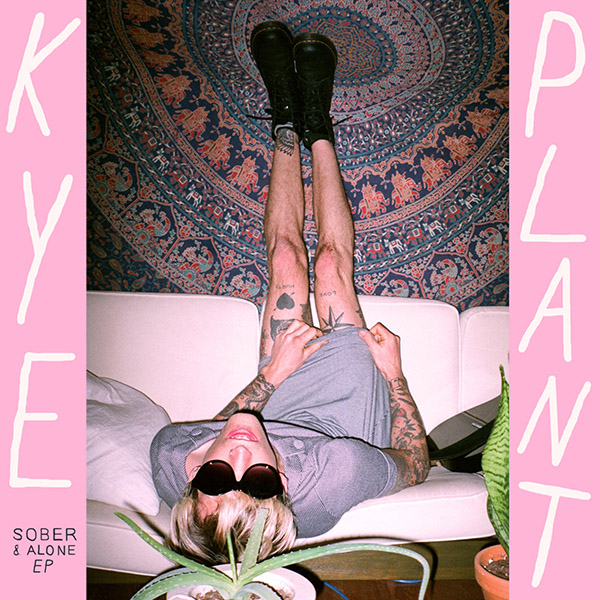 Kye Plant
Sober & Alone EP
(Gary Cassettes)
Victoria, BC
From the questioning self of Johnnie Regalado:
A soft breeze sneaks in an open window, turns the pages of the notebook on the bedside table, and lifts the solemn words out into the ether. Sing along with the sorrow. Nothing remembered is lost forever. Kye Plant's solo harmonies echo an important reminder: there's absolutely nothin' wrong with feelin' weird.
Du soi s'interrogeant de Johnnie Regalado:
(Traduit par les flocons épicés de Marie-Pier Chevrier)
Une douce brise se faufile par la fenêtre ouverte, tourne les pages du cahier de notes sur la table de chevet et en soulève les mots solennels dans l'éther. Chantez en harmonie avec le chagrin. Aucun souvenir n'est perdu à jamais. Les mélodies des solos de Kye Plant répètent un important rappel : il n'y a absolument rien de mal à se sentir étrange.
Kye Plant – The Gender Binary is a Jail Cell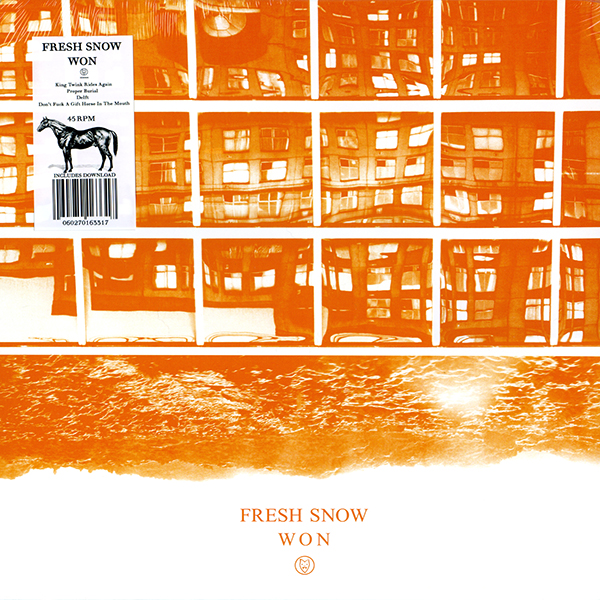 Fresh Snow
WON
Toronto, ON
From the frozen technology of Brendan Lehman:
City streets, forest paths; in and out, up and down. Running from one dirty thrill to the next euphoric hell. Fresh Snow is the score to your chase, sprinting with you as the graceful noise tears down walls and trees alike. Yet still, the sun will rise tomorrow.
De la technologie gelée de Brendan Lehman:
(Traduit par le soleil pensif de Maya Keshav)
Les rues de la ville, les chemins forestiers; ici et là, en haut et en bas. En courant d'un frisson louche vers le prochain enfer euphorique. Fresh-Snow est la bande sonore de ta chasse, qui court à toute vitesse avec toi pendant que les bruits gracieux démolissent les murs et les arbres. Mais tout de même, le soleil se lèvera demain.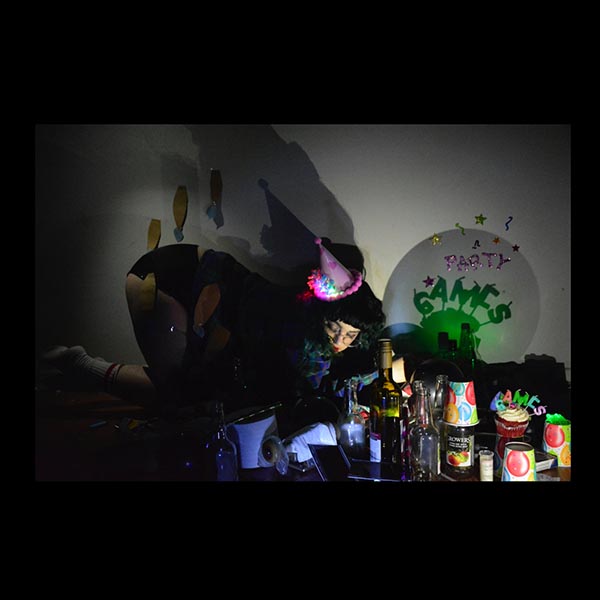 Caity Fisher
Party Games
(Self-Released)
Edmonton, AB
From the empty red cup of Laura Stanley:
There's a stain in the carpet, a drink in your hand, and out of someone's crappy computer speakers Caity Fisher plays her Party Games. Her pop has enough power to rise above the din of the drunken party goers; her fuzzy licks match the fuzz on your tongue. As Fisher croons about feeling good, you drink more and the room begins to spin. She convinces you to dance. At first you're alone but then others join in. You lock eyes with someone on the other side of the room…
The party ends and you don't go home alone. A cruel hangover, puke, and a stranger greet you in the morning, but the next round of Party Games is not too far away.
De la coupe rouge vide de Laura Stanley:
(Le lendemain de veille cruel d'Odile Leclerc)
Il y a une tache sur le tapis, un verre dans ta main et venant des haut-parleurs merdiques de l'ordinateur de quelqu'un, Caity Fisher joue sa Party Games. Sa pop a assez de puissance pour s'élever au-dessus des gens saouls qui font la fête, ses rythmes flous correspondent au duvet sur ta langue. Alors que Fisher roucoule à propos du fait qu'elle se sent bien, tu continues à boire et la pièce commence à tourner. Elle te convainc de danser. Au début, tu es seul, mais ensuite d'autres te rejoignent. Tu croises le regard de quelqu'un à l'autre bout de la pièce… La fête se termine fin et tu ne rentres pas seul chez toi. Un lendemain de veille cruel, de la vomissure et un étranger t'accueillent au matin, mais la prochaine partie de Party Games n'est pas trop loin.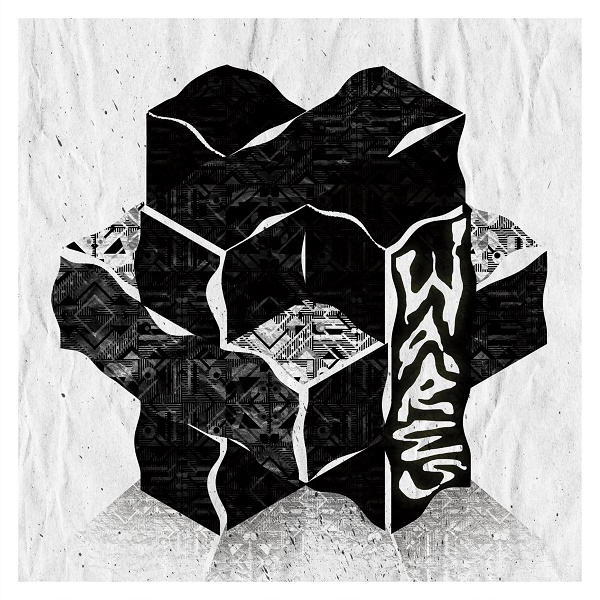 Wares
Missed the Point b/w Beach Date
Edmonton, AB
From the curtained catharsis of Josh Rohs:
School's in, city kids, and attendance is compulsory. On "Missed the Point", Wares' opening salvo of ring mod punk rock capitulates to capital-p Power pop. On the b-side: brass-coupled lakefront nostalgia, sunbleached ivories sufficiently tickled – now with extra curtain-drawn catharsis. Knock down the door and, fuck it, let 'em see you bleed.
De la catharsis garnie de rideaux de Josh Rohs:
(Traduit par la nostalgie académique de Maya Keshav)
L'école est ouverte, les enfants de la ville, et la présence est obligatoire. "Missed the Point" de Wares s'ouvre sur une salve de modulation en anneau (ring mod) punk rock qui capitule jusqu'à p-majuscule Power pop. Sur la face B: la nostalgie du bord du lac conjuguée aux cuivres, les ivoires blanchis au soleil assez chatouillés – maintenant avec plus de catharsis rideaux-fermés. Défoncez la porte et d'la marde, laissez-les vous voir saigner!
Good Anya
Good Effort
(Self-Released)
Hamilton, ON
From the ears and eyes of Jackson Reed:
Good Anya's wet dreams and sunshine. Daytime music submerged in post-high school nostalgia. The Good Effort EP discloses youthfulness. Hopeful kisses, holding hands, and accidentally sleeping in. Leaning toward a new phase that holds dramatic changes. Love and loss of faith in modern society, strange relationships and life's consequences. Snuggle rock meets pop absurdity.
Depuis les oreilles et les yeux de Jackson Reed :
(Traduit par Odile Leclerc)
Les rêves érotiques et les rayons de soleil de Good Anya. La musique de jour est submergée dans une nostalgie post-école secondaire. Le Good Effort EP révèle la jeunesse. Des baisers pleins d'espoir, des mains entrelacées et des grasses matinées accidentelles. Penchant vers une nouvelle phase qui promet des changements drastiques. L'amour et la perte de foi dans la société moderne, les relations étranges et les conséquences de la vie. Le rock confortable rencontre l'absurdité de la pop.
Good Anya – Good Neighbours (Making Love)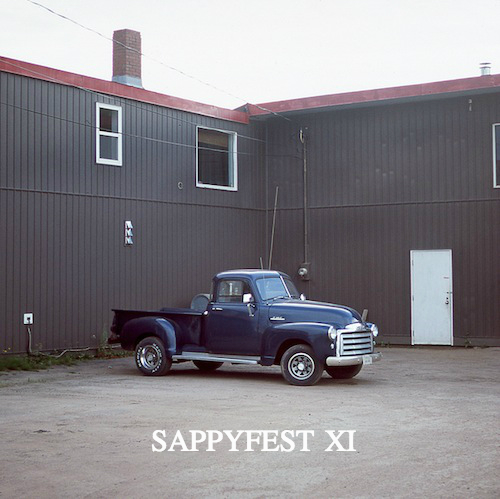 Photo by: Corey J. Isenor
Sappyfest XI

July 29th – 31st, 2016

Various Artists
Sackville NB
Des vagabondages nébuleux de Teddie Brock:
(Traduit par le désastre au chocolat de Maya Keshav)
Tu passes un autre été léthargique mis de côté dans les Maritimes? Secoue cette stupeur confortable en se promenant au cœur sentimental de Sackville au N.-B. cette fin de semaine, et savoure la lueur fluorescente d'un food truck fish-and-chips. Après, suscite ta propre recette du désastre avec Cupcake Ductape, Chocolat, Nancy Pants, et encore plus de petits plaisir saigres-doux faits-maison. Il n'y a nulle part ailleurs que nulle part.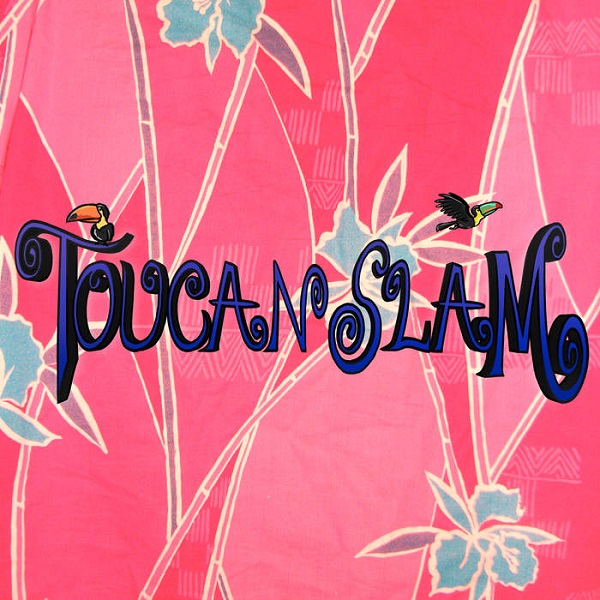 Toucan Slam
Toucan Slam
Toronto, ON
From the turbulent mind of Rachel Bellone:
If someone were to write an EP in a crashing airplane trying to capture the panic in their surroundings as a sort of homage to the turbulent moment before the grand slam the plane levels at the last minute, they might sound a bit like Toucan Slam. The vocals have the effect of a pilot speaking over an intercom, except instead of soothing pleasantries about landing safely, they're spouting experimental poetry . A joyful and punchy two piece,Toucan Slam fills your cereal bowl and then sloshes it around. This bassist and drummer dynamic duo are a sonic match made in heaven, or maybe just the sky they're plummeting from.
De l'esprit turbulent de Rachel Bellone:
(Traduit par l'accalmie mentale de Louis-Félix de Chevigny)
Toucan Slam sonne un peu comme si quelqu'un décidait d'écrire un 45 tours à bord d'un avion en plein écrasement pour sonoriser la panique autour de lui afin de faire hommage au moment de turbulence avant que l'avion ne s'écrase se stabilise à la dernière minute. Les paroles font penser à un pilote parlant à travers l'interphone, sauf qu'au lieu de faire des plaisanteries rassurantes sur la sécurité lors de l'atterrissage, il débite de la poésie expérimentale . Une paire enjouée et dynamique, Toucan Slam remplit votre bol de céréales avant d'en faire remuer le contenu. Ce duo de choc composé d'un bassiste et d'un batteur) sont issus de la même constellation, ou peut-être tombent-ils juste des mêmes cieux.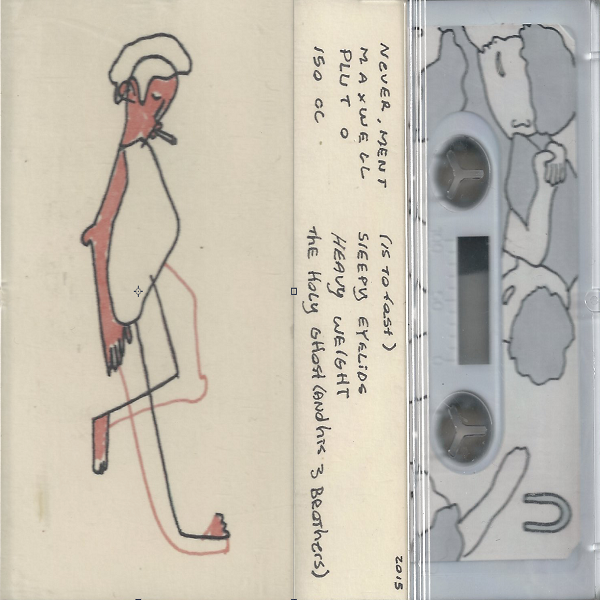 Fish Food
For Mortimer
(Self-Released)
London, ON
From the slack jaw of Rachel Bellone:
Small town Southwestern Ontario is a place with time to kill between house shows. Fish Food fills up the time by mashing hands against instruments and writing lyrics for a brother, a partner, a friend, and even the mean drunk guy, while having big big plans in a small small pond. For Mortimer is homespun and hard hitting, like the smell of cookies in your childhood home which you gobbled for granted. When creativity in this age hits fast and slick, Fish Food reminds us there's still time for new friends, handmade cassettes, and songs with throwback indie vibes and topical beats.
De la mâchoire détendue de Rachel Bellone:
(Traduit par Julie Mayer)
Le sud-ouest de l'Ontario est une petite ville où il y a du temps à tuer entre les spectacles faits main. Fish Food remplit ces temps morts en frappant ses mains contre des instruments de musique et en écrivant des paroles de chansons pour un frère, un partenaire, un ami et même le méchant type saoul, tout en ayant de grands, grands plans dans un petit, petit étang. For Mortimer est fait maison et percutant tout comme l'odeur des biscuits que vous engloutissiez pour acquis quand vous étiez petits. Malgré cette ère dans laquelle la créativité ne fait que passer, Fish Food nous rappelle qu'il est encore temps de se consacrer aux nouvelles amitiés, aux cassettes artisanales, aux rythmes tropicaux ainsi qu'aux chansons composées d'ondes indie qui retournent aux sources.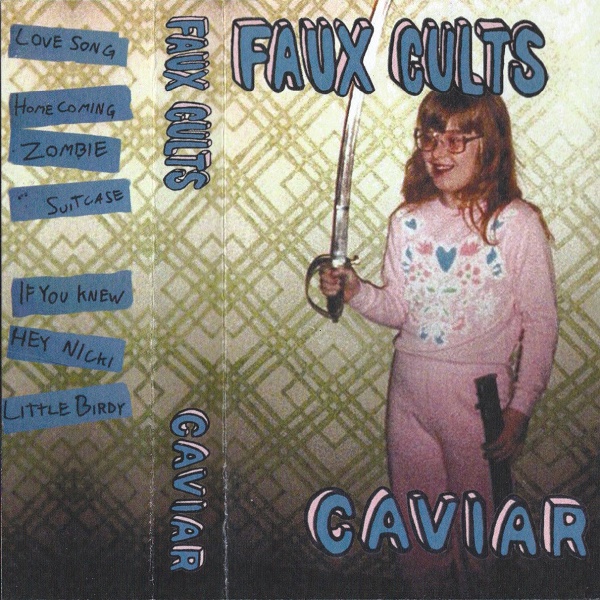 Faux Cults
Caviar
(Self-Released)
Peterborough, ON
From the gnarly swells of Mike Roy:
An abandoned fish tank sits in the corner of your parents' living room. The tank is still half-full, void of life beyond its tropical beach backdrop. An aimless surfer is face down in a growing pit of algae. You approach the glass and tap to find a pulse. Tick. Tick. A hairline crack is formed. It grows and grows. The tank comes to life. Tick. Tick. The surfer twists in his pit of algae to look at you. A longing for a swell to escape Tick. Tick. Crack. Water gushes through the room, liberated to all corners of the room. The surfer rides these currents to land by your feet. The energy of an endless summer from a long forgotten memory warms the room. The look of longing evolves to a smile.
Des gonflements fous de Mike Roy:
(Traduit par l'adulation en série Mackenzie Smedmor)
Un aquarium abandonné est posé au coin du salon de tes parents. Il est toujours à moitié rempli, dépourvu de vie autre que le fond de plage tropicale. Un surfeur vagabond est à plat ventre dans un trou croissant d'algues. Tu t'approches du verre et tapes à la recherche de son pouls. Tick. Tick. Une petite fissure se forme. Elle croît et croît. L'aquarium prend vie. Tick. Tick. Le surfeur se serpente dans son trou d'algues pour te regarder. Une envie pour qu'un gonflement s'échappe. Tick. Tick. Crack. L'eau jaillit dans la salle, libérée dans chaque coin de la salle. Le surfeur monte ces courants pour atterrir à tes pieds. L'énergie d'un été sans fin d'une mémoire longtemps oublié réchauffe le salon. Le regard d'envie s'évolue en sourire.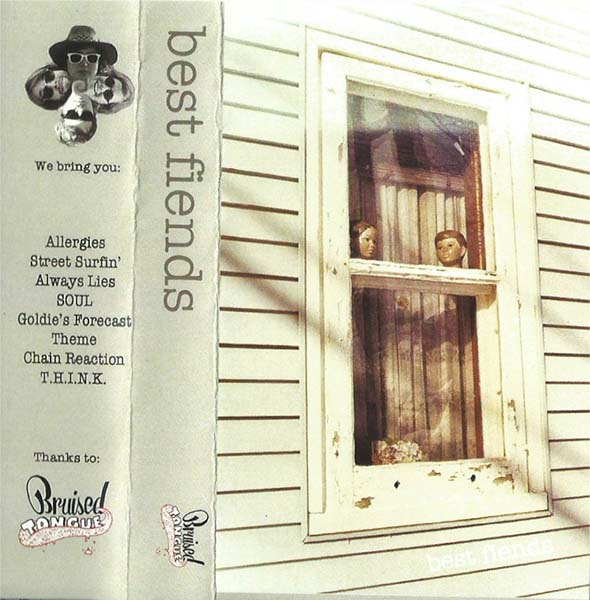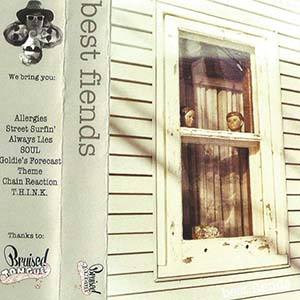 Best Fiends
Best Fiends
Halifax, NS
From the fiendish heart of Laura Stanley:
Beware the heart of Best Fiends. It is not blackened with hate or eroded by bitterness, but it beats in frantic measure; always in bright hues of red and pink. Wrapped in a panoply of anxiety and ardor, it surfs, has SOUL, and is desperate to get outside. But be sure Best Fiends are no villains, these fiends are out for friends.
Du cœur monstrueux de Laura Stanley:
(Traduit par Julie Mayer)
Prenez garde au cœur de Best Fiends. Ce dernier n'est pas noirci de haine ou érodé par l'amertume, mais il bat à un rythme effréné, toujours en teintes vives de rouge et rose. Enveloppé dans une panoplie d'anxiété et d'ardeur, ce cœur surfe, a une âme et veut à tout prix aller dehors. Mais soyez assurés que les Best Fiends ne sont pas méchants, ces monstres sont à la recherche d'amis.
---