Tag: roberta bondar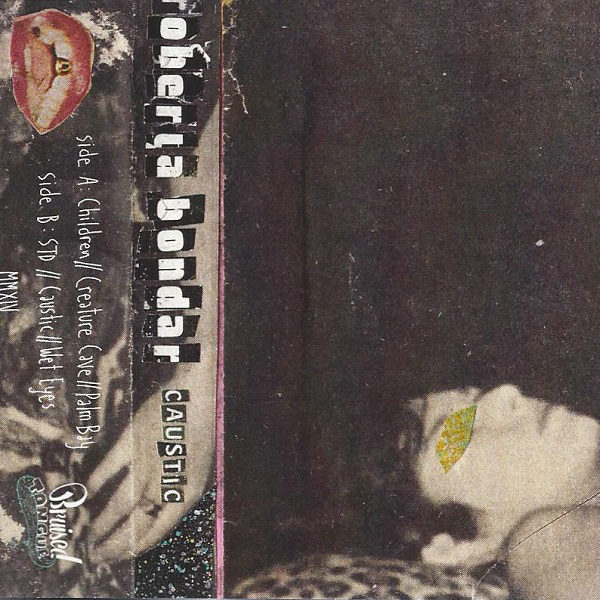 Two EPs in, Roberta Bondar have already fused nimble noise-rock with an experimental edge. Their latest, Caustic, grinds alt-rock and shoegaze into a sludgy pulp. "Children" opens with a string section that makes Bernard Hermann sound as serene as Brian Eno and features a repeated, mantra-like chorus. "Palm Bay" skids to a near-halt before rising from the dead midway through. The title track feels like a midnight trip through the Greenbelt on peyote. Caustic may slow down Roberta Bondar's sound, but damn if it won't stop your heart as well.
Roberta Bondar
Caustic
Ottawa, ON
From the midnight trip of Matthew Blenkarn:
Two EPs in, Roberta Bondar have already fused nimble noise-rock with an experimental edge. Their latest, Caustic, grinds alt-rock and shoegaze into a sludgy pulp. "Children" opens with a string section that makes Bernard Hermann sound as serene as Brian Eno and features a repeated, mantra-like chorus. "Palm Bay" skids to a near-halt before rising from the dead midway through. The title track feels like a midnight trip through the Greenbelt on peyote. Caustic may slow down Roberta Bondar's sound, but damn if it won't stop your heart as well.
De l'excursion nocturne de Matthew Blenkarn:
(Traduit par la nature hallucinogène de Jessica Grenier)
À peine deux albums de faits, et Roberta Bondar ont déjà fusionné le noise rock vif et la marge expérimentale. Leur plus récente sortie, Caustic, réduit du rock alternatif et du shoegaze en un amas boueux. Les cordes du premier morceau « Children » donnent à Bernard Hermann une apparence aussi sereine que Brian Eno; sans parler du refrain répété comme un mantra. « Palm Bay » dérape jusqu'à un arrêt presque complet, puis revient d'entre les morts à mi-chemin. La chanson « Caustic » est comme une excursion nocturne dans la ceinture verte sous l'influence de peyotl. Cet album ralentit peut-être le son de Roberta Bondar, mais il va clairement ralentir votre cœur aussi.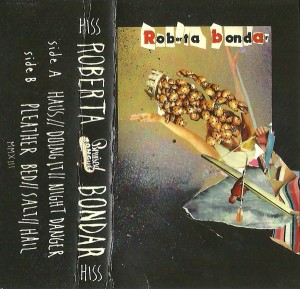 Roberta Bondar
Hiss EP
Ottawa, ON
From the eyedropper blues of Adam Bradley:
Straight-sampled Moondog opens the Hiss EP with a humble jangle of bells and found train-whistle sound before the calm is cracked sidelong by a sledge of garagey 'tude. An eyedropper's worth of blues is swallowed up in a vat of steaming punk-rock pitch. Denim-shredding tones, dented rhythms and proto-Karen O vocals slap you square in the gob. Roberta Bondar are yet another jewel in the crown of Ottawa's Bruised Tongue.
Du blues au compte-goutte d'Adam Bradley:
(Traduit par les mots cabossés d'Andréanne Dion)
Moondog ouvrent l'album Hiss avec un modeste tintement de clochettes et le sifflement d'un train, avant que le calme ne soit fendu sur tout son long par une masse d'attitude garage. Un compte-goutte de blues est englouti dans une cuve de sons punk-rock fumants. Des tonalités à déchirer vos jeans, des rythmes cabossés et des chants qui rappellent Karen O vous giflent directement au visage. Le groupe Roberta Bondar est un joyau de plus dans la couronne de Bruised Tongue.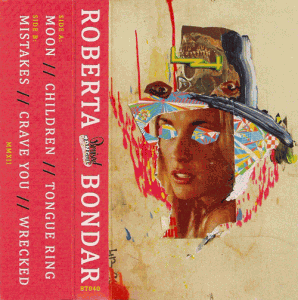 Roberta Bondar
Roberta Bondar EP
Ottawa, ON

Man, space is
cool
. The sheer limitlessness and expanse makes it rife for uninhibited interpretation and dissection. I'm sure you've at least heard the name Roberta Bondar before – probably stuck somewhere in your
elementary subconscious
. Part of a historical menagerie of
noteworthy Canucks
, Bondar now shares a moniker with four young Ottawa weirdos. Their debut EP, a cassette released on heavy-feeling Bruised Tongue, is a hyper-modern swig of what Canadian indie may be decades in the future. With a couple tracks eclipsing the seven-minute mark, Roberta Bondar (the band) is retracing the steps of Canada's original femi-naut. While most of these songs venture deep into blackness ("Tongue Rings", "Crave You"), there certainly are some more solarized tunes. "Mistakes" stretches over fragments of
vogue 90s slackerism
while the oretic, half-time happiness of "Wrecked" seems right in the gimbals of
satellite-spinning no-wavers
. Remember: we're not alone, so let's keep
twirling, twirling, twirling
into oblivion.
---