Tag: risograph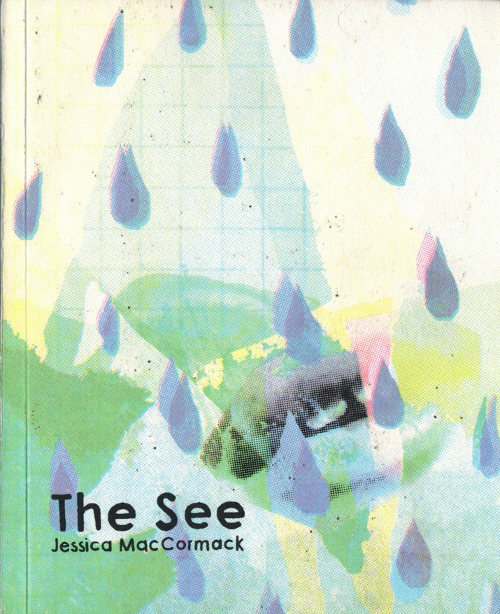 Before you, a stunning, violent bildungsroman that has sprung from a fantasy world wrought by tumblr-embroidery. The See's narrator begins by gesturing back "a long time ago" into "the 80s," when she and The Others went for drives and swims and sleepovers – "no boys allowed"– with gorgeously risographed images of fish wearing white socks and patent leather shoes reminding us of the double-entendre on "school." But Jessica MacCormack's beguiling visuals cannily combine naïve alt-culture regulars (kittens, flowers, a Wes-Anderson-y image of girlhood) with images of horrific trauma. As the images and passages accrete, The See reveals itself to be about growing-up through the normalization of abuse. A particularly affecting passage reads:
The See
Jessica MacCormack
96 pages, perfect bound with French flaps
Montréal, QC
From the foreboding fauna of David Hobbs:
Before you, a stunning, violent bildungsroman that has sprung from a fantasy world wrought by tumblr-embroidery. The See's narrator begins by gesturing back "a long time ago" into "the 80s," when she and The Others went for drives and swims and sleepovers – "no boys allowed"– with gorgeously risographed images of fish wearing white socks and patent leather shoes reminding us of the double-entendre on "school." But Jessica MacCormack's beguiling visuals cannily combine naïve alt-culture regulars (kittens, flowers, a Wes-Anderson-y image of girlhood) with images of horrific trauma. As the images and passages accrete, The See reveals itself to be about growing-up through the normalization of abuse. A particularly affecting passage reads:
The Missing One's Others were over for The Holidays and then Blam, 'My father raped me.' (That's how we say Happy Holidays around these parts.)
Or look at the poppies that suggest wounds on the bodies of her subjects. One naturally recalls the Canadian metanarrative of heroism and loss returned to every November. But the poppy is also operating as the smuggled signification of addictive opiates and, subsequently, the intravenous communication of HIV. If MacCormack's work is "precious," it is in the sense of its tremendous value and of the scarcity of such confident interrogations of our imbricated systems of health care, 'justice,' foreign policy and art. In a recent interview, MacCormack drew attention to the manner in which "structures of the art institutions are similar to the prisons, government, education and other systems: we need to actively shape them (or actively destroy them)."
De la faune prémonitoire de David Hobbs:
(Traduit au son assourdissant de la citrouille moisissante par David Kohler)
Devant toi un roman initiatique stupéfiant qui surgit d'un monde fantastique forgé en broderie à la tumblr. La narratrice de The See commence par réaménager « il y a bien longtemps » en « dans les années 80 », quand elle et Les Autres partaient en escapades, allaient nager, organisaient des pyjama party – « interdites aux garçons » – avec de splendides images risographiées de poissons portant des chaussettes blanches et des souliers en cuir vernis qui nous rappellent le double sens en anglais du mot « school ». Les visuels charmeurs de Jessica MacCormack combinent astucieusement les habituels icônes naïfs de la culture alternative (les chatons, les fleurs, une imagerie à la Wes Anderson de la jeunesse féminine) avec des images de trauma horrifiques. Au fil des images et des passages qui s'accumulent, The See révèle son sujet : grandir avec la normalisation de l'abus. Voici un passage particulièrement frappant :
The Missing One's Others were over for The Holidays and then Blam, 'My father raped me.' (That's how we say Happy Holidays around these parts.)
Les Autres de La Disparue étaient là pour les fêtes et vlan, 'Mon père m'a violée'. (C'est comme cela que l'on se souhaite de Bonnes Fêtes dans ce coin.)
Ou peut également regarder les coquelicots qui suggèrent les blessures sur le corps de ses personnages. On se rappelle alors naturellement la meta-narrative canadienne de l'héroïsme et de la perte qui revient chaque mois de novembre. Mais le coquelicot opère également en contrebande comme symbole des opiacés addictifs et par suite de la transmission intraveineuse du SIDA. Si le travail de MacCormack est « précieux », c'est pour sa formidable valeur et le manque d'interrogations audacieuses au sujet de l'imbriquement du système de santé, du système judiciaire, des affaires étrangères et du monde artistique. Récemment, dans une entrevue, MacCormack attirait l'attention sur la manière dont les structures des institutions artistiques sont similaires aux prisons, au gouvernement, à l'éducation et à d'autres systèmes, stipulant que nous devons activement les refaçonner ou simplement les détruire.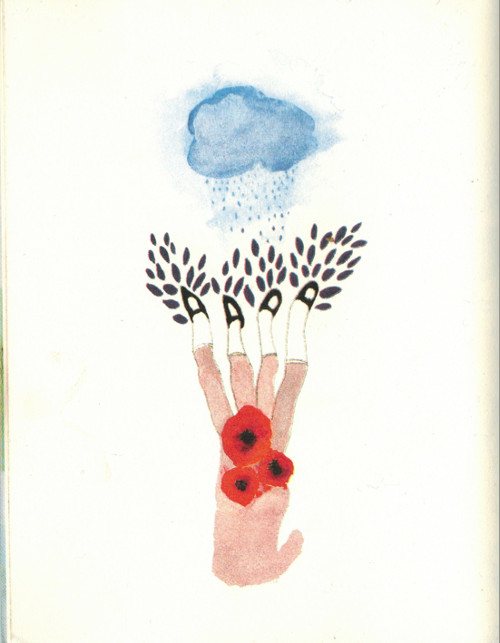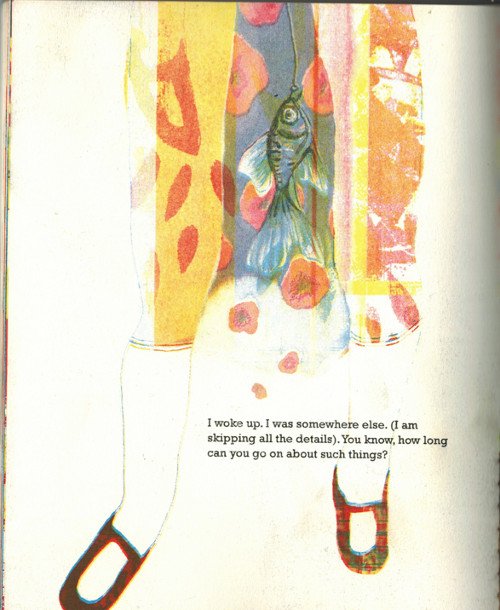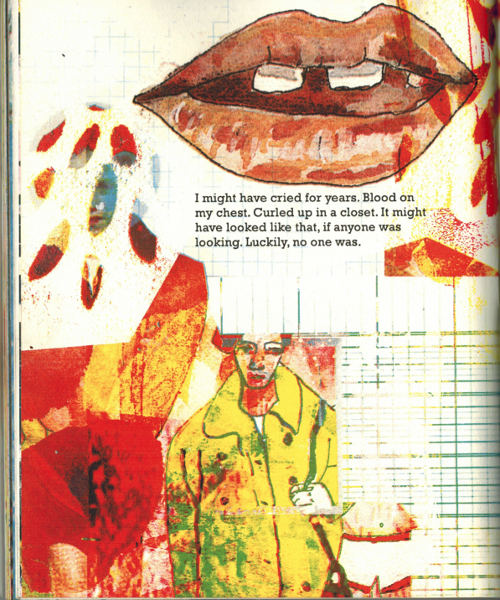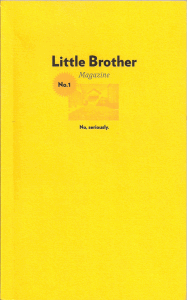 Little Brother Magazine No. 1
Written by: Various Authors
(Self Published)
[93pp. Perfect Bound; Risograph]
Toronto, ON
Published: 2012
From the risograph sun of James Lindsay:
Look how strong our little brothers have grown, look how handsome they are in their smart yellow jackets. Here's Ellie Anglin, full of empathy, in a story from a stray cat's POV; Chris Randle proves that he knows a thing or two about Proust (though we always suspected he did) in his densely lyrical fiction, and Andrew Kaufman (don't tell anyone, but he's always been our favourite) with his effortless realist surrealism. Then there's Cian Cruise, freshly film schooled, with the balls to compare Fellini to something animated named Shin Seiki Evangelion from Japan; spending most of the time with Elissa Pearl Matthews, Shari Kasman and their beautiful photo-essay meets flash-fiction mash-up about tiny houses. These are some of the reasons why we love our little brothers, but there are others too.
Du soleil risographe de James Lindsay:
(Traduit par Odile Leclerc)
Regardez à quel point nos petits frère sont devenu forts, regardez comme ils sont beaux dans leurs brillant gilet jaune. Voilà Ellie Anglin, pleine d'empathie, dans une histoire du point de vue d'un chat de gouttière; Chris Randle prouves qu'il sait une chose ou deux à propos de Proust (Bien que nous nous en avions toujours douté) dans sa fiction de lyrique à forte densité, et Andrew Kaufman (ne le dites à personne, mais il a toujours été notre favoris) avec son surréalisme réaliste facile. Puis il y a Cian Cruise, fraîchement sorti de l'école du film, avec les boules pour comparer Fellini à quelque chose d'animé nommé Shin Seiki Evangelion du Japon; passant la majorité de son temps avec Elissa Pearl Matthews, Shari Kasman et leur superbe fusion de composition-photo rencontre la fiction-flash à propos de petites maisons. Celles-là sont quelques unes des raisons pourquoi nous aimons nos petits frères, mais il y en a d'autres aussi.
---