Tag: review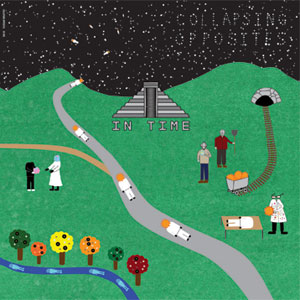 Collapsing Opposites
In Time
Vancouver, BC
From the bent winds of Paul Lawton:
The latest opus from Collapsing Opposites is a gem of psych-pop (poppy psych?) that sounds alien, but not alienating, quirky, but not annoying, dark but not desperate. Much of my affinity for Collapsing Opposites comes from the band leader Ryan McCormick (formerly of They Shoot Horses, Don't They), who lends this record his warmth and charisma, and notably his strange vocal styling. Lyrics take the form of stream-of-consciousness monologue/rants that are layered inside of repetitive, swirling backdrops. I could imagine an edition of Acid Archives thirty years from now unearthing this record and freaking out over it as one of the great unheralded private-press oddities of 2010; hopefully the kids get hep to this record before then.
[Levin's Note: This is proudly the first Acid Archives reference on Weird Canada. PS – You can order this lovely LP by visiting Geographing Records!]
Des vents ployés de Paul Lawton
(Traduit par Maya Keshav)
Les derniers opus de Collapsing Opposites est une merveille de pop psych (psych poppé?) qui sonne extraterrestre, mais pas excluant, excentrique, mais pas énervant, sombre, mais pas désespéré. Une grosse partie de mon affinité pour Collapsing Opposites vient du leader du groupe, Ryan McCormick (anciennement de They Shoot Horses, Don't They), qui confère à cet enregistrement sa chaleur et son charisme et notablement son étrange style de chant. Des paroles prennent la forme de monologue/ tirade d'un courant de conscience placés en couches sur des toiles de fond tournoyantes et répétitives. Je pourrais imaginer une édition d'Acid Archives dans trente ans d'ici déterrant cet enregistrement et paniquant à propos de celui-ci comme une des grandes étrangetés inconnues de la presse privée de 2010; Avec de la chance, les enfants s'entendent sur cet enregistrement avant cela.
[Note de Levin: C'est fièrement la première références à Acid Archives sur Weird Canada. PS- vous pouvez commander cet adorable LP en visitant Geographing Records!]
Collapsing Opposites – Diamond Mind
Adam Mowery
Port City Burning
(Self Released)
Saint John, NB
From the singed mind of James Goddard:
Adam Mowery began the decade singing songs about being a cat and wearing striped socks in a well-loved acoustic indie-pop trio. Here as we enter a new decade he has re-invented himself as a sort of bizarro world Harry Belafonte. His live shows are swoon inducing rock and roll revivalism at its best. On this CD-R he treats us to 13 bad luck pop songs. The old pop-sensibility that used to dominate Port City Allstars records is now tempered by lo-fi experimentalism. His falsetto voice cuts through all the tape hiss and off-beat percussion making you believe that the rain-soaked, wind-ravaged port city of Saint John, New Brunswick really is a tropical paradise. What could be better than that?
[Levin's Note: Saint John is the new Halifax.]
De l'esprit chanté de James Goddard:
(Traduit par la boîte à rythmes de Odile Leclerc)
Adam Mowery a commencé la décennie en chantant des chansons à propos d'être un chat et de porter des bas rayés dans un trio acoustique bien aimé de pop-indie. Ici alors que nous entrons dans une nouvelle décennie, il se réinventait comme un genre de bizarre Harry Belafonte mondial. Ses spectacles en direct sont un rock and roll induiseur d'évanouissements revivalisme à son meilleur. Sur ce CD-R, il nous régale avec 13 chansons pop de malchance. La vieille sensibilité pop qui dominait autrefois les enregistrements de Port City Allstars est maintenant tempérée de lo-fi expérimentalisme. Sa voix de falsetto a ravagé par le vent la ville-port de Saint John, le Nouveau-Brunswick est vraiment un paradis tropical. Qu'est qui pourrait être mieux que ça?
[Note de Levin : Saint-John est la nouvelle Halifax.]
Adam Mowery – Turn Another Page
Adam Mowery – The Dragon Boat Festival (Let's All Go To)
Broken Deer
Our Small Going
Whitehorse, YK
From the celestial kingdom of Zachary Fairbrother:
Broken Deer is the project of musician/artist Lindsay Dobbin, formerly of Halifax, now relocated in the deep, northern frontier of the Yukon. Our Small Going is a collection of beautiful songs mixed with field recordings, soundscapes, and lo-fi blips and bleeps, finding the perfect home on San Francisco's Gandhara Recordings. Lindsay's music is embedded with grainy sound pieces and field recordings to create a celebration of nature, ritual, life and decay. The opening track "Coming of Age Funeral" is a beautiful instrumental piece, played on a solo acoustic guitar with tape hiss and buzz, giving the music a warm maternal feeling, while also tragic, as in the passing of an era or the sadness that comes with moving on. Neither ancient nor modern, the music seems to celebrate the difficulties and conveniences of our journey in the age of technology. Her textures are always light, often just using single instruments, allowing her to explore the fabrics of her sounds. Her unique voice shines through, giving a deep sense of ecology to her music.
[Levin's Note: Broken Deer is a testament to the undiscovered treasures existing beneath the dark snow of Canada's north.]
Du royaume céleste de Zachary Fairbrother:
(Traduit par Maya Keshav)
Broken Deer est le projet de l'artiste et la musicenne Lindsay Dobbin, anciennement de Halifax, qui se trouve maintenant dans la frontière profonde et nord du Yukon. Our Small Going est une collection de belles chansons mélangées avec les enregistrements du terrain, les paysages sonores, et les bips lo-fi, qui trouve la parfaite bienvenue chez Gandhara Recordings de San Francisco. La musique de Lindsay est enfoncée des morceaux de sons granuleux et les enregistrements du terrain pour crér une célébration de la nature, du rituel, de la vie et de la décomposition. Le premier morceau "Coming of Age Funeral" est un beau morceau instrumental, joué avec une seule guitare acoustique avec les sifflements et les bourdonnement de la cassette, qui donnent la musique un air chaleureux et maternel, ainsi que tragique, comme la disparition d'une époque ou la tristesse qui vient avec le déménagement. Ni ancienne ni moderne, la musique a l'air de célébrer les difficultés et les avantages de notre voyage dans l'époque de la téchnologie. Ses textures sont toujours légères, souvent en utilisant un seul instrument, qui la laisse explorer les tissus de ses sons. Sa voix unique transperce tout, donnant sa musique un air profond de l'écologie.
[Levin ajoute: Broken Deer est témoin aux trésors non-découverts qui existent sous la neige noire du nord du Canada.]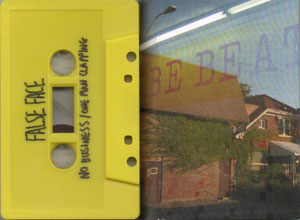 False Face
No Business // One Man Clapping
(Self Released)
Kingston, On
From the I-assure-you-this-face-is-real face of Aaron Levin:
Literally out-of-nowhere mind-melding rock genre-fuckery of a very high calibre. False Face's emergency-room resuscitation is thankfully limited to a two-track c10 so as to avoid the annihilation of your audible calibration. Atonal guitar freak-outs, droning doom breakdowns, and No Ageian walls of popular-noise are served beneath the covers of cafe-fresh vocal hooks and crunchy drums that churn your pop-music vocabulary into a beautiful puree of adjective hyperbole. An (almost) unbelievable mixture of sounds with a foot in every scene, deep-fried to perfection. A huge thanks to Garrett from The Famines for foisting this on me. Who are these dudes?
De la visage je-te-jure-c'est-ma-vraie-visage d'Aaron Levin:
(Traduit par Maya Keshav)
Littéralement comme par enchantement, le rock bouleversant et genre-bravant d'une qualité magnifique. Le
réanimation dans une salle d' urgence de False Face comprend heureusement seulement un c10 à deux voies pour éviter l'anéantissement de ton calibrage auditif. Les crises atonales de guitare, les dépressions nerveuses de drone, et les murs No Ageian de boucan-populaire sont servis sous les couvertures des accroches aussi frais que le café et la batterie croquante qui bouillonnent ta vocabulaire de la musique pop jusqu'à une belle purée d'hyberbole adjectivale. Un mélange (presque) incroyable des sons avec un pied dans chaque scène, frit à la perfection. Un grand merci à Garrett de The Famines pour l'imposer à moi. Qui sont ces gars?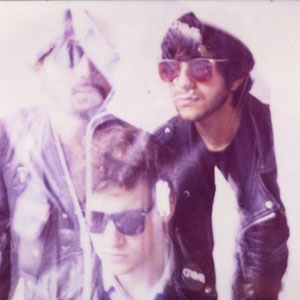 Grand Trine
Sunglasses
Montreal, QC
From the wish-I-had-a-tough-guy-leather-jacket stylings of Aaron Levin:
Monochromatic Youth, the vanguard of Grand Trine's Bruised Tongue debut, captured their synthetic sans-wave pedigree at the cusp of their existence, posing the question: where now? Defying all expectations, Grand Trine returned with a barrage of brilliant psychedelic biker-punk transplanted from their phantasmagoric Montreal freak-clinic. Some wastoid time-warp seizure has them sounding like Marty McFly opening for the MC5; face-melting genre-collages, bursting celluloid solos, and decimating saxophone freak-outs; all of it wrapped in layers of frayed leather, busted zippers, and skitched sunglasses. Translation: Sunglasses is not for the faint of heart, mind, spirit, or stomach. All orifices will succumb to their unwholesome mutant hard-rock and I suggest you send all litigations directly to Divorce Records c/o Weird Canada legal services (but make sure to grip the 12″ vinyl (limited to 600 copies) as evidence of their crime). Now, if you don't mind, I have a large mess near my stereo system to attend to.
Du style j'ai-envie-d'avoir-une-veste-en-cuir-comme-un-dur d'Aaron Levin:
(Traduit par Maya Keshav)
Monochromatic Youth, l'avant-garde du début Bruised Tongue de Grand Trine, a saisi leur ascendance synthétique sans-wave à l'aube de leur existence, qui soulève la question: où maintenant? En défiant toutes les attentes, Grand Trine est retourné avec une pluie de punk brillant biker-punk transplantée de leur clinique-freak phantasmagorique de Montréal. Quelque crise time-warp bourrée leur donne l'impression d'être Marty McFly étant la première partie pour MC5; les genre-collages visage-fondants, les solos explosants de celluloïd, et les crises décimantes de saxophone; tout emballé dans les couches de cuir effiloché, les fermetures éclair brisées, et les lunettes de soleil volées. Ça veut dire: Sunglasses n'est pas pour les âmes sensibles, ni les têtes/esprits/ventres sensibles. Tous tes orifices va soumettre à leur hard-rock mutant, et je te conseille d'envoyer tous les litiges directement à Divorce Records a/s de Weird Canada legal services legal services (mais fais attention d'acheter le vinyl 12" (il n'y a que 600 numéros) comme la preuve de leur crime). Maintenant, si ça te dérange pas, j'ai un grand bazar près de ma chaîne stéréo qu'il me faut ranger.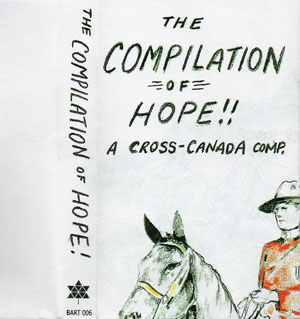 Various Artists
The Compilation of Hope!!
******, Canada
From the compiled danglings of Jesse Locke:
The Comp of Hope starts off with a serious wallop: the 1-2-3 whirligig of Vancouver's Damages, Nova Scotia's Minivan Halen (snagging the prize for Best New Band Name) and Toronto's Place Hands, three groups with distinct yet equally imposing approaches to the post- / proto- / avant- / eff-it-let's-just-get-rowdy hardcore continuum. Bart Records founder Kevin Stebner seems to favour the tuff gnarl stuff, with seven of the comp's 10 acts setting their phasers to beatdown. From the spazzy attack of Abbotsford's GSTS! to the rastafried "turbo jamz" of Edmonton's Slates, Missisauga's Whiskey Priest and unfuckwithable label faves Gift Eaters closing it off, this cassette could provide the perfect aggro soundtrack for any hesher's backyard mini-ramp sesh. The softer side of weird Canadiana is also represented with the Strokes-meet-a-blown-out-Casio addictiveness of Swwords (the former project of this very site's founder), Montreal's math-pop dangereux duo Special Noise and a live jam from the inimitable dd/mm/yyyy. Another top-notch tape release from Bart, with awesome foldout liner art (front & back) from Calgary's Heather Kai Smith.
[Levin's Note: This has the most links of any review on Weird Canada. Which means you get to virtually travel across Canada, all thanks to Bart Records. Benjoy!]
Des ballants compilés de Jesse Locke:
(Traduit par Maya Keshav)
The Comp of Hope commence avec une beigne grave: le tourniquet 1-2-3 de Damages de Vancouver, Minivan Halen de la Nouvelle-Écosse (qui gagne le prix du meilleur nouveau nom de groupe) et Place Hands de Toronto, trois groupes avec des approches distinctes mais également imposantes à la gamme post-/ proto-/ avant-/ on-s'en-fou-tombons-la-chemise hardcore. Kevin Stebner, le fondateur de Bart Records, a l'air de préférer les choses dures et affreuses, vu que sept des 10 actes du comp mettent leurs phaseurs à beatdown. De l'attaque crétine de GSTS! d'Abbotsford jusqu'au "turbo boeufs" rasta de Slates d'Edmonton, Whiskey Priest de Missauga, et terminant avec les imperturbables chéris des labels Gift Eaters, cette cassette pourrait fournir la bande-son parfaite aggro pour la session mini-ramp chez-soi de n'importe quel hesheur. Le côté plus doux du canadiana bizarre est aussi present avec l'entraînance Strokes-se-marient-avec-un-Casio-explosé de Swwords (l'ancien projet du fondateur de ce site-web lui-même), le duo math-pop dangereux de Montréal Special Noise et un boeuf live de l'inimitable dd/mm/yyyy. Un autre enregistrement cassette de premier ordre de Bart, avec une couverture fantastique (avant & arrière) de Heather Kai Smith de Calgary.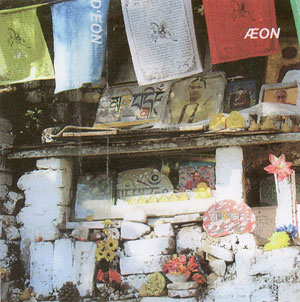 From the Teddy Riley jacketed body of Aaron Levin:
D'Eon returns with a new moniker and a time-lapsed sound no less forward looking than the last. Veering away from the cosmic meanderings of wa al-'asr (by the time) and plunging wrap-first into New Jack Swingery, D'EON delivers like no other methamphetamine-infused Much Music dance party. The whole trip is soaked in d'Eon's psychedelic twilight, making it the ideal late-night, post-apocalyptic high-on-life-but-I'm-still-down-on-everything soundtrack to your small-town fashion-school graduation party. Your not-really-friends are passing rails in a bathroom while you're saluting a full-moon on the apex of an abandoned farm-house; Sony Walkman™ giving portable life to d'Eon's mellow tech flowing through your veins. Meanwhile, Teddy Riley is sitting in a blackstreet-funded mansion with a giant grin and the speach bubble reads: "it's about time, whoa jam."
Du corps en manteau Teddy Riley d'Aaron Levin:
(Traduit par les oreilles contentes de Maya Keshav)
D'Eon revient avec un nouveau nom et un son chronocinématographique qui est aussi tourné vers l'avenir que son dernier album. En déviant des vagabondages cosmiques de wa al-'asr (by the time) et en sautant wrap-en-avant dans le New Jack Swing, D'EON réussit comme aucune autre fête de danse Much Music remplie de la méthamphétamine. Le voyage entier est trempé de la pénombre psychédélique de d'Eon, grâce à laquelle c'est la bande-son parfait en-nocturne, post-apocalyptique, défoncé-à-la-vie-mais-je-m'en-fou-du-tout pour ta fête des finissants de l'école de mode de ta petite ville. Tes pas-vraiment-des-amis prennent la drogue dans les toilettes pendant que tu salues une pleine lune sur le sommet d'une ferme abandonnée. Au même temps, Teddy Riley s'est assis dans un manoir financé par le blackstreet avec une sourire énorme et la bulle dit: "il était temps, whoah boeuf."
D'EON – the girl from köln is gone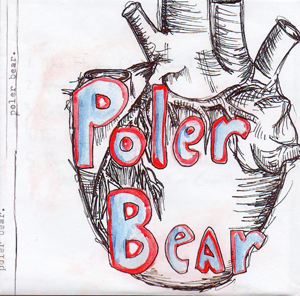 Poler Bear
Poler Bear
(Self Released)
Saskatoon, SK
Aaron Levin:
Saskatoon is Canada's secret cultural hot-spot. The last time I was in Saskatoon I yelled at Herbie Hancock from afar, found one of the rarest Canadian psych records for $3 (Christmas on Paragon), and stumbled upon picture sleeves from one of Canada's best garage 7″s (The Witness Inc. – Not You Girl). My fondness with Saskatoon continued when I met Feral Children and seems to grow with each Weird Canada submission from the city. Thus, it comes with no surprise that I stumble upon another creative genius conjuring soundscapes in their Saskatoon basement. Poler Bear's ambient canvasses are captivating in every way they shouldn't be; fluxes of multi-instrumental blankets forming pop structures and catchy wisps too slow and wavering for radio pop but too structured to bear the avant-garde moniker. Most of the songs are built around narratives from Canada's landscape: water, people, television, and birds; all playing a role in shaping Poler Bear's soundtrack. It's mellow and soothing and time seems to slip away every time I listen. Hopefully my next trip to Saskatoon will feature more artifacts of Canada's underground, including Poler Bear.
Par Aaron Levin:
Saskatoon, c'est le centre culturel secret du Canada. La dernière fois que j'étais à Saskatoon j'ai crié après Herbie Hancock de loin, j'ai trouvé un des plus rares enregistrements psych canadien pour $3 (Christmas de Paragon) et je suis tombé sur les couvertures d'un des meilleurs garage 7″s du Canada (The Witness Inc. – Not You Girl). Mon affection pour Saskatoon a continué quand j'ai rencontré Feral Children et elle a l'air de grandir avec chaque entrée wyrd de la ville. Alors, il n'est pas surprenant que je tombe sur un autre génie créatif qui fait apparaître les paysages sonore dans son sous-sol de Saskatoon. Les toiles d'ambiance de Poler Bear sont captivantes dans tous les sens qu'il faut pas; les écoulements de couvertures multi-instrumentales forment des structures de pop et les volutes entraînantes trop lentes et hésitantes pour le pop de la radio mais trop construites pour être appelée avant-garde. La plupart des chansons sont construites autour des récits des paysages du Canada: l'eau, les gens, la télé, les oiseaux; tous jouent une rôle en formant la band-son de Poler Bear. C'est doux et réconfortant et le temps a l'air de disparaître chaque fois que je l'écoute. Avec un peu de chance ma prochaine visite à Saskatoon va inclure encore plus d'artéfacts du sous-terrain du Canada, y compris Poler Bear.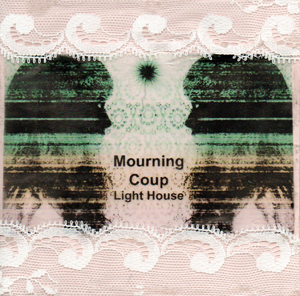 Mourning Coup
Light House
(Self Released)
Montreal, QC
Aaron Levin:
Mourning Coup's yet to be released Light House is a private mystery; intrigue leading unto intimacy. From it's intricate, precious packaging (that's fabric and three types of paper you see there) to the tethered mix of single-mic'd vocals, samples, drums, and keyboards, there is a prevailing sense of blurred closeness. Deservedly so, as I had to beg Chandra Melting Tallow, the creative force behind Mourning Coup, to send me a copy (1 of 5) having convinced her that ideas trump all and therefore her rough recordings will suffice. Mourning Coup will certainly join the ranks of master Canadian etherealites like Katie Stelmanis with her flowing, ghostly echoes; calls from a reality she's transcended and tucked between our collective consciousness. Chandra returns from India in 2010 and we will all wait patiently.
Aaron Levin:
Light House (pas encore publié) de Mourning Coup, c'est une énigme privée; l'intrigue débouche sur l'intimité. De son emballage complexe et précieux (c'est le tissu et trois types du papier que tu vois là) jusqu'au mélange attaché des chants seul-micro, les échantillons, la batterie, et les claviers, il y a l'air surtout de l'intimité floue. À juste titre, vu que j'avais dû supplier Chandra Melting Tallow, l'énergie créative derrière Morning Coup, de m'envoyer un disque (1 de 5) l'avoir convaincu que les idées surpassent tout et donc ses enregistrements crus suffiront. Mourning Coup se joindra certainement aux rangs des maîtres aériens du Canada comme Katie Stelmanis avec ses échos coulants et spectraux; les cris d'une réalité qu'elle a dépassée et qu'elle a glissée dans notre conscience collective. Chandra reviens d'Inde en 2010 et nous allons attendre patiemment.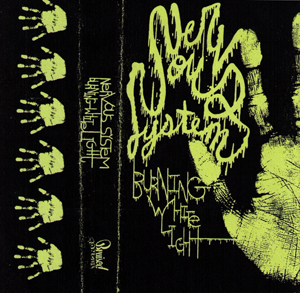 Nervous System
Buring White Light
Ottawa, ON
From the musical cabinet of soon-to-be-Dr. Joni Sadler
It seems fitting to write a review of Nervous System's latest cassette at an altitude of 36,000 feet. At this moment it is still godawful early and I'm on an airplane high above the prairies. The turbulence is just rough enough to verge on unsettling and I am feeling way burnt out. In a way, "Burning White Light" is the perfect music for this scenario: careening psych freakouts equally capable of leaving you really excited or feeling a tad on edge and queasy. The fact that most of the tracks on the cassette were improvised during the recording sessions is impressive, and there's a certain recklessness that has (perhaps unsurprisingly) found its way into these songs. Pounding repetitive drums lay down a solid backbone for swaths of wailing fuzz and occasional shouts from singer/guitarist Mat Oxley. It's all coated with a heavy layer of distortion for good measure. The centerpiece of the album is the nine-minute epic "Freak Construction" – it's a serious stoner jam fleshed out around a burning guitar lick and given the final touch with some echoey vocal loops. This is serious mind-trip music, best experienced with your head way up in the clouds. [Levin's notes: I am so into this kind of modern-psych that is so strange and poppy at the same time. Bruised Tongue is really killing it these days!]
Nervous System – Freak Construction
De la vitrine musicale de bientôt-Dr. Joni Sadler:

Il me semble approprié d'écrire une critique de la dernière cassette de Nervous System à une altitude de 36 000 pieds. En ce moment il est encore vachement tôt le matin et j'suis à bord d'un avion bien au-dessus des prairies. La turbulence est juste assez éprouvante pour frôler l'horreur et j'suis trop tannée. Curieusement, "Burning White Light" c'est la musique parfaite pour ce cas de figure: les crises de psych fonçantes est égalament capable de te laisser tellement surexcité ou un peu nerveux et nauséeux. Le fait que la plupart des morceaux sur la cassette étaient improvisés pendant les enregistrements est impressionnant, et il y une certain imprudence qui se trouve (peut-être qu'il n'est pas surprenant) dans ces chansons. La batterie martelé et répétitive jettent les bases solides des bandes de gémissement flou et les hurlements occasionnels du chanteur/guitariste Mat Oxley. C'est tout enrobé d'une couche lourde de la distorsion pour faire bonne mesure. La pièce maîtresse de l'album est l'épique "Freak Construction" de 9 minutes — c'est une mélodie vraiment camée étoffé autour d'un plan de guitare brûlante et finie avec quelques boucles de chants résonnants. C'est de la musique sérieusement psychédélique, qu'il vaut mieux d'apprécier avec la tête dans les nuages. [Levin ajoute: J'adore ce genre de rock psychédélique-moderne qui est si bizarre et si pop au même temps. Bruised Tongue!
Nervous System – Freak Construction
---