Tag: review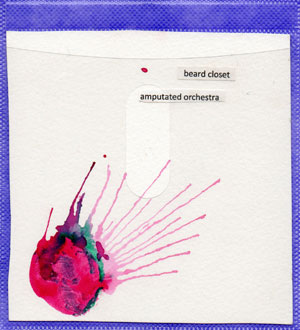 Beard Closet
Amputated Orchestra
(Campaign For Infinity)
Toronto, ON
From the, well, bearded closet of Aaron Levin
Amputated Orchestra is a collection of permeating industrial soundscapes emanating from Canada's cold, concrete nucleus. The focused array of droning apparitions and discretized guitar tones provide the perfect bedding to your next post-apocalyptic jaunt. And If you're lucky you'll stumble into a sub-sea-level gregorian nightmare with Beard Closet at the focal point, conjuring an event horizon of dark ambient wizardry. Contact Beard Closet for post-economic guided gours and ambient sorcery apprenticeship opportunities. A+++++.
Du placard, euh, barbu d'Aaron Levin:
(Traduit par Maya Keshav)
Amputated Orchestra est une collection des paysages sonores pénétrants et industriaux qui émanent du nucléus froid en béton du Canada. L'étalage concentré d'apparitions bourdonnantes et de tons de guitare séparés fournissent la meilleure fondation pour ta prochaine balade post-apocalyptique. Et si t'as de la chance tu vas trébucher sur un cauchemar grégorien en-dessus du niveau de la mer avec Beard Closet comme point de mire, en faisant apparaître un horizon de sorcellerie noire d'ambiance. Mets-toi en contact avec Beard Closet pour les visites guidées post-économiques et les opportunautés comme stagiare de la sorcellerie d'ambiance. A+++++.
Play Guitar
Cold Crystal Shield
Montreal, QC // Halifax, NS // Whitehourse, YK
From the Mithril Shields of Aaron Levin
Living in Alberta, I associate Calgary with the strange angular pop moves found on Cold Crystal Shield. In fact, I'm starting to believe the Calgary sound is just a weird amalgamation of Montreal's pop experiments, Halifax's 90s obsession, and Yukon's cold isolation. It's all summarized brilliantly by Play Guitar with their combination of incredibly catchy guitar lines and anthemic vocal harmonies, the whole mess being driven down midnight highways and rural avenues. I say rural because I can definitely hear that 90s Halifax honky-tonk pop-rock and it's awesome. Keep your cold, crystalized eyes out for the Play Guitar LP, coming soon!
Des Mithril Shields d'Aaron Levin:
(Traduit par Maya Keshav)
En vivant en Alberta, j'associe Calgary avec les mouvement pop bizarres qu'on trouve aussi sur Cold Crystal Shield. En fait, je commence de croire que le son de Calgary n'est qu'une fusion bizarre des expériences pop de Montréal, de l'obsession des années 90 de Halifax, et de l'isolation froide de Yukon. C'est parfaitement résumé par Play Guitar avec leur combinaison des mélodies de guitare incroyablement entraînantes et des harmonies de chants hymnales, et le pétrin entier est conduit sur les grande routes de minuit et les chemins ruraux. Je dis "ruraux" parce que j'entend assurément ce pop-rock honky tonk des années 90 de Halifax, et c'est magnifique. Alors mes amis froids et cristallisés, restez à l'écoute pour le Play Guitar LP, qui arrive bientôt!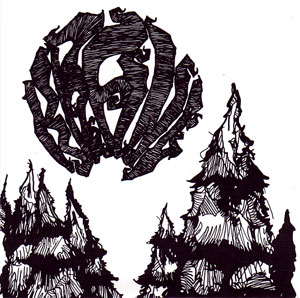 Krang
They Came From Planet D
Edmonton, AB
From the Planet D residing citizen named Jesse Locke
With their second transmission from the heart of the black hole sunrise, Edmonton's Krang continue their clusterfuck of stoner rock, noise-haze and squiggly electronics. The band's debut self-released EP was a voyage in its own right, but until now, they've never been able to bottle the total gnarlitude of the extended space jams doubling as their live shows. Happily, with the addition of fourth member Dean "The Ram" Watson on guitar, this five-song flummox released via Eamon McGrath's Cassettes Records has finally captured the experience on CD-R. Faithful followers will recognize the bass line from "Farmer" within seconds, along with Krang's trademark echoed harmonica. Cold Bebop's standout banger "Ships" has been re-recorded with the addition of Watson's desolate licks, and finally "Snakes on the Brain" closes things off with some furious Danzig-on-psychedelic-fungi freak-outs. Best of all, the new and improved line-up can still melt faces live.
De l'habitant de Planet D qui s'appelle Jesse Locke:
(Traduit par Maya Keshav)
Avec leur deuxième retransmission du fond de l'aube trou-noir, Krang d'Edmonton continuent leur gangbang du rock camé, du noise-brouillard, et de l'électronique ondulée. Le début EP autopublié du groupe était un voyage tout seul, mais jusqu'à maintenant, ils ne pouvaient pas saisir l'attitude complètement ratatinée des boeufs prolongés de l'espace qui étaient aussi leur spectacles live. Heureusement, avec l'addition du quatrième membre Dean "The Ram" Watson à la guitare, cette stupéfaction de cinq chansons publiée via Cassettes Records d'Eamon McGrath a finalement saisi l'expérience sur CD-Rom. Les fans fidèles reconnaîtront la mélodie de basse de "Farmer" tout de suite, à côté de l'harmonica résonné caractéristique de Krang. Le succès vedette "Ships" de Cold Bebop a été réenregistré avec l'ajout des plans de guitare désolées de Watson, et enfin "Snakes on the Brain" le finit avec quelques crises folles de Danzig-sur-le-champignon-psychédélique. Le meilleur, c'est que cette nouvelle programmation améliorée peut encore fondre les visages live.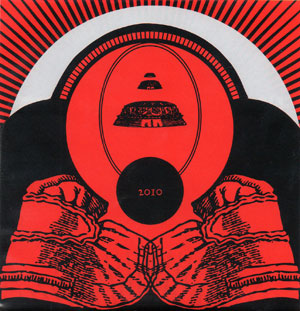 Alienation
2010
(Patente)
Québec, QC
From the Jabroka-filled pockets of Aaron Levin:
Beneath Alienation's beautifully die-cut packaging (typical Patente fare) lays a harrowing journey into Quebec's multi-format experimental scene. Alienation is the audible outlet by visual artist Simon Langevin. Simon's autodidactic approach to the genre's freedom gives 2010 a welcomed erraticism resulting in a strange mix between multi-format, avant-meanderings and static post-techno beat collages. Add an 11-minute minor-key ethereal floater and you've got yourself a veritable trip through Simon's consciousness; corrugated tunnels lined with deep, dark textures appropriate for any hang-out setting not involving: smiles, fun, or not-goths. Killer psychedelic artwork to boot. +1 Patente.
Des poches remplies de Jabroka d'Aaron Levin: (Traduit par Odile Leclerc)
Sous l'emballage joliment découpé d'Aliénation (typical de Patente) repose un agonisant voyage dans la scène expérimentale multi-format de Québec. Aliénation est la sortie audible de l'artiste visuel Simon Langevin. L'approche autodidacte de Simon vers la liberté du genre donne à 2010 un erraticisme bienvenu résultant en un mélange étrange de multi-format, d'avant-méandres et de collages tapés post-techno. Ajoutez un flotteur éthéré en touche mineur de 11 minutes et vous avez un véritable voyage à travers la conscience de Simon; des tunnels ondulés garnis de sombres textures profondes appropriées pour tout arrangement de sortie qui n'implique pas : des sourires, du plaisir ou du non-gothique. Une œuvre-d'art psychédélique qui tue à démarrer. +1 pour Patente.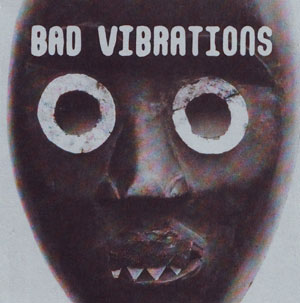 Bad Vibrations
Bad Vibrations
(Brotherhood Cassettes)
Halifax, NS
From the not-so-bad vibrations of James Goddard:
Sometimes I imagine a future where everyone has forgotten what a guitar actually sounds like; Children brought up on a steady diet of French pop and Swedish 8-bit. Eventually, current trends like lo-fi would become ailments listed in the DSM VII with prescriptions like: 2 hours of Kumbaya orchestrated by battery-operated MicroKorgs (twice daily, with food). Things would be bad. Luckily former Dog Day drummer KC Spidle has strapped on a six string and stepped to the foreground to ensure such a future will never happen. Bad Vibrations play guitar music. They play the kind of three piece power-pop that begs for adjectives like dark or gloomy; and they play it well. Eschewing any kind of overt studio trickery, the members of Bad Vibrations (KC, Evan and Meg) have put together a crisp sounding record that subtly recalls that classic 90s Halifax sound. Nothing could be further from an all-electro dystopia.
[Levin's Note: James forgot the positive side of an all-electro dystopia: Gino Soccio all day 'ere day.]
Des vibrations pas si males de James Goddard: (Traduit par Odile Leclerc)
Des fois j'imagine un futur où tout le monde a oublié comment une guitare sonne actuellement; Children a apporté une diète stable de pop Français et de 8-bit Suédois. Éventuellement, les tendances présentes comme le lo-fi deviendront des maux listés dans le DSM VII avec des prescriptions comme : 2 heures de Kumbaya orchestré par MicroKorgs dirigés par batteries (deux fois par jour avec de la nourriture). Les choses iraient males. Par chance, l'ancien batteur de Dog Day KC Spidle a attaché sur lui un six-cordes et avancé en premier plan pour assurer qu'un tel futur n'arrivera jamais. Bad Vibrations jouent de la musique de guitare. Ils jouent le genre de pop puissant de trois pièces qui supplie pour des adjectifs comme sombre et lugubre; et ils le jouent bien. Évitant toute tromperie de studio ouvert, les membres de Bad Vibrations (KC, Evan et Meg) ont assemblé un enregistrement croustillant qui nous rappelle subtilement ce son classique d'Halifax des années 90. Rien ne pourrait être plus éloigné d'une dystopie toute électro.
[Note de Levin : James a oublié le côté positif d'une dystopie toute électro; Gino Soccio toute la journée.]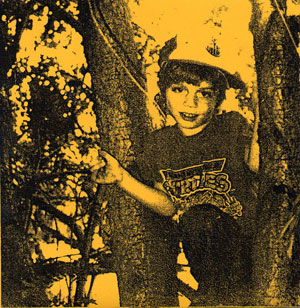 Makeout Videotape
Eating Like a Kid
(Self Released)
Edmonton, AB
From the pocketed mesh-back of Aaron Levin:
It's our future babylon: yuppies and junkies coagulating to celebrate their mutant post-human hedonism. And in some grande irony, the lounge-garage stylings of Makeout Videotape will part every velvet curtain to entertain the new world's last taste of love; vocalist Mac DeMarco's million-dollar smile and soaring croons calming their insatiable desires. Eating Like a Kid is a mesmerizing departure from Makeout Videotape's onslaught of red-line garage-punk; the hooks are intelligently buried while its melodies leave traces and flashbacks to Mac's ageless smile. If there is love in the future it's the sudden realization that they are speaking to us and as we turn around from our slot-machines, cocaine, sex, pizza, and peep shows – as we turn from our epicurean lives – we will see Mac smiling and know: death is all right so long as someone is singing. Mac's golden voice is floating atop rivers of reverberating guitars, sailing Makeout Videotape into this new future America and we're all on board.
Du péquenaud empoché de Aaron Levin:
(Traduit par la boîte à rythmes de Odile Leclerc)
C'est notre future Babylone : les bourgeois et les drogués coagulent pour célébrer leur hédonisme mutant post-humain. Et dans une quelconque grande ironie, les styles garage-suite de Makeout Videotape vont écarter chaque rideau de velours pour divertir le dernier arôme d'amour du nouveau monde; le sourire à un million de dollars du chanteur Mac DeMarco et ses roucoulements grandissants calmant leur insatiables désires. Eating Like a Kid est un fascinant départ de l'assaut de red line garage punk de Makeout Videotape; les lignes accrocheuses sont intelligemment enterrées pendant que ses mélodies laissent des traces et des flashback du sourire sans âge de Mac. S'il y a de l'amour dans le futur, c'est la réalisation soudaine qu'ils nous parlent et alors que nous tournons autour de nos machines à sous, la cocaïne, le sex, la pizza et le porno-alors que nous nous détournons de nos vies épicuriennes— nous allons voir Mac souriant et nous allons savoir; la mort est correct aussi longtemps que quelqu'un chante. La voix d'or de Mac flotte sur les rivières de guitares réverbérantes, faisant voguer Makeout Videotape dans cette nouvelle Amérique future et nous sommes tous à bord.
Makeout Videotape – Gigi Bungsu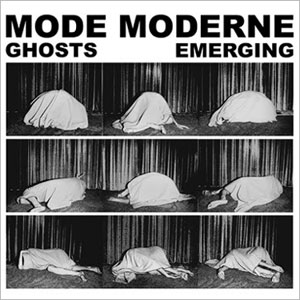 Mode Moderne
Ghosts Emerging
(Lust Neuvo Records)
Vancouver, BC
From the ghostly bedding of Aaron Levin:
Vancouver's synthetic underground is bubbling for the second time since the 80s when labels and artists were populating basements, clubs, cassette racks, and ideas with bleak drum machines and coarse synthesizers. COSMETICS, magneticring, N.213, Twin Crystals, MYTHS, Von Bingen, Haunted Beard, [insert band I'm forgetting] and now the industrial gothic Mode Moderne project Vancouver as a city on the brink of a synth-adjective explosion. Ghosts Emerging live centre-stage in the unassuming minimal-synth-pop arena with secret conviction and harmonic prowess, drifting listeners on their currents of nostalgic woe. Vocalist Phillip Intile's non-chalant industrial modulations makes the whole trip strangely manipulative as you wake up mid-album unaware of your new musical surroundings: pulsing drum machines, swathy synthesizers, ethereal guitar leads, and blankets of ambient-satin. Let's welcome the new age.
De la literie fantomatique Aaron Levin:
(Traduit par la boîte à rythmes de Odile Leclerc)
Les souterrains synthétiques de Vancouver bouillonnent pour la deuxième fois depuis les années 80 quand les étiquettes et les artistes habitaient les sous-sols, les clubs, les étagères de cassettes et les idées avec des batteries mornes et des synthétiseurs grossiers. COSMETICS, magneticring, N.213, Twin Crystals, MYTHS, Von Bingen, Haunted Beard [insérez les groupes que j'ai oubliés] et maintenant l'industriel et gothique Mode Moderne Project Vancouver en tant que ville au bord de l'explosion d'adjectifs synth. Des fantômes émergeant en direct du stage central dans la modeste aréna de pop en minimal-synth avec des convictions secrètes et des prouesses harmoniques, un auditoire qui laisse emporter sur leurs courants de malheurs. Les modulations industrielles du chanteur nonchalant Phillip Intile rendent ce voyage au complet étrangement manipulatif alors que vous vous réveillez à la moitié de l'album inconscient de votre nouvel entourage musical : des batteries palpitantes, des synthétiseurs en rang, des solos de guitares étherales, des couvertures de satin-ambiant. Accueillons le nouvel âge.
Mode Moderne – Les Neuf Soeurs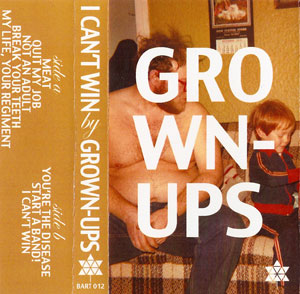 Grown-Ups
I Can't Win
(Bart Records)
Calgary, AB
From the post-pubescent sludge of Jesse Locke:
From The Cramps (radical) to Mates of State (barf) to the Plastic Ono Band (radical barfing), musical married couples are nothing new. However, what sets thee Grown-Ups' Sara and Josiah Hughes apart is that they're cuter than a pair of bulldogs on snowboards that know how to turn up the rock and turn down the suck. Joined by third member/producer Darrell on "dad guitar" (nice Conchords reference, guys), they've now teamed with the almighty Bart for tape release number two. Eight songs of angry punk sludge that sound just as pitted as their debut but now with more Crazy Horse guitar solos (see: opener "Meat") and Art Brut-esque motivational meta-songs (see: "Start A Band!"). This is the soundtrack for the skateboarding video game you invented in your brain. The musical equivalent of a cherry-coke slurpee with a stolen chocolate bar tucked in the cup. The creepy-lovable cover photo rules too, but I really just wish it was a drawing of Odie crossed with Jughead.
Des vidanges post-pubères deJesse Locke:
(Traduit par la boîte à rythmes de Odile Leclerc)
Venant des The Cramps (radicale) à Mates of States (vomit) aux Plastic Ono Band (vomir radicalement), les couples musicaux mariés ne sont rien de nouveau. Cependant, qu'est-ce qui différencie Sara et Josiah Hugues de Grown-Ups est qu'ils sont plus mignons qu'une paire de bulldogs sur planche-à-neige qui sait comment faire monter le rock et descendre le nulle. Joints par le troisième membre/producteur Darrell sur ''la guitare papa'' (joli référence à Conchords les mecs), ils ont maintenant fait équipe avec le tout-puissant Bart pour une sortie de cassette numéro deux. Huit chansons de bourbe punk fâchée qui sonne autant grêlées que leurs débuts mais maintenant avec plus de solos de guitare de Crazy Horse (voir; ouvreur ''meat'') et d'art Brut-esque de méta-chansons motivationnelles (voir; ''Start a Band!''). C'est la bande sonore pour les jeux-vidéo de planches-à-roulettes que vous avez inventés dans votre cerveau. L'équivalent musical d'une slush au coke-cerise avec une barre de chocolat volée coincée dans la tasse. L'adorable et terrifiante photo de couverture règne aussi, mais vraiment je souhaite juste que c'était un dessin d'Odie croisé avec Jughead.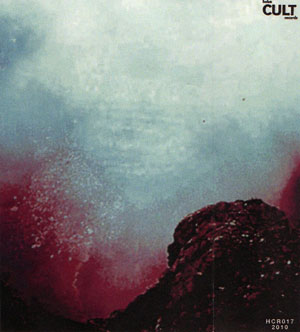 Bernardino Femminielli
La Montaña del Capricornio
Montreal, QC
From the synthetic moons of Aaron Levin
Bernardino continues to peel wigs and sublimate minds with his vicarious cosmic voyage through swaths of electroacoustic winds and perilous Ace Tone waters. This time we are lead by a transplanted Odysseus, bravely steering Bernardino's vast synthesizer vessel through mysterious wires and serene circuitry. La Montaña del Capricornio is a continuation from Las Enamoradas' granular synthesia, diving deep into the dilemmic waves of warm ambience and dark druid-age. Hobo Cult cleverly realized Bernardino's brilliance as a double-sided cassette, focusing your energies on the immaculate details emanating through tape hiss and Dolby warmth, adding comfort to the brooding sounds beneath its alluring orphic cover. A++++++.
Des lunes synthétiques d'Aaron Levin
(Traduit par Maya Keshav)
Bernardino continue d'éplucher les perruques et sublimer les têtes avec son voyage cosmique et indirect à travers les vents électroacoustiques et les parages périlleux Ace Tone. Cette fois un Odysseus emprunté nous guide, en barrant le bateau immense synthé de Bernardino à travers les fils mystérieux et le câblage serein. La Montaña del Capricornio est une continuation de la synesthésie granuleuse de Las Enamoradas, qui saute dans le fond des ondes difficiles de l'ambiance chaleureuse et le druidisme noir. Hobo Cult a réalisé le brio de Bernardino avec une cassette à deux voies, qui concentrent tes énérgies sur les détails immaculés qui émanent entre les sifflements de la cassette et la chaleur de Dolby, qui ajoutent le réconfort aux sons troublants sous la couverture séduisante et orphique. A++++++.
Bernardino Femminielli – La Montaña del Capricornio – Side A
Bernardino Femminielli – La Montaña del Capricornio – Side B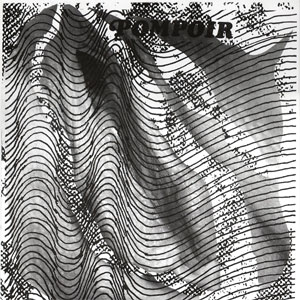 Pompoir
Exploding Time
Vancouver, BC
From the burnt locker of Paul Lawton
At one point in the second half of Exploding in Time, Nic Hughes (Pompoir's lead singer and leading member of Shearing Pinx) repeats "Do you feel this?" and to this I say: Yes! I am absolutely feeling this. Pompoir's grunge has been filtered through an accentuated Vancouver-alienation, giving the songs on Exploding Time a feeling unstuck in time and place while still capturing the sounds of this relativistic-event in Vancouver's scene. In fact, after the first few listens I had pangs of jealousy that I don't currently live in Vancouver to hear these bands on any given weekend. I'll go out on a limb and say, of all the records that have come out of the Vancouver scene in the last five years (and lets face it, there have been a fuck-load of records… SHPX alone have over ten thousand releases!) Pompoir's Exploding Time lands firmly in the "essential" category. Comes in fantastic silkscreened B-Side and album-covers. The vinyl is limited to 300 copies.
[Levin's Note: The photo used in this review is the rare, test-pressing vagina-cover variant (#15/20). The actual album art is quite similar. This record slays.]
Du casier brûlé de Paul Lawton:
(Traduit par Maya Keshav)
À un point dans la seconde moitié de Exploding Time, Nic Hughes (le chanteur en chef de Pompoir et membre leader de Shearing Pinx) répète ''Do you feel this?'' et à ça je dis : Oui! Je ressens ça absolument. Le grunge de Pompoir a été filtré à travers une aliénation accentué de Vancouver, donnant les chansons sur Exploding Time en sentiment décollé dans le temps et l'espace tout en capturant les sons de cet évènement réalistique sur la scène de Vancouver. En effet, après les premières écoutes j'avais des pincements de jalousie que je ne vive pas présentement à Vancouver pour écouter ces groupes durant n'importe quelle fin de semaine. Je vais prendre un risque et dire que de tous les enregistrements qui ont sortis de la scène de Vancouver dans les dernières cinq années (et faisons-y face, il y a eu beaucoup d'enregistrements…SHPX à lui seul a plus de dix–milles sorties!) Exploding Time de Pompoir atterrit fermement dans la catégorie ''essentielle''. Livré dans de fantastique B-Side sérigraphié et des couvertures d'albums. Le vinyle est limité à 300 copies.
[Note de Levin: la photo utilisée pour cette critique est la rare et variante, couverture vaginale presseuse de test (#15/20). L'art de l'album actuel est assez similaire. Cet enregistrement fait un massacre.]
---