Tag: review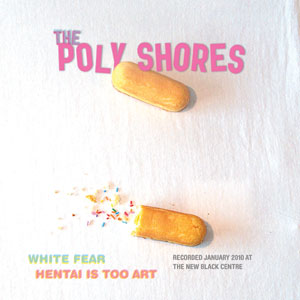 The Poly Shores
White Fear b/w Hentai is Too Art
(Self Released)
Calgary, AB
From the biodome of Jesse Locke:
Not since the mercifully short-lived local music in-joke Lorrie Matheson's Cock has Calgary had a band name as ludicrous as The Poly Shores. All the same, don't be fooled by their fondness for purple sticky punch as these scrappy, spazzy berzerkers mean their own brand of business. Pitched somewhere between Ponytail, Be Your Own Pet and Toni Basil their debut two-song blast is now available on CD and glorious cassingle. Listen for the stone cold funky basslines, shark-toothed guitars and smart/stupid sloganistic lyrics like "guns don't kill people, love kills people…" Wheez the juice!
Du biodôme de Jesse Locke:
(Traduit par Maya Keshav)
Depuis la blague heureusement éphémère entre musiciens du coin Cock de Lorrie Matheson jusqu'à maintenant, Calary n'avait pas un nom de group aussi ridicule que The Poly Shores. Quand même, sois pas trompé par leur penchant pour le punch violet et gluant parce que ces gars fous furieux, décousus et agités sont sérieux dans leur propre façon. Avec un esprit quelque part entre Ponytail, Be Your Own Pet et Toni Basil, leur début explosion de deux chansons est maintenant disponible sur le CD et sur une cassingle splendide. Guette les mélodies de basse super-funky, les guitares avec les dents de requin, et les paroles commes les slogans intelligents/cons genre "guns don't kill people, love kills people…" (les pistolets ne tuent pas de gens, l'amour tuent les gens…) Engloutis le jus!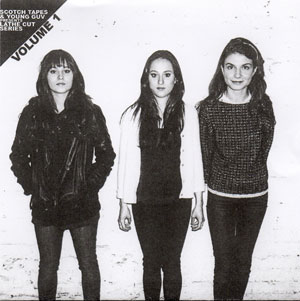 Huckleberry Friends
Testing
Toronto, ON
From the 6.5″ pink flexi of Aaron Levin:
The inaugural 6.5″ fluorescent flesh of Scotch Tapes and Young Guv's Lathe Cut Series is a gothic reconnaissance into the arcane marshes of numinous folk-garage. The first 90 seconds of Testing begin the mystic ceremonies of your private mind garden before launching into a fury of tribal magyks and recondite rhythms. It's a brilliant realignment of the English folk tradition into the disparate, atonal now; an arduous ceremony cut on a 6.5″ slab of pink plastic and limited to 50 copies. Highly recommended.
De l'adaptable 6.5'' rose d'Aaron Levin:
(Traduit par Odile Leclerc)
L'inaugurale 6.5'' de chair fluorescente de Lathe Cut Series de Scotch Tapes et Young Guv est une reconnaissance gothique dans les marais obscures des gens numineux de garage. Les premières 90 secondes de Testing commencent les cérémonies mystiques du jardin privé de votre esprit avant de se lancer dans une furie de magyk tribale et de rythmes abstrus. C'est un réalignement brillant de la tradition du peuple Anglais vers le présent disparate et atonal; une cérémonie difficile découpée sur une tranche de 6.5'' de plastique rose et limitée à 50 copies. Chaudement recommandée.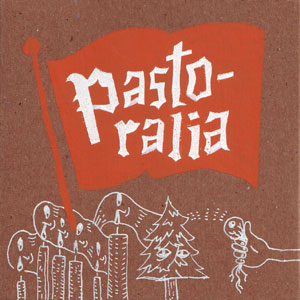 Pastoralia
Across Living Room Floors
Halifax, NS
From the tuesday-night pasta of James Goddard:
I once had the good fortune to go drinking with underwater welders. I was left with the distinct impression that were I fonder of Whitesnake submarine metal-working might have been the life for me. Pastoralia, like underwater welding, is a strange combination of things; clown makeup, throw-back samples, and choreographed dance sequences all blended seamlessly with a power-pop trio. Mitchell Wiebe's vocals float disaffectedly over thalassic bass lines and discarded C&C Music Factory beats. What Pastoralia do may be more akin to making collages out of US Weekly in a wading pool than actual under-water welding, but isn't that just a matter of scale? .
De la soirée- pâte du mardi de James Goddard:
(Traduit par Odile Leclerc)
Une fois j'ai eu la chance d'aller prendre un verre avec des soudeurs sous-marins. Je fus laissé avec la distincte impression que si j'étais le fondateur de Whitesnake, la métallurgie sous-marine aurait pu être la vie pour moi. Pastoralia, comme la soudure sous-marine, est une étrange combinaison de choses; de maquillage de clown, des échantillons rejetés et des séquences de danse chorégraphiée toutes mélangées harmonieusement avec un trio de pop choc. Les chants de Mitchell Wiebe flottent de façon désabusés sur les lignes de basse de thalasso et les battements mis de côté de C&C Music Factory. Ce que Pastoralia fait ressemble peut-être plus à du bricolage sorti de US Weekly dans une barboteuse qu'à de la soudure sous-marine, mais n'est pas simplement un affaire d'échelle?
Pastoralia – Daddy Daughter Dance
Frederick Squire
Friday March 12
(Self-Released)
Sackville, NB
From the tantramaratic marshes of James Goddard:
There is a special bite to the wind that blows off the Tantramar. Fred Squire's songs are modeled after that marsh wind. They wake you up. Expertly positioned, every layer arranged like a plate in a drying rack. The voice, guitar, drums, piano; one after another. Fred wants you to watch him build these songs. He draws your attention to the process, to the pedals and the microphones, the tape and the instruments; it's an attention to recording. He's showing you how to make something sound ecclesiastical, reverential, like the wind. While at the same time never allowing one to losing sight of the fact that underneath all that is a man with a guitar and a voice like a paragon.
Des marais tantramariens de James Goddard:
(Traduit par Odile Leclerc)
Il y a un mordant spécial au vent qui souffle sur le Tantramar. Les chansons de Fred Squires sont modelées de ce vent de marais. Ils vous réveillent. Positionné expertement, chaque couche arrangée comme une assiette sur un support de séchage. La voix, la guitare, les batteries, le piano; un après l'autre. Fred veut que vous le regardiez bâtir ces chansons. Il attire votre attention dans le procédé, vers les pédales et les microphones, la cassette et les instruments; c'est une attention d'enregistrer. Il vous montre comment faire sonner quelque chose ecclésiastique, révérenciel, comme le vent. Pendant qu'au même moment il ne permettrait jamais de perdre de vue le fait qu'en dessous de tout ça il y a un homme avec une guitare et une voix de parangon.
Frederick Squire – You Sing High We Will Sing Low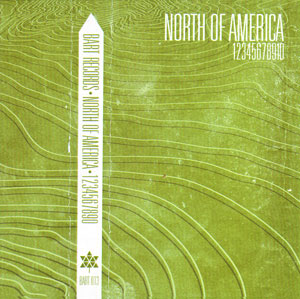 North of America
12345678910
Halifax, NS
From the North of America fanboydom Jesse Locke:
Other than the guy from Japan who flew to Montreal for their final farewell show a few months back, Bart Records founder Kevin Stebner is quite likely the biggest North of America fan on the planet. Standing next to Stebs at said gig, I was regaled with anecdotes and factoids regarding the members' current day-jobs, how he caught them live in Europe and just how stupidly excited he is to have now released a rarities compilation from his all-time favourite band. Along with other comp tracks and the previously unearthed jam "Hot Work," side A is culled from the same sessions that produced NoA's swan-song LP Brothers, Sisters (a serious tour de force if you've never had the pleasure). From the pulverizing guitar-work and clockwork-calculated percussion of barn burners "Beyonce", "Hate The Player" and "We Had To Call Your Parents" to the slower tempo heart-on-sleever "I Like Everything This Much" and curious electronic interlude "Let's Get Glitch," 12345678910 is veritable Mana for Maritime math-rock devotees. Somebody update the wikipedia.
Du garçon-fandom d'Amérique du nord de Jesse Locke:
(Traduit par Odile Leclerc)
Autre que le gars du Japon qui a vol à Montréal pour son spectacle d'adieu final quelques mois passés, le fondateur de Bart Records, Kevin Stebner, est assez probablement le plus grand fan de l'Amérique du Nord sur la planète. Me tenant près de Stebs au dit concert, Je fus régalé d'anecdotes et de faits concernant le présent travail quotidien des membres, comment il les avec attrapé en direct en Europe et à quel point il est juste stupidement excité d'avoir maintenant mise en vente une compilation de raretés de son groupe favori depuis toujours. Avec d'autres pistes de compilation et le jam précédemment non découvert ''Hot Work'', le côté A est trié des mêmes sessions qui ont produit la chanson-signe de NoA, LP Brothers, Sisters (un sérieux tour de force si vous n'avez jamais eu le plaisir). Du travail de guitare pulvérisant et la percussion précisément calculé de l'évènement ''Beyonce'', ''Hate The Player'' et ''We Had To Call Your Parents'' au tempo plus lent qui vous apporte la main sur le cœur ''I Like Everything This Much'' et la curieuse interlude électronique ''Let's Get Glitch,'' 12345678910 est un véritable Mana pour les adeptes de math-rock du Maritime. Quelqu'un mettez à jour le wikipedia
North of America – Let's Get Glitch
North of America – Hate The Player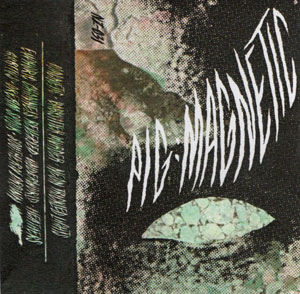 From the magnetic eyes of Aaron Levin:
Continuing with their general disregard for genre fortification, PIG return with a c26 frothing with ataxic punk and chaotic sludge. After a side of perilous adventures through mires of improvised drones and guitar destruction, the quadro deliver a full blast of 90s doom-punk occultism. Part Altered Beast, part Ghosts and Goblins, Magnetic synthesizes the darkest parts of adjective-punk and coagulates them into an eerie resin of fractured sounds. A rare gift stolen from the hand of Moira. NO CONTINUES. GRIP++
Des yeux magnétiques d'Aaron Levin: (Traduit par Odile Leclerc)
Continuant avec leur inattention générale pour la fortification du genre, PIG revient avec un c26 moussant avec un punk ataxique et une boue chaotique. Après un morceau d'aventures périlleuses à travers des bourbiers de vibrations improvisées et de destruction de guitare, le quadro livre de l'occultisme à pleine capacité de punk-fini des années 90. À moitié Altered Beast, à moitié Ghosts and Goblins, Magnetic synthétise les parties les plus sombres du punk-adjective et les coagule dans une résine surnaturelle de sons fracturés. Une rare don volé de la main de Moira. PAS DE CONTINUATION. POIGNE++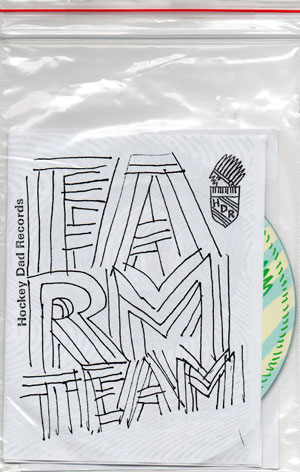 Various Artists
Farm Team
Vancouver, BC
From the Vancouver-sun-hurts-my-eyes of Aaron Levin:
The literal weight of physical music in Canada is staggering and it doesn't get easier when you move to city-level. My mind is lost within music's autogamic jungle, paralyzed by the thought of missing rare species. Hockey Dad Records have eased this acute pressure by presenting a breadth of sounds from Vancouver's emerging underground. From the wired-pop of Piece Pipe to the teen-garage wailings of Dead Ghosts, Farm Team's sloppy, unassuming packaging and curatorial prowess is worth any price of admission. It's a wild world on the west coast. Waddle not through the sea of cosmic noise hippies and grip Farm Team for a quick guide to Vancouver's adjective-underground. Featuring: White Lung, Timecopz, Piece Pipe, Nü Sensae, The New Values, The Moody Dudes, Hard Feelings, Defektors, Dead Ghosts, Chris-a-riffic, The Bloggers, and B-Lines
De le-soleil-de-Vancouver-me-fait-mal-aux-yeux d'Aaron Levin: (Traduit par Odile Leclerc)
Le poids littérale de la musique physique au Canada chancelle et ça ne devient pas plus facile quand vous bouger au niveau de ville. Mon esprit est perdu dans la jungle autogame de musique, paralysé par la pensé de rater de rares espèces. Hockey Dad Records ont apaisé cette pression aigue en présentant une étendue de sons des souterrains émergeants de Vancouver. Du pop-câblé de Piece Pipe aux lamentations de garage d'ado de Dead Ghosts, le maladroit Farm Team, l'emballage modeste et la prouesse de conservation valent n'importe quel prix d'admission. C'est un monde sauvage sur la côte ouest. Ne vous dandinez pas à travers l'océan de hippies de bruits cosmiques et agrippez Farm Team pour un guide rapide vers les souterrains adjectifs de Vancouver. Présentant; White Lung, Timecopz, Piece Pipe, Nü Sensae, The New Values, The Moody Dudes, Hard Feelings, Defektors, Dead Ghosts, Chris-a-riffic, The Bloggers and B-Lines.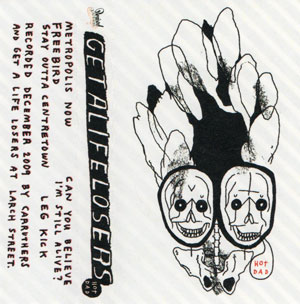 Get A Life Losers
Hot Dad
Ottawa, ON
From the questionably-sexy dad-life of Aaron Levin:
Take a wrong turn in Ottawa and you'll end up on a 15-minute death-march down dead-beat alley with a blizzard of psychedelic punk desolating your ears. Welcome to Hot Dad. Get a Life Losers' zebratic vortex of blown-out trash is a nihilistic tour through musical sadism; pulsing sounds of careening animals, the inner-howling of our trapped psychosis, and new levels of sonic weaponry. If you have 15 minutes to live and nothing but your fists and a bullshit attitude, Hot Dad is your death-row soundtrack. Certified SICCMADE.
De la vie de sexy-papa questionnable d'Aaron Levin:
(Traduit par Maya Keshav)
Prenez une mauvaise direction dans Ottawa et vous allez finir dans une marche fatale de 15 minutes dans une allée usée avec des blizzards de punk psychédélique désolant vos oreilles. Bienvenu à Hot Dad. Le vortex zébratique d'ordure à fond de Get a Life Losers est une tournée nihiliste à travers un sadisme musical; des sons palpitants d'animaux qui ruent, des hurlements intérieur de nos psychoses piégées et les nouveaux niveaux d'armement sonique. Si vous avez 15 minutes à vivre et rien d'autre que vos poings et votre attitude de merde, Hot Dad est votre rangée mortelle de bandes sonores. Certifié SICCMADE.
Get a Life Losers – Metropolis Now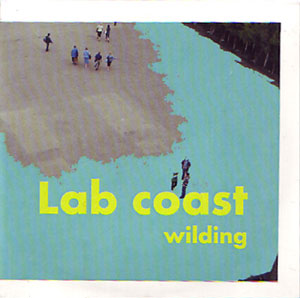 Lab Coast
Wilding
(TRANIST)
Calgary, AB
From the steady wildin' lifestyle of Jesse Locke
In a music community as modest as Calgary's, it seems somewhat baffling how anyone talented can remain subterranean. All the same, that's the case with the prolific Bug Incision record label and collective, with past projects including the polarizing out-jazz leanings of the Bent Spoon Duo/Trio, sophisticated pop turns of Phil Withers and a plethora of others. Lab Coast is the DIY camp's latest offshoot, and the group's debut long-player on satellite label Tranist is a ramshackle channeling of 1990s junk-pop. Cheap-o synth presets, slacker-rock guitar strums and GBV melodies abound, so don't let this one slip through the cracks.
Du style de vie sauvage stable de Jesse Locke:
(Traduit par Maya Keshav)
Dans une communauté de musique aussi modeste que celle de Calgary, il semble quelque peu étonnant que quelqu'un de talentueux puisse rester sous terre. Tout de même, c'est le cas avec la maison de disque prolifique Bug Incision et collective, avec des projets passés incluant les penchants polarisant tout jazz des Bent Spoon Duo/Trio, des tournants pop sophistiqués de Phil Withers et multitude d'autres. Lab Coast est le dernier rejeton du camp DIY et le long lecteur des débuts du groupe sur satellite du nom de Tranist est une canalisation délabrée du junk-pop des années 1990. Des préréglages de synth pas chères, des accords de guitare de rock paresseux et des mélodies de GBV abondantes, alors ne laissez pas celle-ci glisser à travers les craques.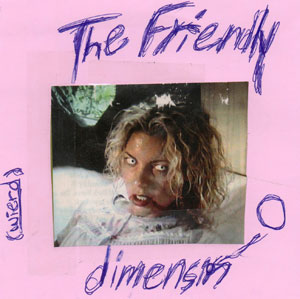 The Friendly Dimension
Choose Your Own Adventure
(Self-Released)
Halifax, NS
From the unidimensional freak show of Aaron Levin
Take a collection of B-sides and rarities by a group with only one official release and you have a snapshot of our wasted youth. Choose Your Own Adventure is a voyeurs guide to summers spent trolling sidewalks for personal anthems. There is truth in the dirty concrete beat to death by the endless footsteps of teenagers. Visit any mall and you'll hear it: resilient visions of psychotropic folk-rock, catalysts for our lazy, veiled teendom, and subconscious grooves pulling us back to summers of hidden cigarettes and hairspray secrets. We've all been teenagers bored to death by a world with too much to offer. Let The Friendly Dimension be your guide. If you want to enter their audible vortex, click here. If you're suspicious of what they're offering and would like to win free stuff from the internet, click here.
Du musée unidimensionnel des horreurs d'Aaron Levin:
(Traduit par Maya Keshav)
Ramasse une collection de faces B et de choses rares d'un groupe avec un seul enregistrement et voilà un aperçu de notre jeunesse perdue. Choose Your Own Adventure est un guide pour les voyeurs aux étés passés en cherchant les trottoirs pour un hymne personnel. Il y a de la vérité dans le rythme sale de béton auquel les ados marchent jusqu'à la mort avec les pas interminables. Rends visite à n'importe quel centre commercial et tu l'entendras: les visions résistantes du trad-rock psychotrope, les catalyseurs pour notre adolescence paresseuse et voilée, et les tounes subconscientes qui nous transportent aux étés de cigarettes cachées et de secrets de laque. On a été tous des ados qui s'ennuyaient à mourir par un monde avec trop d'offrir. Laisse être ton guide The Friendly Dimension. Si t'as envie d'entrer leur tourbillon audible, clique ici. Si t'es méfiant de ce qu'il offre et t'as envie de gagner les choses gratuites de l'internet, clique ici.
The Friendly Dimension – Samurai
The Friendly Dimension – Hero in my Head
---