Tag: reissue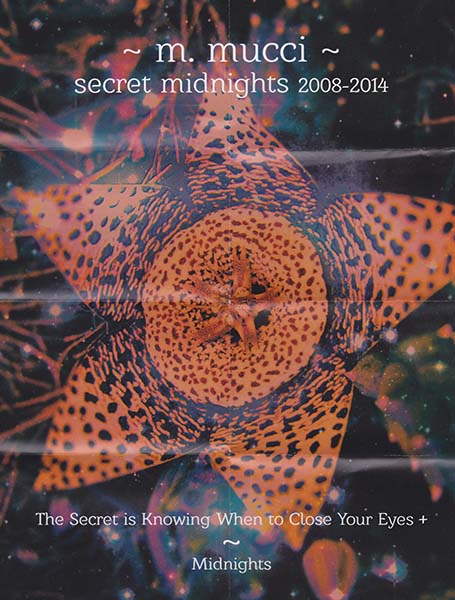 M. Mucci
Secret Midnights
Guelph, ON
From the mesmerized apertures of Joshua Robinson:
Side B of this release was previously written about here.
Slowly, ever so slowly, thought takes form. Nadirs of fleeting melody particulate, each fleck of minute detail whisking away from its source; whisking away from itself. Slowly, ever so slowly, these details coalesce and emerge just as they fray at the seams and come to rest as tablatures too delicate to decipher. The re-release of this material is not only an acknowledgment of its quality, it is the recognition of how fragile permanence (as memory) can be. Incarnate tones tiptoe over themselves, their brittleness that which indentures their longevity. For all that is young and quiet, grow old and fond. For all that is fleeting and transient, stay still.
Des ouvertures ensorcelantes de Joshua Robinson:
(Traduit par Mylène Quevillon)
Lentement, toujours plus lentement, les pensées prennent forme. Les nadirs des particules d'une mélodie fugace, chaque détail minuscule qui passe transporté loin de sa source; transporté loin de son centre. Lentement, toujours plus lentement, ces détails s'amalgament et se décomposent, se déposent en tablatures trop petites pour être déchiffrées. La réédition de ces oeuvres n'est pas seulement un gage de leur qualité, c'est aussi la reconnaissance de la fragilité de la permanence et de la mémoire. Les tonalités incarnées s'entrechoquent, créant une fragilité qui diminue leur longévité. Étant donné que tout ce qui est jeune et tranquille vieillit et se gâte. Étant donné cette fugacité éphémère, restez immobile.
M. Mucci – The Secret is Knowing When To Close Your Eyes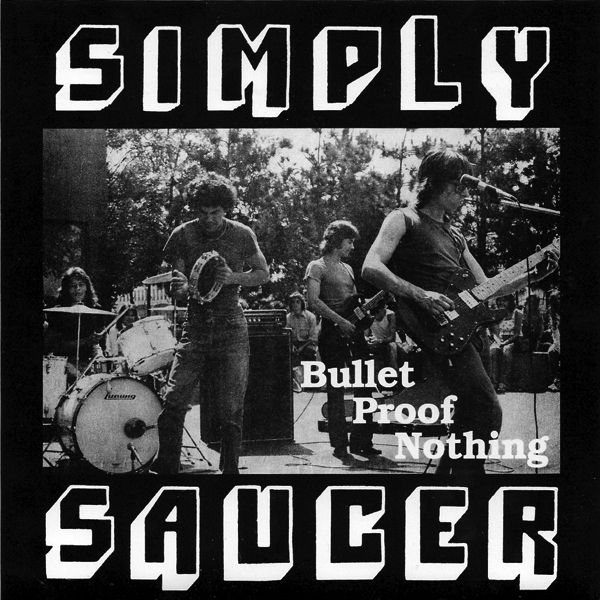 Simply Saucer
Bullet Proof Nothing
Hamilton, ON
From the point blank target of James Lindsay:
Here's a fantasy 7" that never was, but should have been, from Hamilton's once lost but now found golden sons, Simply Saucer. This song and its notorious chorus, from the group's legendary posthumous LP Cyborgs Revisited, finds the Steeltown cosmic-punks phasing out of their usual MC5 interstellar overdrive and basking in the warm glow of a big star. The b-side delivers a revved up live version that makes you want to add a date to your time machine's itinerary. Many thanks to Mammoth Cave for making this happen, and to Ugly Pop for coming up with the "what if" single concept.
De la cible à bout portant de James Lindsay:
(Traduit avec la plume enchantée de Geneviève Simard)
Voici un disque vinyle 7 pouces qui n'a jamais été fantasmé, mais qui aurait dû l'être, de la part des précieux fils d'Hamilton Simply Saucer, autrefois perdus, mais maintenant retrouvés. Cette chanson des membres célèbres du légendaire LP posthume Cyborgs Revisited montre les punks cosmiques de Steeltown qui abandonnent leur habituel MC5 interstellar overdrive pour se délecter de l'éclat chaleureux de Big star. La face B comprend une version en spectacle survoltée qui donne envie d'ajouter une date à l'itinéraire de sa machine à remonter le temps. Un grand merci à Mammoth Cave pour avoir permis à ce vinyle de voir le jour, et à Ugly Pop pour avoir trouvé le concept du single « what if ».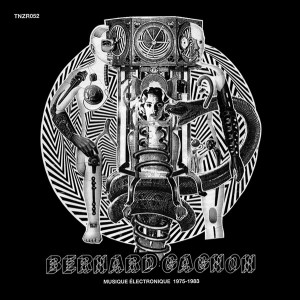 Bernard Gagnon
Musique Électronique (1975-1983)
(Tenzier)
Montréal, QC
From the sea lunch of Jesse Locke:
Musique Électronique (1975-1983) is another fascinating archival dig from Tenzier, the vinyl reissue label exclusively dedicated to Quebec's avant past. Bernard Gagnon's roots run deep into the Montreal subterrain with woefully under-documented projects ranging from the "speed-psych" band Gandarhva to MetaMusic alongside Kevin Austin, founder of Concordia's Electroacoustic Studios. After rubbing shoulders with no less than Xenakis and Cage, Gagnon hunkered down to workshop his own radiophonics, seven of which are collected in this snazzy reish.
The multi-part Moog suite "Gwendoline Descendue!" leads things off with a series of brain-tickling passages self-dubbed "musical giallo", but to these ears sounding closer to a Gristleized El Topo. "Dictée" warps a harried vocal phrase and scribbling pencil into mutant concrete, while closer "Gololo-Mashta" refigures rock group samples into rhythmic shards presaging the sound of Zs. Best of all is "Totem Ben", an aqueous outernational head-nodder created on Synclavier II that bangs like proto-Hobo Cubes. Stylish b&w cover art from the hyper-talented Felix Morel makes this a must-grip.
Du goûter océanesque de Jesse Locke:
(Traduit par le tricotin à mots d'Aliké Harel)
Musique Électronique (1975-1983) est un autre trésor dépoussiéré par Tenzier, maison de rediffusion de vinyles dédiée exclusivement à l'avant-garde québécoise d'autrefois. Les racines de Bernard Gagnon plongent au creux de l'underground montréalais avec des projets lamentablement sous-documentés tels le groupe psychédélique ultra rapide Gandarhva en passant par MetaMusic formé avec Kevin Austin, fondateur de Electroacoustic Studios à l'Université Concordia. Après avoir côtoyé rien de moins que Xenakis et Cage, Gagnon se retire dans son antre pour travailler sur ses propres radiofréquences, dont sept sont réunies dans cette réédition bichonnée.
« Gwendoline Descendue! », suite en plusieurs mouvements au synthétiseur Moog, ouvre le bal avec une série de passages titilleurs de neurones, un enregistrement qualifié par Gagnon de « giallo musical », mais qui se rapproche plutôt à mes oreilles d'El Topo joué par Throbbing Gristle. « Dictée » distord une phrase anxieuse et un crayon gribouilleur pour obtenir un mutant de musique concrète, alors que la finale « Gololo-Mashta » remanie des extraits de groupes rock en éclats rythmés et annonce le son de Zs. La meilleure piste demeure toutefois « Totem Ben », une création exonationale diaphane sur Synclavier II qui bûche comme du proto-Hobo Cubes et vous fera hocher de la tête en cadence. Avec en prime une pochette signée par l'hyper talentueux Félix Morel, sautez sur cet album immédiatement.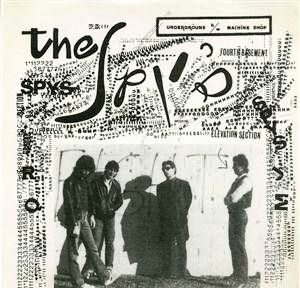 The Spys
Machine Shop b/w Underground
(Ugly Pop)
Windsor, ON
From the machine shop underground of Mark Teo:
Dredged up from the industrialist-scarred hippocampus of Windsor, ON, The Spys were Southwestern Ontario's finest ponx first-wavers. Here, the scintillatingly melodic proof that in 1979, as in 2012, Fords ruined cities: "Machine Shop" defies their hometown's futureless, blue-collar bleakness one minimalist solo — and jazzy intro — at a time. On the flip, "Underground" tucks itself into the imperial bedroom of American power pop, emerging with a remarkably futurist-feeling recessionista anthem. (As it turns out, slugging wine, underemployment and the existential void aren't particular to current eras.) Consider the Spys one of the deepest — and unforgettable — notches on Rose City's rust belt.
De l'atelier souterrain de Mark Teo: (Traduit par le passage de frontière de Maya Keshav)
Dragué de l'hippocampe gâché par l'industrialisme qui est Windsor, ON, The Spys étaient les meilleurs de la première vague de punk en Ontario du Sud. Ici, la preuve mélodique et scintillante qu'en 1979, comme en 2012, les Fords ruinaient les villes: "Machine Shop" brave la désolation col-bleu et sans avenir de leur ville natale pas à pas avec les solos minimalistes et l'introduction jazzy. À la face B, "Underground" puise dans la chambre impériale de la power pop américaine, en émergeant avec un hymne recessioniste qui a l'air remarquablement futuriste. (Il se trouve que la beuverie, le sous-emploi et le vide existentiel sont pas particuliers aux ères d'aujourd'hui.) Prends en considération que the Spys sont une des rainures les plus profondes— et inoubliables— sur le Rust Belt de la Rose City.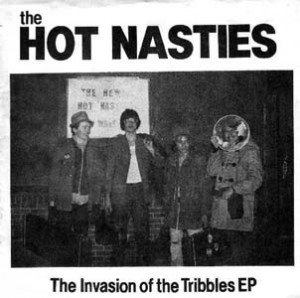 The Hot Nasties
The Invasion of the Tripples EP
(Ugly Pop)
Calgary, AB
From the official opposition of Mark Teo:
Before Warren Kinsella peacocked into a full-blown Liberal svengali he was creating hot messes at the Calgarian Hotel — one of the nation's formative punk dives — with the Hot Nasties. Like a divergent australopithecine strain, The Invasion shares many tendencies with its descendants, while dabbling in different musical genera entirely: On its A-side, it establishes its '77-proof DNA with "I am a Confused Teenager" before deteriorating into guttural discord and pre-hardcoric throat-shredding in "Invasion of the Tribbles." B-sider "The Secret of Immortality" is yet another permutation, pairing open-air drive-thru pop with pensive ruminations on morality, life, death and Catholic guilt — foreshadowing, perhaps, Kinsella's future sociopolitical explorations. True Grit, indeed.
De l'opposition officielle de Mark Teo: (Traduit par le cousin homme-singe de Maya Keshav)
Avant que Warren Kinsella est devenu un véritable vaniteux de svengali libéral, il créait les pétrins au Calgarian Hotel— un des tripots punk formateurs du pays— avec the Hot Nasties. Comme une souche australopithecine divergente, The Invasion partage plusieurs tendances avec sa descendance, pendant qu'il tâte de genres musicaux complètement différents: À la face A, il établit son ADN '77-proof avec "I am a Confused Teenager" avant qu'il se dégrade en désaccord guttural et en gorge-déchirance pre-hardcore avec "Invasion of the Tribbles". À la face B, "The Secret of Immortality" est encore une autre permutation, qui jumelle la pop drive et en plein air avec les cogitations pensives sur la moralité, la vie, la mort, et la culpabilité catholique— qui présagent, peut-être, les explorations sociopolitiques imminentes de Kinsella. Un vrai libéral, bien sûr.
---